Having the proper gear can be the difference between coming home with dinner or empty-handed.
I came away from my Ascend FS12T review with a mixed opinion when compared to other specialized angler kayaks.
Stable enough for experienced paddlers to stand in while casting, the Ascend 12T gives you plenty of deck space to operate from.
But there are some concerns about its overall stability, weight, and speed that keep it from being a world-class angling kayak.
Honestly, I'd strongly recommend the Perception Pescador Pro 12 instead.
Pros:
Stable enough to stand up in
Adjustable seat that can be raised, lowered or removed
Lots of deck space to stand and cast from
Cons:
Not as stable as some higher-end angling kayaks
One of the heavier angling kayaks
Ascend FS12T Fishing Kayak – Things to Consider Before Buying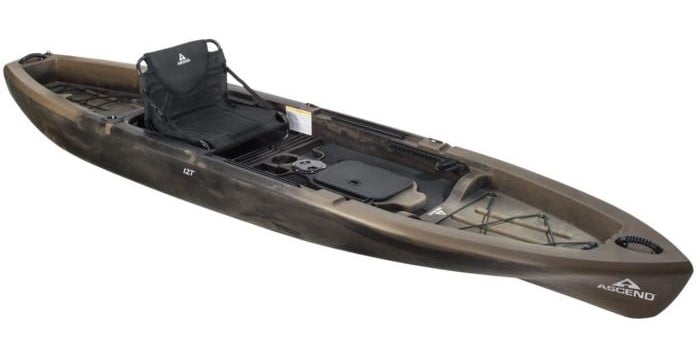 Although single kayaks can be 17-feet in length or longer, finding storage space for even a 12-foot vessel can be hard. Be sure you have space either in your home, garage, or shed to protect your new investment from rain and other weather hazards.
Being a heavier boat, it's also important to ensure that you have a safe and reliable way to transport it to the water. For most, this will be via car which will probably require a roof rack or trailer to move safely.
While this boat does a better job than most sit-on-top kayaks of keeping water out of the cockpit, it can still be hard to stay dry when the water gets choppy. Because of this, I'd suggest reserving it for warm water scenarios or mild summer days in temperate or colder regions.
Those that fish in cold-weather regions can look to other options like the Wilderness Systems Tsunami 125.
Ascend 12T Specifications
Length: 12 feet
Width: 31 inches
Weight: 77 pounds
Load Capacity: 350 pounds
Ascend 12T Design
Material
The Ascend 12 foot fishing kayak is made of a durable plastic known as polyethylene. While plastic is heavier than some other materials that are also used in kayak construction like fiberglass, it's much more durable.
It can handle any drops or mishaps you have carrying it to the water. Once afloat it is forgiving should you bump into anything.
Speed
The boat's weight makes this a plodding kayak. While the hull is more streamlined than some kayaks dedicated to fishing, it's outpaced by most in its class.
This may not matter if you're out on your own, but if you're traveling with a group you should be prepared to paddle hard to keep up.
It can also make it difficult to traverse longer distances and it's important to bear in mind that it won't be able to get you out of trouble as quickly.
Maneuverability
One of my chief complaints is the lack of a rudder. It makes the Ascend 12 foot fishing kayak a challenge to steer in calm conditions and frustrating in rougher ones. Calm days on tidally influenced waters can breed the same challenges.
While it is possible to install a rudder, it requires quite a bit of work from the owner and some technical know-how.
Comfort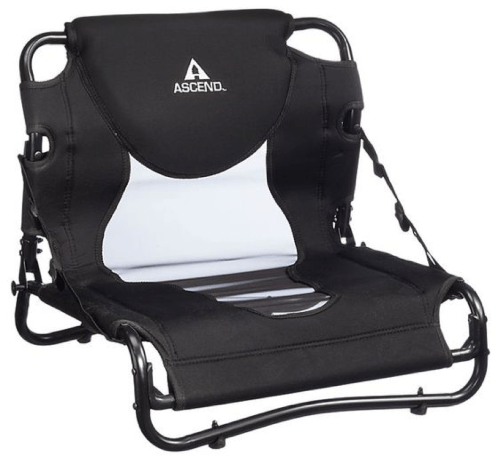 Ascend has done some thinking with their seats. There's no shortage of uncomfortable kayak seats and I'm happy to say this isn't one of them.
With several adjustable settings and the ability to be raised, lowered, or removed, there's plenty of ways to get comfy.
The foot braces are also fully customizable to help you find the perfect fit. The deck's footwell provides a solid platform for casting.
Stability & Tracking
For calm paddling, the boat tracks decently. Although I once again have to mention the lack of a rudder which would greatly aid with tracking. This is especially true for beginners learning how to manage a kayak for the first time. If you're just starting out, I'd keep this model in calm water until you feel comfortable.
Stability is also somewhat contentious. While I find it a reasonably stable craft, I'm also a cautious paddler who isn't interested in trying to stand in rough water.
A nice non-stick mat is installed on the casting deck to provide better footing for those that wish to stand and cast.
I'd give the same advice to less experienced paddlers and use it in a protected environment and see for yourself how it feels underneath.
Durability
Any kayak will puncture and start to show wear and tear if you treat it poorly. That said, plastic hulled kayaks are some of the sturdiest on the market, able to handle some pretty good collisions and keep on going.
Don't use that as a Get Out of Jail Free card. Come into beaches carefully whenever possible and be on the lookout for submerged rocks and other hazards.
On beaches with sand or small rocks, you may find it possible to drag it to the water instead of enlisting a second person to carry it. I'd still suggest finding a carrying partner whenever possible to keep it in the best condition possible.
Portability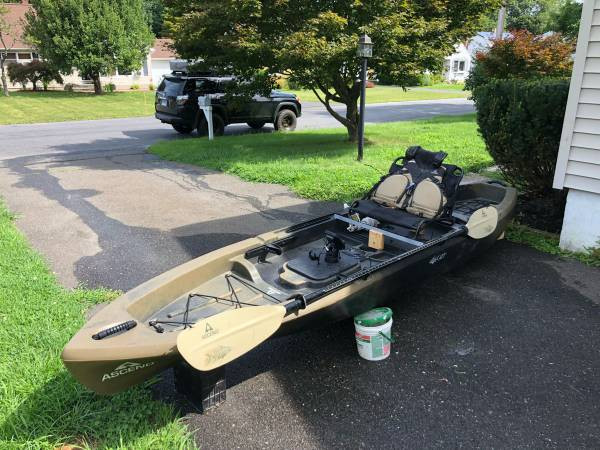 For a solo angler kayak, this is one of the heavier ones. Checking in at 77 pounds, it's quite the burden to try to carry on your own.
That weight may be hard to get on or off a vehicle by yourself. Chances are you'll be enlisting the help of someone else to get on the water.
Ascend FS12T Features & Accessories
What sets angler kayaks apart is the built-in accessories that make fishing much easier than in a traditional one. This model from Ascend comes with a pair of paddle holders that will keep them out of the way and secured while you fish.
To compensate for the boat's heavier weight, handles have been installed in the bow and stern to help with tandem carries.
Six scuppers are built into the hull to help drain water that finds its way into the cockpit.
A nice addition is the plugs for the scuppers are included, a feature that some companies omit. This makes the boat more stable in rough water by keeping water from entering the boat. However, paddlers should monitor the water level when these scuppers are in use since splashing water will have no way of draining and can threaten to swamp the kayak.
Ascend 12T Fishing Ease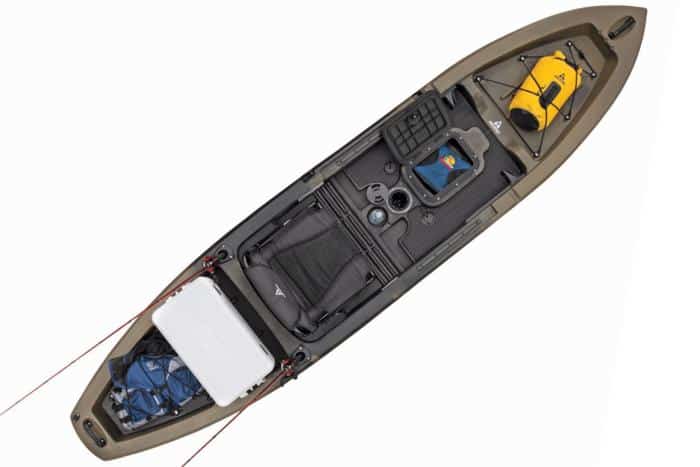 While the wide transom and "tunnel bow" design is meant to help with stability, it's important to note that some paddlers have expressed disappointment with this model's stability when standing or sitting. It could be inexperienced paddlers or simply a bad day, but it bears mentioning.
There's plenty of storage space in this kayak. Both the bow and stern are designed as open-air storage compartments complete with bungee cords to secure your gear.
A water-resistant hatch with a roomy 10.91" x 14.84" opening can be found midship near the seat.
Two rod holders are built into the hull to keep your poles secured as you transit to and from your favorite fishing spot. You'll also find a pair of accessory-mounting rails (one on each side) that can be outfitted for a variety of custom components.
Compared to other angler kayaks, the 350-pound weight capacity of this kayak is pretty light. Since this includes the weight of the paddler itself, it quickly limits how much gear you can bring with you. I'm hesitant to load it up with my overnight gear and still feel confident in the boat's performance.
Ascend 12T Value
The Ascend 12T's biggest appeal to consumers is the price. It is notably cheaper than many of its competitors. And while the included scupper plugs are nice, I would have liked to get a paddle and the ability to install a fishfinder, like on the Vibe Sea Ghost 110.
That said, for the same price I feel like the Perception Pescador Pro 12 is a much better boat overall.
It's so stable you can easily stand and cast, it tracks well, is maneuverable…
Ascend FS12T Testimonials
The Ascend FS12T reviews are mixed. Some question the stability while others praise it. The price efficiency is a bonus for many, but the weight of the model can be a real hindrance when it comes to getting on the water.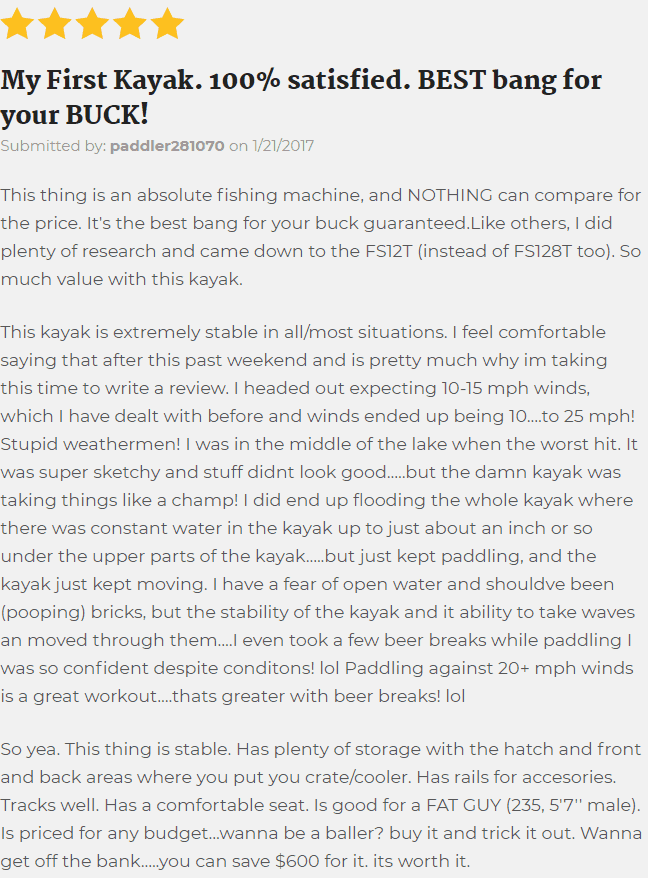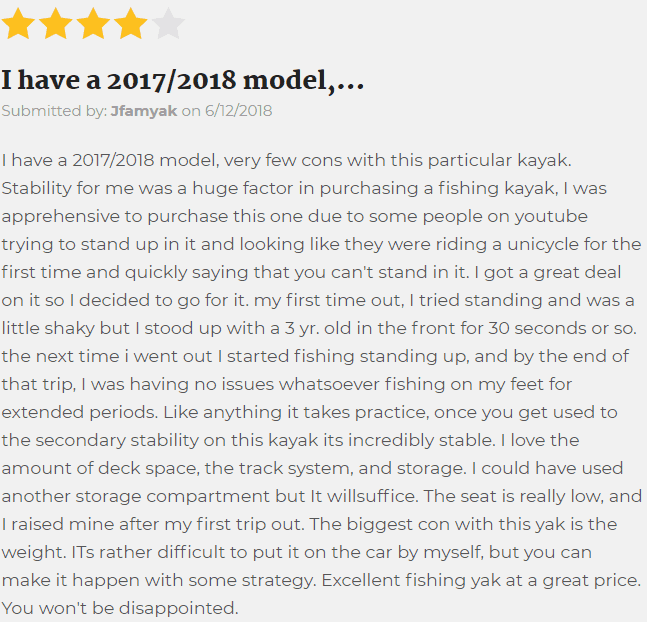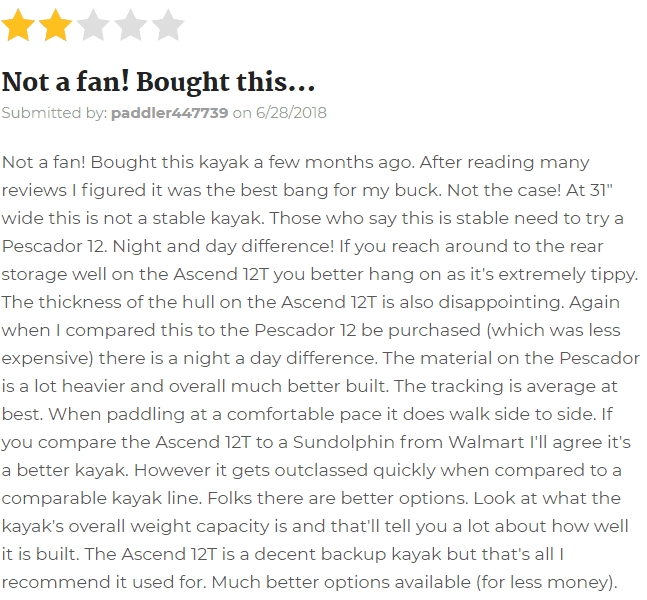 Ascend FS12T Alternatives
If you're not sure the Ascend 12T kayak is made for you, here are three alternative fishing kayaks to help you make an informed decision.
Whether you're looking for a budget fishing kayak or a high-end vessel with a lot of bells and whistles, I've got you covered.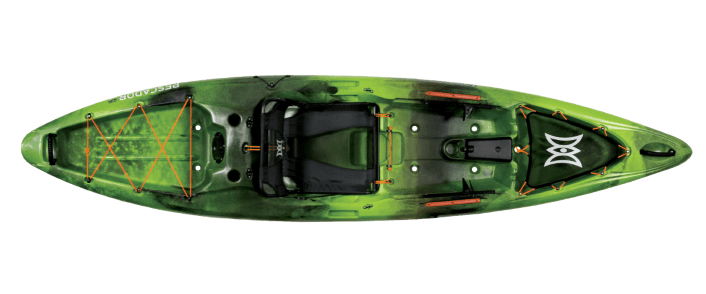 The same length as the Ascend 12-foot kayak but a full 15 pounds lighter, the Pescador Pro 12 is faster and more maneuverable. Despite its lighter design, it still manages a larger weight capacity of 375 pounds. That still probably isn't enough to accommodate overnight trips. 
The improved maneuverability makes it a more reliable vessel in various water conditions and you can feel confident taking the Pro 120 on most rivers and calm ocean environments.
Storage is not as easy as it doesn't have any watertight hatch to speak of.
Weight capacity still limits it to day trips
No watertight hatch
Faster and more maneuverable
Read our full review of the Pescador Pro 12.0.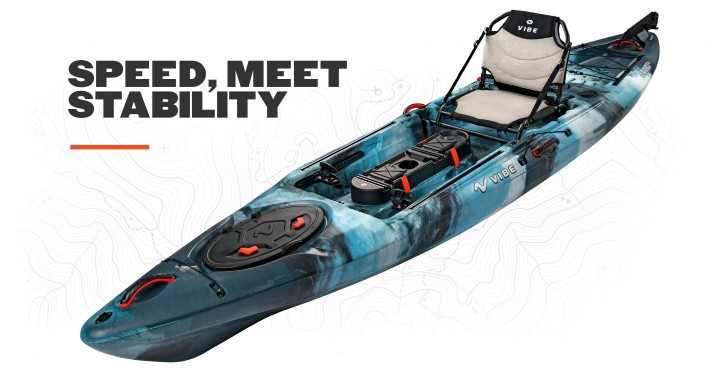 With a host of customization options and impressive on-water performance, the Vibe Sea Ghost 130 is a great angling kayak. Different gear tracks can be outfitted for a range of different components from cameras to fish finders on the intuitive central console.
A watertight storage hatch, a mammoth load capacity, and the comfy "hero" seat make for a more expensive but high-performing kayak. On the water, the boat performs well in most water conditions and is surprisingly fast over calm water despite weighing 75 pounds.
One of the most customizable kayaks
Ample storage space and 550-pound load capacity
Seat design considered one of the most comfortable available
Click here to read my full review of the Vibe Sea Ghost 130.

With a pontoon-style hull, the Pelican Catch 120 is one of the most stable fishing kayaks. Standing and casting feels safe and comfortable even if the water is choppy. The wide hull and open deck give you plenty of room to operate.
But this wide hull hinders the Catch 120's speed. The slower pace combined with the 400-pound weight capacity puts it in a bit of a no man's land between day trips and longer journeys.
While you can customize the Catch 120 to your liking, there is no handy central console or way to attach a fishfinder like you can on Vibe's models.
Great stability allows you to stand and cast
Comfortable, adjustable seat
Slow speed and smaller weight capacity make multi-day trips more challenging
Full review of the Pelican Catch 120.
Ascend 12T Review – Conclusion
If you're looking for a casual budget fishing kayak, the Ascend FS12T model is fine.
But it's hard not to quibble with its slow speed, lack of a rudder, and stability questions. I'd rather let you decide for yourself if this model is stable enough for your purposes.
I think it would be OK if you're heading out to the lake for a day trip, or perceive your angling career as more recreational than a serious passion.
If you're looking for a kayak with more customization options and better performance for a similar price, I would recommend the Perception Pescador Pro 12 instead