With a diverse collection of hard-sided kayaks, the Greenville, South Carolina based Perception Kayaks has been churning out recreational and fishing designs for more than 40 years.
One of their more recent designs is the Pescador line, with the Pescador 10 being a popular choice among casual recreational paddlers and fishing enthusiasts.
It's shorter and lighter than many hard-sided fishing kayaks, and while reasonably priced, still comes with a lot of the bells and whistles that fishermen of all experience levels crave.
Stable and maneuverable the Pescador 10 is built for lakes and rivers and is easy for paddlers of all experience levels to master.
I was pleased to find in my Perception Pescador 10 review that it provides terrific bang for your buck and is complete with customizable gear tracks and multiple rod holders in a compact and efficient design.
Pros:
Tons of features for the price
Tough and durable
Stable and easy to paddle
Cons:
Not as many custom mounts as the Perception Pescador Pro 10
Sluggish top speed
Open cockpit limits it to warm water fishing
Things to Consider Before Buying a Perception Pescador 10

It's possible to fish from any kayak, but boats designed specifically for kayaking come with many key features that make it much easier. Included accessories like rod and paddle holders along with custom gear tracks can enhance your time on the water.
Hard-sided kayaks like the Pescador 10 are durable and the extra rigidity means that they're more stable with better performance than an inflatable. They can be harder to store, however. The Pescador 10 isn't a terribly long kayak at 10 and-a-half feet, but it will still require a large, dedicated storage area where it can be protected from the elements and direct sunlight.
The Pescador 10 is a "sit-on-top" kayak. This makes it an easy boat to get in and out of with a big and roomy cockpit that doesn't feel confining. The disadvantage of this design is that your body is exposed to the elements. If there are any waves or precipitation, you won't have a good way to protect yourself.
If you live in a colder or rainier environment, you may be better off with a sit-in kayak like the Tsunami 125 which provides more protection.
Specifications
Length: 10-feet, 6-inches
Width: 32-inches
Weight: 57 pounds
Load Capacity: 325 pounds
Design
Material
Like many recreational and fishing kayaks, the Pescador 10 is made of tough and durable polyethylene plastic. Resistant to abrasions and difficult to dent and damage, this material can handle most accidental drops and on-water collisions.
This is a great hull type for beginner kayakers or those that foresee landing on rocky beaches where the hull is likely to get bumped.
Speed
As a recreational/fishing hybrid, this isn't a kayak meant for speed.
Between the modest keel length and wide hull, it's meant for more casual trips than those that are looking to cover serious ground in a short period of time.
Maneuverability
Shorter keeled boats may be slower, but it tends to make them more maneuverable. The Pescador 10 is responsive to your paddle strokes making it easy to cut tight corners and get in and out of small spaces.
The profile makes it a good boat to learn on without getting frustrated or having to paddle furiously on one side to get it to turn.
Comfort
No matter how long you're on the water, how comfortable your seat is will go a long way to determining how enjoyable it is.
Luckily Perception has always taken a lot of pride in their seats and the Pescador 10 is no different. It has an ergonomic backrest that's fully adjustable so most paddlers should be able to find a position that suits them. Don't overlook the bottom of the seat which is also fully padded.
For your feet, it has multiple footwells to accommodate paddlers of all lengths. Footwells can also improve your paddling speed by giving you something to brace against on your follow through and I think they do a great job of taking the stress off your lower back.
Stability & Tracking
Like most boats tailored toward casual or beginner paddlers, the Pescador 10 is designed with stability in mind.
It's a wide boat that helps compensate for a sit-on-top kayak's tendency to place the paddler higher above the water to minimize splashing waves. In mild conditions on rivers and lakes, the Pescador 10 feels stable and reliable underneath, able to absorb sudden shifts in your weight without threatening to capsize.
Being able to stand and cast can be a big advantage when fishing from a kayak. And while I like the Pescador 10's stability, I don't think I trust it enough to try standing and casting from it.
Tracking is a bit more of a mixed bag. Without a rudder, you must rely on your paddle alone to keep you on a straight path. It does fine in this department as long as the weather is good without too much in the way of wind and waves.
But should conditions deteriorate, it can become more challenging to maintain a straight course. Because of this, I'd keep it closer to shore whenever possible in case the weather turns.
Durability
The tough polyethylene plastic should be able to handle just about anything that you throw at it. However, paddlers should always exercise caution not to ram too hard into rocks or other obstacles regardless of their boat's material.
That said, the more careful you are with your kayak, the longer it'll last. Avoid dragging your kayak to and from the water whenever possible. Even plastic boats will eventually get scratched.
Apart from not being aesthetically pleasing, peeling plastic will also increase your boat's drag when on the water and decrease its overall efficiency.
If possible, store your boat out of direct sunlight. UV rays can damage the hull over time and weaken it if exposed for long periods of time.
But if you follow these simple steps, there's no reason a plastic hulled kayak can't last you for a very long time.
Portability
One drawback to a plastic kayak's durable construction is it comes with additional weight when compared with inflatable kayaks or those made of fiberglass.
Checking in at 57-pounds, the Pescador 10 is actually a reasonable weight for a boat of its size. Plastic handles are built into the bow and stern to make it easier to carry, but you should still have a partner when moving any serious distances. You can make longer carries even easier by installing some gel grip handles that can be more comfortable than bare plastic.
The ten and a half foot keel probably won't fit in the back of most cars smaller than a truck. But with the proper tie-downs should be able to fit either on top of most vehicles or in the bed of most pick-up trucks.
Today virtually all fishing kayaks come with some customization options so you can better outfit your boat.
On the Pescador 10, you get two flush-mounted rod holders just behind the seat so they can be easily accessed while on the water.
One either side of the cockpit are "gear tracks" where you can install your own gear. Whether you want additional rod holders, a camera, or a place to store your spare tackle, these adaptors allow you to swap and replace them quickly and easily.
If that's not enough, there's a molded recess directly in front of the seat specifically designed for a fish finder that should be able to fit most brands.
Fishing Ease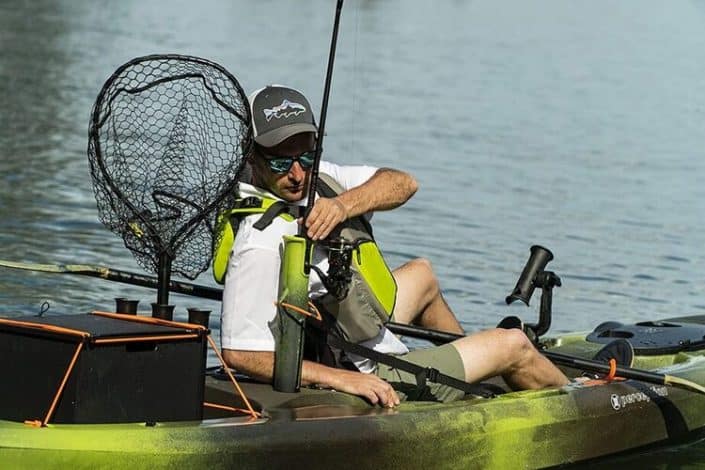 With a weight capacity of 325 pounds, it should be able to carry both you and your gear for the day or even quick weekend trips if you back frugally enough.
Storage space is ample for a boat of this size with a big open tank well in the stern big enough for a cooler or your tackle box. Watertight storage can be found in the bow where there's a covered hatch for more sensitive items.
Value
The Pescador 10 is a more stripped-down version of the Perception Pescador Pro 10 (more on this model below).
While it lacks some of the bells and whistles and won't perform as well as its big brother, you still get a pretty good boat for a reasonable price.
If you're a casual sport fisherperson or just someone looking to get out on the weekends and want to bring a fishing pole along, their Pescador 10 should meet your needs.
It has enough custom features to let you outfit your boat however you see fit and the stability and maneuverability should give newcomers confidence. As long as you don't ask it to cover large distances or tackle windy or wavy conditions, the Pescador 10 should satisfy the water-bound weekend warrior.
Alternatives

A bigger and beefier version of the Pescador 10. If the basic setup doesn't have quite enough fishing features for you, this may be worth the upgrade.
You get additional gear tracks for mounting gear and a sturdier set-up for installing a fishfinder than the Pescador 10's recessed well.
The seat has a few modifications as well. It's "stadium-style" and can be adjusted up and down in addition to back and forth, allowing you to get a better view of the water and cast further and with greater accuracy.
Comes with more custom options than the vanilla set-up
Similar performance to the Pescador 10
May not be worth the extra cost to casual paddlers
Read our detailed review of the Perception Pescador Pro 10.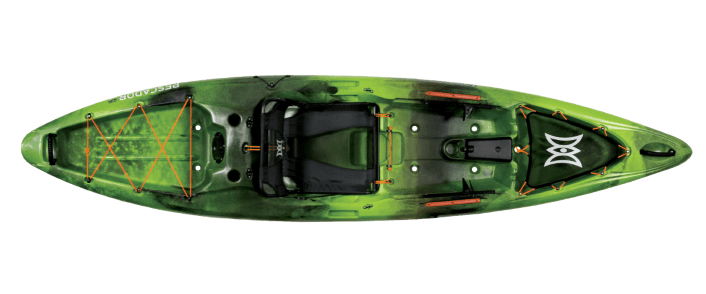 Longer than the Pescador 10, the Pescador 12 provides a better top speed thanks to the longer keel.
It's capable of handling lakes, rivers, and protected saltwater. The longer keel also means it can track a bit better, hence the ability to go into bigger water environments. But it manages not to sacrifice too much in the way of maneuverability and remains a boat that's easy to paddle and master. It's also very stable with a wide 32" base.
The adjustable, camp chair seat has drawn rave reviews. Accessory mount options allow anglers to customize the fishing set-up to their liking.
Versatile design with comparable stability and maneuverability
64-pounds with nothing in it makes it a challenge to move solo
Comfy seat and mount options allow customization options
Read our honest review of the Pescador 12.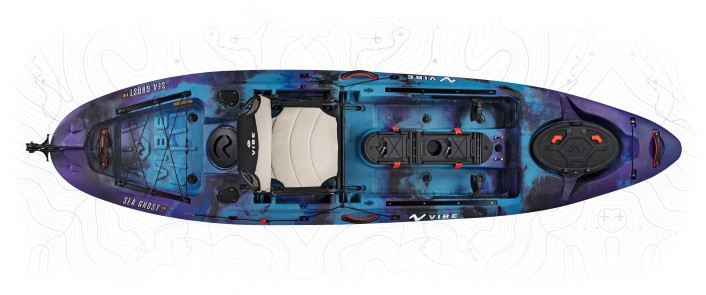 Smaller with a lower load capacity than some of Vibe's bigger models, the Sea Ghost 110 still packs a punch in its small frame.
That said, it can still carry 500 pounds when fully loaded and features Vibe's fabled "hero seat" one of the most comfortable kayak seats on the market.
Featuring a slew of gear tracks, multiple rod holders, and a central console where a GPS or fish finder can be installed, you'll be hard-pressed to find a fishing kayak more customizable than Vibe's Sea Ghost series.
Nice combination of speed and maneuverability
Impressive load capacity for its size
Lack of maneuverability can be an issue in some situations.
Read our detailed Vibe Sea Ghost 110 review.
Conclusion
For weekend getaways and recreational paddles, the Pescador 10 gives you a stable and reliable fishing platform.
I can't recommend it for more passionate fishermen or those looking to head onto the open ocean, but for the price, it should suit more casual users just fine.
There are enough custom options to let you play around with your fishing layout, and the surprisingly large amount of storage space means you shouldn't have any trouble packing all the necessary gear.