There's plenty of entry-level kayaks on the open market. But what if you don't know what kind of paddling you want to do? Old Town has you covered with the versatile Vapor Ten.
After my Old Town Vapor Ten review, I came away mostly satisfied with this kayak.
Designed both for fishing and as a basic, beginner-friendly boat, the Vapor Ten provides a stable paddling platform to go along with the ability to do some fishing.
With more than a century of experience, Old Town is one of the oldest kayak and canoe companies out there. Today they build kayaks and canoes, along with a host of accessories such as life jackets and paddles.
Pros:
Cost-efficient and beginner-friendly
Lightweight with a short keel makes it portable and easy to transport
Impressive maneuverability
A stable kayak that will keep beginners comfortable and confident
Cons:
Short keel and wide hull minimizes the top speed
Lack of storage space and smaller load capacity limits it to day trips
Tracking diminishes in wind and waves which makes paddling frustrating
Things to Consider Before Buying an Old Town Vapor 10

While the Vapor 10 is one of the shortest hard-sided kayaks measuring 10 feet long, it can still be hard to store. Ideally, you can find storage space that will keep your kayak out of direct sunlight, rain, and snow.
It's also one of the easiest kayaks to transport. With a proper roof rack or similar apparatus, most vehicles can transport a Vapor 10 without a trailer. Some bike trailers may even be able to move it.
As a sit-in kayak, the Vapor 10 can accommodate a spray skirt around the combing to keep rain and waves out of the cockpit. While the opening is pretty large as far as a sit-in kayak goes, it may feel cramped for some paddlers.
If you struggle with stiff hips or will be paddling predominantly in warm water where splashing waves may feel refreshing, a sit-on-top kayak like the Ascend FS128T may serve you better.
Specifications
Length: 10 feet
Width: 28.5 inches
Cockpit Dimensions: 19.5 inches x 48 inches
Weight: 49 pounds
Load Capacity: 325 pounds
Design
Material
Like most kayaks in this price range, the Vapor Ten is made of a durable plastic known as polyethylene. Plastic clad kayaks are substantially heavier than inflatable boats or kayaks made of fiberglass, but they're much tougher. It'll take a lot to punch a hole in this kayak.
Speed
With a design more focused on stability, the Vapor 10 is not the most hydrodynamic kayak. This coupled with the short keel means you'll have to paddle hard to get it up to speed and maintain it.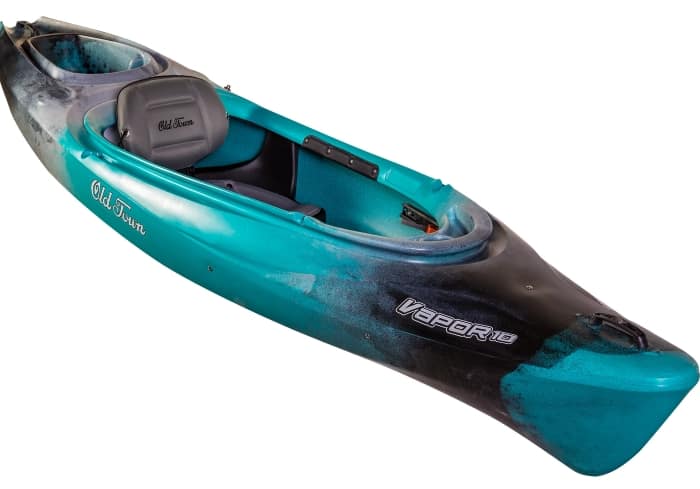 While this isn't an issue for leisure paddles or if your fishing spot is nearby, it can be problematic if you're planning a trip that requires longer distances with the potential for bad weather.
When planning your trips, it's best to assume that you can paddle about 2 miles an hour in neutral conditions. I'd say plan for a little bit slower in a Vapor 10.
Maneuverability
The short keel works to the Vapor 10's advantage here.
Even without a rudder, you can make tight turns and squeeze it into spots that larger boats wouldn't dare.
More experienced paddlers will find steering with specific paddle strokes easy and can coax a high level of performance out of it.
Comfort
The seat on the Vapor 10 is padded and fully adjustable. This coupled with the decently sized cockpit hatch allows paddlers of all ages and experience to enter and exit safely and remain comfortable for extended paddles
A fully adjustable foot brace system keeps your feet in the right place and makes bracing easier. Thigh pads enhance the boat's stability and adds another layer to bracing for tight turns.
Stability & Tracking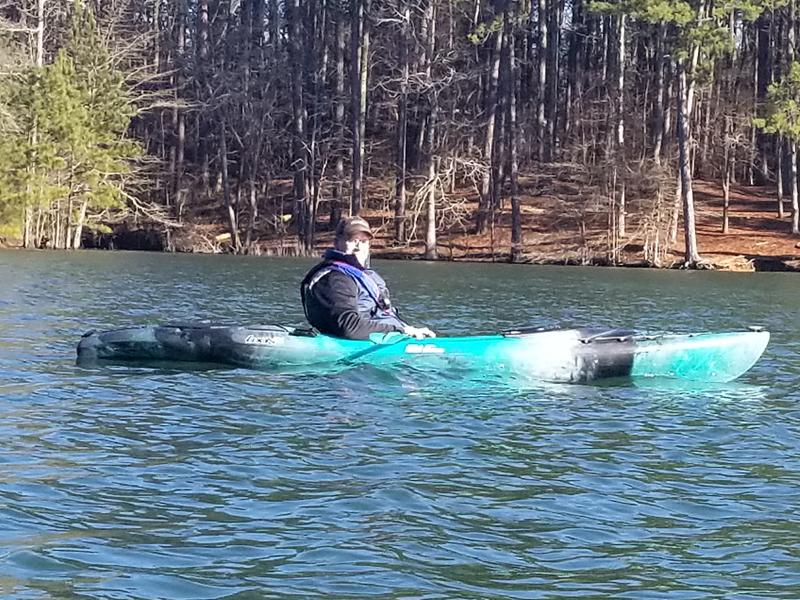 Since it's meant as a recreational and angler hybrid, the Vapor 10 has a nice stable design.
This makes it a fine choice for beginners who fidget and react to a kayak's rocking more than experienced paddlers.
Unlike some angling kayaks, it's not stable enough to let you stand and cast.
Like many in the class, the boat tracks fine in decent weather. When the water is calm and the wind is mild, it's easy to keep the Vapor 10 on course.
But wind, waves, and tidal influences can make it spin off course leading to a frustrating or dangerous paddle through choppy conditions.
Durability
While not the heaviest kayak, it can still be a challenge to move it solo up and down the beach.
The installed skid plate on the hull lets you drag it over short distances. I'd still suggest tandem carries for longer portages or on rocky beaches.
The plastic hull will handle most collisions with submerged obstacles or any accidental drops. But you should still be careful coming into beaches. Serious impacts will cause the plastic to fray and weaken and can also increase water resistance.
Portability
At just ten feet long and 49 pounds when empty, the Vapor 10 is one of the easiest kayaks to transport.
You may be able to fit it in the bed of some trucks. A roof rack or similar set-up will enable most vehicles to move it safely.
Features & Accessories
The Vapor 10 is a basic kayak and lacks some of the fancy bells and whistles of its more expensive counterparts.
One nice feature is the installed paddle holder. I love paddle holders, especially when I'm getting in or out of my kayak since I don't have to worry about my paddle floating away as I find my balance.
Beyond this there aren't a lot of fancy accessories. No paddle is included which some companies offer as a sweetener in their beginner vessels.
The cup holder is a nice touch. Just be sure to always paddle responsibly.
Fishing Ease
A lot of angling kayaks come with specific components that let you install various accessories onto your boat and tailor it to your specifications. But the Vapor 10 lacks a lot of these.
There's no way to install a fishfinder and the lack of gear tracks makes it tough to run a camera or keep gear close at hand.
While there's no rudder or skeg, the boat does have an anchor trolley system so you can bring an anchor along. This is a great feature when you want to fish a specific spot and don't want to be paddling constantly to maintain your position.
Watertight storage space can be found in the stern with an enclosed and customizable hatch. The Vapor 10 Angler model has bungee cords stretched across the bow's decking to hold items up to the size of a small cooler.
A pair of rod holders keep your poles secure as you travel to and from your fishing hole.
Value
The simple design and stable hull make the Vapor 10 one of the best fishing kayaks for beginners.
It remains relatively cheap compared to some higher-end angling kayaks.
The two different models carrying the same name makes it a little confusing when you're shopping. I'd recommend purchasing the angling one since you at least have the option to fish.
There's no extra incentives like a paddle and the bare-bones fishing features are a bummer. But if you view your kayak fishing as a casual pursuit with a focus on recreation, it will get the job done without breaking the bank.
Testimonials
I spent some time looking online to find other people's impressions of the Vapor 10. The reviews were mostly positive, hailing it as a good introductory kayak.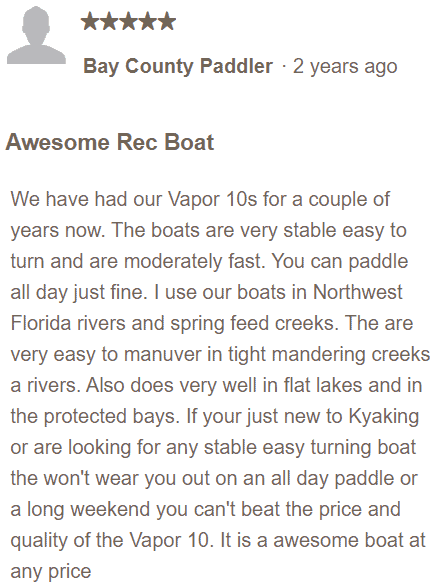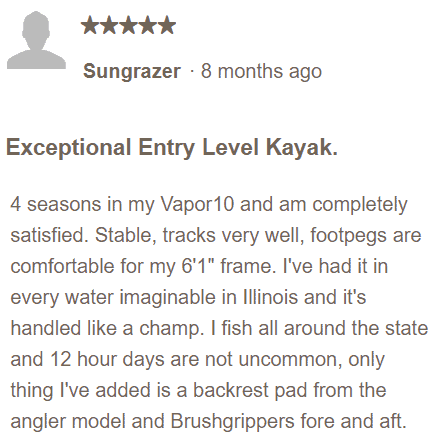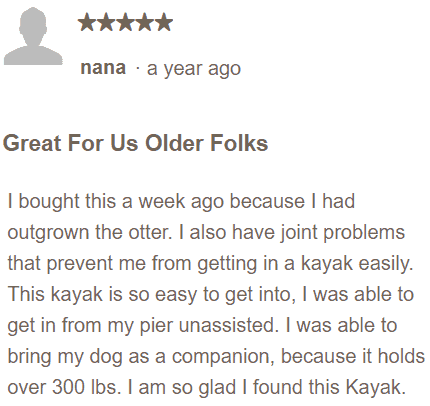 Alternatives
Vibe Sea Ghost 110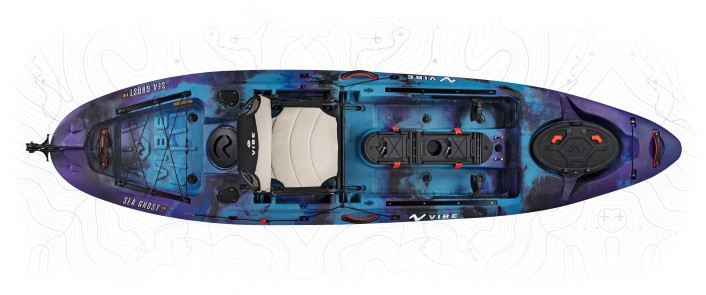 Featuring the same excellent stability as the Vapor 10 but with a plethora of customization options, the Vibe Sea Ghost 110 is a high-quality fishing kayak.
You'll find plenty of storage options in this boat from the watertight bow hatch, bungee cords on the stern, and clever central console.
Several gear tracks let you outfit the boat to your liking and the central console can even accommodate most fishfinders to take your fishing to the next level.
The huge load capacity and better performance in bad weather allow you to travel into places you wouldn't dare in a smaller boat.
It all comes in a more expensive and heavier package. The Sea Ghost checks in at 62 pounds when empty and the rudder, while helpful in rough conditions, doesn't do much to improve the tracking in calm water.
Huge load capacity makes it great for multi-day trips
Tons of customization options to outfit your boat however you want
Ample storage space
Included rudder
Heavier and more expensive than other fishing kayaks
Read our full review of the Vibe Sea Ghost 110.
Sun Dolphin Journey 10 ss

Six inches shorter than the Vapor 10, the Sun Dolphin Journey 10 from is one of the smallest and lightest angler kayaks on the market. If you lack storage space or a vehicle that can carry larger kayaks, this is the boat for you.
This short keel gives it fantastic maneuverability and there are more storage options than in the Vapor 10.
But it falters in open water as the short length makes it hard to pick up speed.
Like the Vapor 10 it tracks fine as long as the conditions are good, but if the wind picks up or you're in a tidally influenced area, it can be blown off course easily.
This coupled with the tiny weight capacity limits its upside to simple day trips, preferably in calm and predictable water.
There's also a lack of gear tracks, and while there are scuppers, no plugs are included and the holes are oddly shaped leading you to modify most plugs to get them to fit.
One of the shortest and lightest angling kayaks available
The tiny frame makes sharp turns and tight corners a breeze
Plenty of storage options
Small load capacity requires you to pack light
Read our full review of the Sun Dolphin Journey 10 SS.

A newer version of the Vapor 10, the Old Town Vapor 10XT has a lot of the specifications of the Vapor 10.
It retains the spacious sit-in cockpit, making it a good choice for rough and cold water.
Like its predecessor, it's a boat built for calm water excursions and is out of its league in rough ocean conditions. The cockpit is the same dimensions and the seat has the same adjustable padding, footrest, and thigh braces.
With impressive maneuverability and the same tracking troubles in rough water as the Vapor 10, it's tough to tell these two boats apart.
If you'd rather have the more up-to-date version and are willing to spend a little more money that's fine. But I'd rather save some cash and go for the older version.
Excellent stability and a wide cockpit
Short keel enhances maneuverability but reduces top speed
Lack of storage space limits it to day trips and not much more
Tracking in rough water is disappointing.
Old Town vapor 10 – Conclusion 
The Old Town Vapor 10 won't blow you away with top-of-the-line performance or a host of intuitive features.
But as an entry-level kayak that lets you experiment with the sport while providing a good platform for kayak fishing, it's a solid choice.
I love the stability and paddle holder, two features that are invaluable if you're new to the sport. This coupled with the watertight stern hatch should be just enough to get your paddling career off the ground.
But the short keel limits the top speed, and while the maneuverability is impressive, the tracking falters in any sort of weather.
If you fall in love with the sport, you'll want something more impressive, but for casual excursions and relaxed fishing, the Vapor 10 suits just fine.