Fishing can be challenging, even with the proper gear. To give yourself the best chance of landing the Big One, it's best to be outfitted with a high-quality fishing platform.
Luckily there's no shortage of kayaks designed for the kayaking angler, and Ascend has created several different models.
Available from a range of outfitters, Ascend specializes in hard-sided plastic boats of both the sit-in and sit-on-top variety. The FS128T is one in a long line of fishing models that also includes the Ascend 12T.
After my Ascend FS128T review, I found it to be a great angling kayak. It's very stable and so solid you can even stand up and cast if you'd like.
This coupled with plenty of storage space helps make up for the boat's unspectacular top speed.
Pros:
Incredibly stable
Several watertight storage areas
Comfortable seat
Cons:
One of the heavier angling kayaks
Subpar top speed
350-pound load capacity limits trip length
Ascend FS128T – Things to Consider Before Buying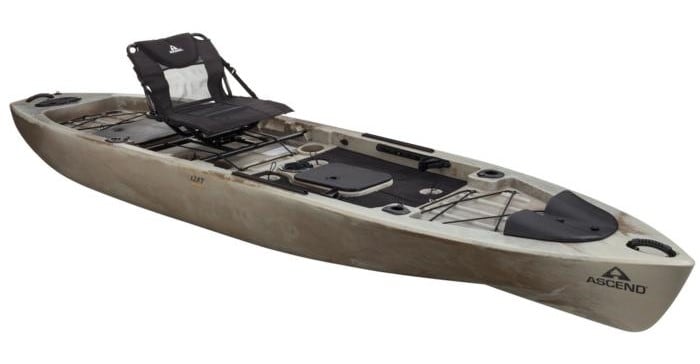 While it is possible to fish from any kayak, fishing kayaks come with several helpful accessories. Features like rod and paddle holders make fishing easier than from a generic kayak. Angling can be tough enough without worrying that your paddle is floating away.
As one of the larger and heavier angling kayaks on the market, finding the proper storage space can be challenging. Ideally, you can find a place to keep your kayak that is out of the weather and climate-controlled. If it must be stored outside, keep it covered with a tarp or metal to keep rain and direct sunlight off.
If you'll have to drive to the water, be sure you have a vehicle that can safely get it there. This may require purchasing a roof rack, trailers, or tie downs. At just under 13 feet long, it won't fit in the bed of most trucks.
Knowing where you plan on fishing is key before purchasing. Fortunately, the FS128T can handle many different environments. Because of its open cockpit, it's best to limit usage to warm excursions where water splashing into the cockpit won't be a problem.
Those that fish in cold-weather regions can look to other options like Wilderness Systems' Tsunami 125.
Ascend 128T Specifications
Length: 12 feet, 8 inches
Width: 33 inches
Weight: 84 pounds
Load Capacity: 350 pounds
Ascend FS128T Design
Material
Like most kayaks in this price range, the Ascend FS128T is made of a durable plastic called polyethylene.
Plastic hulled kayaks are more expensive than inflatable models but are much more durable.
They are heavier than boats made of fiberglass but can absorb most drops and collisions with little effect on the hull's integrity.
Speed
While the hull is built for stability, the V-shape bow and longer keel do help with speed, although this boat isn't built to cover long distances.
Plan trips accordingly and give yourself a little more time than you think you'll need to get there. A good rule of thumb is to estimate an average speed of two miles an hour.
Maneuverability
The lack of a rudder comes into play here. While the boat turns ok in calm water, any wind, wave, or current can make steering challenging if you're new to the sport.
If you plan on being in rough waters, I'd recommend practicing your paddle technique first.
Comfort
Most angling kayaks go through great efforts to make their seats comfortable. The FS128T is no different. The seat can be adjusted between three different heights and reclined to accommodate most anglers.
The seat does sit a little higher than I prefer. With your center of gravity so far above the hull, it can make you feel a little unstable if you have it in the highest position. But this is more of a personal preference.
The factory design has a design quirk that bears mentioning. It's lashed to the boat via bungee cords instead of straps. This can make the seat rock if you're moving around, casting, or trying to net your catch.
Stability & Tracking
The expansive 33-inch hull gives the impression that you're paddling a battleship. The FS128T is an incredibly stable platform whether you're paddling or fishing. After a little while, you may find you can even stand and cast when conditions allow.
At just under 13 feet in length, the FS128T can maintain its course in most calm and moderate conditions. Strong wind and waves can make tracking troublesome if you're not experienced.
Durability
The dense plastic hull can take a pounding and keep on going. Like any material, the more collisions you put it through the quicker it'll deteriorate or lose its form. Scratches and peeling plastic also add water resistance, will slow you down, and degrade the boat's performance.
Portability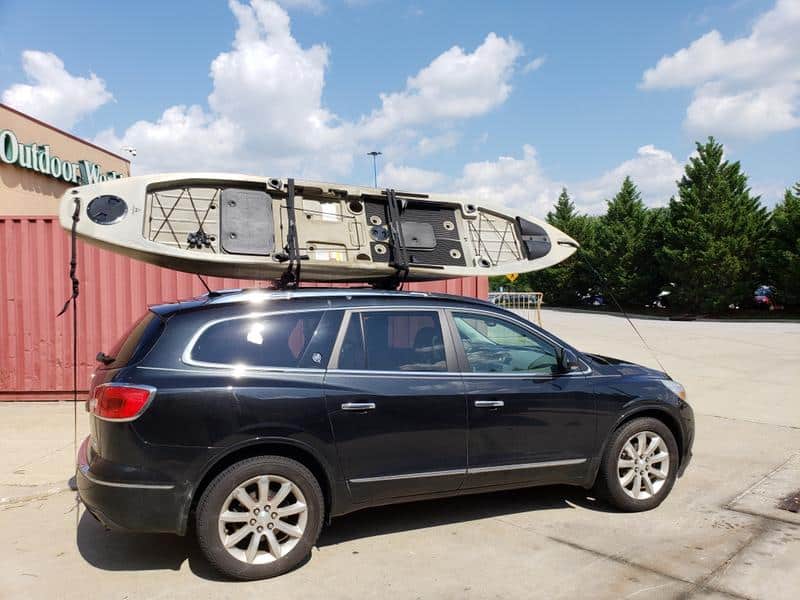 In the world of kayaks, it's hard to mix durability and portability without paying a premium.
The durable plastic hull and long keel boost the weight of the FS128T up to 84 pounds when empty. Add in the seat – which you'll almost certainly want – and you have a total weight of 96 pounds.
A pair of carrying handles on the bow and stern do make tandem carries easier. Similar issues can arise transporting it to the water. Getting 96 pounds on the top of a vehicle is almost impossible by yourself. Depending on your vehicle, you may require a trailer or sturdy vehicle rack.
Ascend 128T Features & Accessories
There's no skeg or rudder with this design, but Ascend has done a good job of ensuring that it tracks well nonetheless as long as the water and wind aren't too bad.
Some kayaks come with bonus items to sweeten the pot like a paddle, but that's not the case this time.
There also aren't any paddle holders installed on the base design. This can get frustrating when you want your hands free to fish. It's hard to relax and concentrate when you're worried that your paddles are floating away. This can be alleviated somewhat thanks to the wide and open hull that provides some room to lay your paddle on the deck.
Ascend 128T Fishing Ease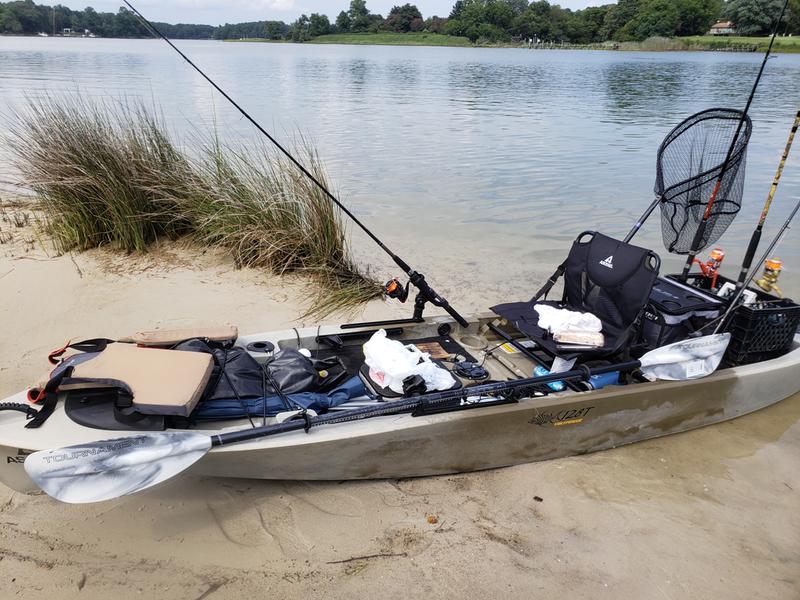 Storage space is important to hold all your angling gear. And the FS128 has plenty of it. Several watertight storage areas of various sizes can be found including one that is easily accessible from the seat. One is a recessed tackle tray storage area cleverly integrated beneath the seat.
Bungee cords are stretched across the hull to provide open-air storage space for a cooler or items of a similar size.
A quartet of rod holders keeps your fishing pole and any spares you want to bring secure as you travel to and from your favorite fishing hole.
The lack of a rudder or skeg can be a little troublesome when you're adrift in waves, wind, or current as it can blow you off course from where you want to be. The boat does have the ability to have an anchor placed on it though. So as long as it's not too deep you don't have to worry about it.
Ascend FS128T Value
While you won't find a ton of customization options or any included accessories, the FS128T provides a reliable and stable surface to fish from.
The lack of speed and load capacity that some may find subpar might be enough to turn some away. But for day trips or quick overnight journeys, the versatile and ample storage space is a nice plus.
I love the big open deck and any angler will tell you that it's easier to cast with accuracy when you can safely stand over trying to cast from a sitting position.
The clever tackle tray storage location is innovative, no leaving sharp hooks across the deck on this boat.
If you're willing to put up with the plodding pace and the 350-pound load capacity doesn't limit what you want to do, the Ascend FS128T makes for a fine fishing kayak.
Ascend FS128T Testimonials
I spent some time looking online to see other people's opinions of the FS128T. Reviews seemed to be mostly positive with reviewers praising the stability and mentioning the cumbersomeness.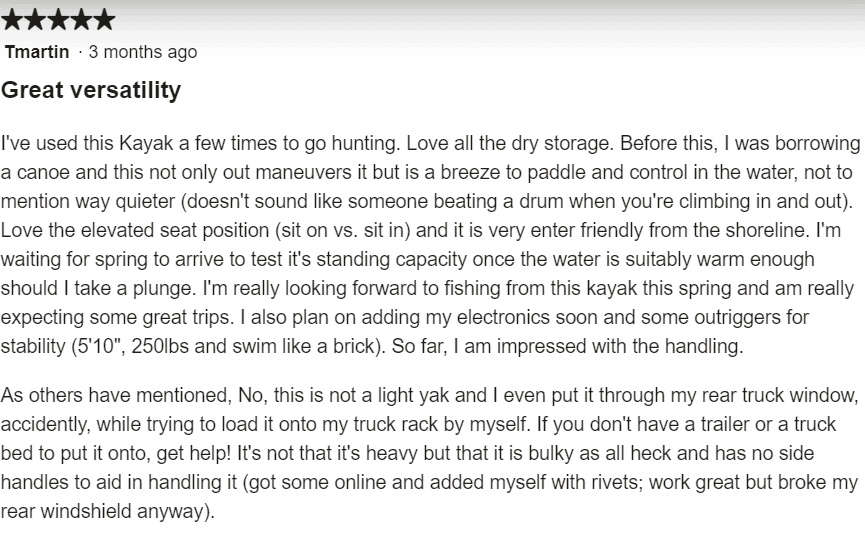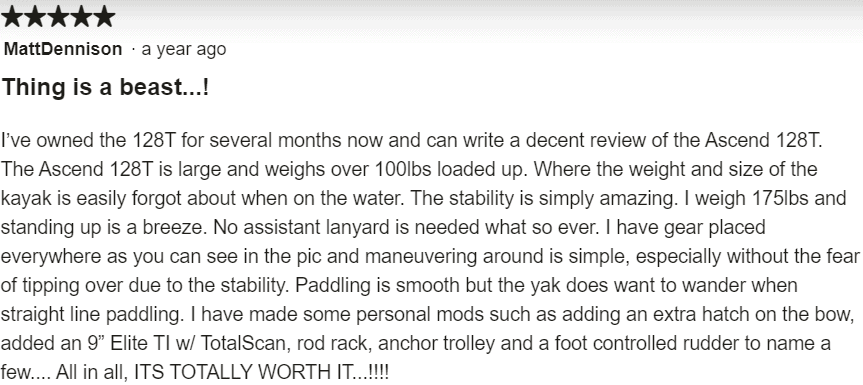 Ascend FS128T Alternatives
Ocean Kayak Prowler 13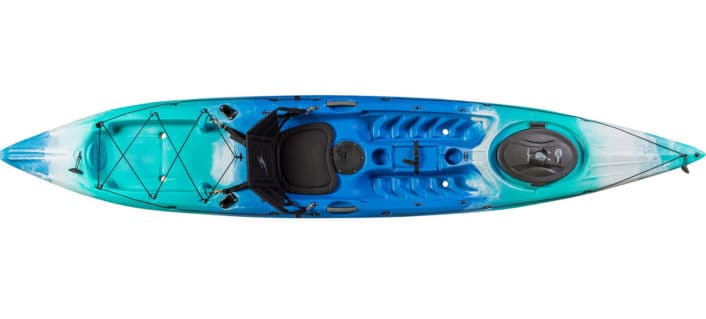 One of the longer designs out there, the Ocean Prowler 13 is the greyhound of the fishing kayak world. At 14 feet long and sporting a narrow hull, the Prowler 13 glides easily across the water, covering distances that other angling kayaks can only dream of.
This streamlined set-up does make it more unstable than other angling kayaks, which makes it better for those that are more experienced and comfortable with tippier kayaks.
The design makes it better for rougher water and the excellent secondary stability feels very reassuring once you adjust to it.
From a customization standpoint the Prowler 13 is fairly basic, sporting a pair of rod holders and not much else.
There's no rudder included either although you do have the ability to install one if you desire.
One of the fastest angling kayaks
Lower primary stability can make beginners feel uncomfortable
Comes with rod holders but no other customization options
Read our full review of the Ocean Kayak Prowler 13.
Vibe Sea Ghost 130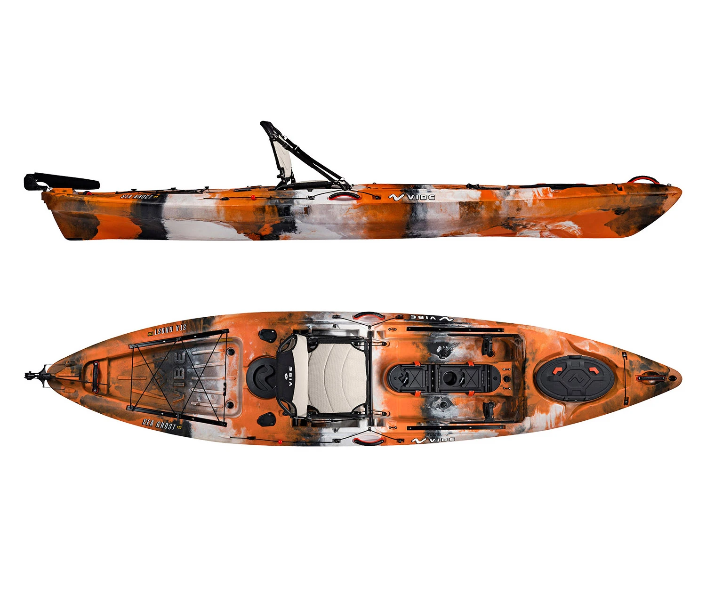 With a host of customization options, the Sea Ghost 130 lets you tailor the kayak to your specific needs.
Several gear tracks let you outfit a host of fishing accessories from cameras to a small anchor to keep you in place. A central console offers more versatility including the ability to install a fishfinder.
The seat has been lauded as one of the most comfortable in its class, appropriately dubbed the "hero seat."
Plenty of watertight storage and a mammoth weight capacity of 550 pounds makes it a great kayak for multi-day adventures.
On the water, it can maintain its speed in a host of conditions and the rudder helps maximize its maneuverability.
Despite all the features and being four inches longer, it's still lighter and more portable than the FS128T, checking in at 75 pounds.
One of the most comfortable seats you can find in a kayak
Tons of customization options including the ability to install a fishfinder
Comes with a rudder
Great combination of speed and maneuverability
Read our full review of the Vibe Sea Ghost 130.
Ascend FS12T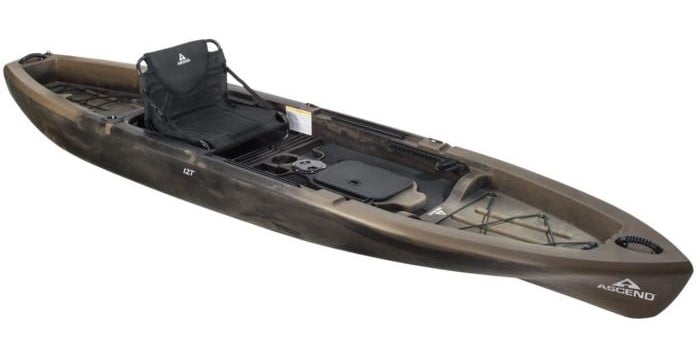 The boat has similar design characteristics of the FS128 with the same load capacity although it is a little narrower.
Other than that and being a little lighter, the FS12T provides similar performance. It tracks well in most conditions despite lacking a rudder.
It moves even slower than the FS128 and some questions have been raised about its stability. As a cheaper option, it's hard to quibble with a few shortcomings, but issues such as instability make it more of a boat for calm day paddle trips over risking more difficult water conditions.
The load capacity of 350 pounds does limit it a little bit as far as how much gear you can take and how long you can stay out. The built-in accessory rails offer a decent amount of customization.
Designed with stability in mind that allows you to stand and cast
Solid amount storage space that's both watertight and open-air
Smallish load capacity may prevent you from doing longer trips
Read our full review of the Ascend 12T.
Ascend 128T Review- Conclusion
With so many angling kayaks on the market, it can sometimes be hard to differentiate between them. The Ascend FS128T fits comfortably as a mid-range option that has the stability and enough gadgets to keep beginners and experienced paddlers happy.
Being able to stand and cast is a great bonus, and all of the different storage spaces are great.
I do wish the top speed was a bit better, but this is a necessary sacrifice for the top-notch stability.
You can find out more about Ascend and their kayaks by visiting their website.