If you're looking for the best beginner fishing kayak, you'll be in the market for a boat that's cheap, stable, and easy to cast from.
In the article below, we highlight the best fishing kayak for beginners in a variety of categories so you don't have to do all the research yourself.
Whether you want a pedal, sit-on-top, or tandem, you'll find the best kayak for you below.
Best Beginner Fishing Kayaks

One of the shortest and cheapest fishing kayaks, the Journey 10 from Sun Dolphin is an easy to use entry-level kayak.
Performance-wise it isn't capable of taking on choppy or windy conditions which limits it to lakes and mellow rivers, but in these scenarios it does just fine.
For fishing, there are three rod holders. Two are flush-mounted behind the seat while the third is on a swivel that sits between the paddler's legs.
A big stern storage hatch gives you lots of room for your gear, and the top of it is flush with the kayak's deck with bungee cords for additional open-air storage space.
Taller paddlers may feel cramped
Very stable for its size
A lot of storage space for the size
Read our Sun Dolphin Journey 10 review.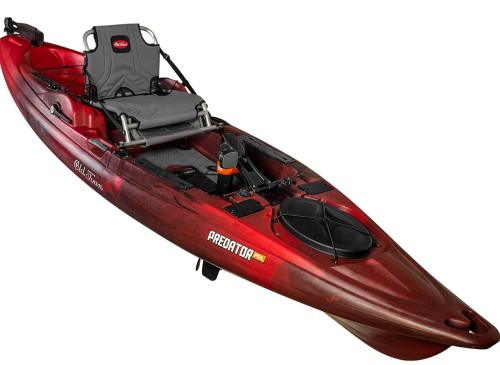 I'll give you a fair warning, be prepared for some sticker shock with this high-end, feature-rich kayak from Old Town.
For newcomers who want to jump straight into serious ocean fishing, it's hard to match the Predator PDL.
A pedal kayak, the Predator PDL is propelled with foot pedals much like you'd find on a bicycle. This provides greater speed and leaves your hands free for casting. This makes it much heavier and this 13-foot boat weighs 117 pounds.
But for fishing, there's little it can't do. It's stable enough to stand and cast from and the universal mounting system lets you attach most fish finders with little trouble.
Rod holders, a ton of storage space, and an easy to operate rudder round out the long list of features that will give you a huge advantage over more traditional fishing kayaks.
Superb stability
Huge 500-pound load capacity
Easily the most expensive boat on the list
Read our full Old Town Predator PDL review.
Best Stand-Up Fishing Kayak for beginners: Pelican Catch 120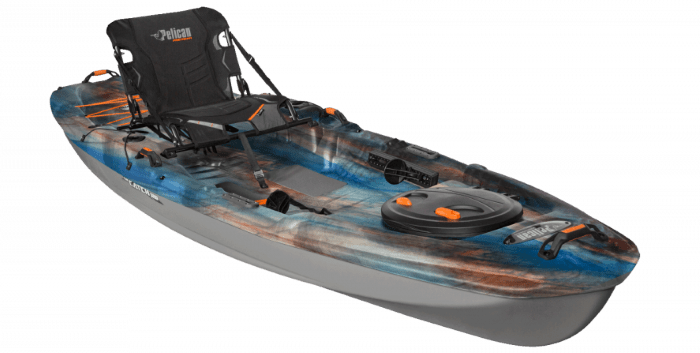 One of the most stable mid-range fishing kayaks, the Pelican Catch 120 gives newcomers a nice blend of features and a safe, comfortable platform to cast from.
Stable enough to stand and cast in, this model will make even those who've never paddled before feel safe.
A lot of the stability is due to the boat's wide beam, and while that allows it to handle mild chop, it makes the tracking and speed below average.
Because of this, I'd limit the Pelican Catch 120 to lakes and rivers. If you do take it out on the ocean, keep it close to shore.
Two rod holders complete with tie-downs keep your poles secure as you travel to and from your fishing spot.
You'll also find two "accessory eyelets" where you can install ancillary fishing gear and even accommodate most fish finders!
One of the best "bang for your buck" kayaks
Incredibly stable for newcomers
Performance keeps it from going on open water safely
Read our full Pelican Catch 120 review.
Best Sit-In beginner fishing kayak: Old Town Vapor 10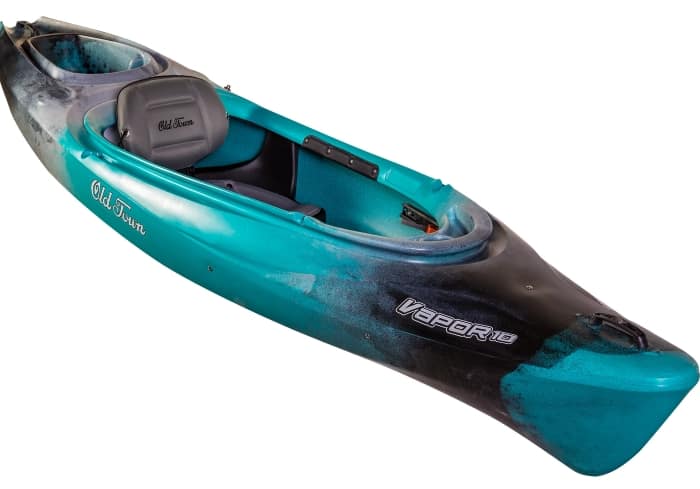 Today most fishing kayaks are of the sit-on-top design and there's a limited number of sit-in choices.
But for those that live in cold climates and need an extra layer of protection from the elements, you can't go wrong with the Vapor 10 from Old Town.
While shorter, the Vapor 10 still has a wide cockpit for a sit-in boat that allows paddlers of all shapes and sizes to paddle in comfort including a large deck that gives you almost 17 vertical inches for your feet.
For fishing, the boat comes with a pair of flush-mounted rod holders and a large "tank-well" style stern hatch.
But my favorite feature is the anchor trolley system that makes it easy to attach and utilize an anchor
Shorter keel hinders tracking and speed
Lack of dry storage space
Easy to use anchor trolley system
Read our full Old Town Vapor 10 review.
Best beginner fishing kayak for 2 persons: BKC-TK-122 – 4.5 Stars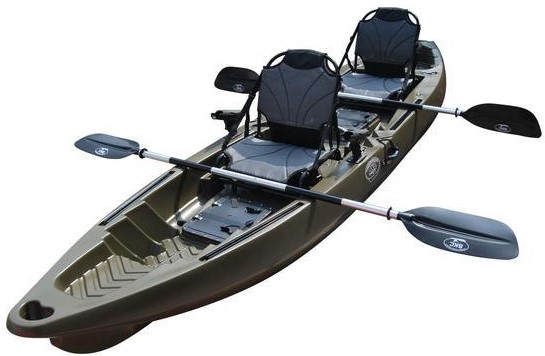 Stable and with a few accessories, the BKC-TK-122 from Brooklyn Kayak Company is an easy and accessible boat for newcomers.
It's a little heavy at 77 pounds and I wish there were some softer handles for carrying, but as long as you're not trying to portage long distances it should be ok.
On the water, there's a rod holder accessible from each seat and I really like the watertight storage hatch that you can reach while paddling.
There's another large open-air storage spot in the stern and with a 770-pound load capacity, the quantity of gear you can bring along is almost limitless.
The tough, mesh seats are both adjustable and one of the more comfortable kayak seats out there.
The flat bottom makes the TK-122 stable enough to allow for standing and casting, but be extra cautious if both paddlers want to stand at the same time.
Huge load capacity
Almost 13-feet long
No customization options

A versatile kayak for an inflatable, the Angler 110 HB from Blackfoot is surprisingly spunky with some nice features rarely seen in this price range.
When properly inflated, the floor of the Blackfoot Angler 110 has a hard bottom that gives the boat great rigidity and improves tracking, though I'd be hesitant to take this 10-foot, 6-inch boat into challenging water.
My favorite aspect of this inflatable is all the extra customization features. There are seven mounting plates where you can set up countless permutations of fishing accessories. Want a rod holder? A fishfinder mount? How about a GoPro to capture the moment? It's all possible in this boat that can fit in your closet.
Impressive 400-pound load capacity
Extra-wide 37-inch beam adds to the stability
Tracking suffers on windy days
How to Choose the Best Fishing Kayak for Beginners
Sit-In vs. Sit-On-Top fishing kayaks
The two main kayak models, sit-in and sit-on-top boats differ in several important ways.
Sit-in kayaks are built with an enclosed cockpit that protects your legs and lower torso from the elements. The opening of the cockpit can be further sealed off by using a spray skirt that goes around the combing.
This makes sit-in boats preferable for those that will be paddling in rough water or that live in cold weather climates where it's best to keep the rain and splashing waves off.
The seat of a sit-in kayak is placed lower in the boat and closer to the water. This keeps your center of gravity closer to the water. This allows sit-in kayaks to be slimmer, more efficient, and faster boats without compromising their stability.
If you plan on doing longer fishing trips, a sit-in may be the better choice as you'll be able to cover ground faster and more efficiently.
Most fishing kayaks are of the sit-on-top variety. With no defined cockpit, sit-on-top kayaks are more forgiving when you're getting in and out of them with more room to operate while you're fishing.
The seats are placed higher above the water line to keep some of the waves from splashing up and hitting your unprotected legs. This does mean that sit-on-top kayaks have to be wider in order to maintain their stability which slows them down and can diminish their tracking capabilities.
But the higher seat does have the advantage of giving you a better vantage point. You're better able to "look down" on the water to see passing fish and also get better distance and accuracy on your casts.
Do You Want to Stand and Cast?
While having a higher vantage point is one thing, there's no substitution for being able to stand and cast. While not the norm for most kayaks, there are a lot of fishing kayaks that have wide, stable hulls that allow you to safely stand and fish without tipping over.
The benefits are obvious, allowing you a better view of the water and greater distance and accuracy when you cast.
It's important to note that not all "stand-up fishing" kayaks are created equal. Some may be stable enough to stand and cast from even if the water is choppy, but some will recommend only standing if the conditions are good. Check with the manufacturer for their recommendation before standing in their kayak.
Hard-Sided vs. Inflatable fishing kayaks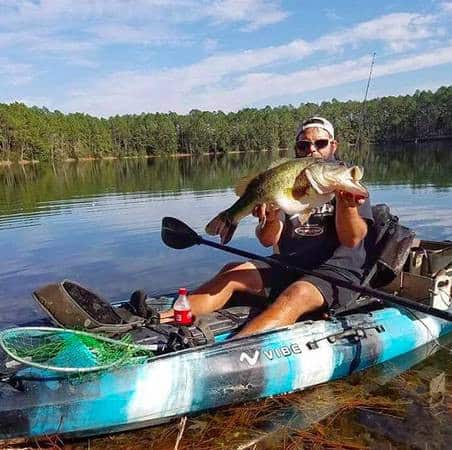 The majority of fishing kayaks are made of tough plastic material that is durable and hard to damage. Able to absorb most bumps and collisions, hard-sided kayaks give you better rigidity and the ability to handle more dynamic water conditions.
They do come at a higher price and require more dedicated storage space than an inflatable. A good kayak rack or a pick-up truck will probably be necessary to transport them by car.
Inflatables have an unearned reputation of being unreliable and fragile. But in recent years, technological advances have made them more cost-effective kayaks worthy of your consideration.
Most inflate easily and you can be out on the water in a manner of minutes. Storage and transportation is much simpler too.
But the performance won't be quite as good as a hard-sided boat and many inflatable fishing kayaks don't offer the custom features that hard-sided kayaks do.
Storage Capacity
I like boats that have at least one watertight storage hatch in case the weather gets rough or it rains. But this may not be necessary if you live in a warm climate or you're just out for the day. If you want to bring a large tackle box, I'm guessing you'll want to be able to access it on the water, make sure there's a large enough storage area accessible from the cockpit.
Trip Length
The longer you plan on paddling the faster your kayak should be to cut down on travel time. If the journey will take you over rough or unpredictable water, a kayak with above-average tracking will help if the wind picks up.
Lastly, find a boat with a padded and adjustable seat. If you're going to be on the water all day, you're going to want to be as comfortable as possible.
Other Features
Today, a lot of angling kayaks come chock full of extra features to enhance your angling experience.
These go by a lot of different names like "gear track," "accessory mount," etc, but they mean the same thing, giving you the option of installing fishfinders, GoPros, and other items to enhance your fishing experience.
Tandem or Single?
If you'll be paddling with a partner, a tandem kayak may be worthwhile. Tandem boats are bigger and wider, providing you with better stability, and are usually faster.
While they are heavier, transportation is usually easier than trying to move two singles. Though if you're looking for maximum storage space, two singles usually hold more than one tandem.
Color Choices
This is mostly cosmetic and a lot of kayak companies provide multiple color options. I like boats that are bright and stand out on the water so that I stand out on the water for passing boats.
Best Fishing Kayaks for Beginners – FAQ
What is the best fishing kayak for beginners?
The best fishing kayak for beginners is the Sun Dolphin Journey 10. This fishing boat provides good stability and speed at a very affordable price.
What Type of kayak is best for fishing?
Sit-on-top kayaks are best for fishing because they provide great stability, a higher view point, as well as easily accessible storage. Some of the most stable fishing kayaks even allow you to stand and cast.
best beginner fishing kayak – Conclusion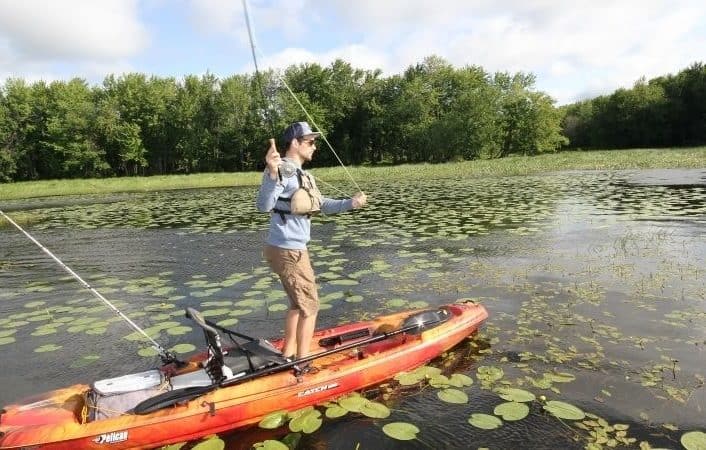 If fishing is a passionate pastime, getting a reliable angling kayak can be a real game-changer. For a beginner, selecting a stable vessel that you don't have to worry about tipping over is the most important.
If you're looking for a top of the line kayak that will give you a stable kayak that's chock full of features, it's hard to go wrong with a pedal kayak like the Predator PDL from Old Town.
But if you're looking for something simpler and more cost-efficient, there's plenty of other options out there, my favorite being the Pelican 120 that wields a great combination of stability and some nice features that you can customize.
What do you think of our list? What's your favorite fishing kayak for beginners? Let us know in the comments below.