Feeling your line quiver and watching the rod tip shake is a great feeling.
But if you want to fish on the water, even self-propelled craft can be expensive.
Luckily there are several budget fishing kayaks that are designed for beginners, such as the incredibly cheap Sun Dolphin Journey 10 SS.
Hailing from Michigan, Sun Dolphin has been crafting human-powered watercraft since 1982. Today they offer everything from recreational and fishing kayaks to stand up paddleboards, canoes, and paddle boats.
I came away from my Sun Dolphin Journey 10 SS kayak review with a mixed opinion.
It's one of the most portable kayaks thanks to its short length and lightweight design. It has good maneuverability that allows beginners to make tight turns and squeeze into tiny fishing holes.
But the poor tracking makes it a frustrating paddle in any sort of wind or waves. And the minuscule load capacity means that you can't expect to do much outside of simple day trips.
If you're looking for a cheap fishing kayak to start your angling career, the Journey 10 may suit your needs.
Pros:
One of the lightest and shortest fishing kayaks for easier transportation and storage
Impressive maneuverability to get in and out of tight spots
Forgiving plastic hull that can absorb most drops and scrapes
Ample watertight and open-air storage options
Cons:
Poor tracking makes it susceptible to wind, tide, and currents
Oddly designed scupper holes and no scupper plugs included
Lack of customization options such as gear tracks
Small weight capacity limits it to basic day trips
Things to Consider Before Buying a Sun Dolphin Journey 10 SS

It's possible to fish from most kayaks, but angling models are designed specifically to make it easier. They focus on stability to give you a reliable platform to cast from and almost all have rod holders to keep your poles secure as you transit.
The Journey 10 SS is made of a durable plastic and at less than ten feet in length, is one of the shortest hard-sided kayaks.
But it can still be cumbersome to store and transport depending on your living situation and vehicle type. Before you purchase, make sure you have a secure place to store your kayak. Preferably this will be in a climate-controlled environment away from sunlight and precipitation.
If you need to drive to your fishing spot, a roof rack or a similar set-up will probably be necessary. Make sure you have a plan to securely and safely transport your kayak to the water.
Because of its open cockpit, it's best to limit usage to warm excursions where water splashing into the cockpit won't be a problem.
Those that fish in cold-weather regions can look to other options like the Wilderness Systems Tsunami 125.
Journey 10 SS Specifications

Length: 9 feet, 6 inches
Width: 29.5 inches
Weight: 41 pounds
Load Capacity: 250 pounds
Design
Material
The Journey 10 is made of a durable plastic called polyethylene. While heavier than some higher-end kayak materials like fiberglass, it handles normal wear and tear substantially better. This durability makes it a fine choice for beginners and those that have to move their kayak around a lot.
Speed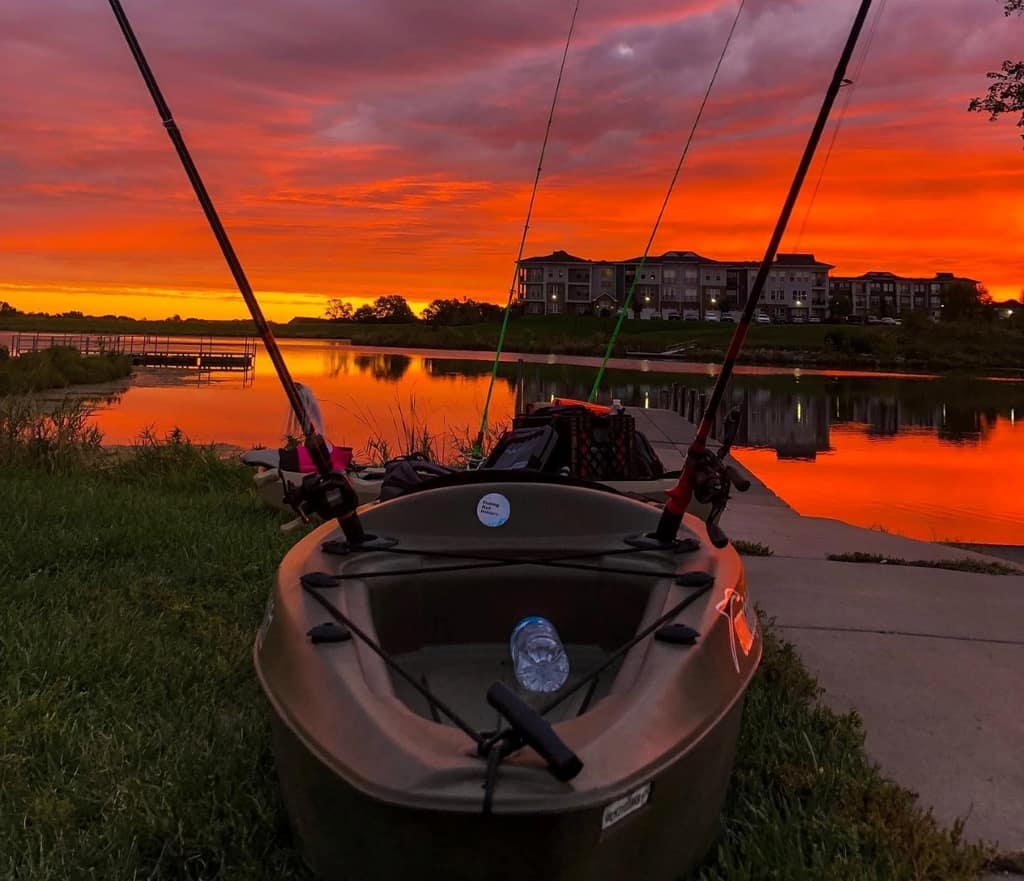 A kayak's speed comes from the length of its keel. A long keel usually means a faster boat. With a length of less than 10 feet, the Journey 10 is a plodder.
This may not matter if you're out for a casual day at the lake. But if you need to cover some ground to reach your fishing hole or are traveling with friends, the Journey 10 will slow you down and increase travel time.
Maneuverability
The short keel works to its advantage here. The Journey 10 is a responsive vessel able to squeeze into tight places longer kayaks wouldn't dare attempt.
There's no rudder installed on the basic model but that doesn't seem to matter. Beginners and experienced paddlers will appreciate the tight turn radius.
Comfort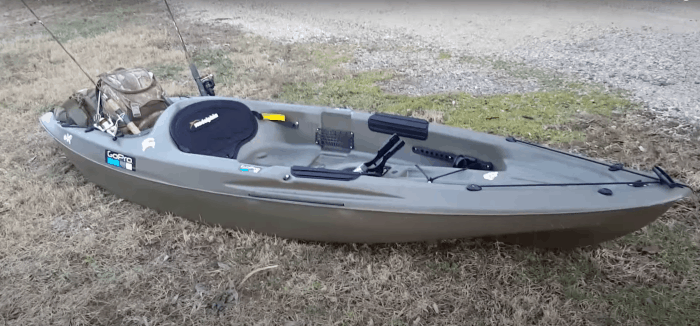 Most fishing kayak seats are plush and comfortable allowing for long stints on the water. While the Journey 10's seat isn't uncomfortable, it could definitely be improved. There's no padding for your seat and a single strip of padding along the back of the chair.
There are thigh braces and while they fit my long legs fine, I think shorter paddlers won't find them very useful.
If you plan on spending extended periods of time in this boat I'd recommend outfitting the seat with additional padding to keep you comfy.
Stability & Tracking
Angling kayaks are designed to maximize stability. The last thing you want is to feel your boat rock underneath you while reeling in the big one or reaching out with a net. The Journey 10 is no different with a wide, 29.5-inch design that will allow you to shift and move around the cockpit.
Unlike some models though, it's not stable enough to let you stand up and cast.
Also, the Journey 10 is not conducive to windy or rough conditions. It gets blown off course easily which is frustrating and makes it hard to fish in anything but calm conditions. While it may be stable for some ocean conditions, tides, currents, and waves wreak havoc with the Journey 10 and make paddling in a straight line challenging.
Durability
The polyethylene hull is as tough as they come. That being said, you should still treat your kayak carefully whenever possible.
Watch for submerged obstacles like boulders or tree branches that can scratch the hull and cause the plastic to flake. In addition to leaving scratches it will increase drag and slow you down.
On land, carry your kayak over dragging it. You may get away with dragging it short distances along sandy or pebbled beaches, but it's not a good habit.
Portability
Weighing 41 pounds, the Journey 10 is one of the lightest fishing kayaks. The short length allows it to be carried in the bed of some pickup trucks. With a proper roof rack it can be transported relatively easily on top of most vehicles.
The lightweight and short keel mean even a kayak cart can move a Journey 10 to and from the water.
Features & Accessories
While some entry-level kayaks come with added goodies like a paddle, the Sun Dolphin Journey 10 doesn't include any of these. It's a bare-bones kayak model without much in the way of extra features.
The boat is designed with scupper holes to allow water to drain. But the plugs aren't included and even more frustrating, the holes are not a standard size. If you decide to purchase plugs they'll need to be modified to fit the holes in the Journey 10.
Fishing Ease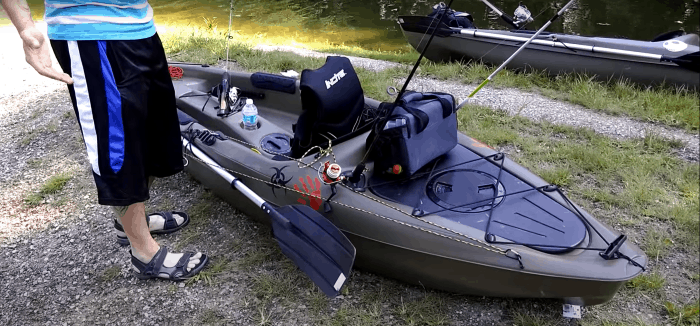 The Journey 10 has been outfitted with three rod holders. Two of them are flush-mounted and plenty deep so you can feel good they'll stay in place. The third is on a swivel able to spin 360 degrees. But it doesn't move well on its own and usually needs to be moved manually.
Many angling kayaks have gear tracks that let you install additional fishing gear like a camera or fish finder. But you won't find anything like that in this budget model.
It does have impressive storage space. A watertight stern hatch has deck bungees pulled over the top to accommodate a tacklebox or crate. Two smaller hatches in the cockpit are there for personal effects. More deck bungees pulled across the bow give you even more open-air storage room.
But all that storage space may go to waste as the Journey 10 has a weight capacity of only 250 pounds. Depending on your build, this may limit how much gear (and fish) you can safely take with you.
While the boat turns fine without a rudder, the boat's subpar tracking comes into play when you're fishing and can't have your hands on the paddle to keep you straight. A simple kayak anchor would help, but there's no good place on the boat to tie it to.
Value
Being one of the cheapest fishing kayaks on the market, the Journey 10 is made for beginners or people who plan to use it sporadically.
If you think you won't go kayak fishing all that much, then this kayak is great for you.
But with no added accessories and zero customization options, the Journey 10's ceiling is limited. This coupled with a small weight capacity and slow top speed limits it to simple day trips on mellow rivers or calm lakes.
Testimonials
I spent some time looking around online to see if others had similar experiences with the Journey 10 from Sun Dolphin.
Some had complaints about stability while others praised it. But everyone agrees that the tracking is subpar.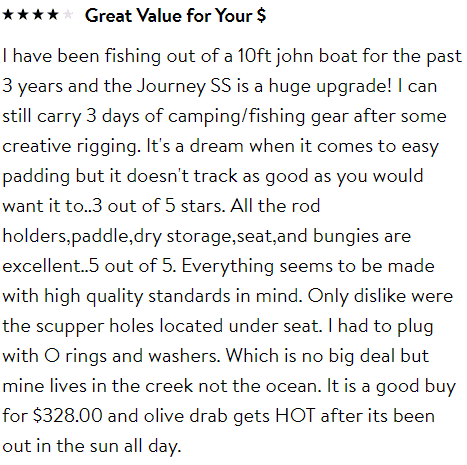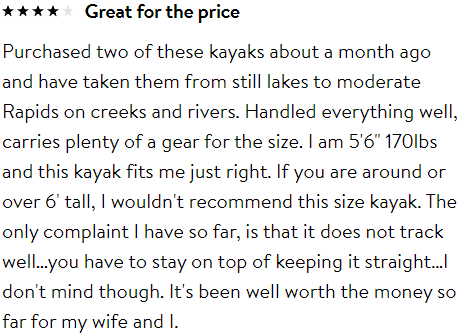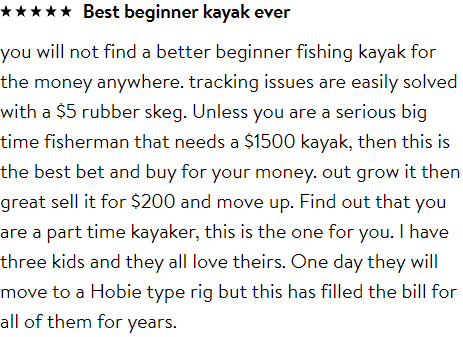 Alternatives
Lifetime Tamarack 100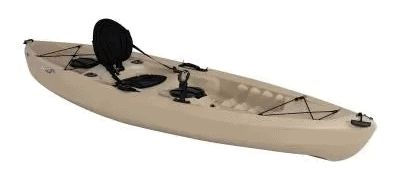 Similar to the Journey 10, the Lifetime Tamarack 100 is made for beginners.
At ten feet in length, it is a little heavier checking in at 52 pounds.
It offers similar maneuverability and impressive stability to go along with a low load capacity of 275 pounds. The wide base means it also shares the Journey 10's plodding pace.
What sets it apart is It has much better tracking than the Journey 10. This allows it to enter calm or secluded bays and inlets with more confidence.
You'll also find more customization options including the ability to install a fishfinder.
More customization opportunities
Competitively priced as a beginner fishing kayak
Low top speed
Disappointing load capacity
Read our full review of the Lifetime Tamarack 100.
Vibe Sea Ghost 110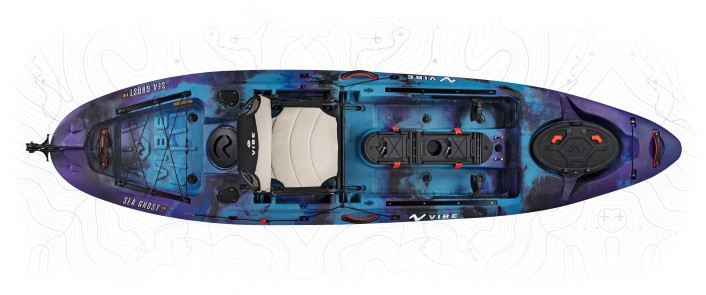 A higher-end, albeit more expensive model, the Vibe Sea Ghost 110 is a fully loaded and serious angling kayak.
The large 425-pound load capacity and four dedicated storage areas allow for multi-day excursions.
The load capacity and storage make the Sea Ghost 110 much heavier than its entry-level counterparts. It weighs in at 62 pounds when empty.
You still get excellent stability, solid tracking, and a longer and more efficient keel that coaxes out a better top speed.
Customization options galore and one of the most comfortable kayak seats ever designed round out the laundry list of this well-thought-out and impressive fishing kayak.
Huge load capacity
Comfortable and adjustable seat
Gear tracks can be outfitted with many different accessories
Central console can have fishfinder installed
Read our full review of the Vibe Sea Ghost 110.
Sun Dolphin Journey 12

Longer and narrower than its cousin, the Sun Dolphin Journey 12 can carry up to 395 pounds but weighs just 4 more pounds.
The additional length does make it a little faster and gives it improved tracking. But it has a lot of the same cons as the Journey 10.
The addition of a paddle holder is a nice touch but it still lacks the customization options of a boat like the Sea Ghost 110.
If you're looking for a budget fishing kayak for beginners that can carry a lot more weight, this one is better than the Journey 10.
Faster than the Journey 10
Higher weight capacity
Lack of gear tracks for customization
Improved tracking
Sun Dolphin Journey 10 SS – Conclusion
If you're dipping your toes into the world of kayak fishing or you're just looking for a cheap option, the Journey 10 won't disappoint.
The stability and maneuverability are solid enough to allow paddlers of all experience levels to get a fishing pole on the water and give it a try.
But the subpar top speed and dearth of customization options, not to mention the tiny load capacity, severely limit where the Journey 10 can go.
Experienced paddlers or those that fall in love with the pastime will quickly outgrow these limitations and will look to move to a more high-end boat with greater versatility.