Long, sleek, with elegant prows and tons of storage space, the best sea kayak combines these features with the stability to handle waves, tide, and wind.
But which is the best ocean kayak for you? Are you looking for something small and light? Or a boat with a long keel that flies across the water?
No matter your preference and need, you'll find the proper boat for you below. 
Sea Kayaks Reviews

With a confidence-boosting mix of speed, stability, and comfort, I think the Pungo 120 is the perfect introduction to the world of sea kayaking.
At just 12 feet in length, it doesn't have the size or speed for multi-day trips, but is more than capable of handling day and weekend-long journeys.
A shorter keel does make for a more maneuverable boat that beginners will appreciate. But it can hinder the kayak's tracking, especially if wind or waves are coming from the side. 
The foam and mesh seat is one of the most comfortable I've sat in and is well ventilated for those hot summer days.
Roomy cockpit for bigger paddlers
Day touring kayak
Padded knee braces
Removable storage console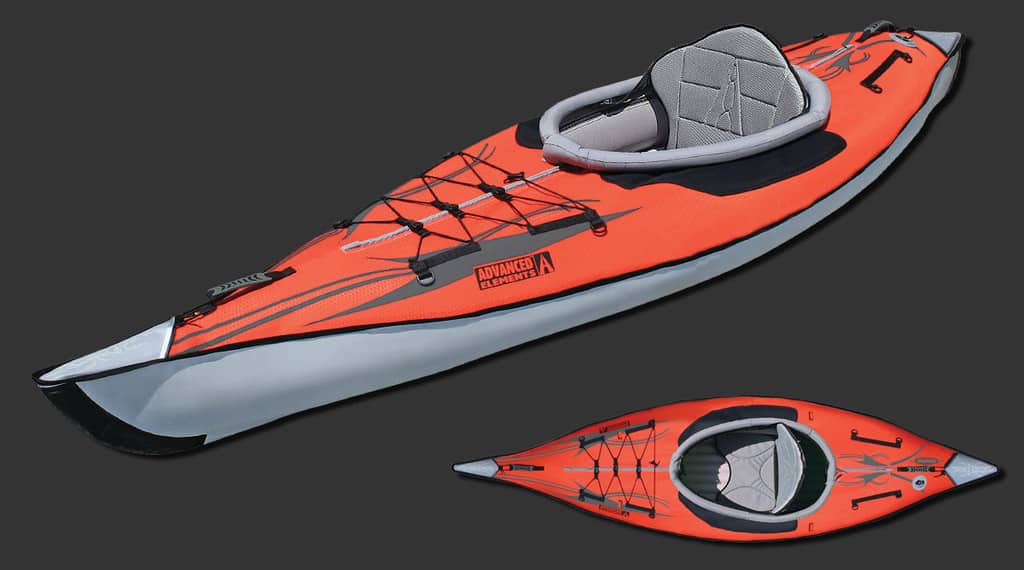 There are only a few inflatable kayaks I'm willing to push to the limit on the open ocean, and the Advanced Elements Advanced Frame is my favorite.
The tough, well-designed aluminum frame provides the sort of rigidity usually reserved for hard-sided kayaks which makes the Advanced Frame responsive and easy to paddle should the wind and waves pick up.
It weighs just 36 pounds and can be easily transported in the back of almost any vehicle. The actual inflation process does take some practice and the learning curve is not the easiest.
Storage space is lacking, though you can say that for almost all inflatable kayaks, but I think you'll find enough room for a weekend getaway.
One of the most cost-effective touring kayaks
Performance rivals hard-sided kayaks
Set-up and takedown has a learning curve with multiple air nozzles
Read our full Advanced Elements Advanced Frame review.
Best Expedition Sea Kayak: Delta 17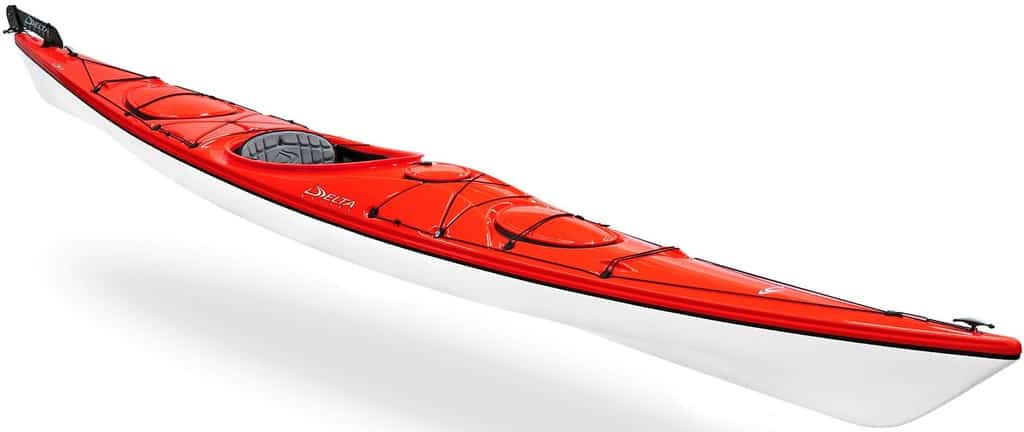 Long and sleek but with a surprisingly wide cockpit for its frame, the Delta 17 is the perfect touring boat for larger paddlers that are in a hurry.
The 17-foot keel gives you great tracking and speed that in the hands of an enthusiastic paddle, seems to glide across the water.
The narrow beam does mean that the Delta 17 can feel tippy. I wouldn't call her unstable, but it may make newcomers uncomfortable until they've had some practice.
I love the press-lock hatch covers that give you two watertight hatches so you can rest assured that your kayaking gear will stay dry.
The seat is very comfortable and multiple, adjustable positions allow you to find the perfect fit.
Small hatch in front of the cockpit keeps personal items dry and accessible
Tough and durable construction
Long keel for great speed and tracking

The preferred double sea kayak for guiding companies throughout the Pacific Northwest, it's easy to see why the Seascape Point 5 is held in such high regard.
Quick moving in all sorts of conditions, the Point 5 has a streamlined bow that cuts through the water with ease while the high chined walls mean even moderate chop coming from the side won't knock it off course.
The built-in rudder system is quick and responsive, allowing for tight turns and precision maneuvering, especially if there are two experienced paddlers aboard. 
Add in the cavernous watertight bow and stern hatches and you have a boat for all your kayaking adventures.
Compass mounts
Bow and stern bulkheads
Lightweight fiberglass design
Best Sea Kayak for Smaller Paddlers: Delta 14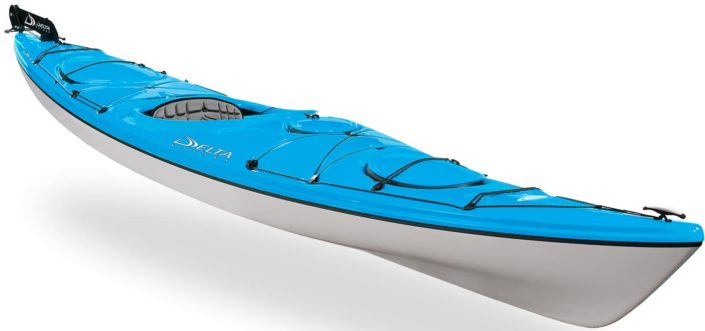 One of the shorter touring kayaks, the Delta 14 is also one of the lightest, weighing just 45 pounds, making it easy for smaller paddlers to manage.
The beam is quite narrow at less than two feet, so bigger paddlers may want to look to the Delta 14's bigger cousin the Delta 17.
But for smaller paddlers she handles like a dream, with impressive maneuverability and good secondary stability once you get used to it.
There's enough storage space in the bow and stern watertight hatches to allow for weekend trips at a minimum.
Bungee cord rigging can be found both bow and stern to store dry bags and other water-resistant gear.
Multi-position, adjustable seat for a customized fit
Weighs just 45 pounds
Shorter keel gives it a lower top speed than longer models

I wasn't expecting to enjoy such a short sea kayak (less than 12-feet long), but Perception has done a good job with this light touring kayak.
While slim, the Expression is quite comfortable with an adjustable, ergonomic seat and thigh braces that take the stress off your back and allow you to brace and maintain stability in rough water.
A retractable skeg helps counteract the small design and allows you to stay on course in weather that would play havoc with similar-sized kayaks.
The short keel does provide some issues when it comes to storage as there's no bow hatch which limits how much gear you can bring along.
Small, light, and easy to transport
Taller paddlers may not fit well
Retractable skeg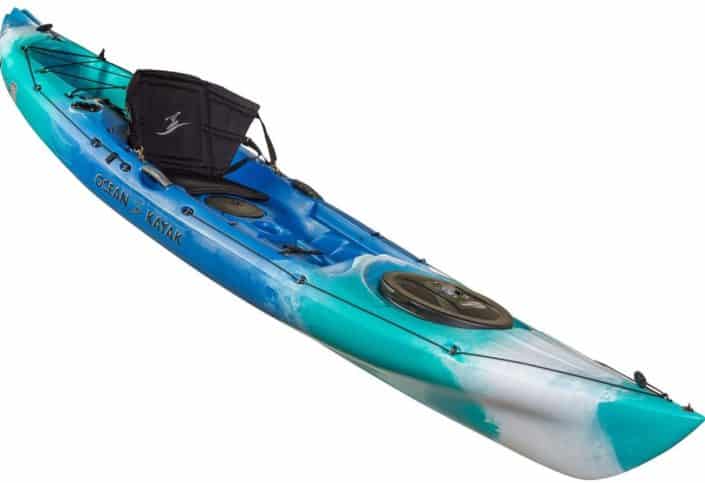 Outfitted for both recreation and fishing, the Ocean Kayak Prowler 13 is a versatile sit-on-top kayak capable of handling moderate ocean conditions. It has the stability and performance to take on mild chop and tidal conditions, though the lack of a rudder limits how far from shore I'm willing to take it.
It manages to maintain its stability despite its sleek hull that boosts the Prowler 13's speed and allows you to cover ground you didn't think possible in a sit-on-top.
If you're interested in sea fishing, the Prowler 13 has a pair of flush-mounted rod holders and a large open-air stern hatch that's perfect for storing your tackle box and extra gear.
Not as much dry storage as sit-in kayaks offer
Can handle a wide range of water conditions
The only fishing kayak in the list
Open cockpit limits its use to warm water
Read our full Ocean Kayak Prowler 13 review.

While more fragile than the tougher and heavier polyethylene models, for me there's just no beating the performance, speed, and handling of a well-crafted fiberglass kayak. And my favorite of them all is the Cadence from Northwest Kayaks.
With a massive 17-foot keel, the Cadence is the longest of the Northwest Kayaks singles.
This combined with the sleek narrow profile makes it a swift-moving kayak, especially in the hands of an experienced paddler.
Like the Point 5, the Cadence has notably high-chined sides that provide unsurpassed stability and allows you to explore ocean conditions you didn't think possible.
Two cavernous watertight hatches and three deck bungees give you plenty of dry and open-air storage space for long trips.
Great stability in all water conditions
The fiberglass hull is lighter but more susceptible to damage
Comfortable, adjustable seatback
How to Choose the Best Sea Kayak for You
Comfort, Speed, and Tracking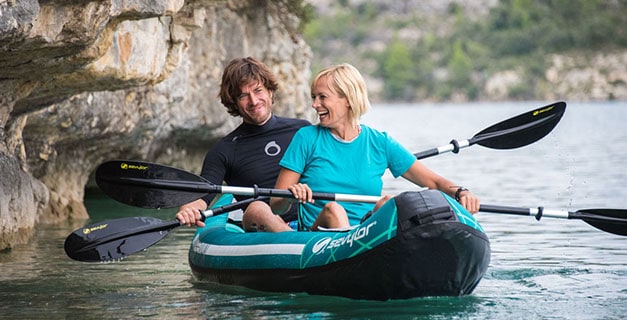 Besides primary and secondary stability, these are the three most important features to look for in a sea kayak. 
Choose a kayak with a padded seat back and cushion that's adjustable. If possible, sit in your kayak before purchasing to make sure it's a good fit.
Foot braces that you can adjust are a must, and if it's a bigger cockpit, I like thigh braces to improve stability.
In general, the longer a kayak's keel the faster it'll be, though the width and shape of the bow can be factors too.
Long keels also improve tracking and minimize the risk of being blown off course. If you'll be doing crossings of any size, make sure your kayak has a skeg or rudder to help you steer.  
Inflatable vs. Plastic vs. Fiberglass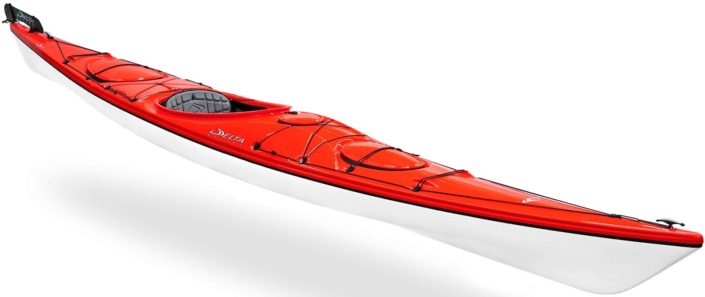 Fiberglass boats are more expensive, lighter, and tend to be more responsive with better performance than plastic or inflatable kayaks.
 They are more fragile though and should never be dragged over hard surfaces. Additional maintenance will be required throughout the lifetime of a fiberglass kayak as scratches and punctures will have to be routinely covered with resin, additional fiberglass, and sometimes gel coat depending on the kayak's finish.
Plastic kayaks make up the majority of sea kayaks. They're more cost-effective, and a little heavier than fiberglass, but it's nice not having to worry about damaging them. They're essentially maintenance-free and the only thing you have to consider is limiting extended exposure to sunshine when the boat's not in use.
Because of the construction, you may find that the dimensions of the hatches are smaller than in fiberglass kayaks, and depending on what sort of gear you're carrying it may not fit as well.
Most inflatable kayaks fall under the recreational designation and aren't designed for serious ocean paddling. There are a few exceptions like the Advanced Frame, but that's more of the exception than the rule.
Tandem or Single
If you'll be doing a lot of paddling with a partner, a tandem kayak may be worth it. 
Double kayaks have longer keels which makes them faster and the wider beams mean most are more stable.
For transporting, moving a tandem sea kayak via vehicle requires fewer logistics than two singles. While they are heavier, it's not as big of a deal if there are two people there to help move it down the beach. 
Unlike some recreational kayaks, tandem ocean kayaks are too big and bulky to be paddling solo.
If you're looking to maximize storage space, however, two singles will provide more watertight hatches.
Skegs and Rudders
I'd consider a skeg or rudder a necessity if you're going to do any serious paddling.
A skeg and rudder makes steering and staying on course infinitely easier, especially in rough conditions and wind. Having to do all your maneuvering with your paddle can be tiring, dangerous, and frustrating.
Storage
Most ocean kayaks are designed for touring and come with ample storage space.
If you're planning on doing some overnight trips, make sure that at least one hatch is watertight. Few things will ruin your trip faster than a wet sleeping bag.
If you have the chance, inspect the storage hatches of your kayak before purchasing to ensure that your bags, tent, and other gear will fit.
Check the load capacity of the kayak which you can find listed in its specifications. This refers to the amount of weight the kayak can safely carry. Overloading a boat can make it feel tippy, sluggish, and increase the risk of capsizing.
Extra Features
While some entry-level kayaks come with some sweeteners for beginners like included paddles, that isn't the case for most high-end sea kayaks.
If you're purchasing an inflatable kayak, check to see if the pump is included. 
Some ocean kayaks come with covers for the cockpits, and if a rudder or skeg is considered optional, I'd recommend spending the extra cash for one.
If you're a really passionate paddler planning on doing some paddling in wilderness or remote areas, it may be worth getting some sort of navigational guide installed. Compass mounts can be placed on the bow of some sea touring kayaks allowing you to find your way regardless of the weather. 
Conclusion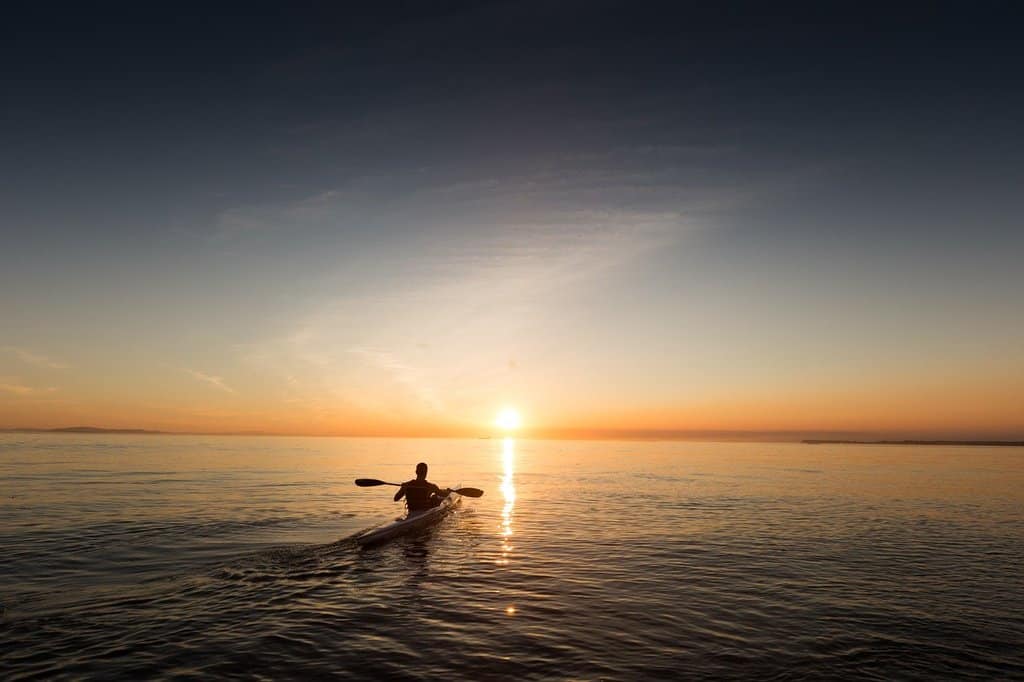 I won't lie, sea kayaking is my favorite sort of paddling, so choosing my favorite in this star-studded field wasn't easy.
But give me the Cadence from Northwest Kayaks if I have to choose one with its great stability and efficient paddling.
For a cheaper option, the Advanced Elements Advanced Frame provides some of the best bang for your buck out there.
What do you think of our list? What's your favorite sea kayak out there? Let us know in the comments below.