Regardless of the type of water you plan on paddling, no decision is more important than selecting the right kayak.
But which one deserves to be your first boat? If you're looking for stability, accessibility, and user-friendly designs, you'll find the best kayaks for beginners below.
Best Kayaks for Beginners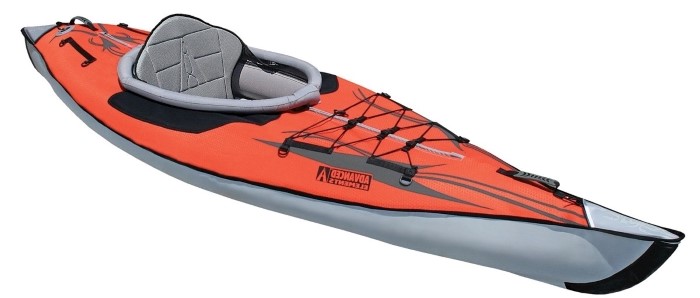 Available for half the price of most hard-sided kayaks, the Advanced Elements Advanced Frame manages not to sacrifice on-water performance.
The aluminum frame they've incorporated makes it a sturdy and stable kayak.
It handles spectacularly, able to handle both wind and waves well. It has drawn rave reviews for its comfortable seat that makes long paddles and crossings more enjoyable.
The sit-in design means a spray skirt can be incorporated for paddling in choppy water. There's enough protected storage space to allow for multi-day adventures.
Being an inflatable means finding storage space at home and transporting it to and from the water is much easier. However, it does require more work to set-up. With multiple tubes to inflate it can have a steep learning curve for some. But on the water, it can do almost everything that a hard-sided kayak can without breaking the bank.
The aluminum frame gives it impressive stability in all conditions
Set-up requires patience and a steep learning curve
Tracks well when using the included tracking fins and skeg.
Read our full Advanced Elements Advanced Frame Review.
2. Best Budget Kayak for beginners: Intex Explorer K2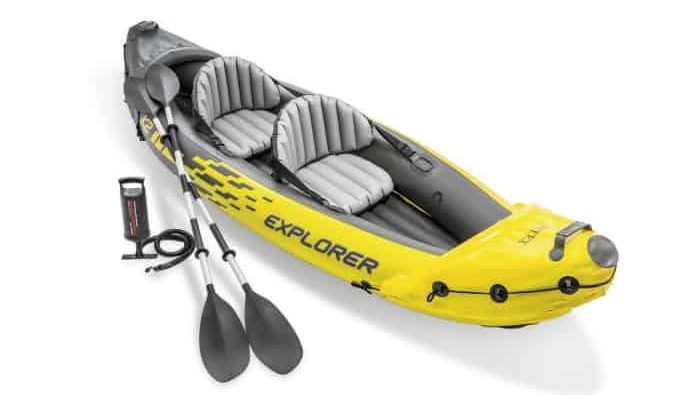 Reliable, versatile, and with a host of included goodies, the Intex Explorer K2 is a cheap and enjoyable recreational kayak. Being an inflatable, you won't get the best performance out of this model, but if you're looking for a laid back afternoon on the lake it does more than fine.
Designed to be paddled either solo or tandem, the Explorer K2 is easy to set-up and transport thanks to the included pump and travel bag. The skeg helps it track in mild conditions and you also get two paddles included.
While those looking to take it on energetic rivers or on the ocean will be disappointed, I love the easy set-up, portability, and responsiveness whether I'm looking for a bit of exercise or just a day in the sun.
Lightweight boat that can be paddled tandem or solo
Comes with several accessories including paddle and pump
Stable and performs well for an inflatable
The seat can start to be uncomfortable after a while
Read our full review of the Intex Explorer K2.
3. Best Whitewater Kayak for Beginners: Liquidlogic Remix XP10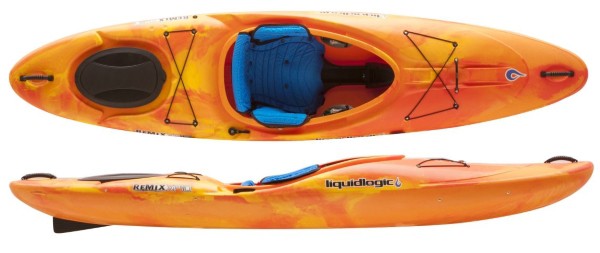 A responsive boat that's easy to roll is important for your first whitewater kayak. The Liquidlogic Remix XP10 delivers that and more, making it a good introduction to fast-moving waters.
The roomy storage hatch gives you the luxury of multi-day outings if you desire. At 49 pounds, it's not super light, but portages are still possible.
A skeg has been built into the hull which enhances the tracking and will make moving over calm water easier.
While seasoned whitewater paddlers may want a boat that performs better on challenging rivers, this design gives the best introduction to this high-adrenaline variation of kayaking.
Skeg improves tracking and performance in calm conditions
Storage space in back hatch makes it more versatile and allows for multi-day trips
Easy kayak to roll and practice with
Learn more: Best Whitewater Kayaks
4. Best Fishing Kayak for beginners: Pelican Catch 120

When you're bringing in your first fish from a kayak, the last thing you want is to feel the boat wobbling beneath you.
And that's exactly why the Pelican Catch 120 is the best beginner fishing kayak.
Its wide, pontoon-style hull will give first-timers the confidence to stand and cast. The wide hull also means a big deck that gives you plenty of room to operate.
But this wide base means more water resistance and the Catch 120 tends to plod along the surface, even in calm conditions. This along with the 400-pound maximum weight capacity limits it to day trips or short overnight excursions.
A comfortable seat and several customization options round out the Catch 120's beginner-friendly features. You can use the installed gear mounts to install your own accessories from cameras to fishing lures to make the Pelican Catch 120 your own.
Wide, pontoon-style hull makes it one of the most stable kayaks in its class
Anglers can stand and cast with confidence
Wider hull hinders speed
400-pound weight capacity may not be enough for long trips
Read our full Pelican Catch 120 review.
5. Best Lightweight Kayak for beginners: Lifetime Lotus 80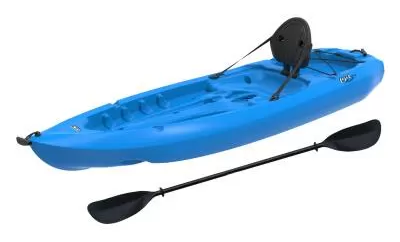 At just eight feet in length, you may expect the Lifetime Lotus Sit-On-Top Kayak to feel tippy and uneven beneath you. But since it's 30 inches wide the Lotus manages to merge stability with the small and lightweight design. Some paddlers have even managed to take their dogs (small to medium size) out on the water with them.
It's made of polyethylene, a durable plastic that is the favored material for many kayak companies. While more durable than wood or fiberglass boats, it's also heavier. But we wouldn't put it in the lightweight category if it was hard to carry. At a svelte 38 pounds and able to carry up to 250 pounds, the lotus is a versatile and stable platform for lakes and rivers.
Surprisingly stable despite its petite size.
Comes with a paddle
An open-tank style storage area with bungee cord is installed behind the seat and allows some gear to be brought along
6. Best Tandem Kayak for beginners: Wilderness Systems Northstar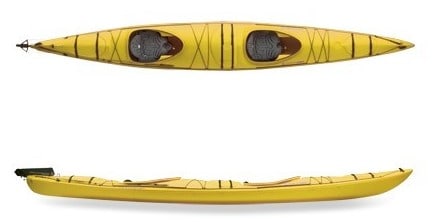 The first thing you'll notice about the Wilderness Systems Northstar is its weight. At 94 pounds this thing is a tank which can be a good thing and a bad thing.
It's a durable kayak able to handle any mistakes you make as a beginner. But long walks down tidal beaches can be a trial in patience and I can't imagine portaging it.
On the water, the long keel gives it an impressive top speed no matter your paddling strength.
The hull manages to stay narrow below the waterline to maintain that speed but widens enough above to make it incredibly stable. In calm conditions you almost have to work with your paddle partner to get it to flip (not recommended).
Storage space in the bow and stern can accommodate 4 or 5 day trips if you pack cleverly.
At 94 pounds it can be challenging to carry
Longer legged paddlers may be cramped in the stern
Tracks well and is maneuverable with the included rudder
Storage space allows for multi-day trips
7. Best Touring Kayak for beginners: Perception Carolina 12.0

With its combination of stability and easy entrance and exit cockpit, the Perception Carolina 12.0 makes an excellent touring kayak for beginners of all ages.
At 12 feet in length, the Carolina 12.0 is shorter than a lot of touring kayaks which makes it easier to transport and store.
In most cases, shorter boats are slower. But the Carolina 12.0 compensates for this with a long and narrow keel to help maintain your speed.
Despite the narrower design, it remains a stable kayak. The one drawback to the speed and stability is maneuverability. Paddlers will probably find tight turns and some more technical paddling conditions challenging.
Storage space is taken care of with watertight bow and stern hatches to go along with bungee cord webbing stretched across the hull.
Top-notch stability keeps you centered in most conditions
Plenty of storage space
The adjustable seat keeps you paddling in comfort all day long
Wide cockpit makes getting in and out easy, but allows more splashing water.
Subpar maneuverability
Learn more: Best Touring Kayaks
8. Best beginner Kayak For Kids: Lifetime Youth Wave Kayak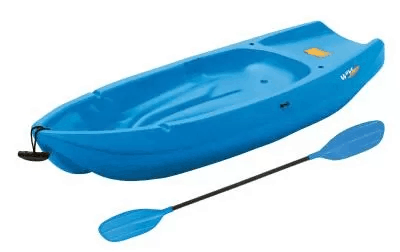 There's nothing all that physically challenging about kayaking. But many designs make it difficult for children to operate. If you want to get your kiddo paddling, consider the Lifetime Youth Wave Kayak.
Designed specifically for kids, the Youth Wave's focus on stability and the ergonomically designed deck chair means children as young as five can paddle with adult supervision.
In the event of a capsize, the boat has a built-in swim step to make recoveries easy.
With such a focus on safety and stability, the model should be kept close to shore along mild lakes. If you're looking for a way to safely take your child on longer trips, consider investing in a tandem kid kayak instead.
Great way to introduce kids to kayaking
Strong focus on stability gives parents peace of mind and kids confidence
Installed swim step makes recoveries easy
Slow, wide, and struggles in any wind and waves. Limited to nearshore paddling on placid lakes.
No storage space
Learn more: Best Kayak for Kids
Buying Guide − How To Choose Your First Kayak
Consider Where You'll Use Your Kayak
Kayak designs are diverse and manufacturers usually develop and produce them for a specific purpose. Because of this, you need to make sure you purchase the proper kayak for the type of conditions you plan on paddling.
Whitewater
Generally some of the shortest and stubbiest kayaks, they're almost exclusively the sit-in model and are used with spray skirts to minimize splashing water from entering the boat.
They feel tippier in calm conditions than other kayaks since they are designed to roll over easily and in turn, roll upright.
Storage space is usually minimal or non-existent as even the most watertight hatches will succumb to enough inversions.
Lake and Sea Touring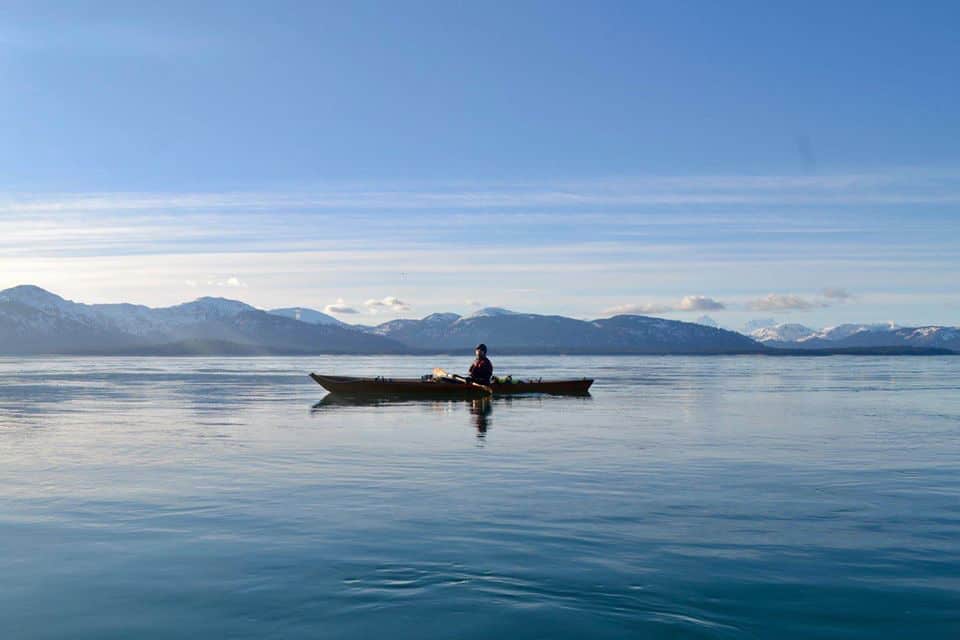 To help cover longer distances, these kayaks have long keels and narrow hulls to maximize their speed over water.
Some solo touring kayaks may feel tippier than you're used to. This is due to the narrow hull meant to minimize drag over water. But while they may lack "primary stability" their "secondary stability" is usually top-notch. Even if the boat feels like it may flip, this secondary stability will keep you upright.
Storage space is maximized in these models to hold gear with long and expansive bow and stern hatches. Additional room in the cockpit and multiple deck bungees will hold the gear you want close at hand while you paddle.
Recreational
More often than not, recreational kayaks are short and maneuverable. They're not meant to be high-performing vessels and are usually inflatables. While many of their designs are stable to accommodate newcomers, many falter in windy or choppy conditions.
They serve as good introductory kayaks that are cost-efficient. It's a nice choice for those looking for a little bit of fun or who are curious about the sport but not ready to break the bank on a more expensive model.
Kayak Fishing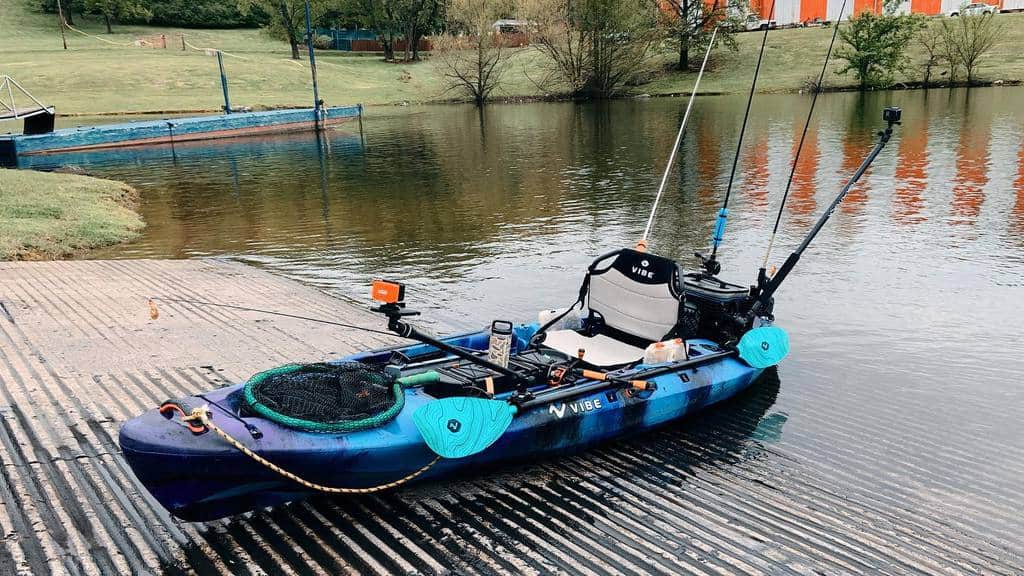 While you can fish from any kayak, angling kayaks are designed with specific features that make it easier.
Specific holders keep your rods in place as you travel and paddles secure when it's time to fish. Many models come with "gear tracks" which can be customized to hold various types of fishing gear.
Some models like the Vibe Sea Ghost 110 and Sea Ghost 130 come with a central console in the cockpit where you can install a fishfinder.
On the water, most designs can handle windy and choppy conditions, though the various weights and stability designs of individual boats means there's a wide range when it comes to speed, maneuverability, and tracking.
Inflatable vs Hard-Sided Kayaks for beginners
This will probably be the first decision you make. Inflatable kayaks are not as delicate or tippy as their reputation suggests and they're almost always cheaper than hard-sided kayaks.
While it is possible to find high performing inflatables that rival their hard-sided counterparts, (see Advanced Elements Advanced Frame above), it's rare. It's simply hard to get the same performance out of an inflatable.
Because of this, most inflatables fall into the "recreation" category which suits day-trippers on calm water perfectly fine. They're easy to transport since they are lighter and can be broken down. Storage space can be as small as a closet.
Hard-sided kayaks fill a bevy of categories from whitewater to expedition models and are made of a host of materials from plastic to marine grade plywood and fiberglass. Each material and model has pros and cons in regards to durability and what conditions they're best suited for.
Sit-On-Top vs Sit-In Kayak
You can find high-performing and reliable kayaks in both categories. Once again, what matters is what and where you plan on paddling.
Sit-in kayaks feel more stable as your center of gravity is closer to the water which minimizes rocking. However, the cockpit is often narrower which can make entering and exiting more challenging. Their hull is also narrower providing better speed and maneuverability.
If you plan on paddling over choppy seas or live in a temperate or cold environment, I'd recommend a sit-in model. Sit-in kayaks are designed to have a spray skirt that wraps around the rim of the cockpit and prevents the majority of splashing water or rain from entering the cockpit.
Sit-on-top kayaks are easier to enter and exit and generally come at a cheaper price. Storage space is generally less and they're often limited to day excursions. They thrive in warm water on hot sunny days where they'll keep you cooler than the confining cockpit of a sit-in.
Tandem Kayak vs Single Kayak
While it is possible to paddle some tandems by yourself, it's not easy. Tandems have longer keels and are heavier, meaning you'll miss having another person's paddling power. It also makes maneuvering and tracking more challenging.
If you're not sure how much tandem paddling you'll be doing but want the option, there are several recreational-style kayaks that are designed to be paddled either solo or tandem.
best kayak for beginners – Wrapping It Up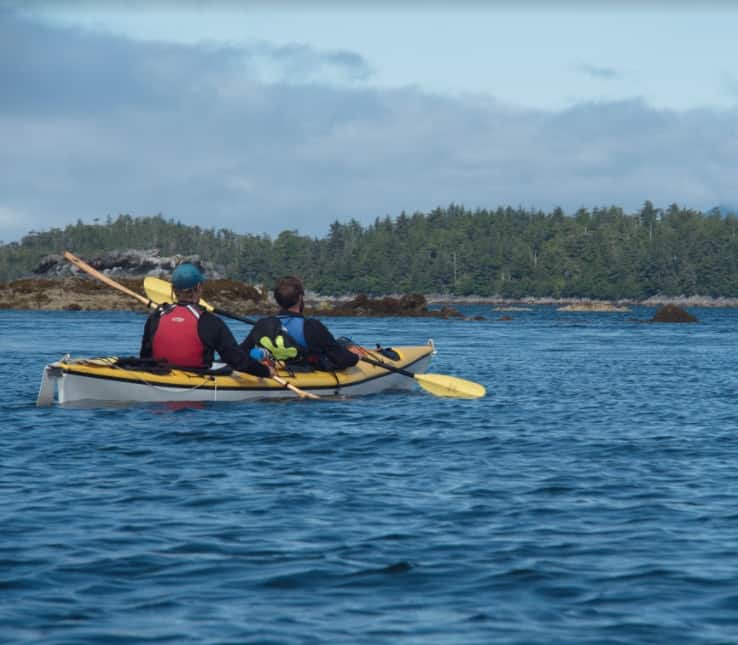 While each of these kayaks is designed to fill a certain niche, some cover a wider range of categories. Because of this, I'd give the Perception Carolina 12.0 the nod as the top-performing kayak for beginners.
While it serves best as a touring kayak, it can fill any number of roles. The only thing that would give me pause would be taking it down serious fast-moving rivers. But at just 12-feet long and 49 pounds, it's one of the lightest and most portable in its class.
Add to this its speed, impressive stability, and storage capacity and you have a kayak capable of most paddler's adventures. As a sit-in, it can be paddled in warm or cold water with the application of a spray skirt.
Also worth consideration is the Advanced Elements Advanced Frame. Though not quite up to Perception's standards, this inflatable kayak will give it a run for its money while not breaking the bank. Since it's an inflatable I'd hesitate to take it on any river that has the risk of a high-impact collision with a rock.
And finally, if you're looking for a river runner with more versatility, the Liquidlogic Remix XP10 does a decent job thanks to the watertight storage hatch in the stern and the installed skeg that provides stability.