Capable of carrying large quantities of gear and able to cover large bodies of water with ease, touring kayaks are the albatrosses of the kayaking world.
These swift, fleet of foot vessels boast excellent tracking with the stability to explore some of the world's most challenging waterways.
But what is the best touring kayak? In this article, we'll break down some of our favorites in this diverse category.
From stable and comfortable vessels for beginners to big, cargo laden tandems that fly across the water, your next kayak purchase awaits just below.
Best Touring Kayaks

With a reassuring mixture of stability, speed, and comfort, the Pungo 120 from Wilderness Systems is the perfect introduction to the touring kayak world.
At just 12 feet in length, it doesn't have the size or speed for longer trips, but is more than capable of handling day and weekend-long journeys.
The short keel gives it better maneuverability than many in its class, and while this may affect the tracking at times, it makes it a more beginner-friendly craft.
The foam and mesh seat is one of the more comfortable I've sat in and is well ventilated for those hot summer days.
Roomy cockpit for bigger paddlers
Padded knee braces
Removable storage console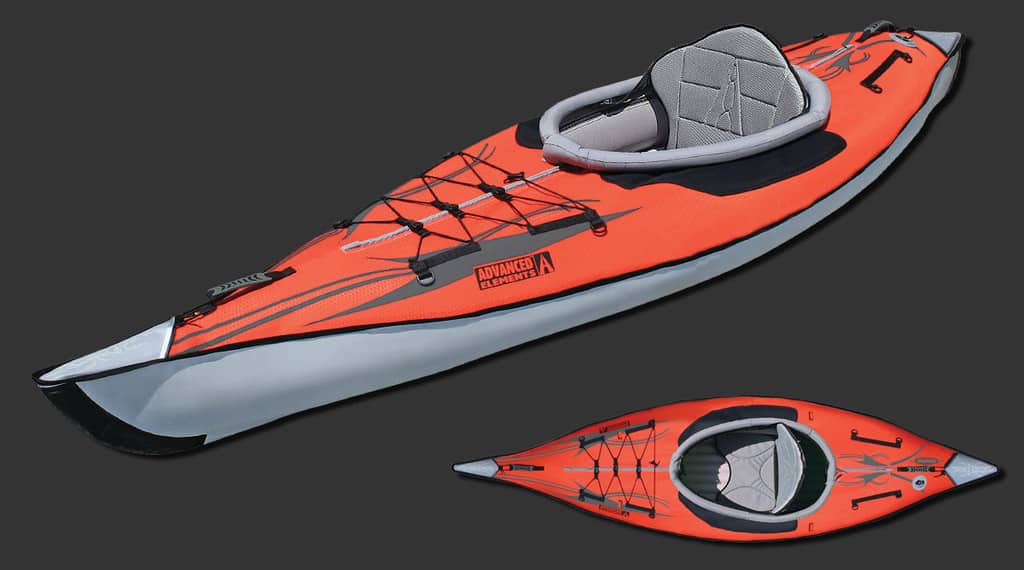 I never thought I'd see the day where I'd be recommending an inflatable touring kayak.
Advanced Elements deserves a load of credit for their Advanced Frame model.
With an aluminum hull, the Advanced Frame has a rigidity and stability I didn't think possible in an inflatable.
Tracking skegs help keep the boat on course, and the tough three-layer plastic and multiple air chambers make it impressively durable.
It weighs just 36 pounds and the convenience of being able to transport it in the trunk of your car cannot be underestimated.
Once on the water, it can hold its own with hard-sided boats in both speed and tracking, and can handle water conditions I once thought unmanageable for an inflatable.
You won't find the storage space of bigger touring kayaks, but at this price point, it's hard to quibble with the Advanced Frame.
One of the most cost-effective touring kayaks
Performance rivals hard-sided kayaks
Set-up and takedown has a learning curve with multiple air nozzles
Read our full Advanced Elements Advanced Frame review.

One of the lightest and shortest kayaks in the class, the Eddyline Skylark is a user-friendly vessel for day trips.
It lacks the storage capacity or speed for ambitious touring, but at just 12 feet long and 41 pounds, it's pound for pound one of the best performing boats.
While it's one the pricier day touring boats, this is due to the lightweight ABS plastic hull that provides impressive durability while keeping the boat light and narrow enough to handle challenging water conditions.
Limited to day trips or quick overnight adventures
One of the more expensive day touring kayaks
Lightweight and easy to transport via car or bicycle

When paddling bigger bodies of water, it's vital that you're confident that your boat can handle any changing or hazardous conditions.
There's a reason the Seascape Point 5 is a favorite of guiding companies. Stability and speed are huge priorities on guided trips and my goodness has Northwest Kayaks found the sweet spot between those two characteristics.
The rudder is intuitive and responsive no matter your experience level while the characteristic streamlined hull of Northwest Kayaks gives it a solid top speed that can cruise with the best of them when two experienced paddlers are aboard.
Difficult to tip no matter the waves or tide, you can feel confident that the Point 5 is up to the challenge.
Add in the cavernous watertight bow and stern hatches and you have a kayak for all your adventures.
Compass mounts
Bow and stern bulkheads
Lightweight fiberglass design
Best Light Touring Kayak: Delta 14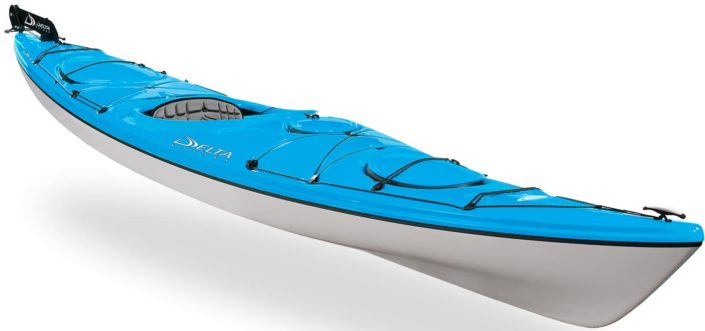 Not as long as some touring boats at 14 feet in length, what the Delta 14 lacks in length it makes up for with a lightweight design that makes moving and transporting it easy.
There's enough storage space in the bow and stern watertight hatches to allow for weekend trips at a minimum.
Bungee cord rigging can be found both bow and stern to store dry bags and other water-resistant gear.
The cockpit is wide enough to accommodate most paddlers.
Two padded leg braces help you engage your core and upper body making your paddle stroke more efficient and help you brace and maintain your balance in rough water conditions.
Multi-position, adjustable seat for a customized fit
Weighs just 45 pounds
Shorter keel gives it a lower top speed than longer models

With a massive, 17-foot keel, the Cadence is the longest of the Northwest Kayaks singles.
This combined with the sleek narrow profile makes it a swift-moving kayak, especially in the hands of an experienced paddler.
But my favorite part of the Cadence is the well-defined hard chines that give it premier primary and secondary stability in all sorts of weather conditions that paddlers of any experience level will appreciate.
Despite the narrow hull, the cockpit is wide enough to accommodate a range of paddlers and once inside, it's a spacious boat with plenty of legroom with room leftover for a foot-pedal-controlled rudder.
Two cavernous watertight hatches and three deck bungees give you plenty of dry and open-air storage space for longer trips.
Great stability in all water conditions
The fiberglass hull is lighter but more susceptible to damage
Comfortable, adjustable seatback
How to Choose the Best Touring Kayak for You
Comfort, Speed, & Tracking
When you plan on being in your kayak for several days and covering a lot of ground, comfort, speed, and tracking will play a huge role in your safety and how enjoyable your trip will be.
Most touring kayaks have padded adjustable seats. Nevertheless, I'd recommend sitting in your kayak before purchasing if at all possible. Select a kayak with an adjustable seat back and easy to adjust foot pedals. Preferably you'll be able to adjust the foot pedals while on the water.
Thigh braces are great additions if your body type can accommodate them as they allow you to brace against the boat which improves both stability and your paddling efficiency.
It's tough to gauge what a kayak's top speed is as there are so many variables from the paddler's strength to the condition of the weather and tide.
A general rule of thumb is the longer a kayak's keel, the faster its average speed will be. The shape of the bow and keel can also play a big role. The more V-shaped the bow and keel, the more efficient the boat will paddle. Estimate that your average paddling pace in calm, neutral conditions will be between two and three miles an hour.
Many touring kayaks are outfitted with rudders that are included with your purchase. If this isn't the case and you plan on paddling large distances or will be in windy or tidally influenced areas, make sure that your boat can be outfitted with a rudder. This will help you steer through most water conditions and keep you on a straight course instead of zig-zagging with each paddle stroke.
Inflatable or Hard-Sided
The large majority of touring kayaks are hard-sided. Plastic is still the primary hull material and is favored for its durability, although plastic hulled boats can be heavy, especially longer singles or tandems.
Fiberglass, Kevlar, and marine-grade plywood compose the high-end touring boats. Lighter and easier to maneuver and handle, these boats are susceptible to damage on rocks and should be treated with the utmost caution. Even the most cautious paddlers will need to do routine maintenance that can require a technical hand to ensure the lifetime of these materials.
Inflatable kayaks need to be treated gently too, though their fabric is tougher than you think and multiple air tubes provide redundancy in case one gets punctured. There are very few inflatable kayaks outside of the Advanced Elements Advanced Frame that I'd trust for multi-day trips, however.
Even well-made inflatables lack the rigidity, speed, and storage capacity to make them worth bringing on such a trip as they won't hold the gear you need and it will take you forever to get anywhere.
Instead, save the inflatable for day trips in more recreational environments where the goal is more to have fun than to try to cover any serious ground.
Tandem or Single
Touring tandems are longer than others in the category to provide storage space and additional speed. This can make them feel sluggish and unwieldy to paddle any serious distance by yourself. I've had to move a tandem on my own before, and anything further than a few hundred yards is a trial in patience.
If you're unsure if you and your paddling partner want a double or two singles, I'd recommend going with two singles. This gives you the flexibility to go out on your own if you want and two singles tend to have more storage space than a tandem.
Transporting two singles can be more challenging than a tandem and a double kayak can outpace two singles in most scenarios thanks to its longer hull and having two paddlers aboard.
Skeg & Rudder
A necessity for any multi-day trip. Steering and maintaining your course using just your paddle is challenging and requires plenty of practice.
Even if you're an experienced paddler able to perform a litany of paddle-based turns, it's good to have a rudder available in case the weather turns or you tire.
Storage
No touring kayaks would be complete without some mammoth watertight storage space.
In most cases, this is two hatches located in the bow and the stern. It's amazing how fast this space can fill up once you start to cram in your camping gear.
To increase load capacity, deck bungees are stretched across the deck in front of and behind the cockpit to secure waterproof gear and dry bags.
Check the volume of dry storage space for your prospective kayak and test pack your boat before heading out to make sure everything fits.
Extra Features
While some recreational or entry-level boats come with included goodies like a paddle or two, most touring kayaks already assume you have the basic kayaking necessities.
For touring kayaks, look to see if a rudder or tracking skeg is included, and if not, if it's rudder compatible.
A deck compass is a common add-on for touring kayaks which entails installing a compass directly into the hull, usually near the bow so that it's visible from the cockpit.
Conclusion
Since touring kayaks represent some of the most high-end kayaks with a high-performance level, selecting my favorite in this category was challenging, and several noteworthy boats just missed the cut.
But Northwest Kayaks is my favorite brand, and I'm comfortable giving their long keeled single my top honor. The Cadence is fast, stable, and has a ton of storage space. It fits my taller frame like a glove and gives me the confidence to challenge choppy and heavy tidal areas.
The Delta 14's lightweight design is another noteworthy vessel. I love how light and easy it is to move from the car to the water, making it a great boat for those that need to go from the home to the water on their own.
What do you think of our list? What'd we miss and what's your favorite? Let us know in the comments below.