With thousands of different kayak models on the open market, sifting through all of them to find the best of the best can be a time-consuming venture.
We've done the legwork for you, and in this article, we're excited to unveil what we think are the best kayaks in several different fields.
Whether you're new to the sport and looking for a cheap entry-level boat, wanting to feel the rush of a whitewater river, or planning your next big week-long adventure in the backcountry, you'll find the best kayak below.
Best Kayaks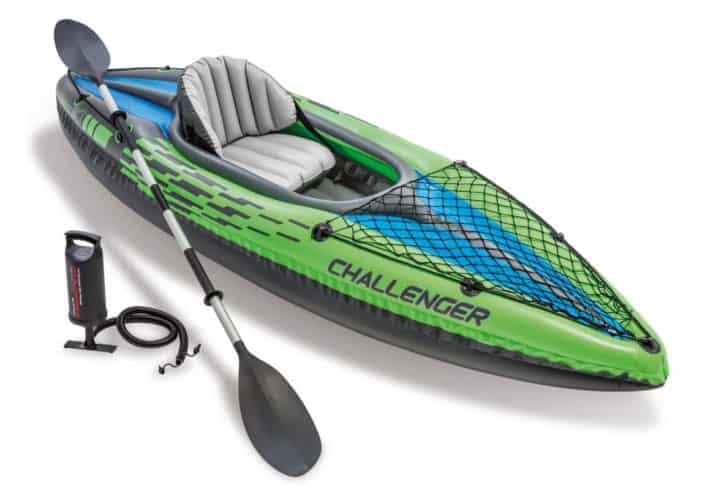 If you're new to kayaking, you may not want your first kayak to break the bank. But that doesn't mean you should sacrifice performance.
Fortunately, the Challenger K1 from Intex will give you a great introduction to the sport at a minimal cost.
I wouldn't suggest taking it onto rough water, but on calm lakes and mellow rivers, the K1 is responsive and easy to paddle.
It has excellent maneuverability that makes learning how to paddle easy.
You wouldn't expect an inflatable to be this stable, but when properly inflated (which is easy and intuitive) it feels solid underneath and will give newcomers the confidence to come back for more.
East set-up and takedown
Large and spacious kayak for easy entrance and exit
Tracking fin, hand pump, and paddle included
Read our full Intex Challenger K1 review.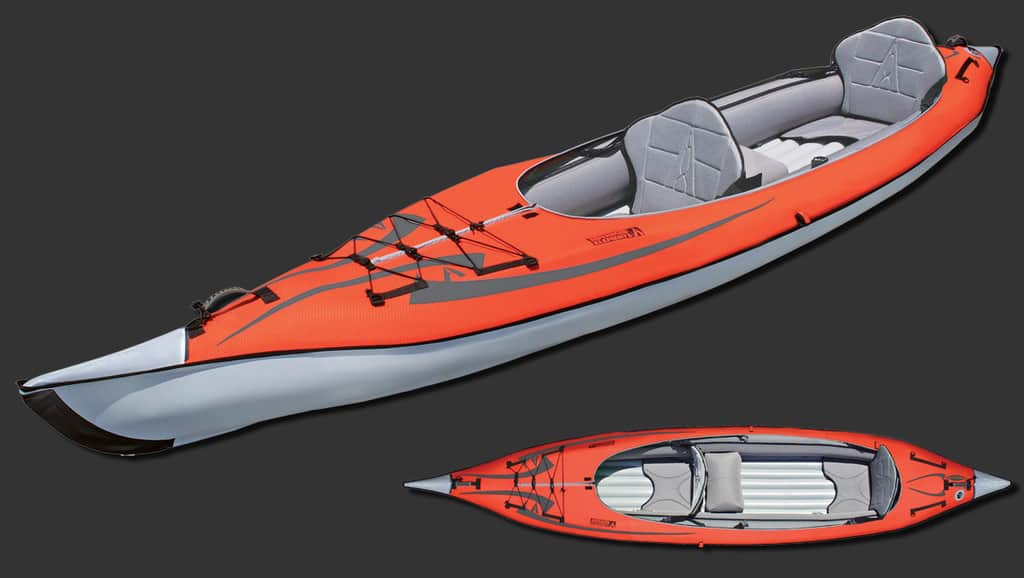 Advanced Elements is raising the bar for what paddlers expect out of their inflatable kayaks.
Their Convertible design can be paddled either solo or tandem, making it a great choice for those that prioritize flexibility and have minimal storage space at home.
An extra skeg helps with tracking but the aluminum frame adds plenty of rigidity that keeps it on course in a variety of conditions you wouldn't dare explore in other inflatables.
Excellent rigidity and stability
Tracks well thanks to tracking fins and one larger skeg
Multiple air chambers and complicated instructions bring a steep learning curve

Most of my kayaking is done on saltwater inlets and fjords where tide and weather can change from calm to a gale at a moment's notice.
Stability and speed are huge priorities and my goodness has Northwest Kayaks found the sweet spot between those two characteristics with the SeaScape Point 5.
Paddlers of all experience levels will find the rudder intuitive and responsive while the streamlined keel and hull provides a solid top speed.
But it's the stability that makes this a favorite among guiding companies.
Difficult to tip no matter the waves or tide, you can feel confident that the Point 5 is up to the challenge.
Add in the cavernous watertight bow and stern hatches and you have a kayak for all your adventures.
Compass mounts
Bow and stern bulkheads
Lightweight fiberglass design
Best Touring Kayak: Delta 17

I'm not always the most patient paddler, so when I see a fast kayak it rockets up my list in a hurry.
One of the longest single kayaks measuring 17-feet long, the Delta 17 zooms across the water.
It doesn't perform quite as well in rough water as some of the shorter models from Delta Kayaks, but on calm water, it's the race car of touring kayaks.
There's enough storage to accommodate most trips including a handy watertight hatch in front of the seat that's accessible on the water.
That long keel does make it an awkward carry for a solo paddler and the 50-pound weight suggests that long distances will require two people to move it safely to the water.
Lower back deck for easier rolling
One of the fastest single kayaks out there
Stability and tracking can diminish in rough water

Another big single, the Cadence has the longest keel of Northwest's solo models measuring 17-feet long.
This makes it another speedy single, but what I love most is the hard chine that makes both the primary and secondary stability top-notch and preferable for paddlers of all experience levels.
The cockpit is wide enough to accommodate a wide range of paddlers and once inside, it's a spacious boat with plenty of legroom and room leftover for a foot pedal controlled rudder.
It has a massive amount of watertight storage space with watertight bow and stern bulkheads that can store gear for serious touring expeditions.
Great stability in all water conditions
Fiberglass hull is lighter but more susceptible to damage
Comfortable, adjustable seatback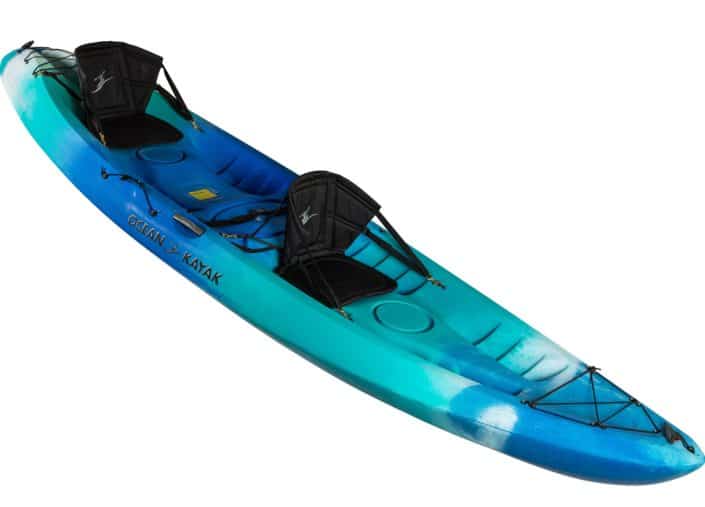 Big and spacious, this versatile sit-on-top has room for two paddlers and a third smaller passenger or canine.
While most tandems must be paddled by two people, the Malibu is responsive enough for it to double as a solo kayak too.
It has a wide, flat hull so you can feel stable and comfortable at all times.
Speaking of comfort, the seats have four-way adjustability so you can find the perfect position no matter your body type.
It's a little shorter at 12-feet long, but weighs just 57-pounds despite the durable polyethylene plastic material, making it a great recreational kayak for the whole family.
Can be paddled either solo or tandem
Lack of dry storage space
Skid plate on hull prevents damage when dragging
Read our full Ocean Kayak Malibu Two review.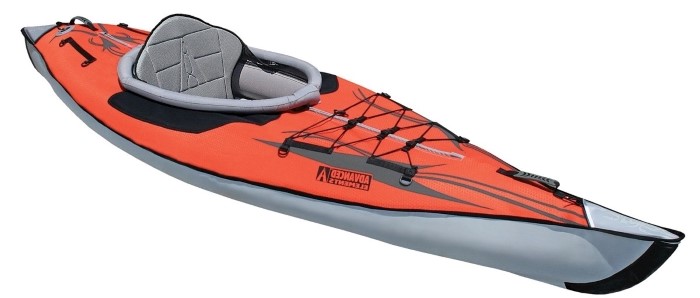 For years, inflatable kayak owners have had to watch hard-sided boats zip by them. No more.
The Advanced Elements Advanced Frame can stand toe to toe with many hard-sided kayaks thanks to its impressive tracking and a top speed I didn't think possible in an inflatable.
Multiple tracking skegs keep you on course while the tough aluminum frame provides incredible rigidity when properly inflated.
You still don't get the storage space that some hard-sided boats do and your first couple inflations may be challenging.
But you won't find a better kayak at this price point.
Unsurpassed performance for an inflatable
Spacious design with ample legroom for tall paddlers
Set-up can be challenging and no pump included
Read our full Advanced Elements Advanced Frame review.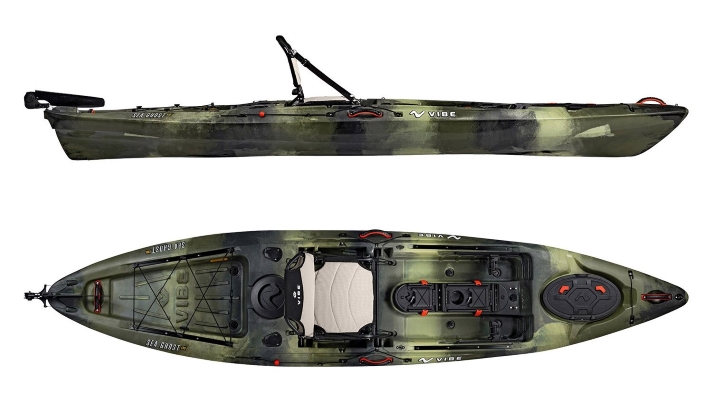 We've talked about the Sea Ghost 130 many times on this site, but it bears repeating one more time that this is the most cost-effective fishing kayak out there.
The huge load capacity (550 pounds) is complemented by multiple gear tracks that allow you to customize your boat to your heart's content.
A central console in front of the seat provides dry storage as well as a place to install a fishfinder.
I'm amazed at how Vibe managed to design such a fast kayak that still feels so stable and maneuverable.
Whether you're out for the day or a weekend adventure, look no further than the Sea Ghost 130 for your fishing exploits!
Heavier than most comparable fishing kayaks
One of the most comfortable kayak seats you'll ever sit
Customization options galore
Read our full Vibe Sea Ghost 130 review.

Versatile and user-friendly, the Zydeco 9.0 is at home in both whitewater and calm water environments.
Beginners will appreciate the stability that makes it a good introduction to the sport, while more experienced paddlers will have no trouble maximizing performance and trusting it on challenging runs.
I was impressed with how maneuverable it was, a product of its shorter length (9-feet) that also makes it easy to roll and transport.
Great combination of control and stability
Versatile enough to handle all river types
Very little storage
How to Choose the Best Kayak for You
Consider What You Plan on Doing the Most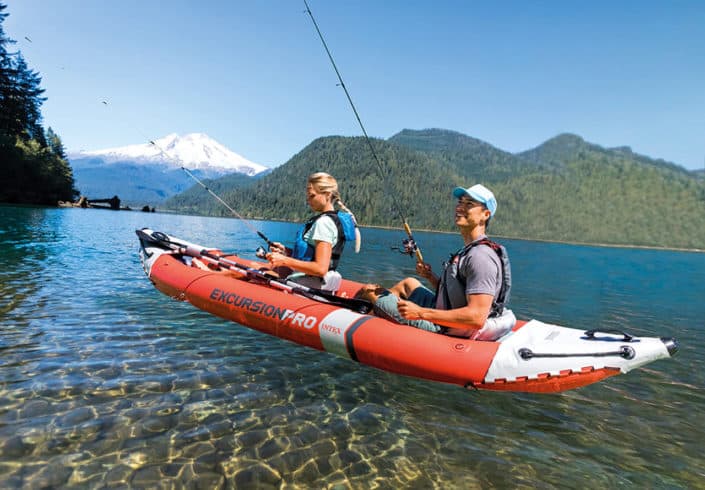 The first decision you need to make is where you want to paddle. Most kayaks are built for specific conditions and some boats may not be safe on some waterways.
Do you want to do more touring or multi-day trips? These tend to be more expensive but are fast, stable, and have a lot of storage space.
By comparison, whitewater kayaks are short and stubby with little storage but have excellent maneuverability and are easy to roll in rough water.
Cheaper boats tend to fall in the recreational or fishing category with a focus on stability so new paddlers can feel comfortable. They tend to be slower and their performance can diminish in rough water or if you run into a nasty headwind.
Sit-In Vs. Sit-On-Top Kayak
The second question you need to answer is which of the two primary kayak designs is best for you.
Sit-in kayaks have a defined cockpit that can be enclosed with a spray skirt. This protects your legs and lower torso from any splashing waves or rain.
Since the seat is lower in the kayak, sit-in kayaks are slimmer and more efficient without compromising their stability. This along with lots of dry storage space makes them popular in cold weather climates and for touring.
Sit-on-top boats often fill the recreational, beginner, and fishing kayak niches. There is no defined cockpit which makes them easier to get into and out of and provides more leg room for tall paddlers but you're not protected from the elements.
To compensate for this, the seats for sit-on-top kayaks are placed higher above the water to keep you drier. This can compromise their stability however due to your higher center of gravity.
To compensate, sit-on-tops have wider hulls and even some multi-hull or pontoon-style designs to keep them upright. While they're just as stable as most sit-in boats, this does make them slower and less responsive than many of their sit-in counterparts.
Inflatable vs Hard-Sided Kayaks
In recent years, inflatable kayak designs have improved dramatically.
While they're not as tippy or fragile as their reputation may suggest, most inflatables can't keep up with hard-sided kayaks.
For the most part, inflatable kayaks should be reserved for calm water like lakes or low-intensity rivers. They are usually cheaper than hard-sided boats and when used in the correct environment, have great stability and maneuverability.
You do have to treat inflatables gentler than hard-sided boats and be on the lookout for punctures or leaks. But most designs incorporate multiple air tubes, so even if one springs a leak, you can get back to shore safely.
Hard-sided kayaks can fill any number of roles depending on their design.
Most designs are more durable and the rigidity of their hulls means they track better with a faster top speed.
However, they require dedicated storage space and the logistics of transporting a 15-foot hard-sided boat is much more challenging.
Tandem vs Single Kayaks
If you and your paddle partner are torn between a tandem and two singles, there are a few performance differences to help you decide.
Most tandems are longer than singles and the elongated keel means they tend to be faster though they're less maneuverable.
Singles do provide the luxury of going out on your own, though trying to load two kayaks on top of your car can be harder than loading a single tandem.
For long trips, two singles can usually carry more than one tandem.
Unless the manufacturer indicates otherwise, tandems should always be paddled by two people. Trying to paddle tandems on your own is difficult and can be dangerous.
Best Kayak – Conclusion
There's no shortage of incredible, high-performing kayaks.
Whether you're on a budget or looking for the best of the best, there are great deals at all price ranges.
But my absolute favorite is the Northwest Kayaks Cadence. Whether you're into touring or just looking for an unforgettable day paddle, the Cadence has great stability along with a comfortable ride and impressive top speed.
The Vibe Sea Ghost 130 is another great choice. It doesn't have the touring potential of the Cadence but the performance, stability, and speed make it capable of much more than just fishing.
We'd love to hear your feedback, stories, and favorite kayaks. Share with us in the comments below.