Today the market is filled with sit-on-top kayaks designed for fishing.
That's all well and good if you live in a warm-weather place, but what if it rains? What if you want a little more protection from the elements?
Based in Greenville, South Carolina, Perception has been churning out kayaks for more than 40 years that can handle a variety of conditions. This includes sit-in kayaks that are set-up for fishing in all sorts of weather.
In our Perception Sound 10.5 review, we'll take a look at one of these reasonably priced models. Narrower than most sit-on-top boats but still managing to cram in some custom features, it's a boat worthy of consideration for newcomers and casual kayak anglers.
Pros:
Lightweight design is easy to transport
Sit-in design provides solid stability
Enough custom options to get started
Cons:
No dry storage space
Tracking suffers in rough conditions
Short keel limits its speed
Things to Consider Before Buying

Most fishing kayaks today are of the sit-on-top variety. These boats must be wider to maintain stability, but also have bigger decks to accommodate you and all your fishing gear. But they don't provide any protection from the elements so you need to dress for the weather if you live in a cold or rainy environment.
Sit-in boats like the Perception Sound have more protection from these conditions since most of your body is covered up by the deck of the kayak.
This does limit your mobility and the number of custom features that can be built into the boat, however. If customization is a big priority and you're willing to risk a bit of rain, there's plenty of sit-on-top boats out there like the Sea Ghost 130 from Vibe. 
Specifications
Length: 10-feet, 6-inches
Width: 29.5-inches
Weight: 46 lbs
Load Capacity: 335 lbs
Cockpit Dimensions: 56 inches long, 24 inches wide
Design
Material

Like most fishing kayaks, the Sound 10.5 is made of a tough, durable type of plastic called polyethylene. This rigid material feels solid on the water and can absorb almost any water collision as well as any accidental drops when you're carrying it.
With minimal care and maintenance, you can expect your Perception Sound to last for years without losing performance.
Speed
While the Perception Sound isn't that long at 10-and-a-half feet, being a sit-in kayak works to its advantage. Since you're seated closer to the water, the boat can be narrower than its sit-on-top competitors.
This gives it a better top speed and is more efficient to paddle than sit-on-tops of similar length that must be wider.
It'll still have issues keeping up with longer boats of both the sit-on-top and sit-in persuasion, but for day trips or quick overnight jaunts where speed isn't too important, the Perception Sound is up to the challenge.
Maneuverability
The Perception Sound doesn't come with a rudder. But it still maneuvers pretty well and the shorter keel certainly helps in this regard.
Paddlers with a modicum of experience should be able to squeeze through hard-to-navigate areas and the Sound is at home on narrow waterways where you need to navigate around obstacles.
Comfort
A kayak won't do you much good if you have a cheap plastic seat digging into your back all day. Luckily Perception has us covered with a well-padded seat.
The back is ergonomically designed and has excellent support for paddlers of all shapes and sizes. It can easily be adjusted back and forth, even on the water if you need to shift your paddling position.
That's not all. For a sit-in kayak, the cockpit is plenty spacious. This makes it a good choice for paddlers of all ages or those that have trouble getting out of narrower cockpits.
Adjustable footrests round out the cockpit features. Combined with the spacious cockpit, these braces allow you to leverage your body weight into your turns and paddle strokes while taking the pressure off your back.
Stability & Tracking
The Perception Sound is built with stability in mind. The tri-hull design should give beginner and nervous kayakers the confidence to set out without fear of capsizing. The sit-in design gives you a built-in advantage thanks to your body weight being lower to the water and it can absorb any rocking or shifts in body weight when you're casting or reeling in your catch.
The same hull design also helps when it comes to the boat's tracking capability. While the hull certainly helps keep your boat from swinging wildly with every paddle stroke, the lack of rudder and shorter keel does hamper you to an extent.
I'd consider the Sound 10.5 more of a boat for protected waterways where wind, tide, and waves can't have too bad of an effect. Avoid open water or big crossings where weather and changes in water conditions can be dangerous.
Durability
I try to treat my kayaks well no matter what they're made of. But I admit, there's something nice about having a tough plastic boat I can throw around a little bit.
The polyethylene hull should be able to handle normal wear and tear and keep on going. I'd still be careful when coming into rocky beaches or landing in the surf as there's no telling when you'd land on a rock just right and dent the hull.
The same goes for carrying your boat to and from the water. Since there's no skid plate on the hull, it's best to carry instead of dragging your boat. While it may stand up to this behavior for a while, over time the hull will start to scratch and peel which can diminish the boat's efficiency and speed.
For storage, any covered area should do fine. If possible, store it out of direct sunlight when not in use as prolonged exposure to UV rays can warp or weaken the hull over time.
Portability
At just 46 pounds, the Perception is one of the lighter fishing boats out there. Some paddlers may find that they can throw it over a shoulder and carry it on their own for short distances. Loading on top of a car shouldn't be too much trouble either, and transportation is simplified as it's light enough to fit on most racks or in the bag of some pick-up trucks.
For tandem carries, the boat has molded plastic handles built into the bow and stern, giving you an easy method for portages. I prefer the gel molded "T-handle" designs of some boats personally, but for a boat this light it doesn't really matter.
Features & Accessories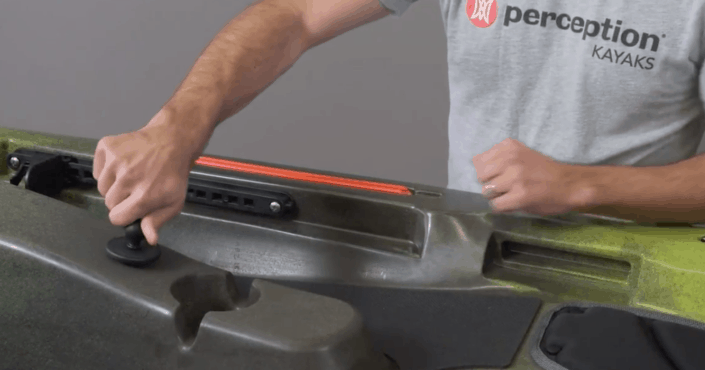 Like most kayaks in this mid-range category, you won't find much in the way of extra goodies with your purchase. Items like an included paddle are more common in entry-level inflatable designs.
While there's not a designated paddle holder, there is a molded dashboard in front of the seat with a bungee cord stretched over this small recess in the deck. In a pinch, you can squeeze your paddle under it to keep it secured when not in use.
Fishing Ease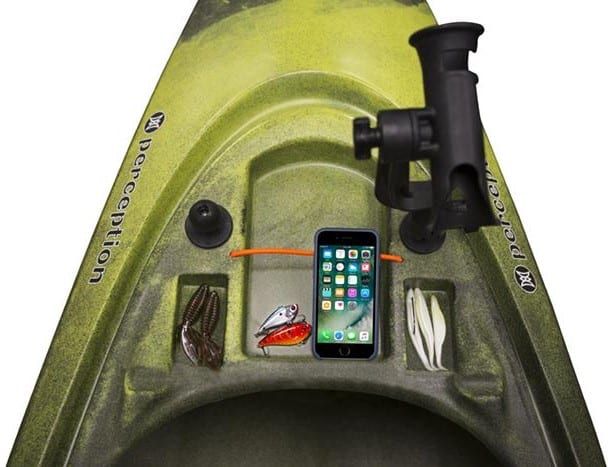 It's tougher to cram a bunch of custom fishing accessories into a sit-in kayak simply due to the nature of the design. There's less deck space, and since your legs and lower torso are beneath the deck, it's harder to move around and reach all your items.
Perception has done its best though. In addition to the dashboard which can hold smaller items you want accessible as you paddle, there's a couple of mounts on either side of it. From here you can customize your boat to your liking.
Whether you want to install a GPS, a GoPro, or any other item you deem necessary for catching or documenting, it can be done without taking a drill to your new kayak.
Behind the seat are a couple of flush-mounted rod holders. While twisting and turning in a kayak can feel unstable, anglers shouldn't have too much trouble switching poles or gear on the water.
As a shorter, lighter boat, it's not surprising that there's less storage space than many bigger, heavier boats. The only large dedicated space is in the stern. This open-air "tank well" style storage area is recessed beneath the deck and has bungee cords stretched over it to keep anything from washing away.
The only other large area to hold gear is in the cockpit itself. Since it's a pretty big cockpit there is room to cram some items between your legs or in front of your seat. But the amount of gear you can keep here is obviously correlated to how long your legs are.
Value
As one of the few sit-in fishing kayak designs, the Perception Sound 10.5 immediately stands out for those that want the added protection from the elements.
It's a well-built and stable vessel that overcomes the customization limitations of a sit-in kayak by wisely placing custom dashboards and rod holders in convenient areas.
It does all of this without breaking the bank, and is a reasonably priced boat that should appeal to those that are new to the sport or just looking for something to do on the weekend.
If you're a more passionate kayak angler or are looking to do longer trips with a more custom load out, there are other places to look. But more casual users will appreciate the "pick-up and go" accessibility of the lightweight design with just enough custom features to whet your appetite.
Alternatives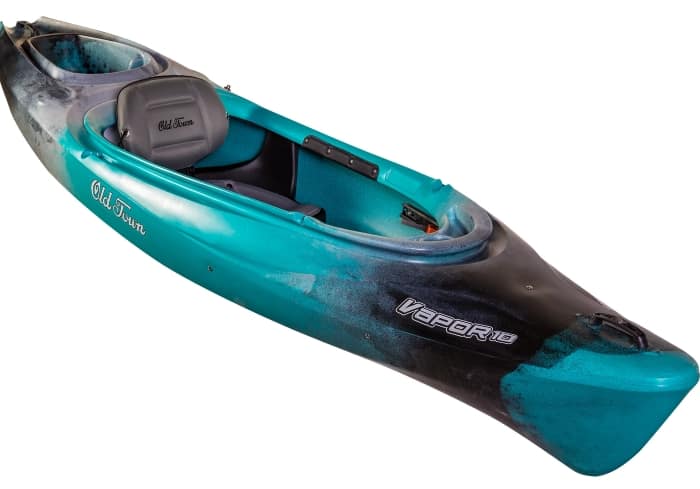 While some sit-in kayaks are cramped with hardly enough room to move your legs, the Vapor 10 from Old Town is one of the most spacious in its class.
With room for paddlers of all sizes to sit comfortably, the Vapor 10 utilizes a streamlined design to coax the most out of its ten-foot-long keel.
Add in the 325-pound weight capacity and this is a fishing kayak to meet all of your day paddling needs.
Its shortcomings lie in the lack of customization options that the Perception Sound 10.5 has. At this price range not having a way to install a fishfinder is understandable, but just a rod holder or two would be nice.
Few customization options
Molded-in paddle rest
Lots of room for a sit-in
Read our honest Old Town Vapor 10 review.
Perception Sound 9.5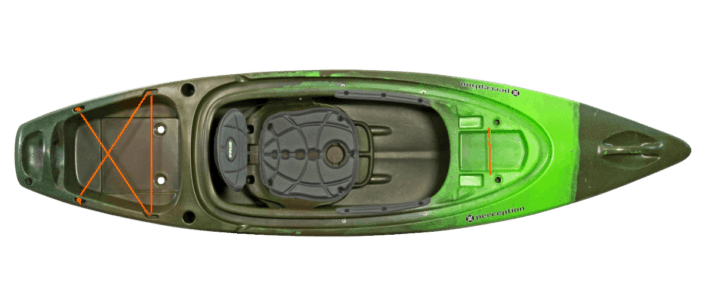 Capable of recreational and angling trips, the Sound 9.5 is one of the cheaper versatile kayaks on the market. It doesn't have a lot of the high-end accessories of more expensive fishing kayaks, but does have a couple of rod holders. It's a full foot shorter than its big brother, the Sound 9.5, giving it better maneuverability though the tracking is further diminished.
You'll find the same padded, adjustable seat and footrests which make for a comfortable and enjoyable time on the water no matter how long you're out.
Large rear storage but no watertight hatches
Built-in dashboard
Versatile and reliable in calm water scenarios
Read our detailed Perception Sound 9.5 review.
Old Town Dirigo 106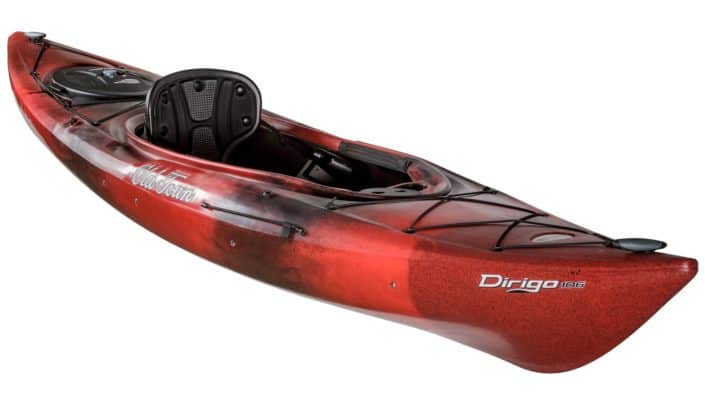 With a similar length and a wide spacious kayak which will immediately remind you of the Sound 10.5, the Dirigo 106 from Old Town has a lot of similarities with the Sound 10.5.
The cockpit is plenty wide making it another boat that's easy to get in and out of. Unlike the Sound 10.5 thought, the stern hatch is watertight, making it easier to keep your gear dry and is the more preferable choice for environments or if you want to try an overnight trip.
Watertight stern hatch
Paddle holder built into the hull
Gel molded t-handles for transport
Conclusion
With a narrow beam and tri-hull design, the Sound 10.5 coaxes the most out of its design with a solid combination of speed and stability that makes it a good choice for day and overnight trips. The tracking suffers in poor conditions and the lack of storage space limits your multi-day upside, but it remains a good choice for newcomers and casual anglers.
You can learn more about the Sound 10.5 and Perception's other designs by visiting their website.