Not everyone needs or wants the fanciest and flashiest kayak. What if you're just looking for something for the occasional weekend outing?
If you're in the market for an easy-to-carry kayak with reliable stability and enough custom features to get you started, the Perception Sound 9.5 may be the way to go.
Based in Greenville, South Carolina, Perception has been cranking out tough and well-designed kayaks for more than 40-years.
In our Perception Sound 9.5 review, we'll give you a thorough breakdown of one of the lightest hard-sided kayaks out there.
Pros:
One of the lightest hard-sided kayaks on the market
Great maneuverability is excellent for beginners
Custom mounting plate
Cons:
Poor tracking
No dry storage space
No paddle holder
Things to Consider Before Buying

Unlike most fishing kayaks, the Sound 9.5 is a sit-in kayak. While they don't have the deck space of a sit-on-top and can be a little tougher to get in and out of, this design does have a few advantages.
The seat of a sit-in kayak can be set lower to the water, improving stability and allowing it to have a narrower design, improving paddling efficiency without increasing the risk of capsizing. They also provide more protection from the elements since your legs and lower torso are protected, especially if you wear a spray skirt.
This makes them a good choice for those that live in colder or rainier environments.
While not as easy to store as an inflatable kayak you can keep in a hallway closet, the Sound 9.5 is one of the smallest and lightest hard-sided boats. This allows almost any vehicle to safely transport them and storage is much simpler than their bigger and heavier competitors.
Specifications
Length: 9-feet, 6-inches
Width: 28-inches
Weight: 38 pounds
Load Capacity: 300 pounds
Design
Material
Like most kayaks that fall into the recreational or fishing category, the Sound 9.5 is made of polyethylene. This tough, molded plastic material gives the hull excellent rigidity and durability.
While this material is heavier than other kayak materials like fiberglass, it's extremely durable and can handle most any drops or on-water collisions and keep on going, all while requiring minimal maintenance.
Speed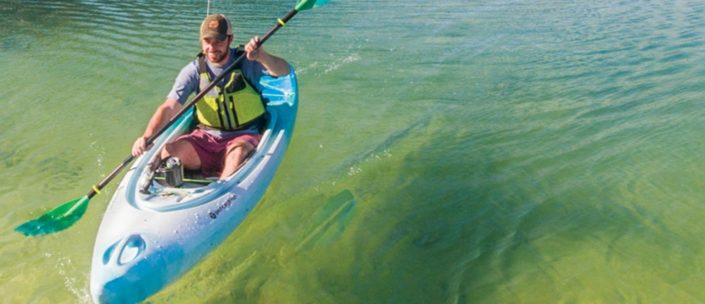 The Sound 9.5 won't be setting any speed records. In most cases, a kayak's speed is going to be closely related to the length of the keel. The longer the boat, the faster they tend to go.
As one of the shorter kayaks on the market, you can expect your Sound 9.5 to fall behind your friend's longer models. If you're planning on short day trips, the slower speed probably won't be much of an issue for you. But if you'll be paddling with a group or looking to cover some serious ground, be prepared to paddle hard to keep up.
Maneuverability
The short keel comes in handy when it comes to the Sound's maneuverability though. The short keel handles well, allowing it to navigate tight bodies of water or squeeze into small corners that longer boats won't be able to access.
There's no rudder included with the basic package and there's not an easy way to install one on your own. But for a sporty day boat, that shouldn't matter a whole lot since you shouldn't be taking your Sound 9.5 into dynamic and challenging water.
Comfort
A fishing kayak won't do you a whole lot of good if you can't get comfortable. Perception engineers some pretty comfy seats and the Sound 9.5 is no exception.
Both the seatback and the bottom are well padded with an ergonomic material. No hard plastic edges digging into your back here. The seat can be adjusted vertically and horizontally and paddlers can do so safely and easily on the water.
Footrests have been built on easy-to-adjust tracks as well, giving you something to brace against, improving your paddling efficiency, and taking the stress off your lower back. These are a little harder to adjust on the water since space is a little cramped. It's best to make sure these are properly adjusted before leaving the beach.
Stability & Tracking
The Sound 9.5 is built with stability in mind which should give paddlers of all experience levels confidence when they push off from shore. The tri-hull design is built to absorb sudden shifts in weight and the excellent primary stability helps keep you upright even in minimal chop.
That said, this is definitely a boat built for calm and protected waterways. Don't expect this design to handle more challenging water conditions.
A big reason you should keep this boat on smaller lakes and mellow rivers is the subpar tracking. This isn't an indictment of Perception or the boat's design. Like a kayak's speed, tracking has a lot to do with keel length.
With no rudder, the Sound 9.5 is easily pushed off course by even mild wind and tide. Hopefully, this is just a minor annoyance, but in bigger water, it can be dangerous.
Durability
I suppose it is possible to punch a hole in the tough plastic hull. But I'm not sure how as long as you're being a little careful. I'd still try to be careful when coming into rough beaches or landing in the surf so you don't dent the hull.
The same goes for carrying your boat to and from the water. When possible, carry your boat instead of dragging it. Doing this too often over too far of a distance will cause the hull to scratch and peel. While it won't spring a leak, it will diminish your paddling efficiency and slow you down even more.
If possible, store your kayak out of direct sunlight. Prolonged exposure to UV rays can cause the plastic to weaken, bend, or warp over time.
Portability
Hard-sided boats don't get much lighter than the Sound 9.5. Weighing just 38 pounds, many paddlers will probably be able to carry it safely on their own. While there's no central handle to grasp when you're moving it on your own, the edges of the cockpit serve as great handholds.
For tandem carries, plastic handles have been molded into the bow and stern making longer portages easy.
The short keel should fit in the back of most trucks and even in the back of some SUVs. For smaller vehicles, a simple roof rack should be more than enough.
Features & Accessories
Like most fishing kayaks, there's not much in the way of extra goodies included. This is usually reserved for cheaper, entry-level inflatable kayaks.
There's no dedicated paddle holder built into the design which is disappointing, especially in a fishing kayak. At some point, you'll want both hands free for your fishing pole and the last thing you want is to see your paddle floating away.
There are a few bungee cords stretched across the deck in front of the cockpit though and you can use one of these to secure your paddle when it's not in use. It's not perfect but it's better than nothing.
Fishing Ease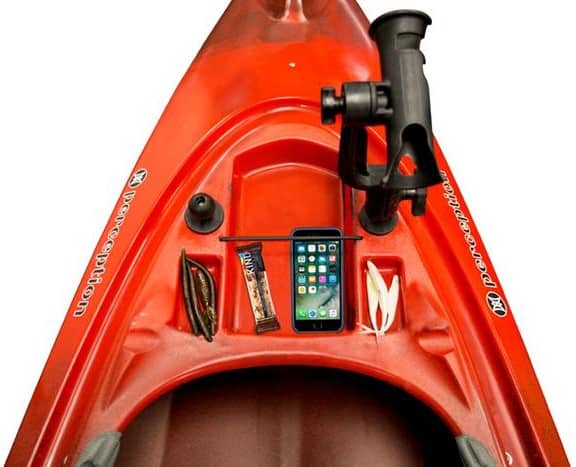 No fishing kayak would be complete without some custom features so you can outfit your boat to your precise specifications. It's harder to jam these into a sit-in kayak since there's less accessible deck space, but Perception snuck a few into the Sound 9.5.
The dashboard in front of the seat provides two mounting points for Perception's Solo Mount Accessory System. From here you can install the mount base (sold separately) and easily bring along any number of extra features like a GPS, GoPro, extra cup holder, or whatever else you need for a good time on the water.
A pair of flush-mounted rod holders are also built into the hull and are easily accessible from the water.
It should come as no surprise that the Sound 9.5 comes with minimal storage space. The only large dedicated area is in the stern. This open, tank-well-style compartment has bungee cords stretched over the top to secure overly large items. Smaller paddlers may be able to cram some items into the space by their feet, but that's about it.
But with a load capacity of just 300 pounds, it's not a boat meant to be loaded up for anything more than day trips anyway. If you want to try more ambitious overnight journeys you're better off going with a bigger boat with more storage space.
Value
While the Sound 9.5 doesn't come with anything flashy, it's lightweight and easy to transport. Beginners will appreciate the excellent maneuverability, this combined with the tri-hull stability makes it a great choice for your first fishing kayak and it comes in reasonably priced.
But if you're looking for something capable of something besides an afternoon on the lake, you're better off looking for something bigger with a larger load capacity and better speed. You'll pay more, but if you want something that can handle more challenging saltwater environments, it's worth the upgrade.
Alternatives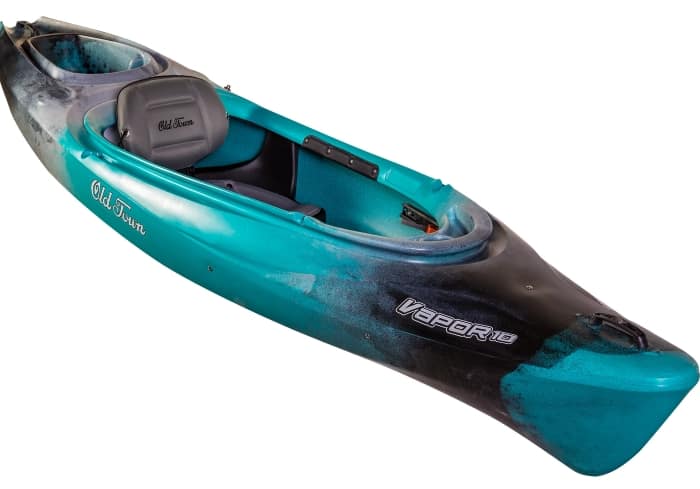 While some sit-in kayaks are cramped with hardly enough room to move your legs, the Vapor 10 from Old Town is one of the most spacious in its class.
With room for paddlers of all sizes to sit comfortably, the Vapor 10 utilizes a streamlined design to coax the most out of its ten-foot-long keel.
Add in the 325-pound weight capacity and this is a fishing kayak to meet all of your day paddling needs.
Its shortcomings lie in the lack of customization options that the Perception Sound 9.5 has. At this price range not having a way to install a fishfinder is understandable, but just a rod holder or two would be nice.
Few customization options
Molded-in paddle rest
Lots of room for a sit-in
Read our full review of the Old Town Vapor 10.

As the name suggests, the Sound 10.5 provides a lot of the same features as the 9.5 model. The biggest difference is size. Measuring a foot longer, the Sound 10.5 has slightly better speed and tracking while maneuverability is about the same.
You'll find a lot of the same custom options with the mounting board, a couple of rod holders, and the same comfortable seat that Perception is known for.
Is it worth spending a little more to get a longer boat? Probably not in my opinion. I still wouldn't trust the 10.5 in rougher water conditions. If you're looking for an upgrade, find a longer boat with some more custom features. Just be prepared to pay for it.
Very similar design to the 9.5, just a little faster
A few custom options for beginners
No rudder and subpar tracking in rough water.
Read our honest Sound 10.5 review.

Another sit-in kayak from Perception measuring less than 10-feet long is the Swifty. I'll be honest, I don't see much difference between the Swifty and Sound designs. Speed, maneuverability, and tracking are all pretty much the same and they should be limited to calm, protected water.
The only real difference is the Swifty doesn't have the custom options that the Sound does, making the Sound slightly better for fishing. The Swifty does come with a couple of rod holders and the stern storage hatch is watertight.
Stern storage area is covered
No custom options
Load capacity slightly bigger at 325 pounds
Read our detailed Swifty 9.5 review.
Conclusion
Easy to transport and sporting a comfortable seat and solid stability, the Sound 9.5 makes a nice entry-level option for those looking to do a little fishing.
It won't knock your socks off, but at this price point, it's perfect for those that are just getting started or aren't taking their angling career too seriously.