It doesn't matter whether you do it for recreation, for fun, or to put food on the table, if you're going to be on the lake or river in search of fowl, you'll want the best gear you can get.
To get around these duck-infested waterways, it's important to have a kayak you can rely on. We're here to save you some time by highlighting the best duck-hunting kayak in a number of categories.
Regardless of your price range, you're sure to find the right kayak for your next hunting trip below.
6 Best Duck Hunting Kayaks

Well-built and well-designed, the Wilderness Systems ATAK 120 is everything you want in a duck hunting kayak.
It's 12 feet long, which means plenty of room for you and your hunting gear. There's a large watertight bow storage area complete with a drain plug.
Wilderness Systems knows it's important to be comfortable while you're on the water, so they've spent a lot of time making sure their seat is both comfortable, adjustable, and quick-drying.
For customization, an accessory track lets you outfit your kayak for both hunting and fishing.
Whether you want to install your gun scopes, a GPS, a fishfinder, or all of them, you can turn your ATAK 120 into the perfect hunting or fishing platform.
If you don't want to paddle the whole way, there's even room for a trolling motor on the stern.
Length and size make it heavy at 86 pounds
Comfortable, adjustable seat
Lots of ways to customize it
Learn more: Wilderness Systems ATAK 120 Review

If you're just starting out or are more budget-conscious, the Lifetime 10-foot is a capable duck-hunting kayak that won't break the bank.
Despite just being 10 feet long, it feels surprisingly roomy and even has a second seat so you can bring a friend along, but it's responsive and maneuverable enough to be paddled solo too.
It features a 500-pound weight capacity so there's no issue with having to leave hunting gear behind.
That said, there's very little dry storage space, and with a second person on board, there's not much room for dry bags on deck.
Outside of the adjustable seat and multiple footwells for comfort, it's a pretty stripped-down model as far as features go.
But for the price, you get a stable boat more than capable of getting you and all your hunting equipment to your favorite hunting spot.
Stripped-down design with few extra features
Huge load capacity
Can be paddled solo or tandem
3. Best Kayak for Duck Hunting with a Dog: Malibu Kayaks X-13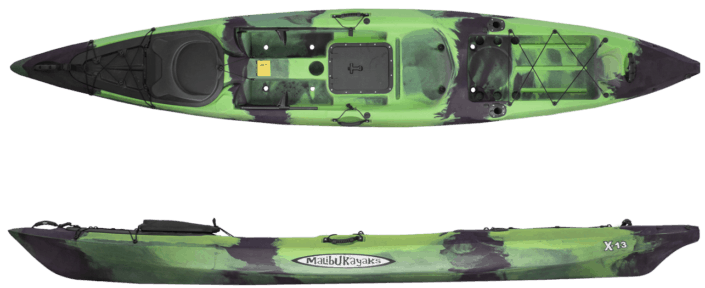 As the name suggests, the X Factor is capable of handling a diverse array of outdoor activities.
It may not say it in the title, but this big and spacious kayak is also great for waterfowl hunting.
The weight capacity to overall weight ratio is incredible, with the X Factor able to carry up to 625 pounds but weighing just 62.
Wide and long, there's ample room for your canine hunting buddy as you traverse the lake or river to your ideal hunting blind.
While it handles choppy water well and is relatively stable. It doesn't make the best shooting platform and I wouldn't recommend trying to stand up in it, especially if you have a dog onboard. Instead, use it to get all your gear and your dog to your on-land hunting area quickly and safely.
Capable of handling choppy water
One of the most expensive kayaks on the list
Impressive weight capacity
Room for a trolling motor
4. Best Versatile Kayak for Duck Hunting: Ascend H12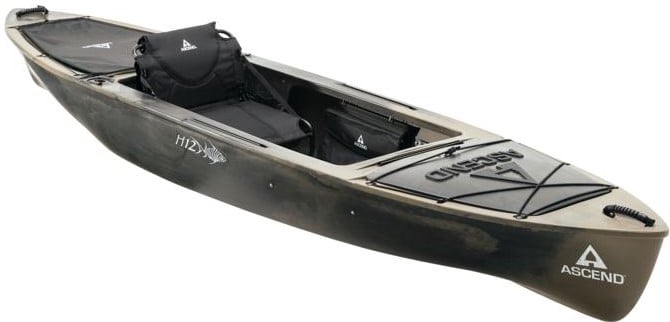 A versatile boat capable of more than just kayak duck hunting, the Ascend H12 hybrid features a very stable paddling platform you can feel safe standing and shooting from.
The well-designed "step-style" keel allows it to handle conditions you wouldn't expect from a traditional fishing and hunting kayak. It cuts through moderate surf and waves with ease while the 12-foot keel provides adequate tracking.
Two large storage hatches provide enough room for multi-day expeditions while the 450-pound weight capacity ensures that you'll still be riding high in the water if the weather turns.
Accessory rails allow you to customize and outfit for both kayak hunting and fishing and it's a comfortable kayak to paddle thanks to the adjustable footrests and padded seat.
A little heavy for a single kayak at 76 pounds
Customization for a versatile weekend on the water
Stable enough to stand in

The ultimate in self-propelled kayaks are the pedal models. The Mirage Drive 180 provides an easy and efficient pedaling method that leaves your hands free for your fishing pole, rifle, or a snack.
The joystick-controlled rudder provides the maneuverability to squeeze into tight spaces and keeps you on the right course in windy or choppy conditions.
The seat is adjustable, not just back and forth, but up and down too. It provides maximum comfort but also allows you to improve your vantage point and get a better view for both hunting and casting.
Ample storage room and the big weight capacity ensures that you'll have everything you need for an unforgettable weekend on the water.
The only downside is the price, as pedal kayaks can be substantially more expensive than traditional paddle-powered boats.
May be too expensive for some
Best duck hunting kayak on the list
Fast and efficient pedal system
120 pounds when empty
Multiple storage options and premier stability
Learn more: Hobie Pro Angler 14 Review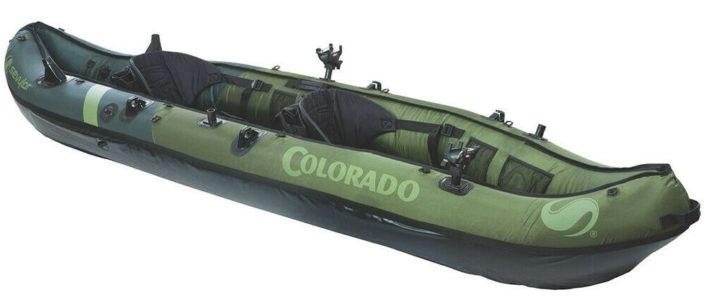 The only inflatable on this list, the Colorado from Sevylor Coleman is a multipurpose kayak that should satisfy all your hunting and fishing needs.
It's a big and spacious kayak that can fit two duck hunters easily while the 470-pound weight capacity means the only limit to your trip length is when you have to be back for work.
While not a duck hunting kayak designed for speed, it's relatively wide which gives it excellent stability and the ability to absorb any quick shifts in weight distribution as you paddle.
Easy to transport, store, and set up, the Colorado also has a transom on the stern where a small trolling motor can be installed, freeing up your hands for your rifle or fishing pole while you travel.
Built-in rod holders
Double-threaded Boston valves for easy inflating and deflating
Little dry storage space
How to Choose the Best Duck Hunting Kayak
Dimensions
Choosing the duck hunting kayak with the right dimensions for you will depend a lot on what you plan to do.
Duck-hunting kayaks with a longer keel and slimmer hull shape will paddle more efficiently and go faster. Tracking will be better but they can be more challenging for new duck hunters to paddle and their maneuverability may not be as good.
Shorter, wider boats have better stability and many recreational and fishing/hunting boats fall into this category. Some are sturdy enough to stand up in while the shorter keels mean they're easier to steer and more accessible for beginners. They won't be as fast though and rough conditions or wind can knock them off course easier.
There are a couple of different hull-type designs used in kayaks, but for duck hunting, I'd recommend a flat hull that will maintain stability at the cost of some speed.
Storage Capacity
Once you start to cram your hunting gear into a kayak's onboard storage spaces, it always seems to fill up faster than you expect.
I like kayaks that have at least one watertight storage hatch, especially if I'm going overnight and need to bring a tent and sleeping bag. Exposed storage areas should have bungee cords spread over the top to keep them in place.
If possible, choose a boat with a dedicated storage area accessible from the cockpit to keep the essentials that you want access to while you paddle. Gear tracks are also helpful to install a fish finder, a GPS, an extra rod holder, and more.
Check your hunting kayak's weight capacity on its specifications page. This refers to how much the boat can safely carry while maintaining stability and speed. Overloading a boat can make it unwieldy and susceptible to capsize or taking on water.
Short or Long Hunting Trips
There are a few obvious features your boat will need for longer expeditions like more storage space and a higher load capacity.
But there are a few other things to look for in a boat that aren't as obvious.
You'll always want a comfortable seat, but that's especially important if you're going to be out for a long time. Both the back and bottom should be padded, complete with an adjustable seatback, and either footwells or footpegs so you can brace and take the stress of paddling off your back.
Selecting a boat with a long keel will also help with your speed and cut down on long travel time. Kayaks aren't fast, but even improving your speed by one mile per hour can make a world of difference.
Other Features for duck hunting
While there aren't a ton of kayaks that are specifically designed for duck hunting, there are a lot geared toward fishing, and they come filled with extra features that are also suitable.
Customization options known as "gear tracks" or "accessory mounts" allow you to customize your boat however you want so you can install a gun mount, GPS device, or anything else you deem necessary.
Other boats, mostly recreational boats marketed towards beginners, come with a paddle included. It may not be a great one, but it'll be enough to get you on the water and moving.
Paddle vs. Pedal hunting Kayaks
From a performance standpoint, it's tough to compare the two models. Pedal kayaks move faster and your legs won't tire as quickly since they're more efficient and the body's largest muscles are in the legs.
Pedal kayaks tend to be larger and heavier, but their stability and load capacity are also much higher and the joystick-controlled rudder is easier to handle than a foot-controlled one on a paddle kayak.
So why is it a debate? Cost. Pedal kayaks are much more expensive than paddle kayaks and may require more maintenance to keep the pedal drive system functioning at peak efficiency. They're also not great for shallow waters.
Tandem or Single duck hunting kayaks
Even if you're a solo duck hunter it may be worth investing in a tandem kayak. Many two-person recreational and fishing kayaks can be paddled either solo or tandem giving you greater flexibility. If you're on your own, you'll have extra room for your gear and hunting dog.
They can be a little harder to paddle on your own, and I wouldn't recommend trying to go great distances by yourself. But for shorter runs across a lake or down a river, the extra space can be valuable.
Camouflage Color
Many kayaks come in a variety of color options for you to choose from. Obviously having one in camouflage is preferred if that's possible.
If not, I like kayaks that are brighter and stand out, especially if you'll be traveling on congested waterways with motorized boats as you'll be easier to spot.
Duck Hunting Kayaks – FAQ
What Is the Best Duck Hunting Kayak?
The best duck hunting kayak is the Wilderness Systems ATAK 120, because of its great customization options, comfort level, and storage space. It's also one of the most stable kayaks, which means you won't risk falling in the water.
Do Duck Hunting Kayaks Need Camouflage?
No, duck hunting kayaks don't need camouflage as long as you buy a camo kayak. That said, bringing camo netting can help you blend in and not be spotted by ducks.
How Long Should a Duck Hunting Kayak Be?
A duck hunting kayak should be 10 to 12 ft long if you hunt in calm waters, as this allows for good maneuverability and speed. Remember that the storage capacity of the kayak will need to accommodate you and your hunting gear, so don't pick a kayak with a low 300 lb capacity, especially if you're a big guy.
best duck hunting kayak – Conclusion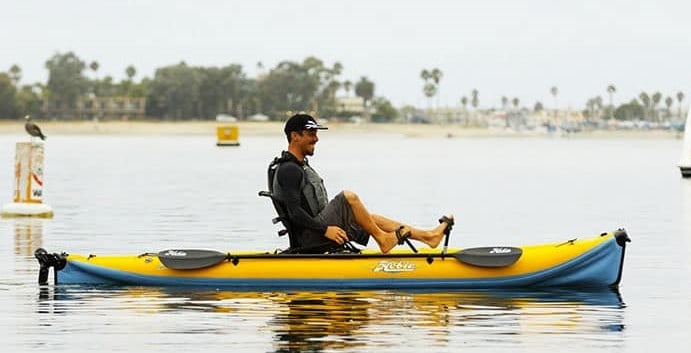 No matter the trip length or water conditions, there's a reliable hunting boat for you.
A lot of it will depend on your price range, and if cost is no object, the high-end Hobie Mirage is truly the best duck hunting kayak.
If you're not interested in spending that much, not to worry, there are several cheaper options like the Wilderness Systems ATAK 120 to choose from.
What do you think of our list? Got any good hunting stories to share? Let us know in the comments below.