I've been wanting to get my hands on the ATAK 120 forever, and I finally managed to get it a year ago.
In this Wilderness Systems Atak 120 review, I'll tell you what I liked about it, and what could be improved.
[Spoiler Alert: The ATAK 120 is a beast of a kayak. With unmatched stability for big guys, it cuts through the wind like no other. Excellent tracking, speed, and maneuverability. For calm water, and even fast-moving rivers, I'd get the ATAK 120 without thinking twice. The one downside though is that because it's so good, it tends to go out of stock very quickly…]
Things to Consider before Buying a Wilderness Systems ATAK 120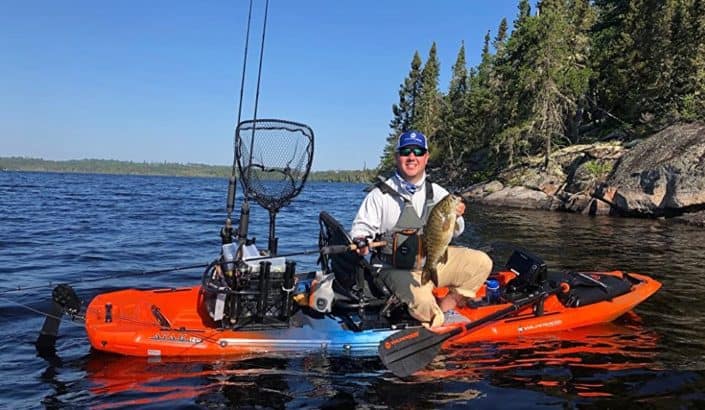 First of all, the Wilderness Systems ATAK 120 is one of the highest-quality fishing kayaks out there.
Straight off the bat, this means it's not cheap.
If you're used to paying $500 for a fishing kayak, then this one isn't for you. Consider the Pelican Catch 120 instead.
It's a heavy boat. This means you'll have a hard time loading it on top of your SUV alone. This means you'll need help, or you'll have to invest in a trailer.
Also, you'll need somewhere to keep it out of the sun. The sun rays can warp the hull over time, and there's no warranty for that kind of negligence.
Overall, this is a very durable boat that will last you a lifetime.
Wilderness Systems ATAK 120 Specifications

Length: 12 ft 3 in
Width: 35 in
Weight: 86 lb
Load Capacity: 400 lb
Wilderness Systems ATAK 120 Design
Material
Like most fishing kayaks, the Wilderness Systems ATAK 120 is made of high-density polyethylene.
This makes it super durable and it will withstand collisions, rocks, submerged tree branches, etc.
This hull is made to last a lifetime. That said, I recommend not dragging it as it doesn't have a skid plate. Dragging it too much will damage the hull over time.
Speed
The Wilderness Systems ATAK 120 is a fast boat.
You'll be hard-pressed to find a boat that paddles as well, especially in the wind.
Considering how stable it is, I was honestly surprised to see it go that fast.
Maneuverability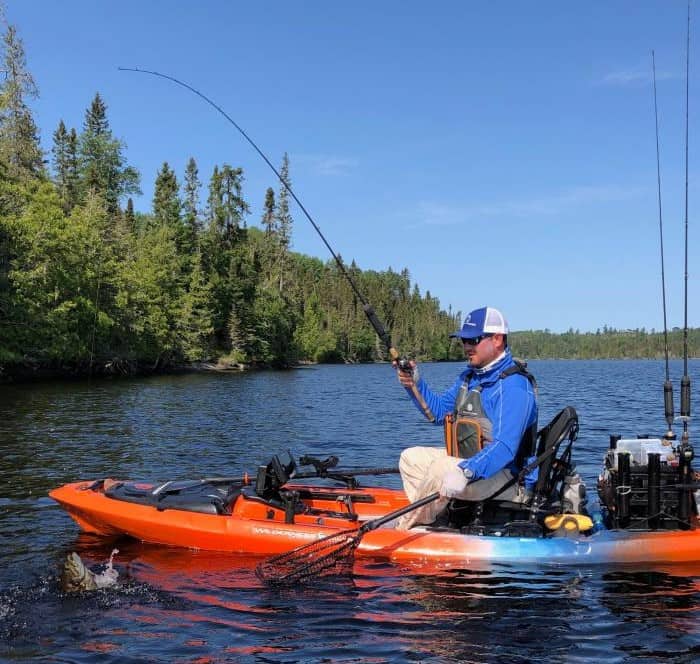 The ATAK 120 has a perfect balance between maneuverability and tracking.
It's able to turn pretty quickly but at the same time, it doesn't get blown away even in strong wind.
I'd feel comfortable taking it on moving water as well. To give you a comparison, it's not as maneuverable as my Jackson Coosa HD, but more maneuverable than my Cuda HD.
Comfort
The seat on the ATAK 120 is very comfortable.
It has three positions − high, low, and reclined. It can also be set forward or backward.
Switching positions is easy, although it's not as easy as on a Jackson kayak, for instance. You can't just slide it forward and backward, you have to remove it and place it back.
I like that the seat drys super fast. Having a wet seat is so uncomfortable and itchy.
The Airpro Max seat drys almost instantly when it gets water on it.
Also, the seat is wide and comfortable for big guys and people with back pain.
The foot braces are adjustable, but they're kind of flimsy. The footpegs on my Bonafide SS127 are sturdier, made of metal. They're still comfortable enough though.
Stability and Tracking
Now that's where the ATAK really shines.
It has the same amazing stability that made the popularity of its longer brother, the ATAK 140.
This means you can easily stand and cast without feeling unstable.
Even for big guys, the ATAK is one of the most stable fishing kayaks out there.
You can stand and move around the cockpit thanks to its stable pontoon hull.
Regarding tracking, it just blows my mind how this boat keeps its course without even needing a rudder.
Even with 15-20 mph winds, I don't get blown off course. And even when I'm not moving, the kayak kind of stays put.
With my Hobie PA, the wind blows me away instantly and I have to constantly pedal to keep the nose facing the right direction.
The ATAK 120 has amazing tracking, which makes it perfect for rivers and lake fishing, even in windy conditions.
Durability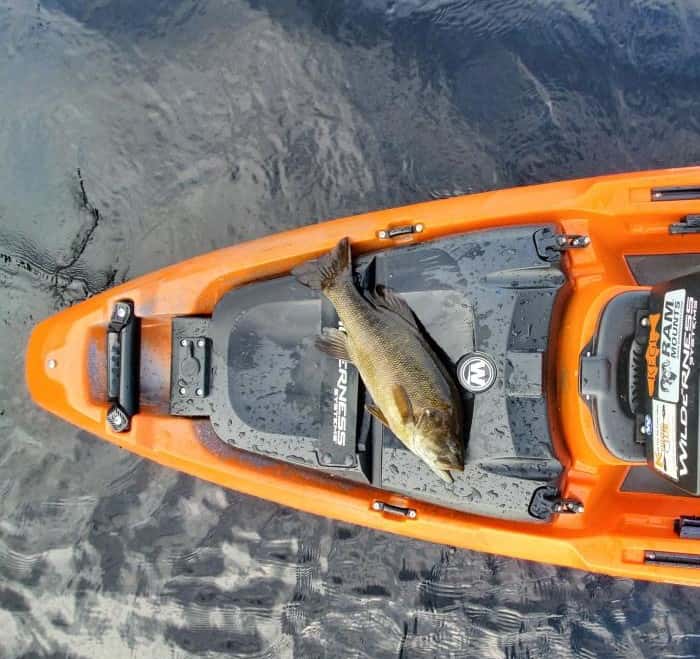 The Wilderness Systems ATAK 120 is an incredibly durable boat.
This kayak will last you a lifetime.
And if ever you have any problems with it, Wilderness Systems is known for its great customer service and warranty.
I haven't heard any complaints with this boat about pieces breaking up or anything… unlike on Pelican kayaks for instance.
That said, the ATAK 120 doesn't have a skid plate, so if I were you I'd avoid dragging it too much as this will inevitably damage the hull and reduce performance over time.
Finally, there's a nice cup holder right in front of you on the boat. This is nice considering many boats don't include this little detail.
Transportability
The ATAK 120 is a heavy kayak.
As such, it won't be as easy to carry as some other boats.
If you're a skinny guy, you'll have a hard time loading it on top of your SUV.
Carrying it to and from the water without a kayak cart won't be fun either at 86 pounds.
Of course, it's not as heavy as a pedal kayak, so for most big guys it will still be easy enough to carry.
The handles on the bow and stern are very comfortable and make loading, unloading, and tandem carrying quite easy.
Wilderness Systems ATAK 120 Fishing Ease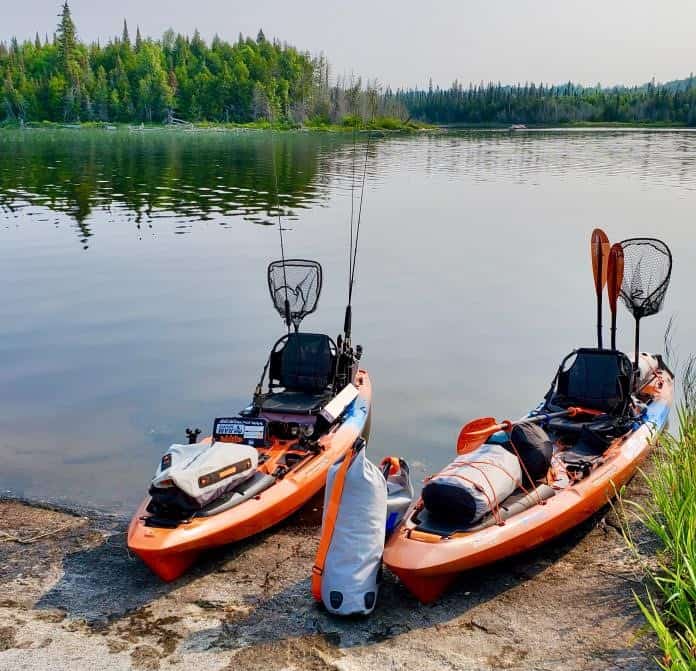 The ATAK 120 has a ton of storage options.
First of all, it has a huge rear tankwell storage. You can easily fit a black pack sideways in there, that's how big it is. Generally, I'll put my black pack with 8 rod holders and a cooler.
There's a big front hatch, but you should know it's not a dry hatch as it actually has some scuppers. It doesn't give access to the hull, which can be a good or a bad thing depending on your preferences.
If you put things inside the front hatch, they won't slide all the way back. However, the front hatch is kind of hard to reach when on the water, so I use it to put gear that I won't use on the water.
The center pod has some storage that isn't watertight, where you can put soft plastics or crankbaits. It also allows you to put a fish finder in there.
If you want to get a motorized kayak, you can actually remove the central pod and install the Helix Motor Drive.
I really like the paddle strap in front of the boat as well which is super convenient to slide your paddle in and out when fishing.
Finally, there are gear tracks on each side of the boat to mount all your fishing gear, as usual on these high-end pedal kayaks.

Unfortunately, the ATAK 120 doesn't have any flush-mounted rod holders, although you can easily mount a YakAttack rod holder on the gear tracks without any drilling.
Who is the Wilderness ATAK 120 for?

As you may have guessed by now, the ATAK 120 is for serious anglers looking for stability and speed.
If you want to stand and cast without feeling unstable…
If you want to cut through the wind with ease…
If you need tons of storage space to go river or lake fishing…
Then the ATAK 120 is for you.
However, with that quality, it's definitely not the cheapest kayak out there. If you're on a budget, maybe consider the Pelican 120 instead. But don't expect the same results.
Wilderness Systems ATAK 120 Alternatives
Wilderness Systems Radar 115

Like the ATAK, the Radar 115 also has a center console.
However, the console on the Radar 115 is actually replaceable with a pedal drive instead of a motor drive.
This simply means that if you're not sure if you want a pedal kayak or not, then getting the Radar now will allow you to upgrade later on if you want to.
Apart from that, the two boats are quite similar and great in different scenarios.
For flat water, the ATAK 120 has a definitive edge. Why? Because it's hands-down the best paddle kayak, with extreme stability and super low draft. It can go in very shallow water like no other boat, and it has a huge deck space.
Also, the RADAR feels less stable than the ATAK. You can still stand and cast, but you'll feel tippy at first.
Great as a pedal kayak
Slower
Less stable
Read my full Wilderness Systems Radar 115 review
Wilderness Systems ATAK 140

As mentioned above, the ATAK 140 is the longer, older brother of the ATAK 120.
It's 2 feet longer, mainly at the bow with a longer hatch.
The cockpit is exactly the same, which means the ATAK 120 is very spacious for its size.
On the center pod, the ATAK 140 doesn't have a scupper to put a side scan transducer or fishfinder.
At the rear, the ATAK 140 has a storage area with a rod locker in it, whereas the ATAK 120 has a huge tankwell.
The ATAK 140 has one mounting point for a power pole, whereas the ATAK 120 has two.
Obviously, being longer the ATAK 140 tracks better and is faster.
As such, it's also less maneuverable and it won't turn as well, particularly when standing.
Both boats shed the wind very well. And both are super stable for standing and casting.
Tracks better, faster
Less maneuverable
Only one power pole mounting point
Bonafide SS127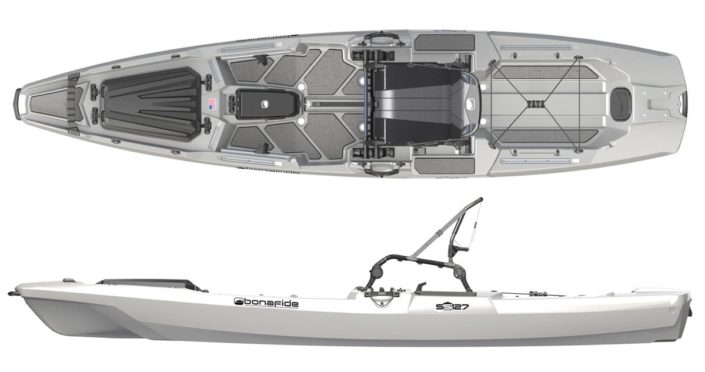 The SS127 is up there with the ATAK 120 as one of the most stable fishing kayaks.
For big guys, it's really tough to decide between one or the other when stability is concerned.
The real difference is the Bonafide SS127 is a lot more "bare-bones" than the ATAK 120. You'll need several aftermarket products to make it as customizable.
In windy conditions, the Bonafide SS127 isn't nearly as good as the ATAK.
Same thing for shallow backwaters, the SS127 just isn't made for that.
However, if you're a big guy the Bonafide has a more comfortable seat that is higher up. It also takes less water inside.
All in all, if you don't live in a windy area and you fish in deep water, then the SS127 might be a cheaper alternative to the ATAK 120.
You can read my full Bonafide SS127 review here if you want to know more.
Wilderness Systems ATAK 120 – Last Thoughts
All in all, the Wilderness Systems ATAK 120 is a fantastic fishing kayak, no doubt.
I love the stability and maneuverability.
Tracking is simply unreal on this kayak, and it paddles really well in the wind.
For regular people, and even for big guys, this is hands-down the best fishing kayak I've ever had. (Excluding pedal kayaks which are my favorite)
The only downside is it tends to sell out very quickly. So by the time you're reading this review, it's probably already out of stock. Sorry, you'll have to wait until next year…