Ever had one of those days where the fish weren't biting?
Of course you have, we've all been there.
But how do you know if the fish are just not interested or not there at all? That's where a quality fish finder can be indispensable, giving you an idea of how many fish are swimming beneath you before you even get your line wet.
In this article, we'll be highlighting some of the best fish finders for kayaks along with the basic features you should look for depending on what sort of fishing you plan on doing.
So if you're sick of coming home empty-handed and are looking to improve your angling efficiency, keep scrolling and find the right fish finder for you.
Best Fish Finders for Kayaks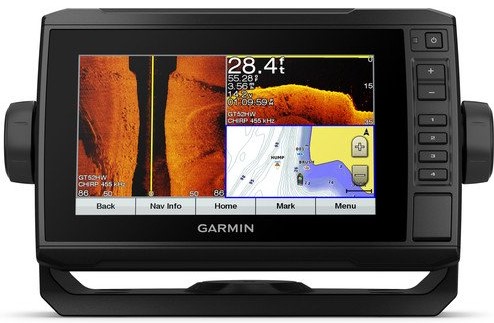 Compact but filled with handy features, the echoMAP UHD 73sv improves on Garmin's base packages and adds onto them.
You won't find many fish finders sporting wi-fi capability, but thanks to Garmin this may soon become a trend. The 7" touch screen is crystal clear with excellent resolution, but it's all the data that you can view on that screen that helps it stand out.
The 73sv comes preloaded with LakeVu maps, giving you instant access to detailed coverage of more than 17,000 bodies of water. A micro SD card allows you to upload your own maps via a Navionics card for further customization. While more expensive, these mapping features alone make the 73sv worth it in my opinion.
Best Portable Kayak Fish Finder: Garmin Striker 4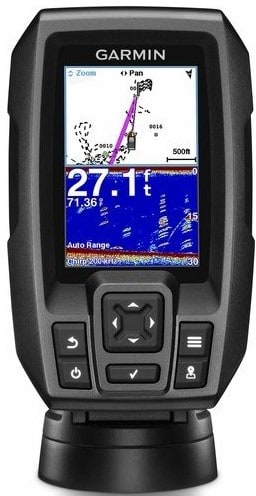 Garmin has managed to pack an awful lot into this tiny package. Once you've mounted it to your kayak, you'll enjoy the high-definition 3.5" screen. Unlike the 73sv above, you navigate via a touchpad which is my preference on a screen this small. My clumsy fingers never hit what I want them to so the keypad is a welcome addition.
The built-in GPS allows you to mark your favorite fishing spots, track your route, and help you find your way home.
I was impressed with the CHIRP-enabled Transducer as well as the DownVu scanner technology they've implemented. There's even a flasher function that comes in handy for jigging as it helps you find the bottom and increase your accuracy.
If you don't mind a smaller screen and have sharp eyes, you'll be hard-pressed to find a fish finder with a better feature to surface area ratio.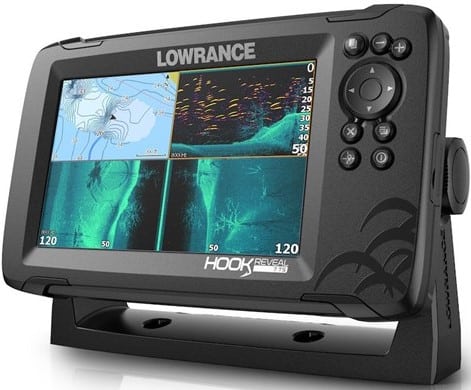 Don't get the SplitShot and TripleShot confused as they both use similar software from Lowrance's Hook 2 line.
If you have the choice, go with the TripleShot Reveal 7 as it has the added SideScan technology that's missing from the SplitShot. The TripleShot includes CHIRP in high and medium frequency settings along with 2D sonar, SideScan, and DownScan.
The 7" screen should be big enough for most anglers and I was happy to find that the TripleShot was more reasonably priced than a lot of its competitors.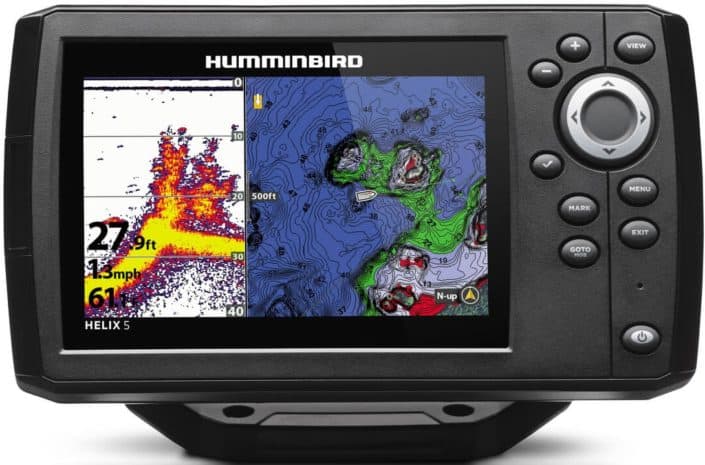 If you're just getting started with your fishing career and don't want to break the bank, look no further than the Helix 5 G2.
The screen is a little smaller than some of the products listed above, measuring just 5" compared to the 7" screens of more expensive models. But the 800 x 480-pixel screen helps make up for it.
If you want to take a small step up, you can also find Helix 5 G2s sporting sonar and GPS features for even more variety.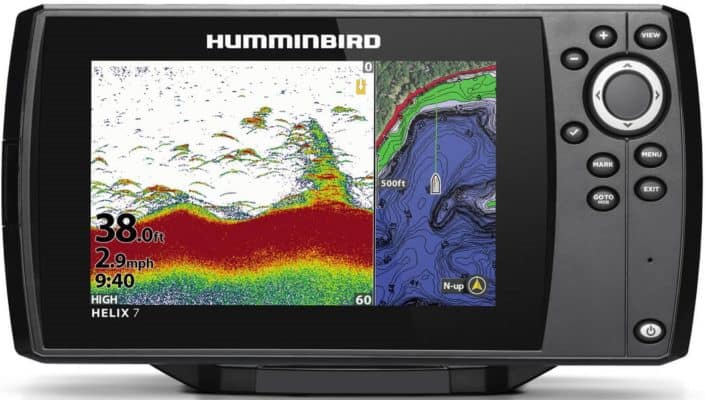 A recent addition to the Helix 7 line is the MEGA side imaging feature. This powerful software gives you up to 100-feet of coverage on both sides of your kayak.
Despite this excellent coverage, the Helix 7 G3 does not feel bulky and doesn't demand a ton of deck space. I'm not sure how they managed it, but this compact fish finder is sure to be a popular choice.
Plenty of other features have been ported over too. 360 imaging capability along with an autochart function that lets you map unexplored bodies of water and find those hidden honey holes.
Add in the SwitchFire sonar and the Bluetooth and ethernet capabilities and you have a device that should satisfy even the most voracious angler out there.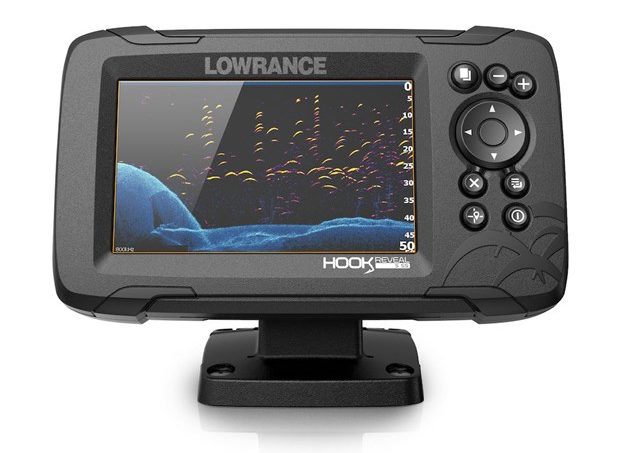 While it doesn't have the sidescan technology that its sibling the Tripleshot has, the Hook Reveal 5 Splitshot is at its best in shallow water.
Its advantage comes in the form of a CHIRP sonar system that can cover an area twice as wide as others on the market. This is what makes it shine in shallow water where fish may be more spread out and the more surface area you can cover the better your chances are.
A 5" 800 x 400-pixel screen makes even small details pop and preloaded maps and settings mean less time customizing and more time with your fishing pole in the water.
It is on the pricey side however and I'm afraid there's no GPS included which is unfortunate. But if you're willing to look past these shortcomings and have the extra funds, you won't find a better product for shallow water adventures.
How to Choose the Best Fish Finder for Your kayak
Structure Fishing, Deep Fishing, & Shallow Fishing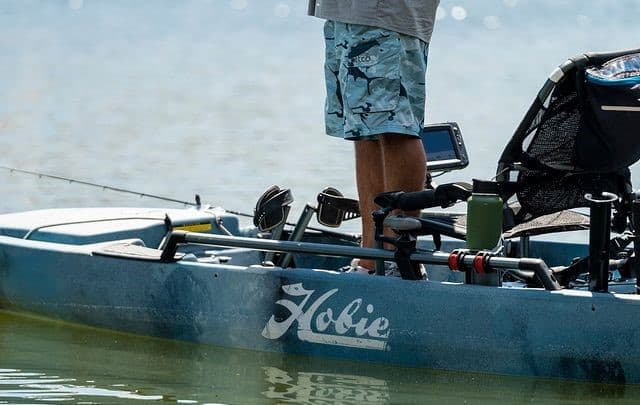 Some fish finders are better tailored for specific environments or activities. Selecting the right one can help you from spending too much on a device that may be overqualified for the sort of angling you're planning on.
For example, if you'll be primarily fishing on top of underwater structures (i.e reefs, kelp beds, weedlines, etc), your main focus won't be pinpoint accuracy of the fish's location. You already know where they're hanging out. Instead, you can get away with a cheaper GPS/fishfinder combo where you can use the GPS to maintain your position.
If you'll be in deeper water, you'll want to make sure your fish finder comes with equipment that can penetrate deep in the water column and send back accurate information. Look for devices with a double band system which will send back accurate readings of the ocean floor even if it's far beneath you.
Check the specifications on your prospective fish finder before you purchase. Most times the brand will indicate exactly how deep the sonar is capable of giving accurate information.
But most anglers probably won't need a fish finder that gives accurate readings hundreds of feet below. For those that will be fishing lakes, rivers, and shallow bays, there's no reason to overspend for these features.
Instead, look for a device that comes with accurate maps of your favorite fishing areas. Side-scan sonar is also more useful in shallow water. While it may be cool to have a GPS to chart your course and keep a record, don't feel like it's a necessity for shallow fishing. Chances are you'll be close to shore and won't need a GPS to find your way home if you get lost.
Mounting Space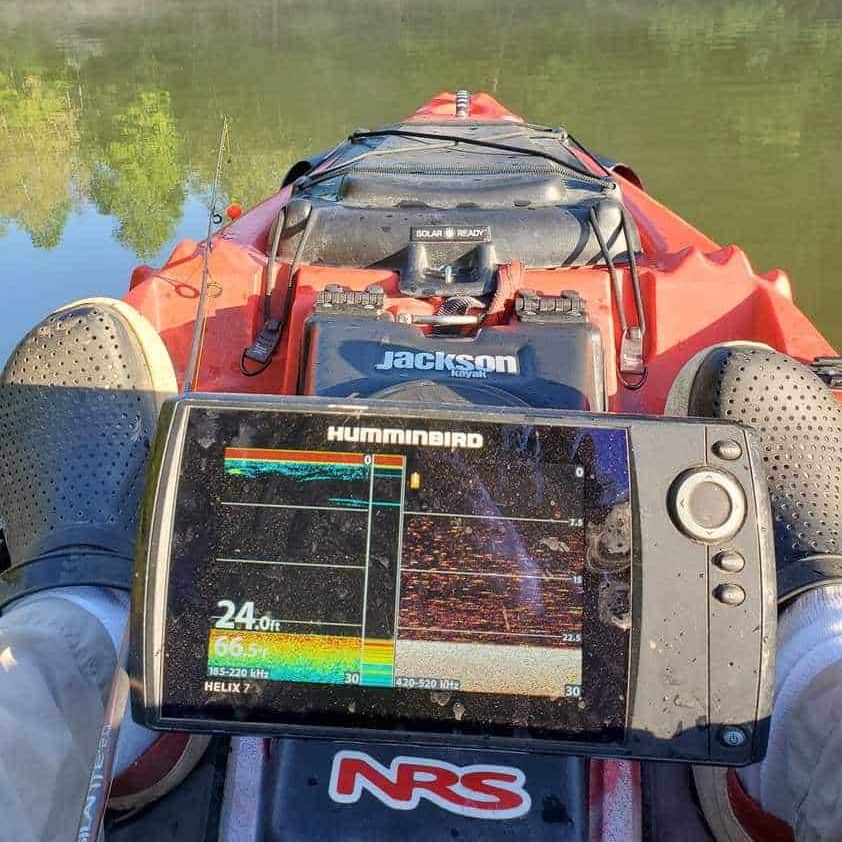 The best fish finder in the world won't do you much good if you can't see it as you paddle and cast.
Luckily most fishing kayaks built today come with custom mounting systems designed for fish finders and other gadgets. Many of these are multi-use and can accept a wide range of devices from various companies without having to take a drill to your kayak.
If your device doesn't come with a stand, I'd recommend selecting one with a flexible neck that you can adjust and some sort of brim so you can still see it clearly in the sunlight.
Transducer Compatibility
For a fish finder to be effective, it has to have a direct line to the water so it can send out its sonar signal and bounce back.
Like the custom mounts, many of the kayaks available today come with a transducer mount. This allows the sonar emitting portion to run through the kayak and mount on the underside of the hull. This is a rarer feature than the gear or accessory tracks mentioned above, so make sure that your kayak has this or you have another way to piece get your fishfinder to the water.
Another nice feature you'll want is a transducer shield. Exactly what it sounds like, the shield is usually a slab of plastic that sticks out from the bottom of your kayak directly in front of the transducer mount. This way if you hit any underwater obstacles your fish finder won't get sheared off.
Power Source
Most smaller, portable fish finders can be charged at home and run on battery power for several hours much like a handheld VHF radio.
But bigger and more intricate set-ups require a lot more power than a simple battery pack can provide. If this is the case, you'll have to bring a power source along with you.
You won't need anything as large as a car battery, something along the line of a motorsports battery should be enough. You'll need a secure place for your battery. Some kayaks come with a spot for one, so like the transducer mount and shield, check the feature list before purchasing.
This will add a little extra weight to your boat. Plan on adding an additional 10-15 pounds of weight and make sure that this doesn't exceed your boat's load capacity. This won't be an issue for bigger fishing kayaks that can hold up to 500 pounds. But if you're sporting a smaller kayak with a load capacity of 250 pounds, you may not want to sacrifice that much weight for a battery.
Best fish finder for kayak – Conclusion
Whether you want a portable fish finder, or a more intricate set-up that will require an independent power system, there's plenty of fish finders on the market to choose from.
Hopefully, this article has served as a solid introduction to this diverse market and will help you choose the right one for you and your fishing preference.
For those of you that have used a fish finder from a kayak before, we'd love to hear what brands or types you've had the most success with.
Did we miss something or do you still have questions? Ask them in the comments below.