Today the kayak fishing market is filled with tough, reliable, and feature-filled products. There's no reason to settle for something that's second best.
A mainstay in the kayaking industry since 1986, Wilderness Systems offers a wide range of kayaks for touring, recreation, and fishing. In our Wilderness Systems Radar 115 review, we'll take a look at a fishing kayak full of fun custom features and excellent stability.
If you're looking for a boat that can handle a range of water conditions as well as one that can be pedaled or even have a motor installed, you may find what you're looking for below.
Pros:
Multiple gear track systems
Decent 450-pound load capacity
Great stability
Cons:
Minimal dry storage space
Additional installation need for pedal or motor systems
No rudder included
Things to Consider Before Buying

The Radar 115 is a sit-on-top kayak designed for stability with a wide-open deck. This is great for anglers, but it doesn't have a lot of protection from the elements. If you live in a cold or wet environment, you may be better off with a "sit-in" design. These provide more protection for your legs and lower torso, especially if you wear a spray skirt.
While the Radar 115 is filled with features and great performance. It may be more expensive than some more casual anglers would prefer. If you're looking for a boat for the occasional Saturday at the lake, there are plenty of boats out there that will fit your needs at a lower cost.
Many of these, like the Sea Ghost 130 from Vibe still come with plenty of custom features as well as great stability and load capacity. So don't feel like you're getting a lesser product if you choose to go this route.
Specifications
Length: 11-feet, 8-inches
Width: 34.5-inches
Weight: 85 pounds
Load Capacity: 450 pounds
Design

Material
Like most fishing kayaks, the Radar 115 is made of a tough and rigid plastic called polyethylene. This durable plastic can stand up to most on-water bumps and collisions and keep right on going. With a little upkeep, you can expect your Radar 115 to last a long time.
Speed
With three different methods of propulsion, the Radar 115 is capable of a range of speeds. It doesn't have the most natural hydrodynamic form, measuring 34-and-a-half inches wide, but the tapered bow and curved keel help a little.
The pedal system works quite well and gives you an efficient ride without tiring out your legs. While the little outboard that can be installed won't have you keeping pace with traditional boats, it provides a nice cruising speed for those longer trips.
With a paddle in hand, the Radar 115 is on the slow side. Since you have two faster options this doesn't feel like a big deal to me. Just be aware that you'll have a hard time keeping up with your friends if you do want to paddle.
Maneuverability
No matter what method of propulsion you decide on, the Radar 115 feels light and responsive underneath thanks to the shorter keel. Turns with a paddle feel quick and easy, while the pedal system gives you surprising control.
I still prefer to use a paddle when navigating tight corners or trying to squeeze into tight fishing holes. But skilled pedal kayakers will be pleasantly surprised, especially on narrow rivers.
Comfort
You can have all the features and maneuverability in the world, but you won't be able to appreciate them if you're uncomfortable the whole time.
Wilderness Systems has put together a comfortable seat set-up that is well padded and ventilated for those hot summer days. The seat can be moved back and forth and the seatback provides great lumbar support.
Stability & Tracking

Catching fish is tough enough without wondering if you're about to capsize. Wilderness Systems has developed what they call, "SMART Hull Technology" with well-designed ridges along the sides of the hull which help with the boat's stability, even if you have to shift your weight quickly.
The boat has a big open deck in front of the cockpit and is rated as stable enough to stand and cast from. I'd recommend your first standing attempt come in calm (preferably warm) water close to shore in case anything goes amiss.
The Radar 115 doesn't come with a rudder. If you're planning on exclusively paddling you can get away without one as the boat does track pretty well for its size. If you're going to be on more open water or want to use the pedal or engine functions, I'd highly recommend installing one which will help not just with the tracking, but your short area maneuverability too.
Durability
You're gonna have to do something crazy to put a hole in this boat. The tough plastic hull can take just about any on-water collision. I'd still be careful when landing on beaches in heavy surf and avoiding underwater hazards when possible.
You can help your boat last longer by carrying it to the water instead of dragging it. Even if the hull seems strong, extended drags can cause the plastic to peel and scratch. This will harm your boat's speed and paddle efficiency over time.
Portability
The base weight for the Radar 115 is 85 pounds. Obviously, this will increase if you choose to install a rudder or small engine, but I was pleasantly surprised at how light Wilderness Systems managed to keep this model.
It's probably still heavy enough that you'll want a second person to help you transport it and the two ergonomic handles make longer portages more comfortable.
If you'll be on your own most of the time and won't always have a second pair of hands, you may want to invest in a small kayak trailer so you can get it to the water without any help. These trailers are small enough and light enough that they can be stored onboard without getting in the way.
Features & Accessories
You wouldn't expect a boat in this price range to come with a lot of the "beginner bundles" that you find in cheaper recreational boats. There's no paddle or anything like that included.

What it does have is a really nice "paddle park" system built into the starboard side of the boat next to the seat. Retrieving or storing your paddle is quick and easy, and entices you to always bring you along. I highly recommend this even if you plan on using a motor or the pedal system as an extra safety precaution in case the other methods of propulsion break.
Fishing Ease
Today there's no reason to buy a fishing boat that doesn't come filled with the custom options and accessories you need to make your angling life easier.
The Radar 115 comes with two SlideTrack Accessory systems along the edge of the hull in front of the seat and two more next to the cockpit. These provide you with natural mounting points for all your extra gear. Whether you want a GPS, a GoPro, or something else installed, you can do so without having to take a drill to your new boat.
While the plentiful mounting locations are nice, it's worth noting that you'll want to dedicate at least some of that custom space for installing rod holders.
The hatch for the pedal drive system also doubles as a transducer mount, giving you a spot to place a fishfinder with side-scanning technologies.
Additional mounting locations can be found in the bow and stern including a nice flat mount in the bow to give you even more options.
The Radar 115 comes with the classic fishing kayak storage layout. There's a big "tank well" style storage hatch in the stern. This open-air space is great for oversized items like a cooler or large tackle box. Make sure your water-sensitive items are in dry bags.
The watertight bow hatch is a little smaller than I'd like. This makes it tough to fit your camping gear and the other equipment you need to keep dry so be sure to pack wisely.
A final dry storage area is mid-ship in front of the seat. It's not super large but the lid is flush with the standing platform and provides stable footing when you're standing up.
Value
Able to handle a wide range of water conditions, packed with multiple accessory track systems, and the ability to accommodate pedal, paddle, or a motor, the Radar 115 is not for the casual weekend warrior.
The price is reasonable for all the gadgets you get. But the initial cost plus the start-up price if you want to pedal or use a motor may scare some away.
I wish the storage space was a little bigger and there were more dedicated rod holders. But the boat's performance and flexibility still make it a worthy choice.
If you're a passionate angler who sees angling as more than just a hobby, you'll probably be willing to make the financial investment. But if you just need a boat to putter around the local lake and maybe catch a sunfish or two, you can probably find a boat that does the job at a lower price.
Alternatives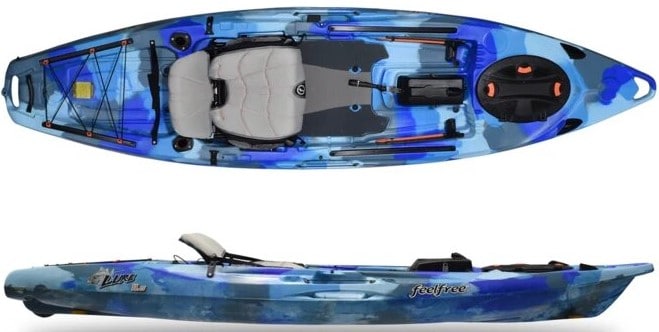 FeelFree and Wilderness systems were of similar mind when designing the Lure 11.5 and Radar 115.
The Lure 11.5 has a lot of similarities to the 115 such as the ability to install a small motor as well as a pedal drive system. They're virtually the exact same length, width, and weight meaning you can expect similar on-water performance.
All the custom features you need are here including the transducer mount for a fish finder. I know it's a cop out not to pick one or the other, but I honestly think they're performance is similar enough that you can go with whichever one you can find that's cheaper.
Spitting image of the Radar 115
Load capacity 25 pounds lighter
Motor and pedal compatible

A bigger version of the Radar 115, the 135 model is two-feet longer. Despite the extra length, it's actually a half-inch narrower and weighs only two more pounds. This makes it a swifter and more efficient paddle than its little brother.
Like the 115, it can be propelled via paddle, pedal, or motor and a lot of the gear track systems have been ported over. The bow storage hatch is a little bigger thanks to the longer keel although you can expect to pay a little more for the additional speed and size.
If you need a little more space, the Radar 135 may be worth the upgrade, but if you can get by with the shorter model you'll save a bit of money.
Faster thanks to longer, narrower keel
A bit more storage space
Better for open bodies of water

Most pedal kayaks are inherently stable as they're bigger, wider, and bulkier than traditional kayak designs. But the Outback from Hobie Mirage is the most stable of them all.
Maneuvering is made easier by two steering handles for added flexibility and the boat comes filled with customization options like a transducer mount, four rod holders, and a big open-air stern hatch secured with bungee cords.
The load capacity feels a little light for a boat of this magnitude at 425 pounds, but that's a minor nitpick. 425 pounds should satisfy most anglers and opens up the possibility of more ambitious multi-day excursions.
Easy to maneuver through shallow water
One of the more expensive fishing kayaks
Fairly light for a pedal kayak at 85 pounds
Read our full review of the Hobie Mirage Outback.
Conclusion
With multiple gear tracks and featuring a transom for a motor, the Radar 115 provides maximum flexibility for the passionate angler.
The limited storage space is a bummer, but if you're looking for a hardcore day or weekend kayak, it's hard to go wrong with this feature-filled design.
You can learn more about Wilderness Systems and their other products by visiting their website.