Today there's no shortage of entry-level, "grab and go" kayaks. There are so many, that narrowing down the field and choosing the right one can be much harder than it needs to be.
Luckily, many of these boats are of good quality and are capable of handling calm waterways with ease. One such company that has built a wide range of reliable kayaks is Perception. Based in South Carolina, they've built a multitude of high-quality kayaks that can handle a range of conditions and activities.
In this article, we'll be looking at one of their smaller boats, the Swifty Deluxe 9.5 kayak. In our Perception Swifty Deluxe 9.5 review, we'll break down the good and the bad of this maneuverable and lightweight model.
If you're looking for an easy-to-paddle boat that can handle a little bit of fishing too, you may have found the boat you're looking for.
Pros:
Lightweight and easy to transport
Excellent maneuverability
Comes with rod holders
Cons:
Very little storage space
Poor tracking limits it to calm water
Subpar top speed
Perception Swifty Deluxe 9.5 Kayak – Things to Consider Before Buying

The Deluxe 9.5 is designed as an entry-level, recreational kayak. It has a short keel and no rudder which minimizes the type of water that it can be safely paddled in. For safety, you should limit your paddles to protected waterways such as small lakes, mellow rivers, and very calm saltwater environments. Wind, waves, and tide can blow it off course easily.
Unlike most recreational designs, however, the Deluxe 9.5 has a "sit-in" design. These boats are narrower than their "sit-on-top" counterparts but don't sacrifice stability since your center of gravity is lower.
They also provide more protection than a "sit-on-top" from the elements. If you wear a spray skirt, the cockpit is effectively walled off from splashing waves and rain which will protect your legs and lower torso. This makes the Deluxe 9.5 a good choice for those that live in rainier or cold environments.
While it's one of the shorter and lighter hard-sided kayaks, it still measures over nine feet long and weighs over 40 pounds. Make sure you have the proper, dedicated storage space before purchasing. Ideally, this would be in a climate-controlled place like a garage, though a covered shed will also do the job.
Perception Swifty Deluxe 9.5 Kayak Specifications
Length: 9-feet, 6-inches
Width: 28.5-inches
Weight: 44 pounds
Load Capacity: 325 pounds
Perception Swifty Deluxe 9.5 Kayak Design
Material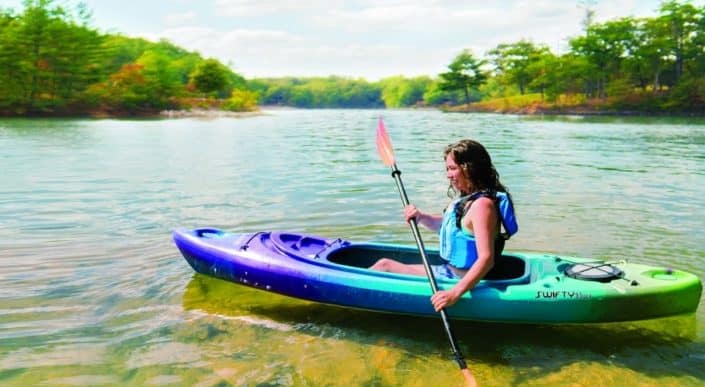 Like the majority of recreational kayaks, the Deluxe 9.5 is made of a tough and durable plastic called polyethylene. This material gives the boat excellent rigidity and makes it very tough to seriously damage. You can expect any polyethylene-clad boat to last a really long time.
Speed
With a short keel and a hull built for stability, the Deluxe 9.5 is not a speedster. It plods along but doesn't really glide, requiring you to maintain a good paddling stroke to keep your speed up.
Any boat with a short keel will have these issues, so it's hard to blame the Deluxe 9.5 for this shortcoming. It does limit it to day trips where you're only covering short distances. And if you're traveling with friends that have longer boats, don't be surprised when you fall behind.
Maneuverability
One advantage to a shorter keel is that, even without a rudder, the Deluxe 9.5 turns easily. There's no way to install a rudder, but that's really not an issue. The boat turns with an easy paddle stroke, and if you learn how to incorporate your hips into your steering, you can manipulate your boat into some tight areas.
This makes the Deluxe 9.5 ideal for smaller bodies of water or rivers with tight corners.
Comfort
In this day and age, there's no reason your kayak can't have a comfortable and well-padded seat.
The seatback and pad on the Deluxe 9.5 are well padded. Paddlers of all sizes should be able to find a comfortable position, especially with the easy to adjust foot braces. I do wish there were some leg braces of some sort so you had something to lean your legs against as you paddled.
Taller paddlers may not have an issue, but if you have short legs, it may be worth installing some sort of padding that can work as a thigh brace.
Stability & Tracking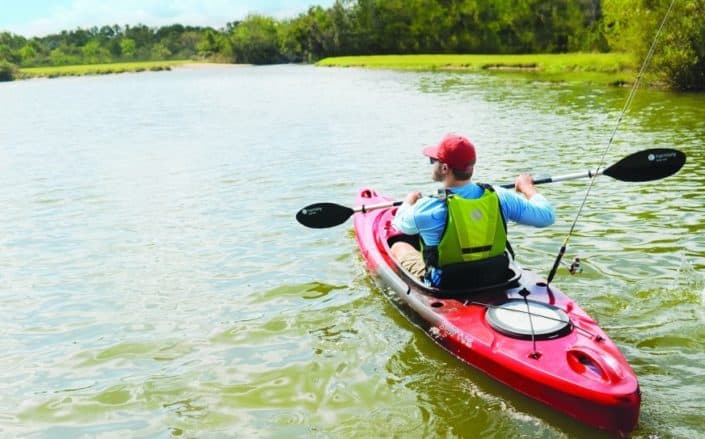 With a multi-chine hull design, the Deluxe 9.5 provides impressive stability for such a small boat. This makes it a reasonable platform for fishing as long as the water remains calm. It's nowhere near sturdy enough to stand up in and I'd still be careful when I'm casting so as not to throw my weight around too much.
The short keel holds this kayak back in the tracking department. It's just hard for a boat this size to maintain its course. Wind, waves, and tide will knock you off course and if you're trying to fish, the water needs to be calm or you'll quickly move off your preferred fishing spot.
Because of this, I'd recommend keeping this boat close to shore and in protected waterways like rivers, lakes, or well-protected saltwater.
Durability
I'd be amazed if you managed to punch a hole in this boat. The plastic hull is built to last, and with little maintenance required, it can sit for weeks or months between uses.
There isn't a skid plate on the hull, however, so I'd suggest carrying it to and from the water instead of dragging it. While it may be able to hold up to a few drags, it can cause the plastic to scratch and peel which can reduce your boat's paddling speed.
For storage, it's best to keep your boat out of direct sunlight. Prolonged UV exposure can cause the plastic to warp or weaken over time.
Portability
You won't find many hard-sided kayaks that are easier to move around than this one. While polyethylene is a heavy material, the Deluxe 9.5 is a svelte 44 pounds so some paddlers may be able to carry it on their own.
If you have an extra pair of hands, the boat has easy carry handles on the bow and stern to help with those longer portages.
For transportation, it can fit in the bed of most trucks and a simple carry rack on the roof of smaller cars should be more than enough to get it from A to B.
A little kayak rack could also be useful if you're planning on being out on your own a lot and don't want to drag or carry your boat on your own.
Perception Swifty Kayak Features & Accessories
The Swifty Deluxe 9.5 doesn't come with an included paddle, but it does have a few nice additional features that are thrown in with your purchase.
It comes with a nice "paddle park" that secures your paddle and lets you have both hands free to fish. This is a vital accessory for any fishing kayak and it amazes me when some companies omit it from its design.
The boat also comes with a built-in drain and the plug is included which helps keep the boat from swamping if you wind up in a little bit of wind and waves.
Perception Swifty Deluxe 9.5 Kayak Fishing Ease
For the casual angler looking for the occasional foray onto the local lake or river, the Deluxe 9.5 has just enough features to get you on the water.
It doesn't have the custom features that more expensive and bigger fishing kayaks have and to me, it feels more like a recreational boat than a fishing one.
The boat does have a couple of molded-in fishing rod holders, but that's pretty much the extent of the fishing features.
You could install other gadgets by drilling holes and physically mounting them to the boat's exterior, but I'm not crazy about drilling holes in my new boat. If you really want the custom gear track experience, I'd move up in price to a bigger and more specialized boat.
For storage, there's a small, watertight hatch in the stern that some of the more flexible paddlers may be able to access while paddling. A couple of bungee cords are stretched across the deck in front of the cockpit, but that's the extent of the boat's storage capacity. This really limits it to just day trips.
Perception Swifty 9.5 Value
Perception has an exclusive deal with Dick's Sporting Goods, and the Deluxe 9.5 and it's bigger brother, the Deluxe 11.5 can only be purchased here.
From a value standpoint, the Deluxe 9.5 is basically a simple recreational kayak with a couple of rod holders attached. I do like the stability and the excellent maneuverability makes it a good entry-level kayak for newcomers who may want to take a fishing pole out on occasion.
But more serious paddlers or those that take to the sport will quickly outgrow this boat that needs to be kept in very calm water due to the subpar tracking. It does come at a very reasonable price and the easy storage and transportation make it great for the occasional weekend foray.
Perception Swifty Deluxe 9.5 Kayak Alternatives

Another short and easy to transport kayak, the Mustang 100 from Pelican weighs even less than the Deluxe 9.5, checking in at just 39 pounds.
It has excellent stability despite the narrower hull, allowing it to track slightly better than other boats this length.
The overall features are pretty bare-bones, however. There's no gear tracks or other custom features outside of a couple of rod holders. The larger stern hatch and additional bow hatch are nice touches and I like the extra deck bungees which give you substantially more storage space than the Deluxe 9.5.
Molded footrests and seat back for superior comfort
Watertight bow storage hatch and open-air stern storage space secured with bungee cords
Open cockpit and small size limits it to calm waters and mellow rivers

There aren't many ten-foot kayaks that I'd trust to handle ocean conditions, but the Vapor 10 from Old Town is one of them.
While I don't think I'd trust it in serious surf or ocean swells, it has the stability and reliability to handle protected bays and most lakes and non-whitewater rivers.
The cockpit has enough room for most paddlers to get in and out safely while the comfy seat, thigh braces, and adjustable footpegs keep you comfortable no longer how long you're out.
It weighs only 47 pounds and can handle up to 325 pounds giving it a nice weight to storage capacity ratio.
Handles rougher water better than the Deluxe 9.5
Lacks the customization options of other fishing kayaks
Stability comes without sacrificing speed
Read our detailed review of the Old Town Vapor 10.

Built more for recreation than fishing, the Aruba 10 is a classic playboat that's at home in calm water. Unlike most recreational boats, it has a sit-in design allowing it to be narrower and faster than many of its contemporaries.
Despite this and the curved bow, it still won't keep up with longer designs and tracking will continue to be an issue if you find yourself in any wind or waves. Storage capacity is a little bit low as well, though I do like the design of the stern hatch.
If you have no interest in fishing, the Aruba 10 serves as a good alternative to the Deluxe 9.5 as an entry-level model.
Cheap and cost-efficient first kayak
Excellent maneuverability helps with the learning curve for newcomers
Tiny load capacity and low top speed limits it to day trips
Read our detailed review of the Aruba 10.
Perception Swifty Deluxe 9.5 Kayak – Conclusion
The Swifty Deluxe 9.5 from Perception won't wow you in any category. But it's one of the cheapest kayaks out there and makes for a great introductory kayak for recreation or fishing.
I love the stability and the lightweight design gives you the flexibility to head out on your own without any help.