If you've been following me for a while, you know much I love the Sportsman series.
And if you haven't, well just read my Old Town Sportsman 106 review below to see what I love about it.
Of course, it's not perfect and I'll also talk about its downsides.
So, to find out exactly what this boat excels at, keep reading!
[Spoiler Alert: The Sportsman 106 is a beast of a kayak. IMHO, it's the best fishing kayak for under $1000. It has amazing stability that makes it literally impossible to flip. And what blows my mind is how fast it is, and how well it tracks despite its short size. The only downside is it's often out of stock. So if it's unavailable by the time you read this article… you'll have to wait until next year]
Things to Consider Before Buying a Fishing Kayak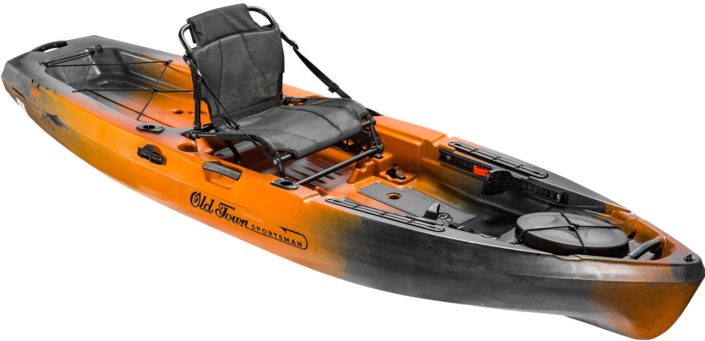 If this will be your first fishing kayak, then you should know your priorities.
Fishing in rivers isn't the same as fishing in calm water − and you'll generally need different boats for each extreme.
Of course, most good boats are quite versatile but don't expect to take the Sportsman 106 into class 3+ rivers.
Some boats also lack storage space and won't be good for big guys or for camping.
Last but not least, fishing kayaks can get expensive. For a premium pedal kayak, you could pay from $2500 all the way up to $6000.
Paddle kayaks tend to cost less, and for a budget of $1000 to $1500, you can get really high-end stuff.
The Sportsman 106 is one of these great value fishing kayaks, but I'll tell you more below.
Word of Advice: please always keep your kayak out of the sun when not in use. The plastic hull can warp over time when exposed to UV rays, and there's no warranty against that kind of negligence.
Old Town Sportsman 106 Specifications

Length: 10 ft 6 in
Width: 34.5 in
Weight: 77 lb
Load Capacity: 440 lb
By the way, for all of you wondering what's the difference between the Sportsman 106 and the Topwater 106… it's actually the same boat.
The Sportsman 106 is simply the newer, slightly improved version.
So, consider this an Old Town Topwater 106 review as well.
Old Town Sportsman 106 Design
Material
Like most fishing kayaks, the Old Town Sportsman 106 is made of single-layer polyethylene.
This material is almost indestructible. You can hit rocks and submerged tree branches without issues, and the hull won't break in case of high-speed collisions.
Speed
Because it's so short at 10 ft 6 in, the Sportsman 106 definitely isn't the fastest fishing kayak out there.
However, for a boat this short I was quite impressed to see I could coax out a reasonable 3 mph cruising speed with it.
You won't break speed records, but honestly considering everything else this kayak offers (more on that below), I find it pretty fast.
Pro tip: Because this is a very wide boat, I recommend using a 240 or 250 cm paddle. You'll find it much better to go fast and turn on demand.
Maneuverability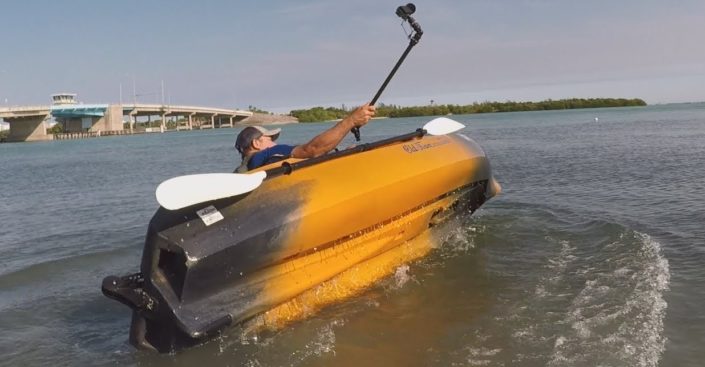 While not a whitewater kayak, the Sportsman 106 has great maneuverability.
It steers pretty well, so you could take it in rivers without issues.
You can do a U-turn relatively quickly if you need to, and avoiding obstacles will be easy.
I wouldn't take it on class 3 rapids, but on class 2 rivers it would be good enough.
Also, in really shallow water with vegetation, the boat was still pretty easy to handle. This is because it floats quite high on the water.
Comfort
I own several Old Town fishing kayaks, so I'm kind of used to the comfort they provide.
In short, the comfort is excellent.
The seat has two positions − high and low, and it's quite easy to adjust by untying the straps, moving the seat, and tying them back.
The seat in itself is breathable, super comfy, and wide enough for big guys.
I like that the seatback is super easy to recline while on the water, thanks to the straps on each side.
The foot braces are simply one of the best in their category. They're so easy to adjust with one hand by just pulling the lever.
Overall, I've never felt any discomfort fishing for 10+ hours with the Sportsman 106.
Stability and Tracking
The big selling point of the Old Town Sportsman 106 is its ridiculous stability.
I've done some stability tests in the pool just to see how far I could push… and even when standing on the nose I couldn't flip it.
I've walked all over the deck, leaned on one side with all my body weight and it still wouldn't flip.
So if you want to stand and cast and you're a big guy, just go for it. It's one of the most stable fishing kayaks out there.
Regarding tracking, I've found it to perform quite well despite its short size.
I suspect this is due to the "double-U hull", which makes it go straight even in wind or current.
If you're planning to go fishing on super windy days − 20 mph or more − then consider installing a rudder.
Durability
As mentioned before, the Sportsman 106 can really take a beating.
I've never heard any complaints about parts breaking down, so overall I'd say it's pretty durable.
Also, what makes Old Town a great company is their lifetime hull warranty.
So in the extremely unlikely event you'd manage to punch a hole through the hull… you'd get a brand new kayak.
Transportability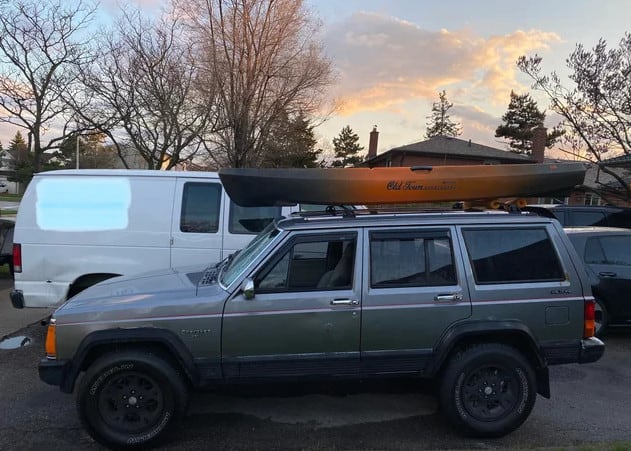 At 77 lb this isn't the lightest fishing kayak out there, but it's still pretty light for most folks.
Unless you're skinny, you wouldn't have any problems loading it on top of your car or SUV.
If you're a woman, though, you might need to put it in a trailer or truck bed.
Carrying it to and from the water isn't too hard either, especially with the replaceable skid plate which means you can drag it without damaging the hull.
Overall, I'd say it's a pretty transportable kayak − a lot more than my Autopilot, for instance (which is just ridiculously heavy).
Sportsman 106 Features and Accessories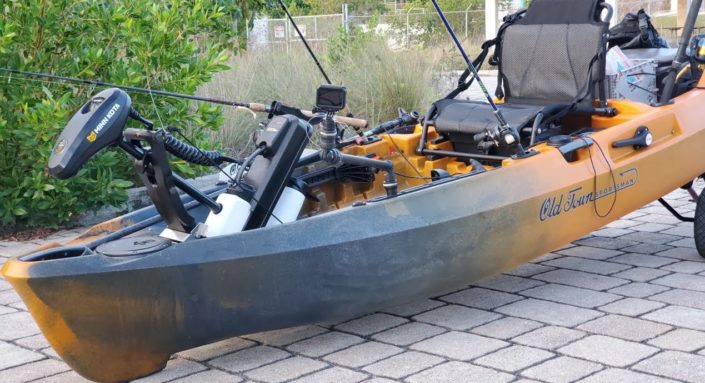 Old Town Sportsman 106 Fishing Ease
Let me start by saying the Old Town Sportsman 106 has great fishability.
I love the humongous rear tankwell storage that can fit a milk crate, a cooler, and there's still room to put some camping gear.
There's also a huge dry hatch at the front, where I put some extra gear (dry pants, another tackle bag, and you could fit your kayak cart in there as well).
Lab test: I've flipped the kayak three times to see if the hatch was really watertight, and I must say some water got in there. I'd say about 4 tablespoons of water. So… don't put your electronics in there without an additional dry bag.
As said before, standing in this boat is ridiculously easy with its massive stability. Even big and tall guys won't have a problem keeping their balance.
Of course, you've got a non-slip EVA foam padding deck to make sure you don't slip while standing if the cockpit is wet.
You've got 3 flush-mounted rod holders − one forward-facing rod holder and two rear-facing ones.
There are also two rod stagers under the seat so you can keep them horizontally and out of the way.
You get two cup holders, as well as two side pockets where you can put tackle boxes.
There's a universal transducer mount, as well as gear tracks on each side to mount all your fishing gear such as extra rod holders, camera, fish finder…

The only thing I don't understand is why Old Town didn't put gear tracks in the back as well. They do have them on the Autopilot, so… not cool.
Finally, some little details: you get a paddle clip on the side of the hull (which is always nice) as well as a custom tackle box.
Who is the Old Town Sportsman 106 Suited for?

I think you've understood by now − the Sportsman 106 is made for serious anglers.
If you want amazing stability to stand and cast…
Paired with decent speed and good maneuverability…
And Tons of storage space for fishing all day and even go camping…
Then the Sportsman 106 is hard to beat. Especially at this price.
Aside from its longer brother the Sportsman 120, there's just no competition.
Old Town Sportsman 106 Alternatives
Old Town Sportsman 120

Speaking of the devil… the Old Town Sportsman 120 is the only real alternative to the Sportsman 106, in the sense that they both offer great value.
There's honestly not much difference between the two…
The Sportsman 120 is 1 foot and 4 inches longer. As such, it also has even more storage space and a higher weight capacity of 500 pounds.
Obviously, being longer means it tracks a little better, is slightly faster… and turns a little less easily as well.
But overall, if you're hesitating between the two…
I'd say get the Sportsman 120 if you really need the extra space (which I doubt you will), or if you're a big and tall guy.
You can read my full Sportsman 120 review here.
Old Town Topwater 106

For all of you wondering what's the difference between the Sportsman 106 and the Topwater 106…
Well, they're basically the same boat. The Sportsman is the newer model, Old Town decided to change the name.
The only differences are the seat − which is more comfortable on the new Sportsman − as well as the lack of cup holders.
Apart from this… again, it's pretty much the same boat. So, considering the Topwater 106 isn't produced anymore, it's out of stock almost all the time.
Do yourself a favor and get the new Sportsman instead.
(Unless you can get your hands on a cheap second-hand Topwater. In this case, it'd be totally worth it)
Vibe Sea Ghost 110

As many of you know if you read my reviews, I'm a big fan of the Sea Ghost 110.
It was my first "real" fishing kayak, and I was so happy with it for a long time.
However, now, years later… I just think the Sea Ghost 110 is no match for the Topwater 106.
It just blows my mind how stable the Topwater is without sacrificing speed.
Apart from that, the Vibe 110 has a similar configuration, with a dry hatch in front and a rear tankwell storage.
But the rear tankwell storage is much smaller, and it only has 2 rod holders.
When I first got it years ago I found the seat to be incredibly comfortable. But nowadays I just feel as comfortable in my Old Town seat.
All in all, these days I'd just get a Sportsman 106 without thinking twice.
Click here if you want to know more about the Sea Ghost 110.
Old Town Sportsman 106 – Wrapping It Up
If you've made it thus far, you know how much I love the Sportsman 106 (and the whole Sportsman series for that matter)
If you're looking for unparalleled stability without sacrificing speed and tracking…
Huge storage areas to bring everything you could dream of, and more…
With tons of great features that you just can't get on other boats…
Then you really can't beat the Sportsman 106. I truly think it's the best fishing kayak under $1000.
The only downside is it tends to get out of stock…
So if you can't find it anywhere − I'm sorry. You'll have to wait until next year.