I've used this boat for a few weeks now, and I must say I was quite impressed.
In this Feelfree Lure 10 review, I'll tell you what I love about this short fishing kayak, and what I think could be improved.
Spoiler alert: If you like comfy seats, plenty of custom features, and you love paddling through narrow passages (where nobody else can go), the Feelfree Lure 10 is made for you.
Pros:
Comfortable seat that can be adjusted up and down
Lots of custom options
Paddle holder included
Cons:
Short keel decreases speed and tracking
Rudder not included, but you can install one
Light load capacity of 375 pounds
Things to Consider Before Buying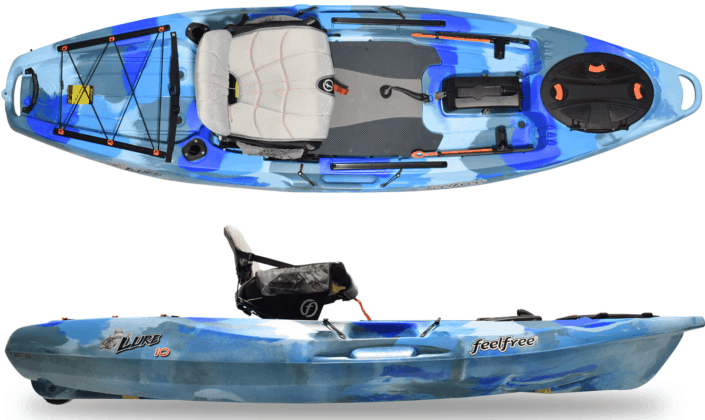 Designed specifically for kayaking, the Lure 10 is at its best in calm, protected waters. While you may be able to get away with paddling in some protected bays, I'd recommend spending most of your time on lakes and rivers. If you're looking for a boat capable of heading into bigger water, consider something a little bigger like the Vibe Sea Ghost 130.
Like almost every fishing kayak, the Lure 10 is a sit-on-top kayak. These give you a lot of room to move around and are much easier to get in and out of compared to sit-in designs. Their wide hulls give them great stability and fishing kayaks almost always have lots of custom features so you can outfit your boat how you want.
They don't offer any protection from the elements, however. So if you live in a wet or windy environment, you may prefer to go with a sit-in kayak that offers more protection, especially if you wear a spray skirt.
Specifications
Length: 10-feet
Width: 34-inches
Weight: 77 pounds
Load Capacity: 375 pounds
Design
Material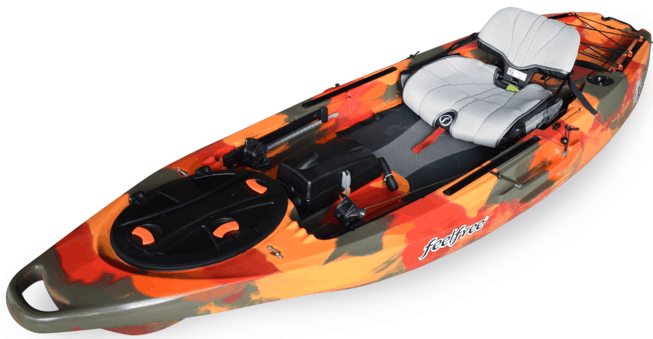 Like the majority of kayaks in the recreational and angling category, the Lure 10 is made of a tough and rigid plastic called polyethylene. It's difficult to damage and almost impossible to put a hole in.
It should be able to handle any accidental drops while you're carrying it to and from the water. Underwater hazards like rocks or logs shouldn't be able to do much more than leave a scratch or abrasion on the hull. Expect your Lure 10 to last a really long time.
Speed
In most situations, speed is correlated to the length of your boat's hull. At just ten-feet long, the Lure 10 is on the shorter side for a kayak. Because of this, it's one of the slowest fishing kayaks on the market. Even stronger paddlers will have trouble getting a Lure 10 to keep up with its longer keeled brethren.
Look elsewhere if you have to travel a good distance to your favorite fishing hole. But for shorter trips or more casual day excursions, the slower speed doesn't feel like as big of an issue.
Maneuverability
One advantage to shorter boats is they're more maneuverable. The shorter keel gives the Lure 10 a responsive, light feeling that is capable of tight turns and squeezing into narrow fishing holes.
This makes it good for smaller bodies of water such as narrow rivers or waterways with sharp bends. While it doesn't come with a rudder, the newer models come ready to be installed with Feelfree's "Beaver Tail" rudder that can add even more maneuverability to your boat.
Comfort
A fishing kayak won't do you much good if you have a cheap plastic seat digging into your back the whole time. Luckily Feelfree didn't skimp with the seat design.
There's more legroom than you'd anticipate for a shorter boat and the foot braces are easily adjustable so you can find the right length for you both on land and on the water.
The seat is fully padded and the seatback can be easily moved both forward and backward so you can find the proper lumbar support for you.
The seat can even be easily removed so you can have a handy and comfortable camping chair at the end of the day.
Unlike a lot of kayaks, the seat can also be raised and lowered. From a higher vantage point, it's easier to spot passing fish as well as gain better distance and accuracy on your casts. This position should only be used once you've reached your fishing spot though. Being placed higher above the water raises your center of gravity and can make the boat feel more unstable.
Stability & Tracking
At 34-inches wide, the Lure 10 feels nice and stable underneath. You shouldn't have to worry if you need to make a sudden shift and move your weight around while you're reeling in the big one.
In fact, it's so stable that you should be able to stand and cast without fear of capsizing. There's a designated spot in front of the seat where you can stand and a "leash" that will help you stand and sit down without rocking the boat too much.
It's nice to have a smaller boat rated for standing and casting. But I'd still recommend that you try it out in calm water close to shore first just in case your first couple of attempts end with a splash.
Tracking in shorter keeled boats is always a bit of a challenge and the Lure 10 is no different. In wind and waves, it's hard to keep a boat that's only 10-feet long on a straight course. This can be especially frustrating when you're trying to maintain your position with a fishing pole in hand.
Installing a rudder will help tremendously and ease your frustration to some extent..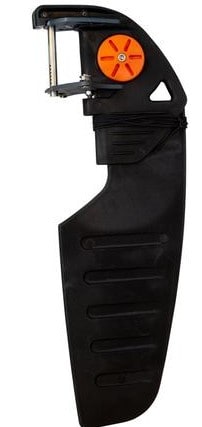 Durability
You can rest easy if you feel your boat bump against anything while you're on the water. The tough plastic hull should be more than up to any collision. I'll be amazed if you manage to punch a hole in it.
There are a few steps that you can take to ensure that your boat lasts a long time. When possible, carry your boat to and from the water instead of dragging it. The Lure 10 doesn't have a skid plate, so over time dragging will leave scratches and peeling plastic. While this won't hurt the hull's integrity, it will decrease your paddling efficiency.
Store your boat out of direct sunlight as prolonged exposure to UV rays can cause the polyethylene to weaken and warp over time.
Portability
The Lure 10 is a little heavy for a 10-foot boat weighing 77 pounds without the seat. That's probably heavy enough that you'll want two people to carry it. It does come with a couple of handles on the bow and stern to make those portages easier.
The shorter keel does make it easier when it comes to storing and transporting. I'd expect you can fit it in the back of some trucks and a simple kayak rack should allow you to get it on the roof of your car without much trouble.
Features & Accessories
The Lure 10 comes with a paddle holder so it will stay out of your way and secure when you want your fishing pole in your hand. I feel like these should be mandatory on fishing kayaks and am always amazed when they're not implemented into the design.
Outside of that, there aren't a lot of extra goodies like a paddle included with your purchase, although that's pretty common for kayaks in this price category. A free paddle is more likely to be featured in cheaper, recreational kayaks.
Fishing Ease
For a small boat, there sure are a lot of extra features built into the design. My favorite is probably the "electronics pod" found in front of the seat. This central console will keep any of your water-sensitive gadgets protected while allowing them to still be accessible.
Every kayak company seems to have a different name for their custom track features. For Feelfree they call it the "Uni-Track System." The functionality is the same as most other companies, allowing you to install whatever gadgets or features you'd like without having to drill a hole in your boat. Whether you want a GPS, camera, or other knick-knacks, installation is easy.
For storage, the Lure 10 has a small central console underneath the electronics pod which makes for a good place to store personal items or spare fishing tackle. A couple of rod holders complete with rod leashes round out the list of features.
A cargo well is in the stern. It's exposed to the elements so you won't want to store anything that isn't waterproof back there, but it's the perfect place for keeping oversize items like a cooler, tackle box, or a dry bag.
A smaller, watertight hatch is located in the bow. With proper packing, you may be able to fit all your camping gear in it. But the smaller keel and lighter load capacity of 375 pounds do limit the Lure 10's upside when it comes to longer trips, especially when you consider how slow it is compared to other models.
Value
The Lure 10 is a little more expensive when compared to other fishing kayaks its size. But it also comes with a little more flexibility and is packed with customizable features.
It does end up in a bit of a gray area. It's more expensive and filled with features, but also isn't capable of longer trips or big water crossings. Inclement weather can play havoc with the tracking and the subpar speed makes it better suited for day trips.
If you're a passionate angler who spends most of your water time on small lakes or rivers, this may be the perfect boat if you have the funds.
Alternatives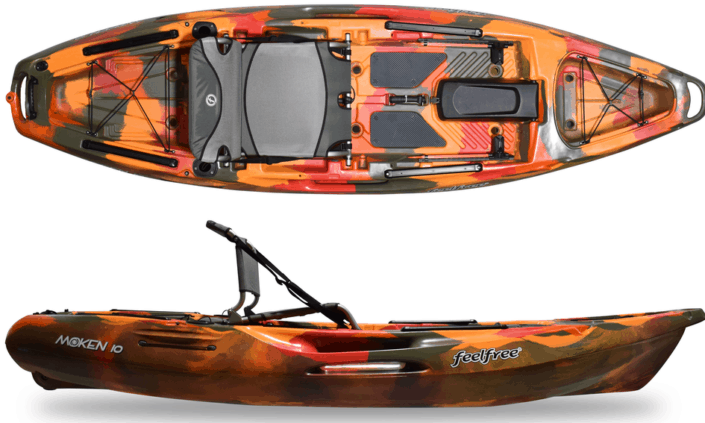 Another 10-foot angling kayak model from Feelfree, the Moken 10 provides many of the same features as the Lure 10. Despite the similar profile, it boasts a load capacity greater than 400 pounds making it a better boat for those looking to do longer trips.
You can install a rudder if you'd like, and this will help with any tracking issues that may come up in the wind or waves.
The biggest issue is a lack of dry storage. There's no watertight hatch in the bow, so bring along some dry bags to protect your gear.
Larger load capacity
Still struggles in wind and waves
Lack of dry storage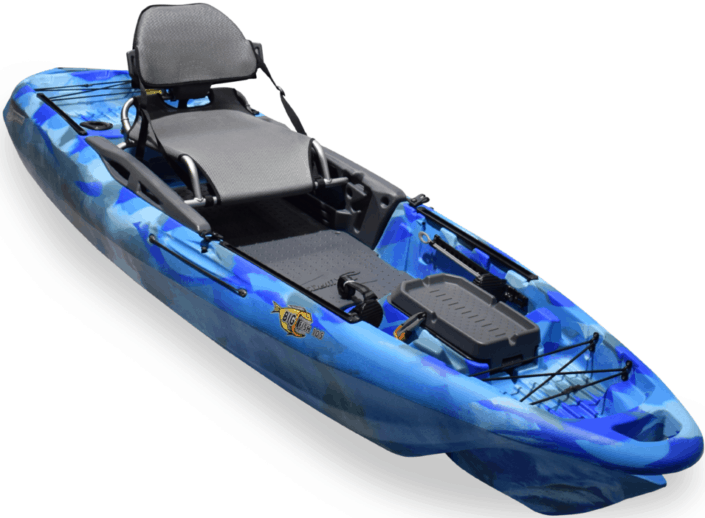 With a tri-hull design, the Big Fish 105 offers you great stability and decent tracking for its 10.5-foot keel. It's another model that can have a rudder installed on the stern to aid with tracking and maneuverability which should help it in windy conditions. That said, I'd still recommend you keep it on calm and protected water.
It's also heavier than the Lure 10 or Moken 10, weighing 89 pounds which feels a little too heavy for my liking, especially considering that the load capacity isn't boosted that much, coming in at only 380 pounds.
Poor weight to load capacity ratio
Similar custom features
A rudder can be installed

Another 10-foot kayak with a 34-inch beam, the SS107 is another reliable fishing kayak for calmer waters. You can stand and cast from this model without worry, and they've worked hard to maximize the tracking on the short keel.
While plenty durable, I love the included skid plate so you're better able to drag it or slide up on a rocky beach without fear of damaging the hull.
Decent tracking for its size
Large deck to stand on
Great rod management system
Read our full Bonafide SS107 review.
Conclusion
Compact with a tight radius and filled with custom features, the Lure 10 should satisfy freshwater anglers. If you don't mind paying a little extra, the boat's excellent stability and comfortable seat are great perks the paddlers of all ages and experience levels can appreciate.
You can learn more about Feelfree and their other products by visiting their website.