After finally getting my hands on the Bonafide SS107 after waiting for a year, I'm ready to give you my honest opinion.
In this Bonafide SS107 review, I'll tell you what this kayak excels at, and where it's lacking.
Read on to find more.
[Spoiler Alert: The Bonafide SS107 is an extremely stable kayak with unmatched comfort. If you're a big and tall guy, you'll really appreciate the stability and huge storage capacity. The one downside is that it's a slow boat, so it's not ideal for long distances. Also, it's often out of stock, so you might have a hard time finding one]
Things to Consider Before Buying a Bonafide Fishing Kayak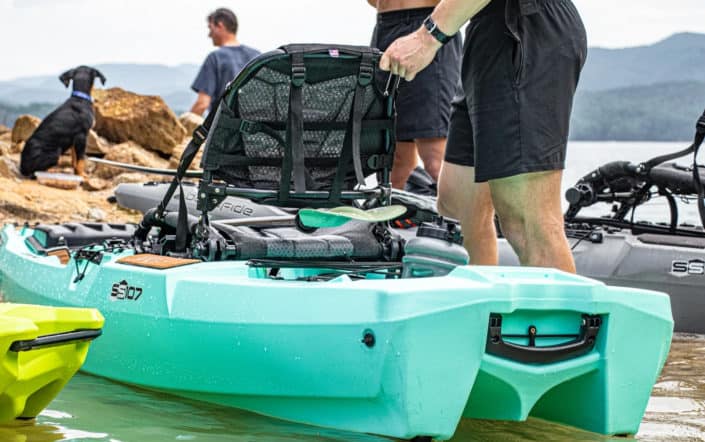 Whether it's your first fishing kayak or you're looking for an upgrade, you should always think about your needs in detail before making a purchase.
If you need a kayak for fishing on fast-moving waters, then the Bonafide SS107 isn't for you, and you should look elsewhere (like the Jackson Coosa HD for example).
Also, you have to keep in mind that stability will often come at the expense of speed, which is definitely the case with the Bonafide SS107.
While this won't be a problem for casual fishing, it won't be fun if you plan on covering more than 10 miles a day.
Lastly, please remember to keep your kayak out of the sun when not in use. Otherwise, UV rays may warp the hull over time.
Bonafide SS107 Kayak Specifications

Length: 10 ft 7 in
Width: 34.5 in
Weight: 84 lb with seat
Load Capacity: 425 lb
Bonafide Kayak Design
Material
Like most high-end fishing kayaks, the Bonafide SS107 is made of rotomolded polyethylene.
This material makes it virtually indestructible, and able to withstand collisions, tree branches, and rocks.
However, you should avoid dragging it as it has no skid plate. Prolonged dragging will scratch the hull and lower performance over time.
Speed
I'll be honest − the Bonafide SS107 plods through the water.
On open water with some wind against you, paddling the Bonafide SS107 for any distance is no fun at all.
On calm days, I have a cruising speed of only 1.8 mph… which is terribly slow compared to other fishing kayaks.
However, please note that this isn't a design flaw at all. It's just because this kayak has extreme stability that we'll talk about more below.
All that said, it does get an honorable mention for how it performs in the weeds. Because it sits so high on the water, you'll actually be able to get good speed in vegetation.
Maneuverability
The Bonafide SS107 is very good for slow-moving rivers, probably one of the best fishing kayaks for rivers if you also want stability to stand.
However, while maneuverability is good overall, it's still nowhere near maneuverable enough to take it on class 3 rivers, so please be cautious.
On class 1 and 2 rivers, you'll have no problems avoiding obstacles and steering quickly.
Comfort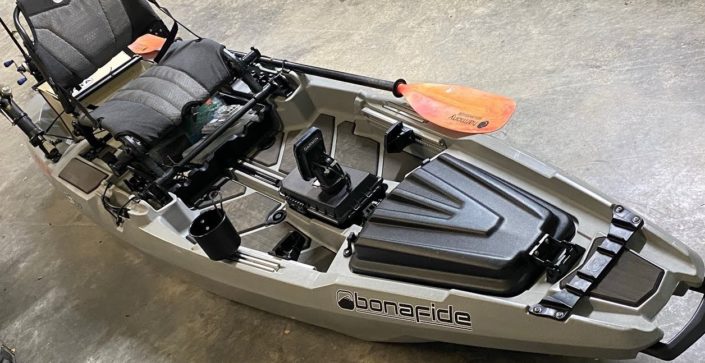 The chair really is the selling point of the Bonafide SS127. IMHO, the Bonafide seat is the industry standard for comfort.
It's extremely comfortable and it sits very high (15.5" off the deck). In fact, I don't think I've ever sat in a higher kayak seat.
For big and tall guys, the high position will be amazing so that you have a comfortable paddling and fishing position.
Also, as expected from a high-end kayak, the seat can be adjusted forward and back as well as low and high. For paddling, the low position gives better tracking and speed, but it's not necessary if you're going for short distances.
The Bonafide SS107 has a huge cockpit for a ten-footer, which makes it great for tall guys when most kayaks this short are definitely not suited.
I love the open design of the cockpit with nothing in the way, and the adjustable footpegs are super comfortable if you like kayaking barefoot. I like the aluminum tracks of the footpegs which are a nice touch and speak for the quality of the boat.
Stability and Tracking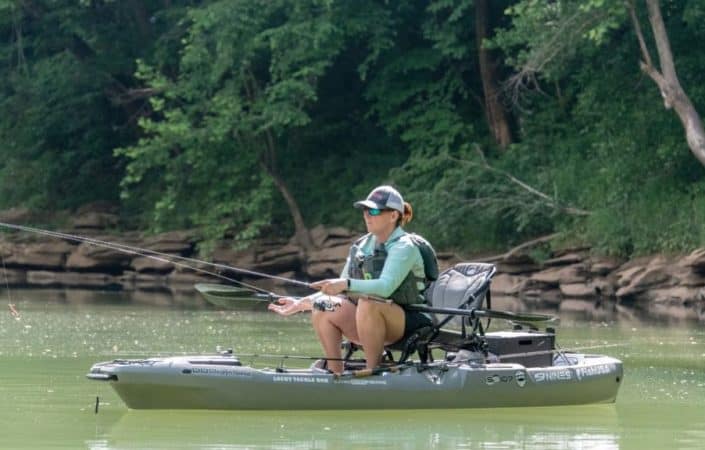 While comfort is the main selling point of the Bonafide SS107, stability comes a close second.
This kayak is one of the most stable kayaks. Seriously.
Even big guys can stand and cast with confidence, and I've yet to see someone flip this boat.
I'll admit that it does feel a little tippier than the longer Bonafide SS127, but honestly it's still more than enough for most guys.
Now when it comes to tracking… let's just say it right away − it sucks.
The Bonafide SS107 easily has the worst tracking of any high-end fishing kayak, so taking it on long distances will be a challenge.
In the wind, the SS107 gets pushed around like a leaf… You'll literally do 360s while fishing.
In fact, tracking is so bad that Bonafide decided to make little "flex wings" that you can mount to the stern, and they do help a lot.
All in all, for any kind of distance or windy conditions I'd mount a rudder or flex wings before taking the Bonafide SS107 on the water. It doesn't cost much and it's so much more enjoyable.
Durability
We've mentioned it before, the Bonafide SS107 is virtually indestructible.
But even if you did manage to damage the hull, you'd be covered by Bonafide's lifetime warranty.
Unlike the Feelfree Lure (more on that below), I haven't heard any complaints about parts breaking down… so I couldn't tell you how good Bonafide's customer service is.
Portability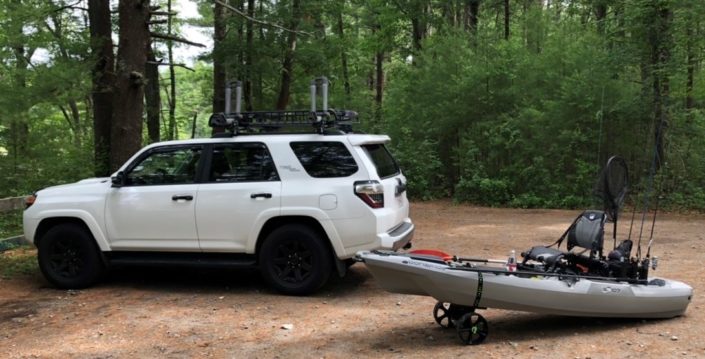 Like most high-end fishing kayaks, the Bonafide SS107 is a heavy boat at 84 lb.
However, I find it much easier to load on top of a car or SUV because it's so short.
Granted, for skinny guys and women, you'll definitely need help or a pickup truck/trailer.
Carrying it to and from the water is also easy thanks to its short size, but you should probably invest in a kayak cart if you're planning on carrying it for more than half a mile.
I wouldn't recommend using Boonedox landing gear on this boat − the tracking is bad enough as it is, you don't want to make it even worse.
The sturdy rubber handles on the bow and stern are slightly better than molded-in ones, but honestly, I don't feel like they make a ton of difference.
Bonafide SS107 Features and Storage Capacity
Like the Bonafide SS127, the SS107 has a dry hatch at the front which gives you access to the hull.
What makes this hatch so great is that it opens on both sides, so you can easily keep a backup paddle, extra rods, some bags, your camping gear… and then some.
For camping trips, the Bonafide SS107 really has a lot of storage space inside the hull, and the 425 lb weight capacity is huge for a ten-footer.
Then, you have a large tankwell storage area at the back that can fit a milk crate or black pack with some rod holders. However, this tankwell storage is slightly smaller than on the SS127, so you can't fit a cooler in there.
You have a paddle holder in the front, as well as some indentation to keep rods horizontally. This is great for rivers where vertical rods easily get lost because of branches and such.
A small detail is that you have a rear hatch with access to the hull to mount a power pole, a rudder, or a trolling motor to turn it into a motorized kayak.
Finally, there is no junk drawer like on the SS127, which I find disappointing considering it's not worth much…
Bonafide Kayak Fishing Ease
The Bonafide SS107 is a high-end fishing kayak. As such, it has great fishability.
As expected you have aluminum gear tracks on each side where you can mount your fish finder, camera, rod holder, or anything else.
Gear tracks are pretty common on high-end fishing kayaks because they make the boat so customizable.
However, I'm disappointed to see that are no rear gear tracks like on the SS127. I also don't know why they put perch pads on the sides of the seat, this seems like wasted space to me.
I love the dry pod in the center of the cockpit, with the watertight compartment to keep your phone, batteries, car keys, and anything else. I know some people also like to mount their fishfinder there so it stays out of the way.
One huge downside for some people is that the Bonafide SS107 has no flush-mounted rod holders. None at all.
And although you can put rod holders using the gear tracks, and put some on your milk crate, that's still a weird choice for a kayak made for fishing.
Even if you have some horizontal rod storage (which as mentioned before is great for rivers), I don't think that makes up for the lack of proper flush-mounted rod holders.
That said, the Bonafide SS107 is excellent to stand and cast. The cockpit is so wide that you can easily move around and find a comfortable casting position.
The deck padding is good enough − you won't slip even if the cockpit is wet. In case you're new to the sport, you should know deck padding is also very important to dampen the noise in case something falls − this way you don't spook the fish.
Finally, a small detail but still a bummer − there's no cup holder.
Who is the Bonafide SS107 Fishing Kayak for?

I think you've understood by now − the Bonafide SS107 is made for intermediate to advanced anglers who want superior stability and great fishability.
Its fishing features are on par with other similarly-priced fishing kayaks, but the seat comfort is truly unmatched.
For big and tall guys, the Bonafide SS107 is a no-brainer if you're looking for stability, supreme comfort, and decent portability.
For skinny guys and women, I'd look at something a little faster since you don't need that much stability to be able to stand confidently.
Bonafide SS107 Alternatives
Bonafide SS127

The Bonafide SS127 is the longer brother of the SS107.
2 feet longer, it's actually even more stable than the SS107, and it tracks a little better. Although tracking and speed are still pretty bad.
I had the SS127 before the SS107, and I was pleased to see that the SS107 actually has the same cockpit size, so for big and tall guys both kayaks will feel as comfortable.
Obviously, being 2 feet longer means it will be more cumbersome and harder to load on top of an SUV.
As expected, the dry hatch is slightly bigger, and the same goes for the rear tankwell storage which can fit a medium cooler as well as your black pack.
Apart from that, the two kayaks are very similar.
Small detail: As mentioned before, the SS127 does come with a handy junk drawer that goes under the seat, which isn't mind-blowing but still a nice feature to have.
Read our full Bonafide SS127 review.
Old Town Topwater 106 (now Sportsman 106)

The Topwater 106 or the newer Sportsman 106 is another kayak that focuses on stability and comfort.
On rivers, I've found the Sportsman 106 to be more maneuverable than the Bonafide SS107, and faster on open water.
It tracks better as well, and it's still stable enough unless you're over 250 lb.
Regarding comfort, I have to admit the seat isn't as comfortable as the Bonafide which is the best in the industry. For most people, it will still be comfortable enough for a full day on the water.
Lastly, the dry hatch is smaller so it isn't as good to pack extra rods and camping gear. Depending on your needs, this might be a deal-breaker.
Read our full Sportsman 106 review.
Feelfree Lure 10

I didn't want to mention the Lure 10 in this article because I think it's no match for the Bonafide SS107.
However, I've had so many people asking me for a comparison between the two so I felt I should give my honest opinion.
First of all, when you take the Lure 10 on the water you'll quickly realize it's even slower and with worse tracking than the Bonafide SS107, which is already quite problematic.
But even worse is the fact it's actually less stable as well. So this means you're basically sacrificing everything for nothing.
And if that weren't enough, I've heard many complaints about manufacturing issues on the seat, which by the way requires constant attention (tightening screws because it has lots of moving parts).
Overall, unless you can find a great deal on the Lure 10 it just pales in comparison to the Bonafide SS107.
Bonafide SS107 – Wrapping It Up
To sum it up, the Bonafide SS107 is a great fishing kayak for extreme stability and good fishability.
Its longer brother, the Bonafide SS127, is one of the best kayaks for big guys, and I must say the Bonafide SS107 is the second-best.
If you want supreme comfort with amazing stability to stand and cast…
With huge storage space in the hull…
And you don't mind going a bit slow and struggling in the wind…
Then the Bonafide SS107 is made for you.
However, I have to say it's a pretty hard boat to find, and it's often out of stock.
If it's already unavailable by the time you read this article, then I'm very sorry. You'll have to wait until next year.