Even if you're limited to some of the cheaper kayaks on the market, rest assured there are still safe and reliable options.
In this article, we'll break down the best fishing kayak under $500 for you while highlighting some of our favorites in a variety of categories.
Whether you want a stand-up, a tandem, or the best overall, you'll find what you're looking for below.
Best Fishing Kayaks Under $500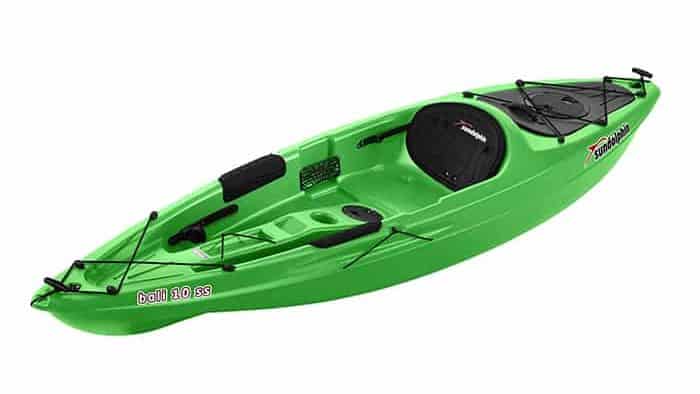 With a comfy seat, thigh braces, and adjustable foot pedals, the Bali SS from Sun Dolphin is a comfortable kayak to paddle.
You'll have no trouble standing up in this kayak and that stability is noticeable whether you're paddling to your fishing hole or casting.
A large watertight stern hatch is complimented by an open tank well in the bow where you can store gear and secure it with bungee cords.
There's also a paddle holder incorporated which is a nice feature to have when you need your hands free to cast.
The overall load capacity is a little lower than I'd like at 250-pounds, but it's a sacrifice I'm willing to make for a boat this stable.
Large seating area and open cockpit
Good tracking and maneuverability
Subpar top speed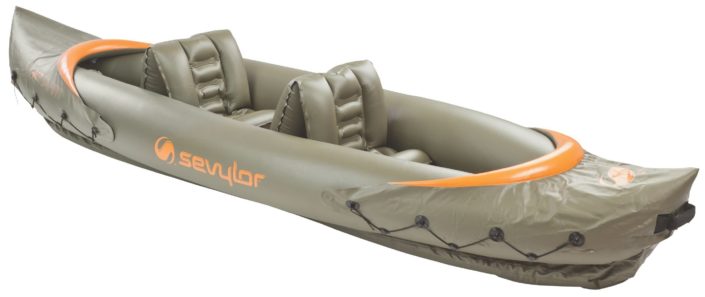 Not the most traditional of sit-in kayaks, this inflatable design from Sevylor is still worth mentioning.
The sit-in design comes into play thanks to the included spray covers which protects your legs and lower torso the way a more typical sit-in kayak would with a spray skirt.
Inflating and deflating is quick and easy thanks to the double lock valves and the multiple air chambers add redundancy.
You won't find a ton of extra features, but the seats are adjustable and comfortable making for an enjoyable and cozy paddling experience regardless of the weather conditions.
Lacks some of the customization options of more expensive boats
360 pound load capacity
No paddle or pump included from most retailers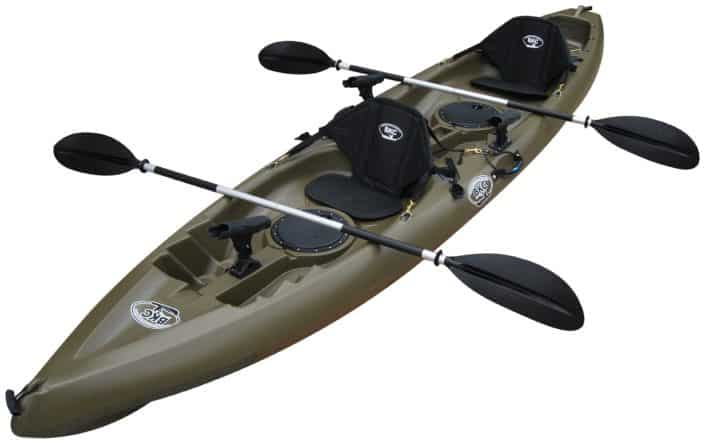 Perfect if both paddlers are passionate anglers that want to get in on the action.
With seven(!) rod holders and two paddle holders, there's plenty of room for both people to fish at the same time.
You'll find plenty of storage space for longer trips while the 34-inch beam gives you plenty of stability without sacrificing the boat's tracking.
Performance-wise it can handle open water if conditions are good and the forecast is reliable, some may be comfortable standing and casting in calmer conditions.
It's not unmanageable at 68 pounds, but it can be a bit of a challenge for some people to move. But thanks to the boat's 450-pound load capacity this seems like a decent trade-off.
Can stand and cast in calm water
Two paddles included
Some complaints about the fragility of the seatbacks
Great if both paddlers want to fish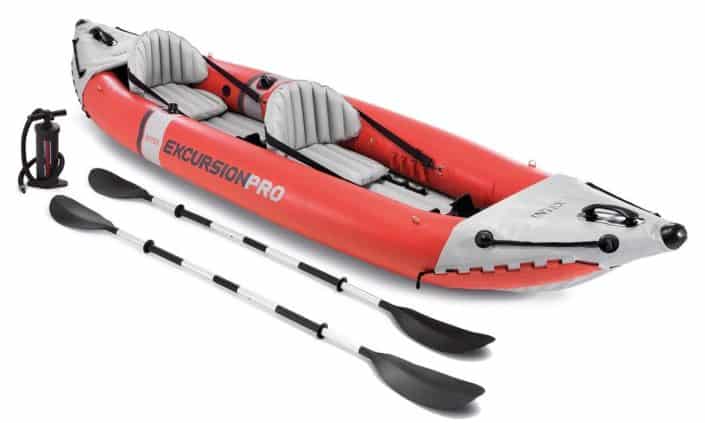 It can be hard to pack features and accessories into an inflatable kayak, but Intex has managed to do it with their Excursion Pro Fishing Kayak.

You get the typical features like foot rests and adjustable seats. But what catches the eye are the two fishing rod holders and mounting bracket. From here you can install any number of products including a GPS, fish finder, or swivel rod holder so you can paddle and fish at the same time.
It can be hard to find storage space in an inflatable, but the covered bow gives you some room to store gear when you're out for the day.
Limited to more protected water like lakes and mellow rivers
Some of the best customization options in the price range
Decent storage for an inflatable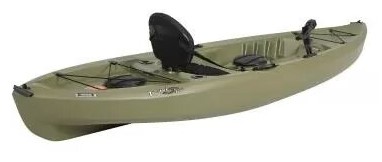 Sporting a flat bottom and chine rails for impressive stability, the Tamarack Angler 100 feels plenty secure on the water.
The deep tracking hull keeps this wide beamed boat from being knocked off course in the wind and waves, though the combination of stability and tracking means it's not very fast.
Two big open-air storage spaces give you plenty of room for tackle boxes, coolers, and dry bags while smaller 6" watertight compartments are accessible from the cockpit.
Two flush-mounted rod holders and another top mount holder compliment a paddle holder while the comfortable seat makes it a well-rounded budget option.
Plenty of storage space
Multiple rod holders
52 pounds with a 275-pound weight capacity
Read our full Lifetime Tamarack Angler 100 review.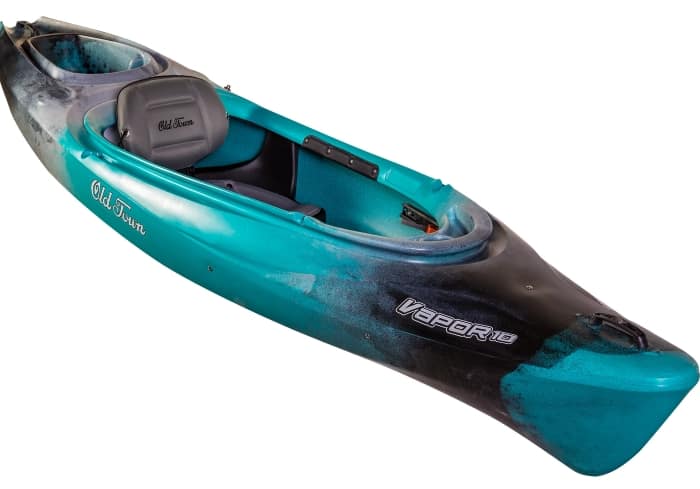 The streamlined design and well-defined cockpit space allows the Vapor 10 to handle ocean conditions better than a lot of kayaks under $500.
I'd still hesitate to take it out into serious open ocean swells, but for protected bays and inlets it's up to the task.
The cockpit has enough room for most paddlers to get in and out safely while the comfy seat, thigh braces, and adjustable foot pegs keep you comfortable no longer how long you're out.
It weighs only 47 pounds and can handle up to 325 pounds giving it a nice ratio for weight to storage capacity.
Missing some of the customization options of other kayaks
One of the few kayaks in this class that can handle ocean water
Stable without sacrificing speed or efficiency
Read our full Old Town Vapor 10 review.
How to Choose the Best Fishing Kayak Under $500
Sit-In Vs. Sit-On-Top
The two primary kayak designs, sit-in and sit-on-top boats have a few distinct differences.
The seat of a Sit-in kayak is lower to the water with a defined, enclosed cockpit. A ribbed "combing" defines the cockpit's perimeter and allows a spray skirt to be attached. With a spray skirt protecting the opening, your legs and lower torso are protected from rain and splashing waves making them good choices if you live in a colder climate.
The lower seat placement gives you a lower center of gravity. This allows sit-in kayaks to have a narrower keel with a tapered bow and stern without sacrificing stability. The protected cockpit and more efficient hull makes them the preferred choice for multi-day trips or to cover longer distances.
Sit-On-Tops are popular among the recreational and fishing kayak crowd. There's no defined or enclosed cockpit which makes getting in and out of them easier but you get no protection from rain or waves. To alleviate this, sit-on-top kayaks sit higher above the water with an elevated seat.
While this will keep you drier, the higher center of gravity means the boat must be wider in order to provide the same stability. Pontoon style hulls are common to make them more solid and some can even be stood up in safely.
Do You Want to Stand & Cast?
Even in a sit-on-top, the seat doesn't always provide a good view of the water the way you would if you were standing on shore. Some fishing kayaks are engineered to allow the paddler to stand and cast without fear of tipping over.
This makes it easier to spot fish while getting more range and accuracy on your casts. Make sure that the manufacturer recommends standing and casting in their model and not all designs are created equal.
Hard-Sided Vs Inflatable Kayaks
Hard-sided kayaks in this price range tend to be made of plastic and are plenty durable, able to absorb scrapes, drags, and collisions while still lasting for many years. They are heavier and require large dedicated storage space and the extra weight means you'll probably need help carrying it to and from the water.
Performance tends to be better in hard-sided boats however and you don't need to worry about punctures or improperly inflating.
Inflatable kayaks have a reputation as being leaky and fragile with poor performance ratings. While that may be true for some, you can definitely find some reliable inflatable kayaks. They'll need to be treated more gently but most inflatables have multiple air tubes to protect against punctures and their tough fabric can handle normal wear and tear.
The logistics of storage and transportation are simpler. Once you learn how to properly inflate your kayak you can move it from the closet to the water on your own.
Storage Capacity
Most dedicated fishing kayaks come with plenty of storage space for you and all your gear. A large open storage space is common on hard-sided sit-on-top kayaks and is the perfect place to secure your tackle box or cooler.
Sit-in kayaks tend to have more watertight storage space making them better options for overnight adventures where you'll have more water sensitive gear.
Make sure your boat has dedicated storage areas within arm's reach as you paddle to house your spare lures and anything else you'll want access to on the water.
Trip Length
The longer your trip, the more efficient and faster you'll want your kayak to be. Slimmer and sleeker kayaks also handle inclement weather better and can keep going into a headwind or waves.
Ensure your seat is comfortable and if at all possible, try it out before purchasing. Look for a padded seat with an adjustable backrest. Footpegs should also be adjustable and fit your body. Few things will suck the fun out of kayaking faster than an uncomfortable seat.
Check that the boat's storage space and load capacity will meet your needs. Measure the volume of the storage compartments to make sure that your tent, sleeping bag, and other gear will fit. Load capacity refers to the amount of weight a boat can safely carry. Remember that your weight counts towards this number in addition to your gear.
Other Features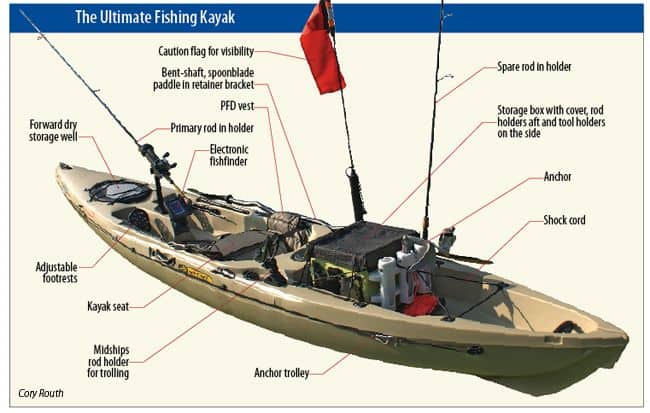 In recent years fishing kayaks have started to add more and more customization options known as "gear tracks" or "accessory mounts." These adaptors let you outfit your kayak to your specifications and can be used to house spare lures, fishing poles, GPS, GoPro, or a fish finder. They aren't as numerous on cheaper models but you can still find some.
Rod and paddle holders are other modern conveniences to keep your paddle or poles secure when they're not needed. Make sure your prospective fishing boat has at least one rod holder so it stays safe as you transit to your fishing hole.
Inflatable kayaks sometimes come with their own pump while other entry-level or beginner boats often come with a paddle or two to get you started.
Tandem or Single Kayak
If you plan on paddling with someone else there are a few pros and cons between two singles or a tandem.
Single kayaks provide more flexibility such as the luxury to go out on your own and tend to be more maneuverable than a tandem. They're lighter and easier to transport. From a storage perspective, two singles can generally carry more gear than a tandem.
Tandems are bigger and longer, though their longer keel means they're faster than most single kayaks while being more stable. They can be harder to transport and store while the weight of some hard-sided tandems can be cumbersome and difficult for some people to carry.
Color Choices
For the most part, this is purely cosmetic and many kayaks come in multiple colors for you to choose from.
I like to paddle brightly colored boats that stand out from the environment. This makes it easier for motorized vessels to see me and in the event of an emergency, will help search and rescue teams locate me quicker.
Conclusion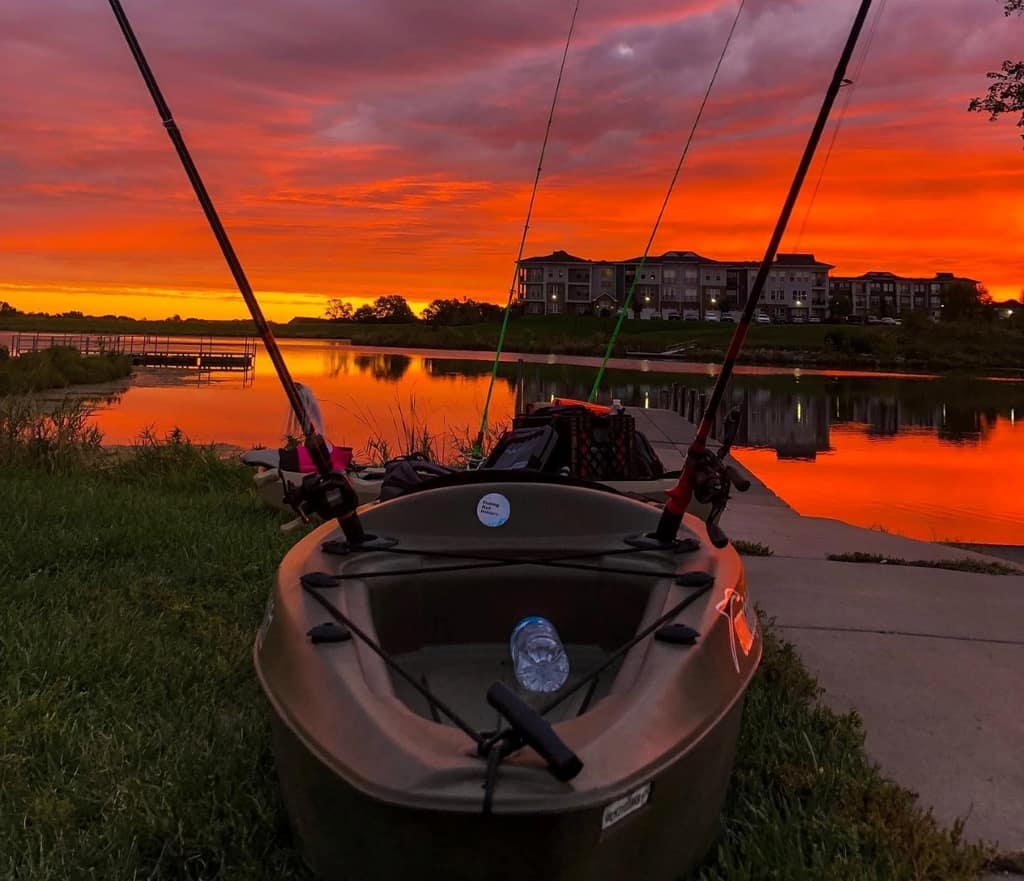 Even at the lower end of the price range, a little research and effort can get you a fishing kayak you can enjoy.
I appreciate the versatility of Lifetime's Tamarack model with its stable hull and the tracking capability makes up for the low top speed. I love the multiple rod holders.
For an inflatable, the Intex Excursion Pro is great value with a couple of customization options and fewer logistics when it comes to storing and transportation.
What do you think of our list? Have anything else to add or want to share a fishing story or two? Tell us in the comments below.