The recreational kayak market is filled with designs and models from multiple companies. How are newcomers supposed to wade through all of these options and make an informed decision?
In our Perception Tribe 9.5 review, we'll break down one of my favorite recreational designs from this South Carolina company.
With a few nice included features and reassuring stability that will give paddlers of all experience levels confidence, the Tribe 9.5 is worth your time and attention for your first kayak.
Pros:
Lightweight design is easy to transport
Custom mounting spot for a GPS or GoPro
Great combination of maneuverability and stability
Cons:
Tracking suffers in poor weather
Tiny load capacity of 300 pounds
Subpar speed
Things to Consider Before Buying a Perception Tribe 9.5

Like most kayaks in the recreational category, the Tribe 9.5 is a sit-on-top kayak. These boats have big, open cockpits that make it easy to get in and out of.
The seats on these boats are mounted higher than sit-in boats to help keep the water off you. This means that they have to be wider to maintain their stability which will hamper their overall speed compared to their sleeker counterparts.
But they don't provide much protection from the elements. If you live in a cold or rainy environment, you can expect to get cold and wet on the water. Bring along proper clothing for both you and your gear, or consider getting a sit-in kayak that provides more protection, especially for your legs and lower torso.
While the Perception Tribe 9.5 should be fine for day trips, it lacks the storage space or load capacity for longer, multi-day trips. If you want to try overnight trips or take on some more challenging water conditions, consider a bigger recreational model like the Ocean Kayak Prowler 13. It's more expensive but comes with more storage space and a better top speed.
Specifications
Length: 9-feet, 5-inches
Width: 31.25-inches
Weight: 46 pounds
Load Capacity: 300 pounds
Design
Material
The Perception Tribe 9.5 is made of a tough and hard to damage plastic called polyethylene. This material is a common choice for recreational boats like this since it can absorb most on-water collisions along with any accidental drops that may occur while carrying it to the water.
With just a little bit of maintenance and good storage space, you can expect your Tribe 9.5 to last for a long time.
Speed
The Perception Tribe is on the short side of the kayak spectrum, measuring less than ten feet in length. Kayak speed is closely correlated to the length of the keel, the shorter the boat the slower you can expect it to go.
This makes the Tribe 9.5 better for short day trips where you're out just for fun. If you're hoping to get anywhere in a hurry this isn't the model for you.
The same can be said if you'll be paddling in a group and your friends have longer keeled boats than you. Expect to fall behind or paddle hard to keep up.
Maneuverability
The shorter keel works to the Perception Tribe's advantage in this case. The shorter keel makes it more maneuverable, capable of squeezing into tight corners and making your way along narrow rivers.
It doesn't have a rudder or a method of installing one, but for recreational outings, the Tribe 9.5 turns just fine without one.
The boat's responsiveness makes it a good choice for newcomers who may not have the experience or skill to maneuver longer, more unwieldy kayaks.
Comfort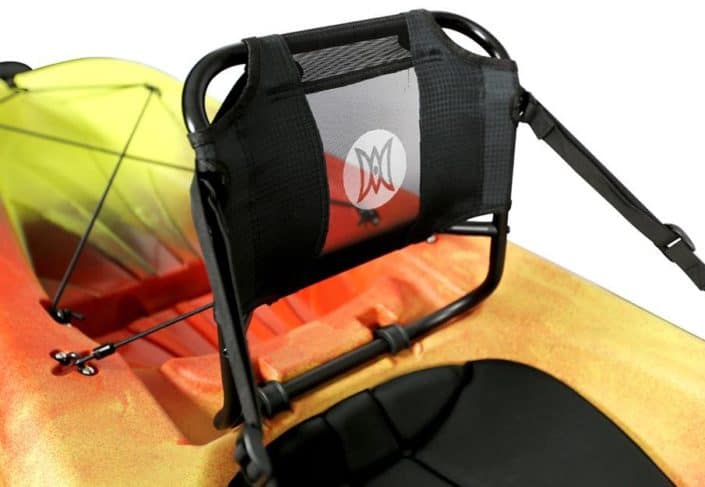 Perception completely redid their kayak seats recently and the extra work is paying dividends. The new seat has a framed, adjustable seat back which gives you no shortage of adjustment positions and makes reclining on the water simple. The seat bottom is padded as well so you'll stay comfortable no matter how long you're on the water.
For your feet, the Perception Tribe 9.5 has multiple footwells that allow you to brace, improving your paddling efficiency and taking the stress off your back.
I prefer the adjustable footpegs, although these are usually found in bigger, more expensive kayaks. The footwell system is fine, though it can be hard to find the perfect fit if your feet fall in between the wells as mine seem to do.
Stability & Tracking
For a boat less than ten feet long, the Tribe is pretty wide measuring more than 31-inches across. Add in the flat bottom and curved bow and the Perception Tribe 9.5 has reassuring stability which will give casual and new paddlers the confidence to head out from shore.
Because of its short hull, however, I don't trust the Perception Tribe in big water, but for calm, mellow lakes, it should be plenty stable. It can even serve as a good platform for fishing or even diving without fear of capsizing.
Tracking, like speed, is also related to the keel length of the boat. This means that the Tribe 9.5 tracks poorly and is easily pushed off course by poor weather, wind, waves, or tide. This won't be an issue for you on calm water, but I would prescribe a lot of caution if you do choose to paddle in bigger water. Saltwater outings should be done with an abundance of caution.
Durability

Thanks to the tough plastic hull, the Perception Tribe 9.5 is almost impossible to seriously damage during day-to-day use. If you punch a hole in this kayak I'll be amazed. I'd still exercise some caution when carrying the boat to the water's edge and would carry it instead of dragging it whenever possible since it doesn't have a skid plate.
The same goes for landing in rough water or rocky beaches. Doing this or dragging it too often can cause the plastic to scratch and peel over time. This will diminish the boat's paddling efficiency over time and slow it down even more.
For storage, it's best to store it out of direct sunlight. Prolonged exposure to daylight when not in use can cause the plastic to weaken and warp.
Portability
The Perception Tribe 9.5 is one of the lightest hard-sided recreational kayaks out there, checking in at less than 50 pounds when empty. It feels light as air when two people are carrying it and even some solo paddlers should be able to move it by themselves.
The bow and stern handles are "T-handles" on a string, my preferred handle type over the handles built directly into the hull.
Perception has even placed a handle along the side of the boat. While this may seem overkill, this gives solo paddlers a central handhold that keeps the boat's weight balanced and centered.
Features & Accessories
The Perception Tribe comes with scupper holes which are common in boats of this design. Perception does sell scupper plugs for the Tribe 9.5, but they're not included with the base package. If you want to paddle in colder water and don't want to get wet, these plugs are worth the extra investment.
Unlike more recreational boats, the Perception Tribe 9.5 comes with a solo mount recess, a feature usually reserved for fishing kayak designs. From this point, you can install custom features to outfit your boat to your specifications. Whether you want a GPS, a GoPro, or something else built into your boat, doing so can be done easily without having to drill into your boat.
Like you'd expect, the Tribe doesn't have a ton of storage space. The only dry storage area is a small hatch directly in front of the seat. It's a good place to store personal items like wallet, keys, and your phone so you don't have to worry about them getting wet while you're on the water, but it doesn't have space for much else.
Two bigger storage areas are in the bow and stern. These tankwell style storage areas are recessed below the sides of the hull with bungee cords stretched over the top to keep gear secure. They're not super large but are big enough to hold some oversize items like a small cooler or a drybag or two.
The boat's load capacity isn't very large. It can really only handle up to 300 pounds and remember that includes the paddler's bodyweight too. This makes the Perception Tribe good for day trips and not much else. You won't have the space to store camping gear even for quick overnight getaways.
Value
For a small, easy-to-transport kayak, the Perception Tribe 9.5 seems reasonably priced to me. Perception has added a few nice little features that give you a good bang for your buck.
My favorite of these is the mounting plate that lets you customize your boat and gives it a little personality. You won't find this on the majority of recreational kayaks and it's a really nice touch that will make it appealing to beginners or casual paddlers.
If you're looking for a boat that introduces you to kayak, or just want something for a sunny afternoon at the local park, the Tribe 9.5 is worth your consideration.
If you're looking for something more heavy-duty that can challenge tougher water conditions or want to try overnight trips, you'll be disappointed and should look at moving to a higher price range.
Alternatives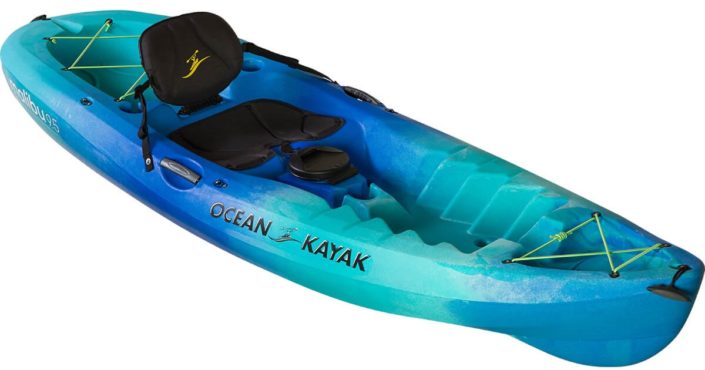 A similar design and function to the Perception Tribe 9.5, the Malibu from the California-based Ocean Kayak is at home in calm water conditions.
It's even wider than the Perception Tribe measuring 33-inches across, providing you with an even more stable platform, though this does make it even slower. It does make it perfect for playing in the surf and catching waves.
It doesn't have any custom options like the Tribe 9.5 does, but there is a paddle holder built into the design which is a great feature that I think should be included in more kayaks.
Great for surf
A little heavier at 54 pounds
Built-in paddle holder

The big brother to the Tribe 9.5, as the name suggests, the Perception Tribe 11.5 is two feet longer. Despite the extra length, it's actually a little narrower giving it a better top speed more capable of covering longer distances.
The load capacity is a little bigger at 350 pounds, but the storage space is still limited with the only dry storage that little hatch in front of the cockpit for personal effects.
Other than that, it has a lot of the same features as the Tribe 9.5 including the custom recess area and the reworked seat providing you with a comfortable and easy to adjust seat.
Faster and better tracking
Still a lack of storage space
More expensive than the Tribe 9.5

Better suited for the ocean and right at home in the surf, the Frenzy from Ocean Kayak can be used as a fishing or recreational boat with the ability to ride the waves home.
A long central keel allows this 12-foot boat to track surprisingly well for its length and gives it an advantage when catching the waves over other recreational-style boats.
It sits high enough above the water to keep at least some of the splashing waves off of you and the comfortable seat enables you to travel the shoreline in comfort.
A little heavy for a single at 81 pounds
Large open-air storage in the bow and stern
Comfortable, adjustable seat
Conclusion
With a few included features and wide, stable design, the Perception Tribe 9.5 is an appealing boat for day paddlers and beginners.
I like that they went the extra mile with the custom mount spot and the extra carry handles that helps set it apart from other recreational kayaks.
If you need a good, reliable durable boat for a day on the lake, the Tribe 9.5 is worth your consideration.