Want to get the best ultralight spinning reel?
In this article, I'll talk about my 5 favorite models, who they're good for, and what situations they excel in.
We'll also talk about a few important specs like line capacity, weight (obviously), and durability.
I've tested these spinning reels on many types of fish, including trout, bass, redfish, walleye, and more.
Read on to find the best ultralight spinning reel for you.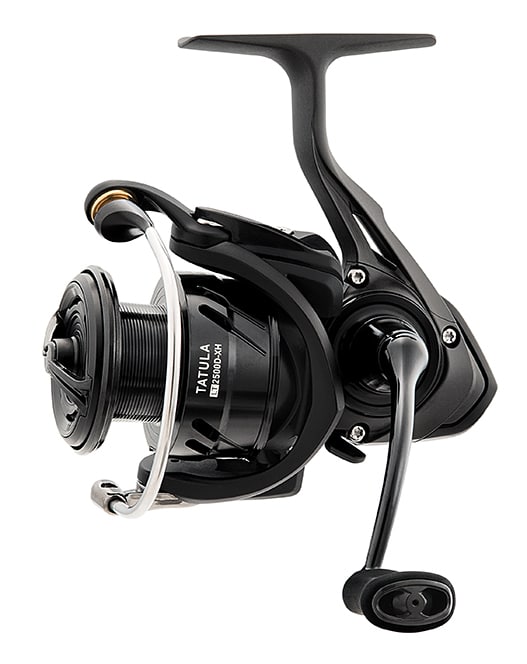 5+1 ball bearings
Only 5.8 ounces
11 lb drag capacity
Works like new after 5 years
If you want the lightest yet smoothest spinning reel, the Daiwa Tatula LT is hard to beat.
Made of high-density carbon strain material, this spinning reel only weighs 5.8 ounces so you can cast all day without getting weary.
The Daiwa Tatula also has a very smooth drag thanks to its 5+1 corrosion-resistant ball bearings. It has a quick drag start-up inertia from the first bend to catch even the smallest fish. It will let you fish almost everything from panfish to bass and walleyes, and it's by far the best ultralight spinning reel for trout.
But what I like most about this reel is its durability. I've been using it for over 5 years now and it's still as smooth as when I first bought it. I'd say this makes it a great value spinning reel.
The only con is that it'd be nice if the bail made more noise when opening and closing it.
Overall, the Daiwa Tatula remains the best ultralight spinning reel I've ever tried.
2. Best Budget Ultralight Spinning Reel – Penn Battle III 1000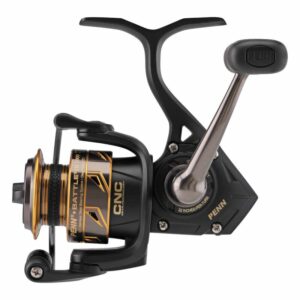 5+1 ball bearings
7.8 ounces
9 lb drag capacity
Pretty good durability
If you'd like to get the Daiwa Tatula but you're on a tight budget, the Penn Battle III is a solid alternative.
As you'd expect at this price point, the Penn Battle is made of aluminum instead of carbon fiber. This means it weighs more than the Daiwa at 7.8 ounces. This will still be light enough for most people, but it's true that I'm a little bit weary at the end of the day compared to the Daiwa LT.
The good news is that this ultralight spinning reel is still pretty smooth, thanks to its 5+1 ball bearings. You'll be able to handle fish from 1-9pounds without any issues.
When it comes to durability, I've found the Penn Battle to be as good as the Daiwa LT. This is mainly due to its full-meta body, stainless steel ball bearings, and corrosion resistance.
Overall, the Penn Battle III is a pretty decent ultralight spinning reel and a good choice if you can't afford a premium reel like the Daiwa Tatula LT.
3. Cheap Ultralight Spinning Reel for Small Fish – Shimano FI 1000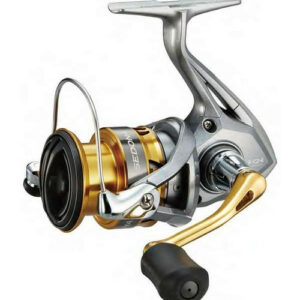 3+1 ball bearings
7.6 ounces
7 lb drag capacity
Full-metal body for durability
The Shimano FI 1000 is an even better budget option than the Penn Battle III, but only for smaller fish. Indeed, it has a slightly more limited 7 lb drag capacity.
Like the Penn Battle, this spinning reel is made of aluminum and weighs a reasonable 7.6 ounces.
It only has 3+1 ball bearings, but I've still found it to be pretty smooth when catching panfish and trout. That said, I wouldn't recommend it for bass and stripers.
The Shimano FI is pretty durable thanks to its HAGANE gear and full-metal body, but it does "feel" like plastic. It has lasted me a long time as it's not actually made of plastic or anything, but that might be a bit disappointing when you see it for the first time.
Overall, this ultralight spinning reel is pretty good for its intended use, which is catching small fish without getting weary at the end of the day.
4. Most Durable Ultralight Spinning Reel – Penn Clash II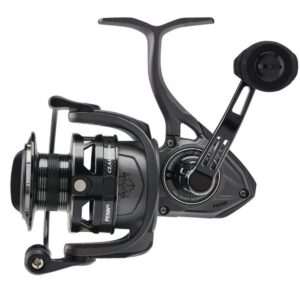 8+1 ball bearings
7 ounces
9 lb drag capacity
Extreme durability
If you want an ultralight spinning reel that can handle anything you throw at it, the Penn Clash II is a great option.
We all know Penn makes some seriously durable reels for larger models, but I can tell you that this is also true for the 1000 version of the Penn Clash.
With a max drag of 9 lb, this spinning reel will be perfect for catching redfish, snook, flounder, and bass. The 8+1 ball bearings make it ridiculously smooth.
While this spinning reel weighs a respectable 7 ounces, I must admit that it does feel larger than the other reels I've talked about. It feels more like a size 2000 than a size 1000.
Overall, if you want to fight bigger fish without ever feeling like your reel is going to break, the Penn Clash II is a good option.
5. Cheapest Ultralight Spinning Reel – Cadence CS6 1000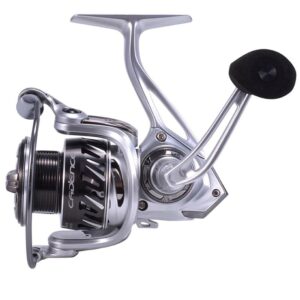 7+1 ball bearings
6.9 ounces
9 lb drag capacity
Decent durability
The Cadence CS6 is a pretty balanced reel overall, although it does everything slightly worse than the other options in this article.
Made with a magnesium body, it weighs a reasonable 6.9 oz and boats a 9 lb drag capacity.
Luckily, the body doesn't flex under pressure and it will allow you to catch most fish from trout to bass and walleye.
When it comes to smoothness, I've found it comparable to other models thanks to its 7+1 ball bearings, even though it does take some time to "break in".
Overall, the real value of the Cadence CS6 is its price point. If you really can't afford anything else, this one should still be good enough for inshore fishing.
How to Choose an Ultralight Spinning Reel: Buying Guide
Weight
When looking for an ultralight spinning reel, you'd be tempted to go for the lightest reel you can find.
However, the truth is that that's not really the best way to go about it.
In a nutshell, the best spinning reel should provide a good balance with your rod. This means longer rods will generally need heavier reels to avoid being tip-heavy.
To give you a rough idea, I use my Daiwa Tatula on a 5ft6" rod while my Shimano FI 1000 provides better balance on my 6ft rod.
Line Capacity
Like weight, it's a bad idea to always try and get the longest line capacity. The simple reason is that you always have to fill it up to avoid line twist issues and many other problems.
So if you have a 300-yard spool capacity but you only need 70 or 120 yards in most cases, then you'd be spending lots of money on fishing line that you don't need.
Therefore, just pick the smallest line capacity that will be able to handle all your fishing situations. For me, that's 120 yards for the occasional time when I do need a long line.
Good to know: you could also get a shallow-spooled reel (generally from Japanese brands) that allows you to put as much or as little line as you want. You don't have to fill it up for it to work perfectly.
Spool Diameter
Spool diameter is actually something that's not often included in the specs. However, it's a very important factor to take into account.
Why does spool diameter matter?
Simply put, for a given line capacity, a larger diameter will feel a lot smoother and will have more inertia when you're casting. On the flip side, small reels with a small diameter will have a tighter line and therefore more friction.
That's why you should rather get a spool with too much line capacity and a proper spool diameter, as opposed to a lower line capacity but a low diameter.
Drag Capacity
Drag capacity is pretty self-explanatory. If you plan on catching bigger fish like bass and stripers, try to pick an ultralight spinning reel with a 9 or 10-lb drag capacity.
On the other hand, if you'll only catch walleye and small trout, a 7 lb drag capacity should be more than enough.
Gear Ratio
Simply put, the gear ratio is how fast your line can get in and out of the spool.
For instance, a reel with a 7:1:1 gear ratio will turn 7.1 times every time you turn the handle.
That's why a reel with a 5:5:1 gear ratio will be much slower and not suited to most people.
On the flip side, a lower gear ratio also provides more power, so it's always a trade-off.
Overall, it's mainly a matter of preference here. I personally like to have at least 6:4:1, but it's up to you.
Best Ultralight Spinning Reels: FAQ
What Size Reel Is Best for Ultralight?
The best reel size for ultralight is 1000 to 2000. I personally prefer 1000 as it allows me to fish everything from trout to bass and redfish.
What Is the Best Gear Ratio for Ultralight Spinning Reels?
The best gear ratio for ultralight spinning reels is 6:2:1. This gear ratio provides a perfect balance between power and speed for small fish.
What Are 500 Size Spinning Reels Good For?
500-size spinning reels are good for panfish and trout under 4 oz, but they'll be too light and flimsy for bass and stripers.
Best Ultralight Spinning Reels – Conclusion
Now you know that the best ultralight spinning reel is the Daiwa Tatula LT 1000, in my opinion. This reel provides great value, smooth fishing, and good versatility to catch anything from small trout to large bass.
That said, the Penn Battle III is a decent option for people on a budget, especially if this will be your first ultralight spinning reel. You can always upgrade later on.
That said, pick the one you like most, and enjoy!