Whether you're looking for the best fishing spots in your area or planning to go on a fishing trip in another state, you'll soon find this free fishing map indispensable.
Not only will it show you almost every fishing spot in the country and the species you can find there, with a guide on how to catch them, but also what people are catching where. Giving you a pretty good idea of what you might expect from your next fishing trip.
Fishing Near Me: Main Map Features
This free interactive fishing map is packed with features to take your fishing game to the next level:
Filter places to fish near you by distance: Look for the best fishing spots near your current location or anywhere else in the US. You can easily zoom in or out to find the perfect fishing places, whether you're looking for fishing lakes near you, rivers, coastal waters, a place with an access ramp, or large parking for your boat or kayak trailer.
Filter fishing spots by points of interest: In addition to showing you the different fishing spots in the United States, it also shows many fishing-related places while giving you the possibility to filter according to your choices:
Boat Ramps
Marina
Bait Shops
License Vendors
Charter
Gear and Equipment
Fly Fishing Shop
Fish Refuge or Hatchery
National Parks
Multiple Places of Interest
Body of Water
Best Place to Fish & Boat (places including campgrounds and other family-friendly facilities)
Filter fishing spots near you by species: You can see the fishes available in the area, and the number of logged fish for each species by clicking the "fish species" box in the down left corner. You can also look at the Species Guide. It will tell you what species are available in any location, their habitat, and other details like prevalence, as well as the best techniques, lures, and baits to catch them.
Check other's catches in fishing areas near you: You can check out what other anglers in fishing areas near you have been catching by clicking on the "logged catches" box in the lower left corner. You can also see what your fellow anglers got on each spot by clicking on the spot of your choice.
Use the Fishing forecast:
You can look at the fishing forecast data at a hyper-local level, this feature shows the weather forecast and bite times (when the fish are biting the most) in the area and for different species.
Missing features? Try the pro version:
If you need extra features, you may want to download the Fishbrain app. Fishbrain Pro will also give you access to the exact catch locations, tips on baits and lures, data about the sun and moon phases, and what effect they have on the tides. It is perfect for identifying the right time to fish or when to strike for a specific species.
The pro app also allows you to post your catches and to comment on other logs, giving you the opportunity to discuss, see what other anglers used and caught, and meet fellow fishers in your area.
Find Fishing Spots Near You: How to Use the Map
To find where to fish near you, simply start by clicking on "Explore your location" or "Explore the entire U.S.", depending on if you want the map to use your localization to show you good fishing spots near you, or if you prefer to do a manual search.
You then have two solutions:
If you're looking for a specific spot, you can enter a location in the research bar.
If you want to browse an area, you can click on the icon "Places to Fish Near Me & Boat Map" in the top left-hand corner to filter the locations displayed on the map.
When you finally find fishing areas near you, start zooming in to be able to use the three features at the down left corner.
You can then see :
What people have been catching in this area by clicking on "Logged Catches".
The species that are usually found here by clicking on "Fish Species", with a complete guide on available species in the area and how to fish them.
The Fishing Forecasts with local data and bite times.
Finally, if you click on a Body of water, you will be able to see some pics of the latest catches in that spot, and if you have the pro version you can even check comments from other anglers and interact with them, giving you the opportunity of knowing what gear they used, where and how.
Saltwater Vs. Freshwater Fishing Near You
Fishing in Coastal Waters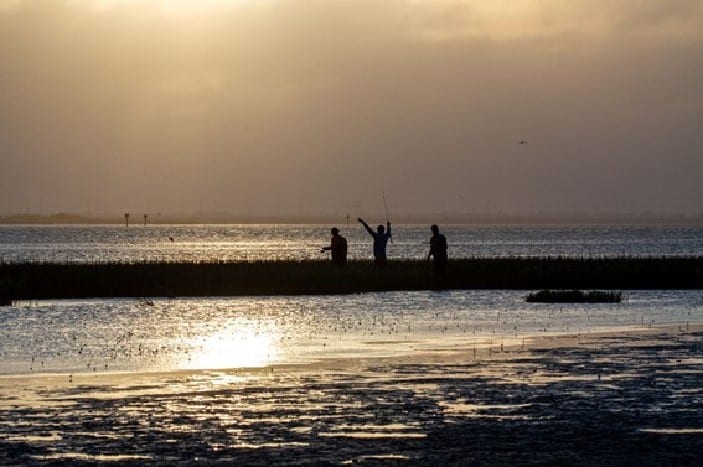 Before you head out, be sure to check the tide predictions in your area. The best fishing times usually coincide with the tide running from high to low, or vice versa.
Once the water gets to high or low tide, it slows down and becomes "slack," meaning the fish are less likely to bite. Also, don't forget to check the wind conditions before you take your kayak or other craft out to sea.
Public Fishing Lakes Near Me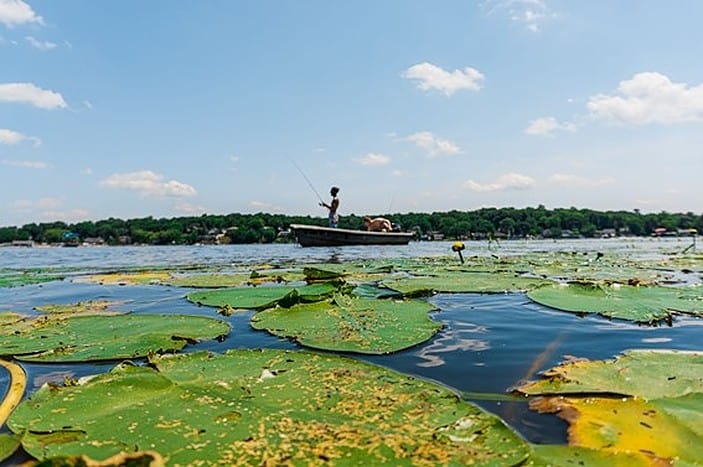 When it comes to lake fishing, remember that there are two types: natural and man-made. Man-made lakes often have fluctuating water levels, so focus on drop-offs, creek edges, and ledges for the best spots.
If you're on a natural lake, keep an eye on the shoreline for patches of aquatic vegetation like lily pads or reeds. If the fishing lakes near you are lacking vegetation, look out for logs or rock piles that provide shelter for fish.
Fishing Rivers Near Me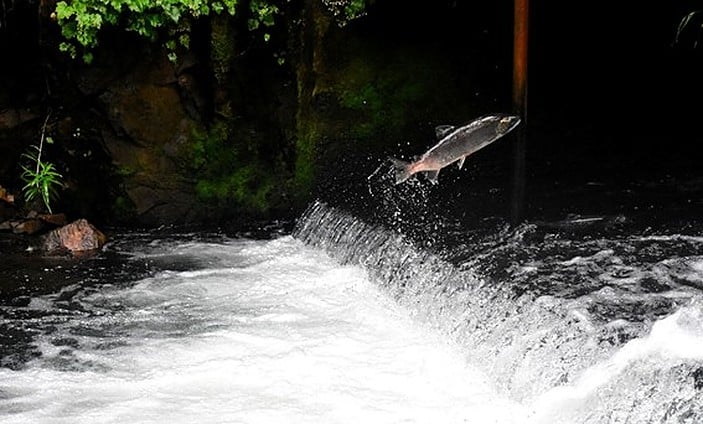 River fishing requires some thought about where fish might hide from current and predators.
Look out for structures along the bank, like sunken trees or overhanging branches. When the current is strong, fish often seek calmer backwater areas. Other great spots include stumps, vegetation offering some shade, areas near islands or rock piles, and where currents merge.
Fishing Ponds Near Me
Just a little reminder before you head off for some pond fishing. Always make sure to ask for permission if the fishing ponds near you are privately owned – it's just the right thing to do.
Keep in mind that ponds are small and their fish populations can be impacted by even slight changes in their delicate ecosystems.
Tip: If you're planning a day of fishing with beginners or little ones, live baits are your best bet.
One thing to remember is that pond fish are usually more aware of their surroundings compared to those living in larger, deeper waters. So be extra careful on sunny, calm days. Remember to tread lightly and quietly along the shore, and keep some distance from the water's edge.
And of course, like always, search for spots that offer food, shelter, and shade for the fish.
What Else Should I Consider Before Going Fishing Near Me?
Before you set out with your fishing gear, here's a friendly reminder of a few things you should consider:
Fishing Spots Vary Based On the Season and the Weather
The time of year can greatly influence what fish you might catch. Weather changes, like monsoons, can also alter fishing patterns within a day.
Always keep in mind that weather and water temperature can influence where the fish hang out, be it in the shallows or deeper spots. It also affects the best times for fishing. For instance, in fall or early spring, mornings might not be your best bet, but in summer, early morning is a fantastic time to go fishing.
Don't Forget Your Public Fishing License
You're excited to hit the water and reel in the big one? That's fantastic! Just remember, before you rush off to that perfect fishing spot – whether we're talking about public fishing lakes near you, fishing ponds, or rivers – take a quick moment to review the local regulations. You'll want to check if you need a fishing license, if there are specific rules about certain fish species or perhaps some protected no-fishing zones.
But don't worry, there are still plenty of places where you can fish without a license, like certain public fishing piers and some lovely state parks. And here's a fun tip – there are even places that offer free fishing days. These are absolutely perfect if you're just starting out and want to experience fishing without any cost.
Remember, buying a fishing license not only keeps you on the right side of the law, but it also contributes to a good cause. The funds from your purchase directly help protect our local aquatic environment. Isn't it wonderful to know your hobby helps preserve nature?
Also, depending on your state, you might need an additional stamp or tag. To find out more, just check with the licensing agency.
Good to know: the Interactive Fishing Near Me Map online allows you to find the top fishing spots near you, but it also conveniently lets you buy a fishing license.
Register Your Boat Before You Go to Fishing Areas Near You
Don't forget that depending on your location and where you're planning on using your boat, kayak, or canoe, you might need to register it. Think of it like a fishing license – it's really important to stick to local rules when it comes to registering your boat or kayak.
This helps keep everything in check and makes it easier to keep track of all the boats and kayaks in the area. Plus, don't forget that you might also need a permit to operate your boat or kayak.