It doesn't matter how fast, stable, or fancy your kayak is. If you have a crummy seat, chances are you won't want to spend much time on the water.
While some kayaks come with cushy seats, many do not, meaning it's up to you to find the right seat for you. Fortunately, we're here to help you select the best kayak seat for you and your paddling style.
Whether you're a whitewater paddler, a week-long tourer, or anywhere in between, you'll find the right seat for you and your lifestyle below.
Best Kayak Seats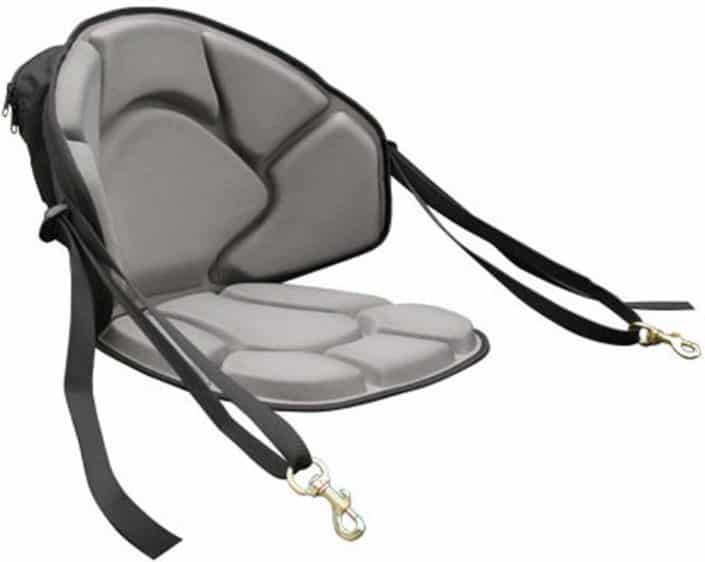 If you suffer from lower back pain, you should really invest the extra bucks into getting this incredibly comfortable seat.
Designed specifically for sit-on-top kayaks, the seat boasts a lycra foam laminate padding system that provides pristine comfort, particularly for your lumbar area and removes the stresses from those sensitive pressure points.
Brass clips lock you securely to the top of your boat, and the straps are easy to adjust, even on the water, a big plus for those of us who tend to stiffen up and like to change our sitting position while on the water.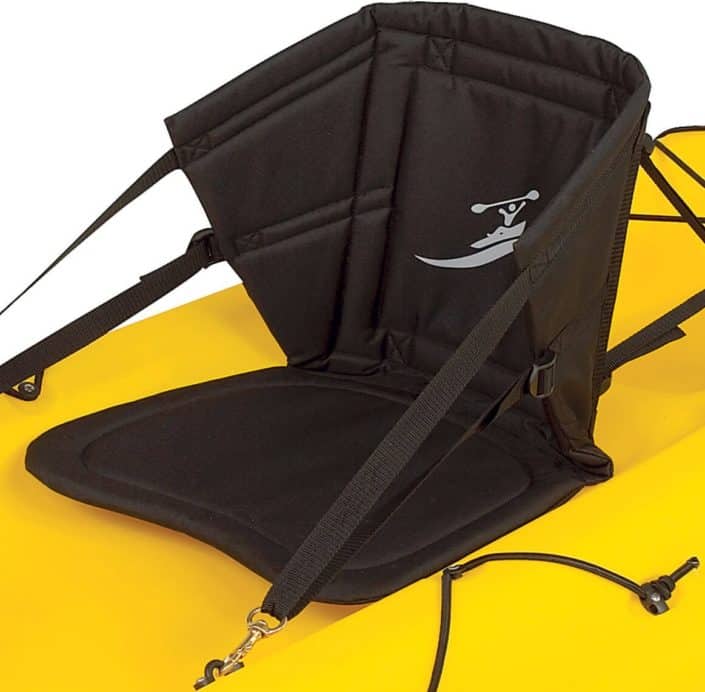 The Plus doesn't try to reinvent the wheel, and paddlers on extended trips will likely want something with a bit more padding, but for the low price offered, it's one of the best price-per-dollar kayaks out there.
Marketed for sit-on-top kayaks, it'll also fit in many sit-in models too as long as the cockpit is big enough. The seat has a wrap-around design that provides extra support. It'll get in the way if you're trying to fish or are into whitewater paddling. But it works great for recreational paddlers that like to lean back and relax from time to time.
I do wish the seat bottom had a little more padding. It may be worth bringing along some extra cushion in addition to the thin layer of EVA foam it comes with.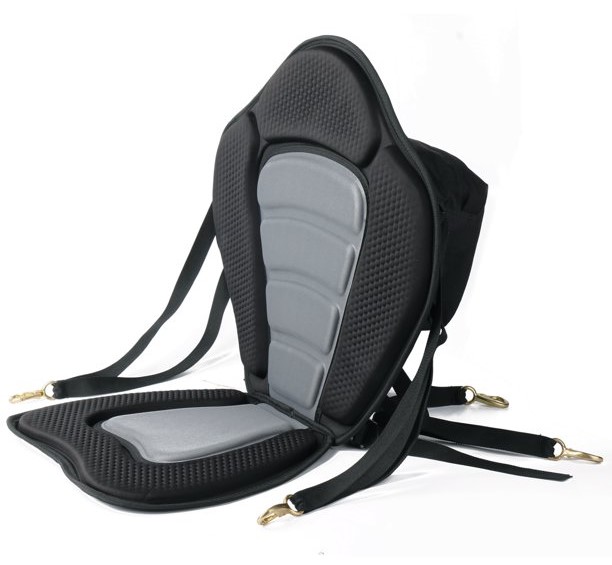 A little narrower than some seats, the Leader Accessories Deluxe has a ton of padding in an easy-to-adjust frame that provides maximum comfort for those hour-long crossings.
Instead of the standard EVA foam for padding, the Deluxe is stuffed with a molded foam alternative that conforms even better to your body and relieves the pressure from sensitive areas. The polyester exterior feels great and is designed to keep you cool on hot days while wicking away the water on the rainy ones.
The extra tall 18-inch back will make it appealing for taller paddlers. While it can be used for both sit-in and sit-on-top designs, it is a little more narrow making it best for sit-in kayaks with smaller cockpits.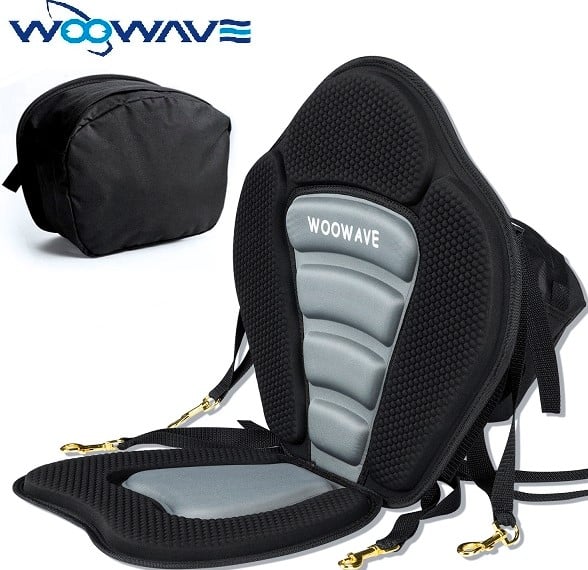 This super comfortable and flexible seat from Woowave could have gone in any number of categories and was a strong contender for best overall.
The seat can be used in both sit-in and sit-on-top kayaks and the easy installation allows you to easily transfer it from one boat to another. It even works with canoes or paddleboards. The polyester shell covers a foam-based EVA interior. The foam conforms to your body shape, giving you a custom fit no matter how big or small you are.
This padding is more than enough to keep the rim of the cockpit from digging into your back, a chronic problem I've experienced with many seats in the past. To top it all off, the seat's buckles and straps are corrosion resistant, allowing it to stand up to both fresh and saltwater for a long time.
Best Kayak Seat for Rough Water: Pactrade Marine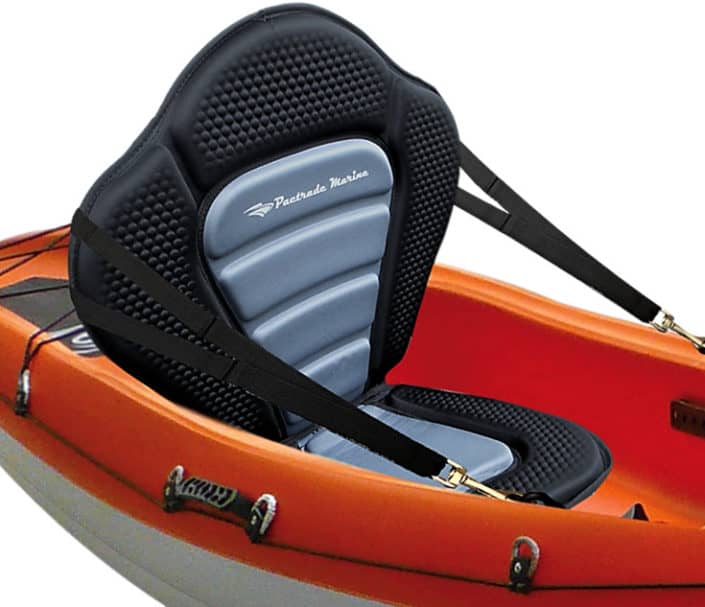 While most kayaking is done in calm water, those adrenaline seekers are going to want a seat that can stand up to their rough and tumble paddling style. For those of you that love whitewater or rocky ocean conditions, look no further than the Pactrade Marine.
It features a tough, non-slip exterior that will keep you firmly rooted in place as you careen past boulders or ride the waves. The polyester and neoprene is also extremely durable and can handle any rough collisions.
It isn't super well ventilated which is a strike against it. But they have included a nice zipper pocket to keep your valuables safely secured as you traverse rough conditions.
As a taller paddler, I've spent years trying to find a seat that will accommodate me on longer journeys. At long last, I stumbled across the Manta Ray Deluxe.
It's got a tall, 19-inch seat back along with a spacious 21.5-inch base that should fit most paddlers regardless of their size. Comfort comes in the form of a cushy EVA foam interior that contours nicely to your body while keeping you cool on hot summer days.
It can be used for both sit-in and sit-on-top kayaks, although the wider base will make it tougher to squeeze into narrower sit-in designs.
The biggest drawback is the price. It's one of the more expensive seats out there, so tall paddlers should be prepared to pay a hefty price.
How to Choose the Best Kayak Seat For You
Fabric
For the exterior of your seat, you'll want something that's both comfortable to lean against, but also tough enough to stand up to the elements.
In most cases, this will lead you towards synthetic materials like nylon, polyester, or neoprene. These materials are excellent at wicking moisture which will keep the water off of you should a wave come over the top and pull sweat away, providing a breathable contact point that's comfortable in all sorts of weather.
All three of these materials are pretty comparable and many seats use at least two of them in tandem to improve durability. If you have the option, lean towards seats made of nylon and/or neoprene as these materials are a little more durable than polyester.
Padding Types
There are three main types of padding used in kayak seats, two are foam-based and the other is made of gel.
The first type of foam is called EVA and is the most popular. Favored for its low cost, EVA is light and durable so you can expect it to last a long time without breaking the bank. This material does compress down over time though. This will cause pressure points to emerge and the level of comfort will deteriorate the longer you sit in it as pressure points will begin to emerge.
Another material is molded foam. More resistant to compressing than EVA, it's a better choice if you tend to paddle for hours at a time. It is more sensitive to temperature and doesn't tend to shed heat as well as EVA foam. If you live in a hotter region and paddle on those still summer days, you may prefer EVA for its more breathable qualities.
The final padding is also the most expensive and fragile. Gel-based seats compress very little over extended sessions and provide maximum comfort for your seat and back.
Cost is a drawback as is durability. Punctures and other mishaps can quickly diminish the seat's quality, so it's important to treat these seats gently and provide regular maintenance to ensure that it maintains its integrity.
When it comes to padding, thickness doesn't always equal more comfort. Overstuffed seats can make overheating more likely and will take longer to dry out. The location is much more important to overall quality than volume.
Dimensions & Back Height
Seat dimensions are most important for sit-in kayaks where the amount of space you have is already limited. Before you hit, "buy now" measure the dimensions of your seat space and make sure everything will fit.
You can never have too much back support. This is especially important for taller paddlers in sit-in kayaks. Many seats with shorter backs don't protect against the hard rim on the cockpit's perimeter. This can lead to your spine digging into this tough rib which can become unbearable after a little while.
For taller paddlers (over 6'), I'd recommend going with a seat back that's at least 16" tall and more if your kayak will allow. For sit-in boats with sprayskirts, don't forget that this needs to be able to fit over the top of your seat too.
Straps
I tend to fidget and change my position a lot when I'm paddling. Because of this, I value seats that have straps that are accessible and easy to adjust on the water. Paddlers should always make general adjustments before heading out, but if you're like me, make sure you can easily adjust your seat on the water too.
Straps should be flexible and able to provide a wide range of support back and forth as well as up and down.
Don't skimp on durability here. Sun and saltwater can quickly deteriorate low-quality materials, causing them to fray and break. Once broken, they can be difficult to fix and will probably need replacing. Make sure these weak points are corrosion and weather resistant. If they get soaked with saltwater, rinse the straps in fresh water after use.
Breathability
Especially important for warm weather paddlers, your kayak seat can quickly turn into an uncomfortable, sweaty mess if it's not properly ventilated. This is notable for sit-on-top kayakers whose seats will inevitably get wet since they offer no protection from the elements.
Synthetic materials like nylon or polyester provide a nice combination of water resistance while still allowing air to move through and keep you cool even if there isn't much of a breeze.
Storage
While it'll never provide a lot of volume, many seats come with zippered pockets where you can fit small personal items you may want access to on the water. Snacks and even small water bottles may fit too.
In most cases, these storage spaces aren't waterproof. So if you're looking for a place to store sensitive gear like your car keys, wallet, or phone, you're better off investing in a dry bag to ensure they stay dry.
Best Kayak Seat – Conclusion
With so many high-quality kayak seats out there today, there's no reason to paddle in discomfort no matter what your budget is. What's more important is making sure you know what sort of dimensions you have to play with and tailoring your purchase to the space you have.
We'd love to hear what kayak seats you love. What else should have made our list? Share your favorite seats and kayaking hijinks with us in the comments below.