One of the most overlooked but most important aspects of kayaking is getting it safely to and from the water.
Kayaks are sizable investments and the last thing you want is to skimp on the product that will keep your boat secure as you go flying down the highway.
In this article, we'll highlight the best kayak roof racks no matter your price range or boat type. So you can spend less time worrying about your boat and more time on the water.
Best Kayak Roof Racks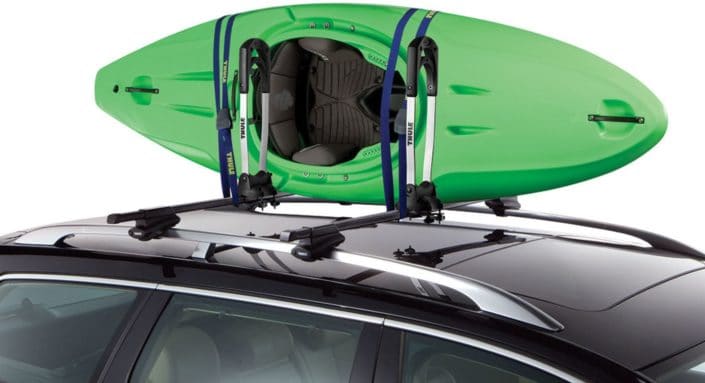 Cost-efficient and flexible, the Thule 830 is perfect for those looking to maximize storage space. The base set-up can carry up to two kayaks and can accommodate up to four with additional hardware.
Boats up to 34-inches wide can fit in the Thule 830 without any trouble with a max weight capacity of 75 pounds per kayak. This may price out some of the heavier boats, but there aren't many boats that are less than 34-inches that weigh more than 75 pounds anyway.
When not in use, the Thule 830 can be folded and secured to the top of your car, diminishing wind resistance and improving fuel efficiency on your non-kayak endeavors.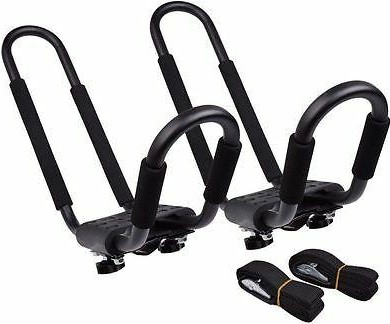 Just because you're watching your budget doesn't mean you have to sacrifice quality. This J-Bar from TMS is cost-efficient and provides efficient storage space. Installation is also a piece of cake thanks to the easy on-off hardware which makes it easy to remove the entire assembly when not in use.
It's not very weatherproof however and should only be used for smaller kayaks that are less than 36-inches wide and 75 pounds. Really big, heavy tandem kayaks should not be used with this model.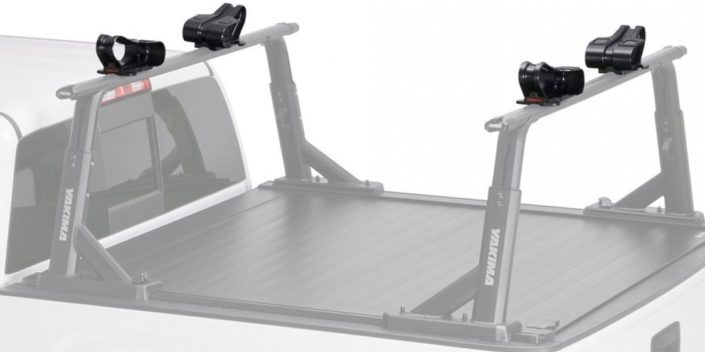 A big, beefy, saddle-style holder that can accommodate a single kayak weighing up to 150 pounds making the Yakima Big Catch perfect for those with over large fishing boats.
The oversized paddles create a perfect mounting point to your crossbars, and they conform to the shape of your kayak creating a natural saddle for it. Straps and tie-down for the bow and stern are also included.
Installation doesn't require any tools and the Big Catch will attach to most crossbars without any trouble.
A kayak rack designed to withstand the test of time. The 570 has been fully weatherized and is corrosion resistant.
The four rubber pads create a natural cradle for your kayak to rest in and provide excellent friction that will prevent it from sliding. Quick-release straps along with bow and stern straps are included giving you one of the strongest and sturdiest racks available.
Loading is made easier with the 180-degree rotation feature that makes mounting your kayak from the side possible and a huge plus for paddlers out on their own.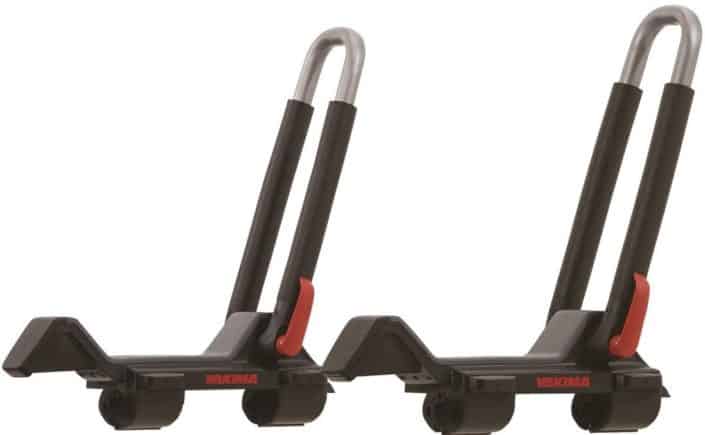 Another weatherized and corrosion-resistant design, the J-Cradle works great for those looking to squeeze out a little extra storage space. It's at its best with longer kayaks. So if you're a touring paddler with a longer boat, this may be the best rack for you.
It is a little bit larger than most, a product of the sturdy design meant to handle longer keeled boats. This may make it a little bit tougher to get your boat on and off the roof of your car, especially if you don't have a ton of upper body strength.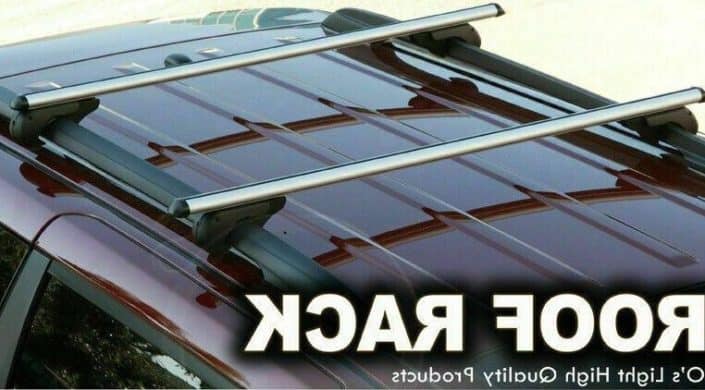 While the Vault Crossbar is obviously designed to be used with other Vault products, you can easily combine it with roof racks from other companies too. This makes it the perfect foundation for your kayak transportation system.
Designed to fit on 47-inch roof rails, this roof rack can also be used on its own to carry kayaks provided that you add some padding and the proper tie-downs. But for longer trips, it's best to use this sturdy crossbar as the foundation and add onto it.
How to Choose the Best Kayak Roof Rack for You
Types of kayak Roof Racks
Pads
A simple and easy method of transport. Padded set-ups are a non-uniform category that encompasses a lot of the basic designs for getting a kayak on a vehicle.
In most cases, it's some orientation of foam or another padded surface secured lengthwise along the top of the vehicle, generally secured to the top of the car via some sort of crossbar. This does give you versatility as the foam blocks can be easily moved and adjusted as you change kayak types.
But it's hard to secure your boats as tightly to your car as you may like and there's more potential for your kayak sliding back and forth.
I wouldn't use this method for long journeys or if you'll be traversing rough or steep roads, but it does fine if your portages will be short and easy. It's hard to quibble with how cheap they tend to be and their ease of installation.
J-Style
Arguably the most popular rack design available, J-style racks are space-efficient but don't sacrifice stability or security during transport.
The name is derived from the J-shape appearance when looking at the rack straight on. Kayaks are stored almost vertically, generally with the top of the kayak facing the taller side of the "J." This allows boats to be loaded from the side of the vehicle instead of having to heave it up from the back and run it the length of the car.
While this method works great for lighter kayaks or if you're on your own and need to load your kayak by yourself, it can be less advantageous if you use a larger or heavier kayak. With the J-Style there's no real way to "rest" the kayak against your car until it's actually in the strap.
The vertical storage method does free up the top of your vehicle for an additional kayak or a different type of storage roof rack. This makes them appealing to owners with smaller vehicles or longer commutes where storage is more of a premium.
Rollers
Like the J-style, a roller rack is another good option for independent paddlers. Rollers are similar to a conveyor belt, with a rack usually made up of two or three rollers which tend to be in sets of 2 or 4 wheels each.
This lets you load from the back of your vehicle. Once you get the bow on the first set of rollers, you can easily slide your boat from one set to the next until you have it properly centered.
While I'd still recommend the J-Style for solo paddlers strong enough to lift their kayak from the cockpit to the top of their car, I prefer the rollers for heavier boats. Tandem lifters can leverage the bow onto that first roller and then work together to push the stern up.
Saddles
Saddles are like a more intricate and secure foam pad set-up. These U-shaped pads are connected to horizontal bars secured to your car roof. The kayak rests in this sling with the hull resting on the bottom of the U.
Straps are pulled over the top of the kayak's deck and secured to the other side of the saddle. You can make the connection even stronger by tying the bow and stern of the boat to the front and back of the vehicle.
With enough points of contact, saddles carriers can be good for cross-country trips or along more hazardous roads.
They do take up more roof space since they're stored horizontally. If you only own a single kayak and don't need any additional roof storage space this may not be an issue. But smaller vehicle owners with multiple boats or the need to maximize roof storage may want to look at a J-Style model instead.
Crossbars
In most cases, crossbars themselves are not used for kayak transportation. Instead, they're used as mounting points for other various storage methods like Saddles or J-Style.
But you can use them for transport as well, though I'd recommend you only do so for short distances and that you also secure the bow and stern to the car as well to keep it from sliding back and forth in addition to side to side.
If you do go this route, use your crossbars in conjunction with some pads. Crossbars are usually metal which can damage fiberglass boats and are more likely to let your kayak slide around with sudden starts and stops.
Stackers
An even more extreme version of the J-Style, stackers store your boats completely vertical as opposed to J-Style which is usually around 45 to 60-degrees.
The kayak is then secured to a metal rack that is mounted vertically too, usually to a crossbar or something similar. This maximizes the storage space on top of your car and even smaller vehicles may be able to carry up to four kayaks at a time!
Since the boats are carried straight up and down, it does maximize the surface area exposed when you're looking at the vehicle head-on which will increase wind resistance and the likelihood of something hitting your kayak in transit.
SUV or Small Vehicle
Before selecting what type of rack you're going with, measure the surface area of your vehicle's roof as well as the dimensions of your kayak(s). Once you know how much of a space "budget" you have, you can make a more informed purchase.
For smaller vehicles, I'd seriously consider a vertical storage option like a J-style or stacker. Yes, your boat will stick up more which will increase wind resistance and decrease your gas mileage, but I really think what you get back in extra storage space is worth it.
Long vs Short Trips
I've done a few extended drives with my kayaks and it's by far my least favorite part of any trip. No matter how much you spent on your boat, it's important that you keep you and your fellow motorists safe no matter how long your run to the lake or ocean is.
Make sure that your racks and any associated straps or harnesses are in good working order. No matter the rack design, I rest easier if I tie the bow and stern of my kayaks to the front and back of the car. It may be a little bit of overkill, but the extra few minutes at the beginning and end of the trip seem like a worthy investment.
Never assume that you can get away without a secure set-up just because it's a short trip.
Kayak Weight
Most kayak racks are rated to hold a certain amount of weight. Always check these specifications before you purchase. Like a kayak's load capacity, never overload a roof rack. When in doubt, get one rated a little heavier.
This is especially important if you own one of those big, beefy fishing kayaks that can weigh a couple hundred pounds. You may have to transport these in the back of a big pick-up truck instead.
Lastly, make sure that you can safely get your kayak onto your roof rack safely. Even lighter kayaks can weigh more than 50 pounds, and that's a lot of dead weight to have that high above your head. When in doubt, always ask someone for help so you don't injure yourself or your boat.
best kayak roof racks – Conclusion
Hopefully, this article has reinforced the need to go with a high-quality and reliable roof rack that'll keep you, your kayak, and your fellow motorists safe. Be sure to read the instructions thoroughly and have a firm understanding of how your roof rack goes together before you set out.
What do you think of our list? We'd love to hear your feedback or other ideas. If you have anything to add, please add them in the comments below.