You don't want to risk your life by taking unnecessary risks, and you're absolutely right. 134 paddlers died in the USA in 2018, 86% of them found without a proper PFD.

In this article, we'll make sure you don't become another statistic by choosing a poorly fitted PFD.

To help you choose a lifejacket, we'll have a look at the five different types that exist, with a focus on the best ones for paddling.

Whether you're a kayaker, canoer or paddle boarder, you will learn how to choose the right PFD for you as well as your child or dog.

What You'll Need To Choose The Right PFD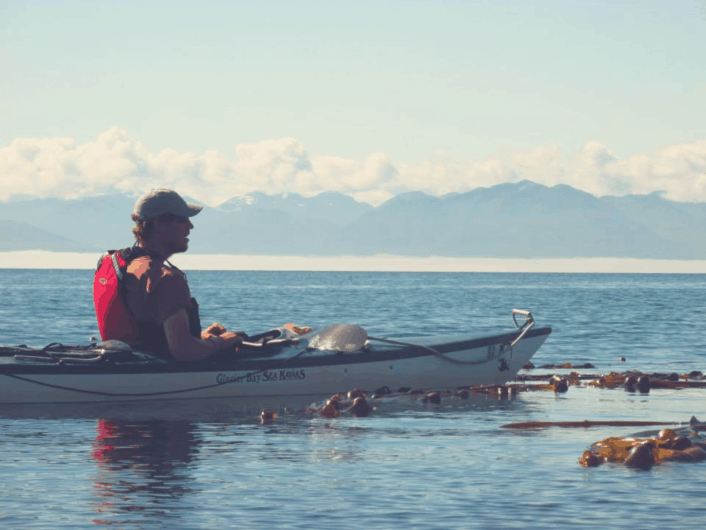 Ideally, you'll want to try the life jacket in person to make sure it fits. Going to a physical store is enough, although if you want to be extra careful you can also test the PFD in a real-life situation.
If this is not possible, then you can order a PFD online. Simply measure the widest part of your chest and correlate with the sizing guide of your prospective PFD.
The Difference Between A Life Jacket And A PFD
Athough the terms life jacket and PFD (Personal Flotation Device) are often used interchangeably, a life jacket is actually a specific type of PFD.

As the name suggests, life jackets are meant to be worn like a vest − with either a zipper in the front like a jacket or a clip along the side to secure them in place.

PFD refers to the five classes of flotation as categorized by the USCG (U.S Coast Guard). See the "PFD Specifications" section below for an in-depth description of these five types.

The main thing to remember is that a life jacket is designed to hold a person's head above the water. Whether you're a skilled swimmer or not, a lifejacket will allow you to breathe if you are knocked unconscious in a high-impact collision, which happens all too often.
Standard or Inflatable PFDs
There are two main types of PFDs on the market − the standard PFD and the inflatable PFD. Chances are the standard PFD is what you imagine when you think of a life jacket. They're usually made of foam which gives them buoyancy.

Inflatables are less intrusive and come in a couple of different models. More recently, a hybrid option has emerged that melds the two designs together.
Standard PFDs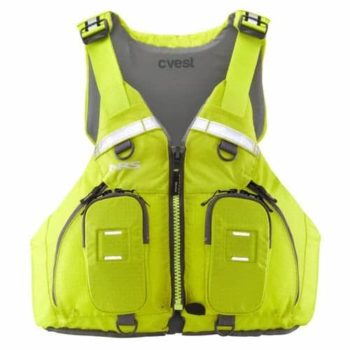 Standard PFDs require little care besides keeping them clean. To avoid corrosion to the zipper and other metal components, rinse your PFD after saltwater trips.

Standard life jackets are user-friendly and don't require any extra steps to be buoyant. This makes them best for individuals who aren't strong swimmers or children.

They are bulkier than inflatables, can feel cumbersome, and chafe if improperly sized or worn. Depending on your kayak model they may not interact well with your seat or spray skirt if not tested out beforehand.

Inflatable PFDs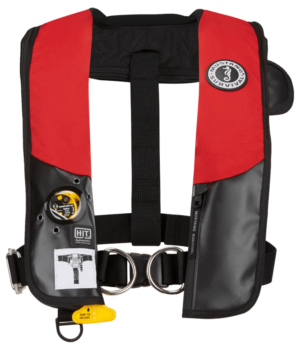 Unlike standard PFDs, this type must be inflated before use. This is usually done either manually with a cord or with CO2 cartridges that activate when they hit the water. Because of this, manual inflatables should only be worn by strong swimmers as they won't be buoyant when they hit the water.

The cartridge model inflates automatically but sometimes activates from splashing water. While more user-friendly, this can make them a frustrating choice for kayakers.

Inflatables require more maintenance than standard models, especially the CO2 types as the cartridges must be replaced after every use. Since the buoyant fabric isn't inflated when not needed, it must be dried and refolded into their zippered or velcroed compartments before putting away.

They are more comfortable than standard PFDs since they are not bulky when not in use. Design types are also more versatile with models in either the traditional vest style or waist packs that look like a fancy fanny pack.

Hybrid PFDs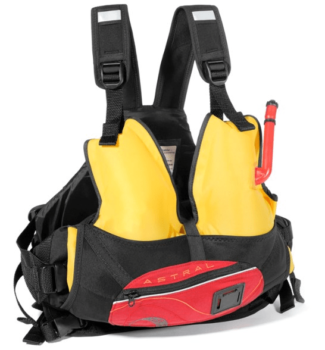 A hybrid blends the initial buoyancy of a standard PFD with the slimming style and convenience of an inflatable model.
It's the best type of PFD if you're looking for ultimate comfort without compromising on safety. The downside is they're noticeable more expensive than standard or inflatable PFDs.
Selecting the Right Size
As mentioned earlier, it's best to try on your life jacket before purchasing. A jacket that's too small will feel like a Victorian Corset and make it hard to breathe while wearing, whereas a jacket that's too large will float above your head.

Adults
When putting on a PFD for the first time, proceed as follows:
Loosen the straps on the sides and shoulders so it feels baggy.
Working your way up the torso, tighten the straps evenly on both sides.
Save the shoulder straps for last. If you tighten the shoulders first the PFD may ride too high on your chest to get an accurate fit.
The jacket should feel snug but comfortable.
If trying on in person, test it out as best as you can. Mimic the motion of paddling and get a feel for the range of motion. Pay attention if the PFD catches or rubs any part of your body or feels uncomfortable in any specific rotation.

If you plan on using it for kayaking and there's a boat available, try sitting in it and mime paddling. For standard PFDs, remember to think about how the PFD will interact with the seat of your personal kayak. I like to have mine rest just above the top of my seat so I can use it for extra padding if my back gets sore.
Children

Unlike adult models, special-made children PFDs are sized according to weight. These come in three categories:

Infant: 8-30 pounds
Child: 30-50 pounds
Youth: 50-90 pounds

Though smaller "tweens" may protest at the idea of wearing a "youth" sized PFD, it's important to adhere to the above guideline for everyone under 90 pounds. An oversized life jacket will do you no good. Even "XS" adult life jackets are not designed for this weight class.

It's still important to make sure the fit is proper. To do so, use the same methods you would for an adult PFD.
Dogs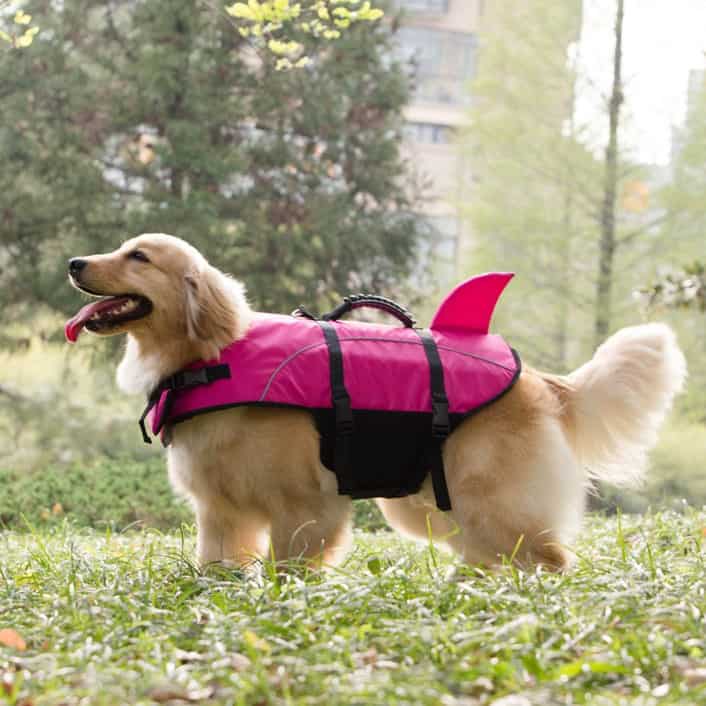 Don't overlook water safety for your canine companion! Even if your dog is a good swimmer, having a PFD for them is a good idea in case they tire or panic.

Like a human PFD, make sure your dog's PFD fits snuggly so they can't wriggle out of it and it will hold them high in the water. I'd recommend purchasing one with a handle on the back so you can grab and pull them free of the water.

PFD Features
Depending on what you plan on doing, make sure your PFD of choice has all the accessories you'll need. It's important to have room for any necessary emergency equipment and anything else you want close at hand while you paddle.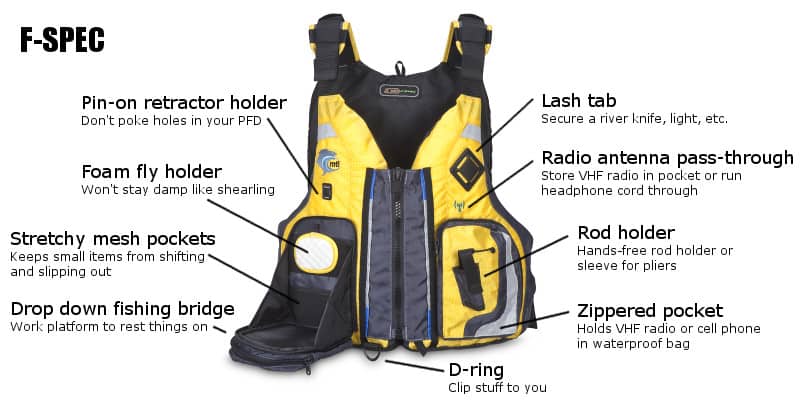 Example of a Kayak Fishing PFD
Pockets
Because it's always great to have a place for snacks. Check their location on the PFD as well as their size. Make sure the pockets zip or clip tight so nothing can fall out.
Tabs
These are great for attaching a knife or clipping on a radio, satellite phone, or GPS. Most PFDs list the number of tabs they come with and where they're located on the jacket.
Ventilation
More important if you plan on paddling in warm climates. Some PFDs have built-in vents to help keep you cool.
Color
Style is important but safety is paramount. Select a PFD with a bright color scheme that is easy to see. While it may be tempting to pick a natural or "earthy" color, dark green or blue color schemes blend in with the water.
Reflective tape
Many PFDs come with reflective tape stitched into the fabric, which helps coast guards search for you in low light conditions if you're missing.
Fishing
If you plan on doing a lot of fishing, it's worth investing in a PFD that is specifically made for kayak fishing. Many have pockets designed to hold fishing tackle and lures. Look for one with various attachment points for fishing tools and a rod holder.
Crotch straps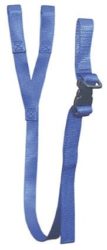 Most PFDs don't come with these and they must be purchased separately. The majority of brands make straps that are universal fit and attach to most PFDs. These straps are meant to hold you in a safer orientation while floating.
Light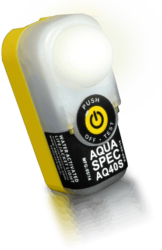 Not available on most life jackets, but a worthy purchase. If you decide to go this route, select a model that activates when immersed in water.
Whistle
Simple enough to incorporate, every paddler should have a whistle on their PFD. It's easy to loop a piece of string through one of your PFDs shoulder straps and tie a whistle to it.
They can be useful in non-life threatening situations to get the attention of your fellow paddlers.
Personal Locator Beacon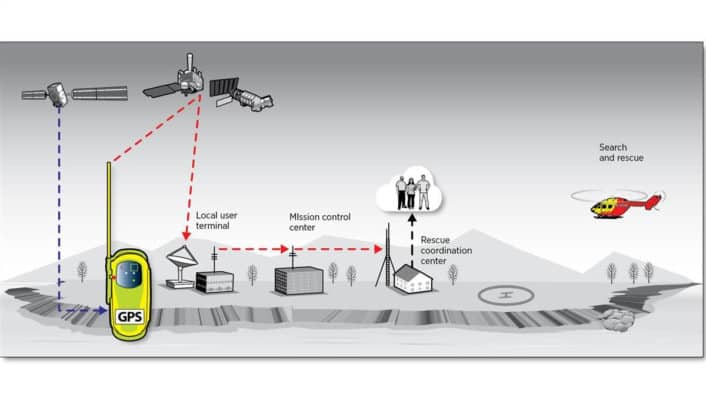 Here's how a Personal Locator Beacon works
Great if you plan on paddling in the wilderness or in sparsely populated regions. Many have an "SOS" button that alerts nearby emergency personnel when pressed.
Look for one with a reliable GPS to help you find your way, and if available get a subscription that allows you to text or email updates to someone back home.
PFD Specifications
Flotation
More commonly referred to as buoyancy, flotation refers to the amount of force in pounds needed to keep a person's head above water. As a rule of thumb, most adults need between 7 and 12 pounds of force to stay above the surface.

The amount of flotation should be listed on the tag of your PFD. Rest assured, any quality PFD will provide at least 12 pounds of flotation, but this can be useful when comparing individual models. For example, heavy-duty Type I PFDs can have 30+ pounds of flotation while Type III PFDs are usually around 15 pounds.
Type I
The most buoyant of the five types and suited for all water conditions. Their bulk makes them uncomfortable for everyday use and leaves them best suited for rough, isolated ocean conditions where rescue can take time.
Type II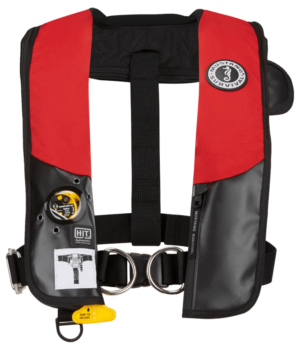 Similar to Type I in that they are meant for isolated and rough conditions. Slimmer and more comfortable to wear, they're preferred by trans-ocean sailors that need more range of motion than a Type I can offer.
Type III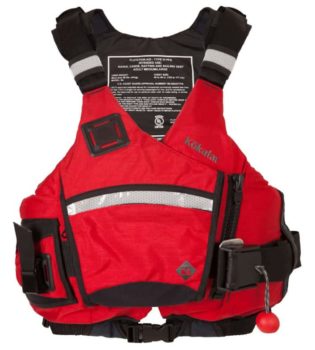 For inshore or nearshore use, they allow freedom of movement while still keeping the wearer buoyant. These are the best PFDs for paddlers. Many are engineered to remain attached for high-speed impact with the water.
Type IV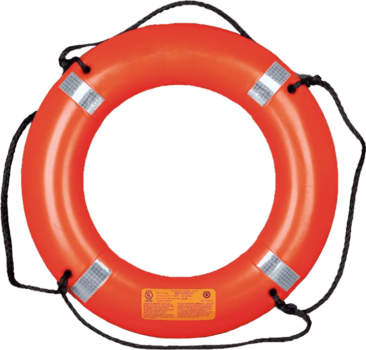 The classic life ring you see at the swimming pool or on the back of the boat. Type IVs are not meant to be worn but thrown to a person who has fallen overboard. In addition to the life ring they can also be a specially designed cushion or buoy.
Type V
A specialized category, Type V's list the specific activity the PFD has been designed for on the label. They will also list if they identify as a Type I, II, or III.
Final Thoughts
As mentioned earlier, 85% of deaths among paddlers are due to a poorly-fitted or nonexistent PFD.
With this article, my goal is to help you choose the right PFD for your needs so that you can not only wear a proper PFD, but also educate others who might not be as informed as you are.
Sadly, many paddlers choose not to wear their lifejacket because it's too uncomfortable. By applying the tips you learned in this article, you'll be able to choose a life jacket that doesn't hinder your movements while saving your life in case of an emergency.
I hope you found this article useful, and if you have a favorite brand or style, let me know in the comments below!