The Pungo has been one of the best-selling recreational kayaks for around 25 years.
Considering it's in the highly competitive mid-range kayak market, this is pretty impressive.
In this Wilderness Systems Pungo 105 review, we'll see if the Pungo still deserves its place as one of the best recreational kayaks under $1000.
I'll also talk about what this kayak isn't made for, and what I wish they had improved.
Read on to find more.
[Spoiler Alert: For calm rivers and small lakes, the WS Pungo 105 is the best value recreational kayak. If you're under 180 lb and you plan on doing recreational trips, you really can't go wrong with the Pungo. However, it's often out of stock so you might have to wait until next year to get yours…]
Things to consider before buying a Recreational Kayak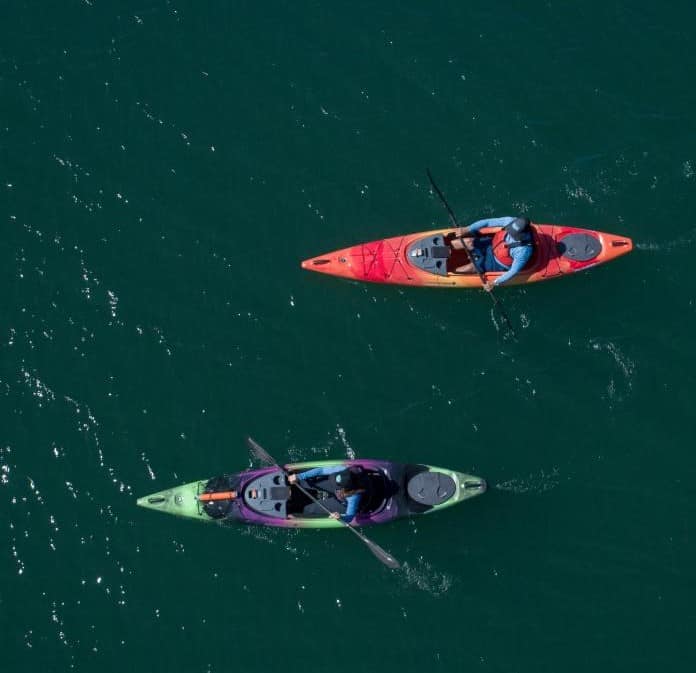 If this is your first kayak, you should think about where you will be using it.
If you want to paddle class 3 rivers you'll need a different kayak than the Pungo 105.
But for calm lakes, rivers, and swamps, the Pungo 105 will be a good fit.
That said, I would recommend not overthinking it, as most paddlers will change boats after a few years as their preferences change over time.
Fortunately, recreational kayaks are very durable and can be sold at a good price on the second-hand market, so it's easy to upgrade to a better one later on.
Speaking about durability, please keep your kayak out of the sun when not in use. Otherwise, UV rays may warp the hull over time.
Finally, I have to warn you not to take this boat on open water. Even on calm days, you never know when the wind may turn.
If a wave hits you hard and you flip the boat, it will be extremely difficult to get back in if you can't touch the ground with your feet. Therefore, I'd recommend staying within swimming distance of the shore at all times.
The above is true for most recreational kayaks, although we'll see some alternatives for open water at the end of this article.
wilderness systems pungo 105 Specifications

Length: 10 ft 6 in
Width: 30 in
Cockpit Dimensions: 22" x 56"
Weight: 47 lb
Load Capacity: 300 lb
wilderness systems pungo 105 Design
Material
Like most recreational kayaks, the WS Pungo 105 is made of polyethylene.
This material is virtually indestructible. It will handle collisions, rocks, submerged tree branches, and anything you throw at it.
The downside of polyethylene is it isn't as fast as fiberglass kayaks. But it's also cheaper and doesn't need as much care.
That's why it's the default material for recreational boats − you probably don't want your boat to break in the first week because of a lack of knowledge.
Speed
I'll be honest − I was quite surprised with the Pungo 105.
Since it is a recreational kayak, with a wide beam and a short length, I expected it to be very slow.
But I was pleasantly surprised to see it's actually faster than its competitors in the same price range.
The V-hull helps a lot to make it faster, although you lose some primary stability (more on that below).
I found I could get a reasonable 3 mph cruising speed with the Pungo 105, which is very good for a recreational boat.
I wouldn't take it in strong winds, but in light currents and slow-moving rivers, it would perform adequately.
Maneuverability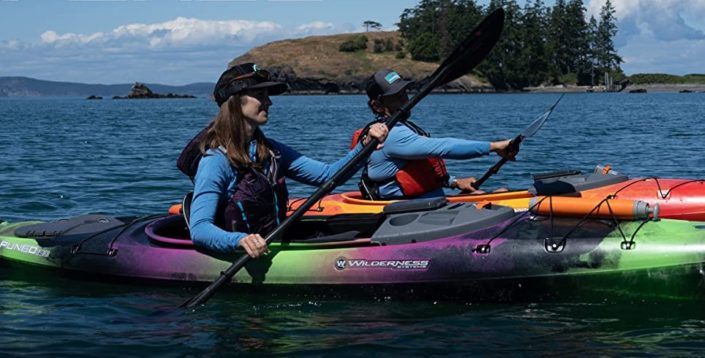 Being so short at 10 feet long, the Wilderness Systems Pungo 105 is very easy to maneuver.
You could easily take it in class I and class II rivers, and avoiding obstacles won't be a problem.
I really like the great secondary stability that allows you to put it on edge and do sharper turns if you need to.
Of course, I must remind you that this is a recreational kayak. So if you plan on doing whitewater kayaking − please get yourself a better-suited kayak!
Comfort
As expected for this price, the WS Pungo 105 has a very comfortable, quick-drying seat.
The seatback can be adjusted back and forth, and you can also set it higher or lower.
What I love about the seat is the handle that you can pull to get support under your legs. This is huge to be comfortable if you plan on paddling for a full day.
The padded cockpit rim is a nice touch to make sure your legs stay comfortable.
The footpegs are fully adjustable, and as a 6" guy I use them only at ⅔ of the way. So this means you could easily fit in this boat even if you're 6"3 or taller.
I was worried the dashboard was going to be a nuisance, that I'd hit my knuckles on it or feel uncomfortable at the knees… but it turns out there's a lot of space in the cockpit. I don't feel confined at all. I might not use it every time I go out, but it doesn't bother me.
Stability and Tracking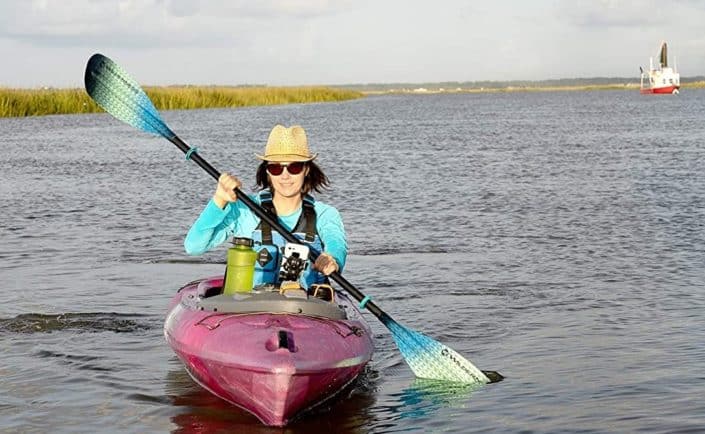 As quickly mentioned above, Wilderness Systems has decided to make a small trade-off on this boat to get more speed.
Unlike most recreational kayaks that have a flat hull, they decided to go with a V-shaped hull.
What this means in layman's terms is that you will lose some primary stability (you'll feel unstable when sitting in) but you will be much faster on the water.
The Pungo 105 still feels extremely stable and I'd be comfortable giving it to beginners. Besides, it has great secondary stability which makes it hard to flip.
The other huge advantage of the V-shaped hull is tracking. This boat tracks great even in the wind and light currents, which makes it ideal for small lakes and rivers.
Remember this is a recreational boat, so you shouldn't take it on open water. Not only can the wind lift at a moment's notice and blow you off course constantly, but you might capsize, and getting back in will be a challenge.
Durability
As mentioned above, the Wilderness Systems Pungo 105 is a very durable kayak.
I'd be amazed if you managed to punch a hole through the hull, and if you did, you'd be covered by Wilderness System's lifetime warranty.
I've never heard any complaints about parts breaking down (like the console or hatch), so it's a pretty solid boat.
Portability
At 47 pounds, this is a very light kayak.
Anyone should be able to get it to and from the water without extra help, particularly given the short length.
Loading it on top of a car or SUV will also be easy, you don't need a pickup truck or a trailer.
It has sturdy handles at the bow and stern, but no side handles (as expected on a boat this light).
Compared to most fishing kayaks I review on this blog, this one is twice lighter than the lightest of them… so, really, you won't have any problem carrying it.
And if that weren't enough, the Pungo 105 has a replaceable skid plate on the stern. This means you can drag it on rocky beaches without damaging the hull.
Pungo 105 Features and Accessories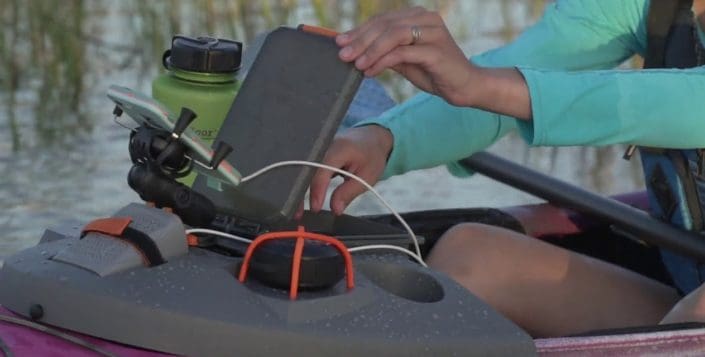 The first obvious feature that comes to mind is the removable dashboard.
The dashboard has a removable dry box to keep your phone and car keys, as well as two cup holders, a small battery compartment, and two small gear tracks.
These gear tracks are useful to mount a rod holder, a fish finder, a GoPro, or a phone holder.
This makes the Pungo 105 very versatile whether for recreational touring trips or as a recreational fishing kayak.
Regarding storage, there are deck bungees on the bow and stern to store your gear, as well as a dry hatch at the back.
Please note there is no tankwell storage, as the Pungo 105 is a sit-in kayak and not a sit-on-top.
That said, I would have liked extra gear tracks behind the seat to add one or two extra rod holders for fishing.
wilderness systems pungo 105 Fishing Ease
If you want to buy the Pungo 105 as a fishing kayak, you should know it's mainly a recreational boat.
This means that it's a bare-bones model that comes with almost zero fishing features.
Apart from the two small gear tracks at the front, you have no dedicated rod storage.
There are no rod holders, no pockets for tackles, and not much room to put your fishing gear…
Overall, for a very light recreational fishing session, the Pungo 105 will be fine.
But for anything even remotely more serious than that, I'd consider a proper fishing kayak like the Wilderness Systems ATAK 120 or the Old Town Sportsman 106 which cost about the same.
Who is the WS Pungo 105 for?

I think you've understood by now, the WS Pungo 105 is a recreational boat made for people who want to have more speed and better tracking.
For under $1000, it's really hard to find a better recreational kayak that will be able to go in slow-moving rivers and small lakes.
Paddling all day long will be much easier, and overall more fun for beginners.
Rest assured the primary stability is still very good, as long as you learn how to properly get in the kayak you won't feel unstable.
The Pungo series has been a best-selling recreational kayak for more than 20 years, and to date, it still is better than most in this price range.
wilderness systems pungo 105 Alternatives
Wilderness Systems Pungo 120

The WS Pungo 120 is the longer brother of the Pungo 105.
As such, it is more suited for people over 6"3 tall or over 170 lb.
Because it's longer, it is also slightly faster, and a little bit less maneuverable.
For overnight trips, you can carry your camping gear more easily.
But overall, the difference is pretty small between the two kayaks, so I would pick whichever is better suited for your size.
Aspire 105

With a full 100 lb higher weight capacity as the Pungo 105, the Aspire 105 is made for big guys.
As such, this means it will be slightly slower than the Pungo 105, but the built-in skeg does help it track better.
Unlike the Pungo, the Aspire 105 has no bulkhead, which makes it even less suitable for open water (although neither is fit for the task).
Finally, the Aspire has a higher deck which makes it better for lakes and rivers.
All that said, if you're under 180 lb I would get the Pungo 105.
Delta 12.10

In case you're mistakenly looking into the Pungo 105 for big lakes and open water, the Delta 12.10 is a great alternative:

Of all the boats mentioned above; it's the only one you can safely take on open water.
As a recreational touring kayak, it will be faster and track better than the Pungo 105.
Its narrow cockpit also allows you to perform more advanced paddling techniques, such as putting it on edge to make a sharp turn.
It has two dry hatches, the rear one being significantly bigger for overnight trips.
Overall, if you plan on covering long distances or using your recreational kayak on open water, the Delta 12.10 is a much safer bet.
wilderness systems pungo 105 – Wrapping It Up
To sum it up, the Wilderness Systems Pungo 105 is a really great recreational kayak at this price point.
If you're looking for speed and stability, I think it's really hard to beat.
For small lakes and rivers where you'll be paddling close to the shore, the Pungo will allow you to have a ton of fun on the water.
However, being so popular means it's often out of stock…
Unfortunately, by the time you read this review, it might already be unavailable. In this case, you'll have to wait until next year to get one.