Not everyone needs a big heavy kayak that can handle big surf and challenging water. But that doesn't mean you should accept a low-quality fishing kayak.
After using this boat for the past few weeks, I must admit I was quite impressed with its performance for such a small kayak.
In this Vibe Yellowfin 100 review, I'll tell you what I loved the most about this small fishing kayak, and what I think could be improved.
Spoiler alert: It's filled with features, great for tight turns and narrow rivers, and one of the most efficient and well-designed boats in its class.
Pros:
Short keel is easy to maneuver
Comes with paddle holders and scupper plugs
Tons of custom options
Cons:
Rudder not included in base package
Subpar speed
Not a lot of dry storage space
Things to Consider Before Buying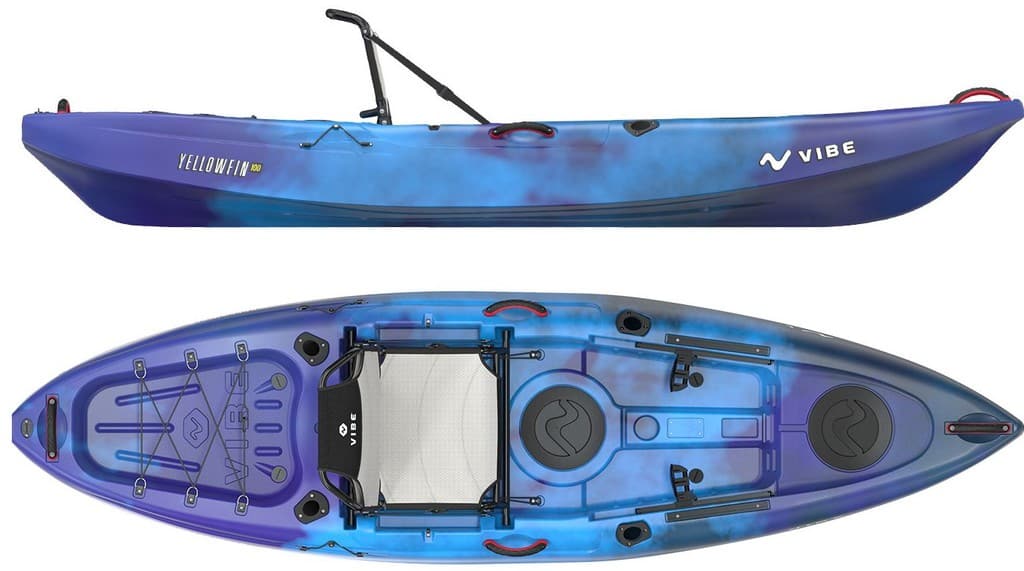 The Yellowfin 100 features a "sit-on-top" design which is the prevalent model for fishing kayaks. These boats have big, open kayaks making it easy for users of all ages and sizes to get in and out with minimal trouble. There's plenty of leg room and the seat is comfortable and adjustable.
But the design offers minimal protection for the paddler from the elements with your entire body exposed. If you live in a cold, wet environment or plan on being in a lot of rough water, you'll want to invest either in the proper rain gear or look for a different boat.
Sit-in kayaks like the Tsunami 125 are narrower with a more protected cockpit that encloses your legs and lower torso. If you use a spray skirt it will keep most of the water out of the hatch making for a drier and more enjoyable paddle.
As a hard-sided boat, the Yellowfin 100 does require more dedicated storage space. If you live in a tiny apartment or lack a good storage area, you may want to go with an inflatable kayak that can be kept in a hallway closet.
Specifications
Length: 10 feet
Width: 32 inches
Weight: 51 pounds
Load Capacity: 375 pounds
Design
Material

Virtually every fishing kayak is made of the same tough plastic material called polyethylene. Chosen for its excellent rigidity and durability, polyethylene can handle almost and drop, bump, or collision both on and off the water.
It is noticeably heavier than other popular kayak materials like fiberglass, but lasts much longer with minimal maintenance.
Speed
While the Yellowfin 100 is narrower than a lot of fishing kayaks, the short keel doesn't lead to good top speed. If you're out for the day in small bodies of water, the slower speed probably won't matter much.
But if you're out with a group or need to travel a fair distance to reach your preferred fishing spot, be prepared to lag behind your friends and take a little more time to reach your destination.
Maneuverability
The short keel and narrow hull come in handy in the maneuverability department. Capable of sharp turns with a few simple paddle strokes, the Yellowfin 100 shines in tight corners or narrow, winding, rivers. The responsiveness will be appreciated by all paddlers, but especially newcomers that are just getting the hang of kayaking.
Comfort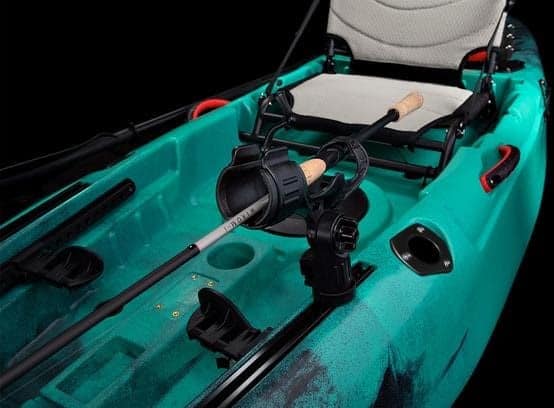 All the maneuverability and fishing features in the world won't do you much good if you can't stand sitting in your kayak for more than an hour at a time.
Vibe has gone out of their way to make sure that doesn't happen. Their self proclaimed "hero seat" lives up to its name.
A pair of strong, flexible straps allow you to seamlessly change the seats lumbar support both on and off the water. The seat frame is strong, well-padded, and has a mesh exterior that promotes airflow and will keep you cool on those calm and hot summer days. In this price range there are few seats I like more than Vibe's hero seat design.
Stability & Tracking
You may expect a small and narrow boat like this to feel wobbly underneath you. But that's not the case with the Yellowfin 100. It feels more than stable enough in calm to moderate conditions, and can handle any sudden shifts in weight that may occur while you're reeling in your catch.
On rivers it can even handle class I and II rapids, though I'd recommend only more experienced paddlers try this. It's not rated as stable enough to stand and cast from.
Another consequence of short keeled boats is subpar tracking. Wind, waves, or tide can make it tough to maintain your course while stopping and trying to cast can be tough if it's not calm.
Vibe does sell a rudder that you can install with minimal difficulty, but one isn't included in the base package. If you plan on being in turbulent waters including faster moving rivers, I'd recommend investing in the rudder. It's a one time purchase that will make your fishing trips easier and a lot less frustrating.
Durability
Like we already talked about, polyethylene is a tough material. There's no reason to worry about an underwater hazard like a rock or submerged log damaging your boat.
That said, there are a few things you can do to ensure your Yellowfin 100 lasts a long time.
The boat doesn't come with a skid plate on the hull, so if possible, refrain from dragging your boat long distances. It may not punch a hole in the hull, but you'll cause the hull to peel and scratch which can reduce your paddling efficiency. It's already a slow boat, you don't want to compromise it any further.
Store your boat out of direct sunlight when not in use. Prolonged exposure to UV rays can cause the plastic to warp and weaken eventually.
Portability
For the solo paddler, the Yellowfin 100 is one of the easiest boats to transport. Weighing just 51 pounds, the ten-foot keel is one of the easier boats to carry by yourself over short distances. It will fit in the back of a lot of trucks and a simple kayak rack is all you need to outfit a smaller vehicle for safe transport.
For carrying, the kayak has two flexible grip handles, one each on the bow and stern. This makes tandem carries, even over longer distances safe and easy.
Features & Accessories
While the base package doesn't include a paddle, Vibe has thrown in a few extra features that all anglers can appreciate.
The boat comes with two "paddle parks" (Vibe's name for paddle holders). These are indispensable when you're fishing. The last thing you want is to see your paddle floating away while you're wrestling with your catch. It amazes me when fishing kayaks don't include these and I'm glad Vibe recognizes that.
The boat has 8 scupper holes and the plugs are included. You probably won't use these often, but they're great in rough water and keep your boat from swamping.
Fishing Ease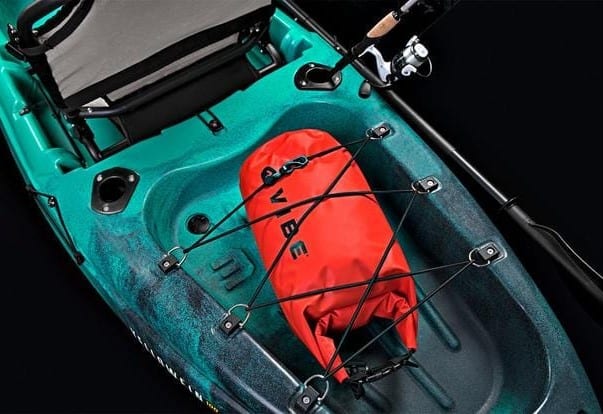 A quartet of flush mount fishing rod holders are built into the boat's hull, all of which you should be able to access with little trouble from the cockpit.
The boat comes with a pair of gear tracks in front of the seat. Easy to customize, it allows you to outfit your boat with whatever accessories you want. Whether you want additional rod holders, a GPS or GoPro, you can do it all without having to take a drill to your brand new boat.
Another, rectangular mount central console is in front of the seat which allows for further customization and is compatible with most gear track accessory companies. A tackle box and cup holder are also easy to access from the seat. I especially like the "tackle tray" system which makes quick tackle switches easy.
In addition to this central storage space in front of the seat, Vibe has two other dedicated storage areas.
The first one in the bow is watertight with an 8" hatch. Complete with waterproof dry bags, the prudent packer can cram an awful lot into this space. It may even accommodate your camping gear if your tent is small enough.
The biggest storage area is in the stern. The big, tank-well storage space is open to the elements so make sure that any water-sensitive gear is stored in dry bags. The inlaid design has deck bungees stretching across the top to keep your gear secure. It's a great spot for a larger tackle box or cooler.
Value
Small and light, the Yellowfin 100 is a great fishing kayak for the more economical angler. In this case, cheaper doesn't mean you're getting a lesser product. This boat comes filled with features, custom options, and ample storage space.
If you're going to spend your time on smaller bodies of water and don't mind a slower kayak, this is one of the most well priced boats out there and I'm impressed with all the features they've managed to cram into the short and narrow hull.
My only wish is that they'd included a rudder in the original design. But this feels like a minor nitpick and is easy to install only your own if you want to.
Alternatives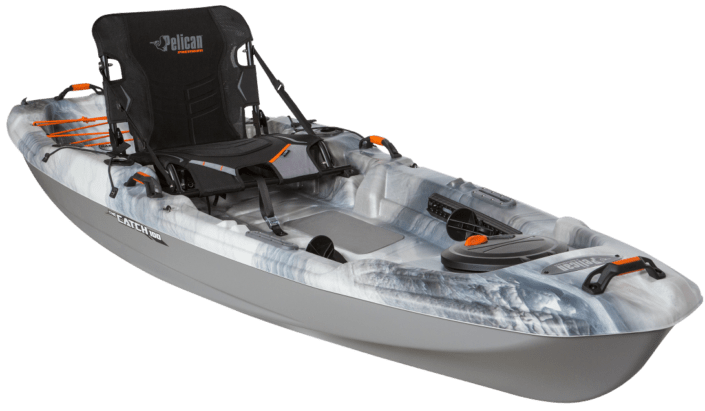 Despite the smaller frame, the boat is wider than the Yellowfin 100 and the pontoon-style hull makes it very stable.
You get plenty of deck space, adjustable seat levels, and a great platform to stand and cast from.
While it still has decent top speed when compared to other ten-foot kayaks, that's not saying a whole lot.
Some retailers were offering Catch 100s with a pre-installed rudder to aid in tracking and turning. But with a shorter keel, it already performs well, especially in calm water.
Storage space is an odd quirk. The bow storage area isn't watertight. The hatch opening feels too small, and the side closest to the seat is open. This can lead to gear sliding and moving toward your seat as you paddle.
Short keel makes it one of the easiest angling kayaks to store and transport
Bow hatch storage quirk is frustrating and confusing
Stable enough to stand in
Read our full review of the Pelican Catch 100.
Vibe Sea Ghost 110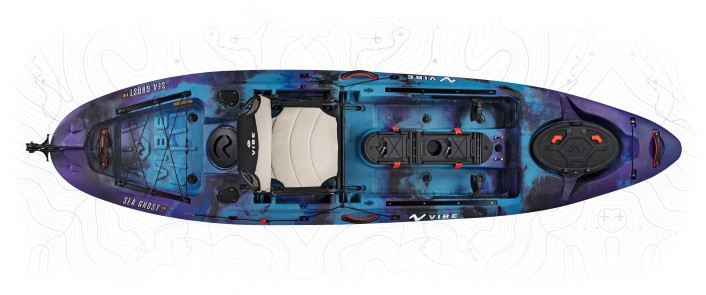 A similar design from Vibe, the heralded Sea Ghost 110 comes packed with features without compromising stability.
A little longer than the Yellowfin 100 and featuring a larger load capacity, it's capable of handling some more challenging conditions than its smaller cousin.
Along with the big load capacity, the Sea Ghost 110 from Vibe has excellent stability and one of the comfiest kayak seats on the market.
Plenty of customization options allow you to outfit your kayak however you want. The most notable is the watertight central console in front of your seat that can have a fishfinder installed on top of it.
Large load capacity makes it better for multi-day adventures
Excellent stability (though not safe to stand on)
A host of ways to customize to your liking
Read our full review of the Sea Ghost 110.

A bigger and beefier version of Pescador's base model. The big difference is the additional custom features that put it on par with many of Vibe's products.
You get additional gear tracks for mounting gear and a sturdier set-up for installing a fishfinder than the Pescador 10's recessed well.
The seat has a few modifications as well. It's "stadium-style" and can be adjusted up and down in addition to back and forth, allowing you to get a better view of the water and cast further and with greater accuracy.
Seat can go up and down
Plenty of custom options
Smaller load capacity of 325 pounds
Read our full review of the Pescador Pro 100.
Conclusion
With excellent maneuverability and outstanding stability for a boat this size, the Yellowfin 100 is a boat that can appeal to both experienced anglers and those just getting started.
The slow top speed and poor tracking are blemishes but it's understandable with a boat this size. As long as you're not taking it into big water, the Yellowfin 100 is a great fishing boat.