After taking this Kayak/SUP hybrid on the water a few times, I want to give you my honest opinion.
In this Perception Hi Life 11 review, I'll tell you who this kayak/SUP is for, and what it cannot do at all.
[Spoiler Alert: The Hi Life 11 is a great kayak/paddleboard hybrid for supreme stability without sacrificing speed. For short recreational trips, it makes for a super fun vessel. Big guys beware: it's not recommended for anyone over 180 lb.]
Things to Consider Before Buying a Hybrid Kayak/SUP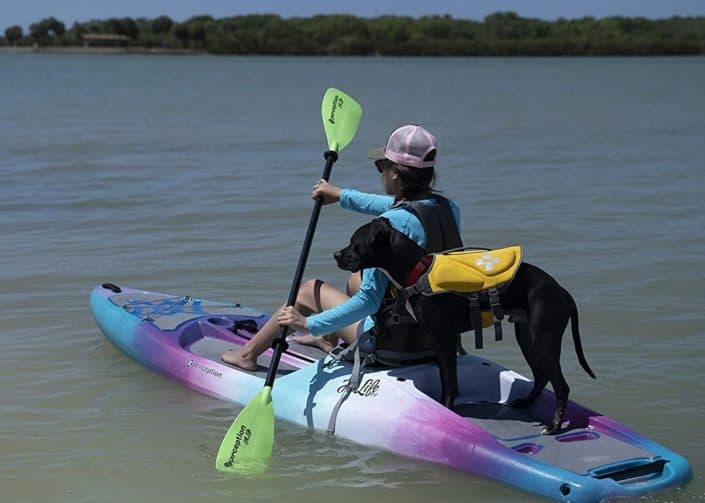 If this is your first kayak/SUP, you should think about where you'll want to go most of the time.
For instance, the Hi Life 11 is perfectly suited for calm water, and it's good for the open ocean as long as you stay close to the shore.
But for class 2 whitewater or faster-moving rivers, you should get a proper whitewater kayak.
That said, Hybrid Kayaks/Paddleboards are known for their amazing stability for beginners, and the High Life 11.0 is no exception.
If you want the ability to stand or sit at will, without sacrificing speed, then the Hi Life is a good bet.
However, the small weight capacity of 280 lb means people over 180 lb should find another boat.
Finally, please remember to keep it out of the sun when not in use. Over time, the UV rays could warp the hull and render the kayak unusable.
Perception Hi Life Specifications

Length: 11 ft
Width: 34 in
Weight: 55 lb
Load Capacity: 280 lb
Perception Hi Life Design
Material
The Perception Hi Life 11 is made of high-density polyethylene.
This material is virtually indestructible and will handle collisions, tree branches, rocks… and anything you throw at it.
It won't be as light and fast as a fiberglass kayak or SUP, but it needs almost no maintenance and will last you a lifetime.
Speed
At 11 feet long, the Perception Hi Life won't break any speed records.
Being a SUP Hybrid means it's not as fast as a standard kayak, but it's very stable and versatile for recreational paddling or fishing.
On average, I get a cruising speed of 2.2 mph, which is good enough for recreational paddlers.
Maneuverability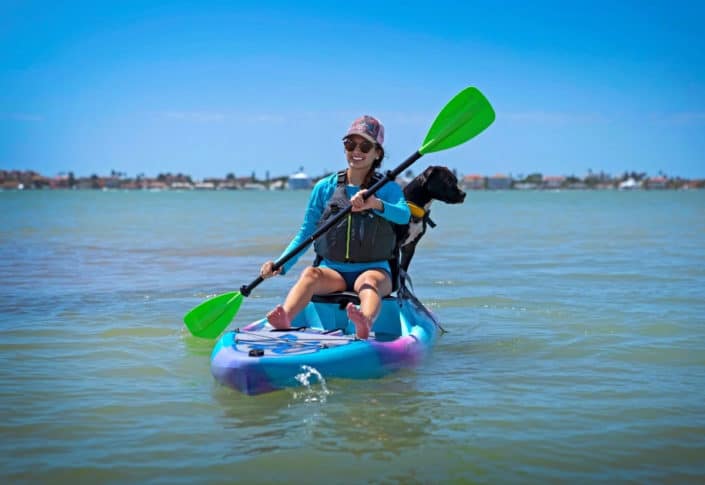 Because of the flat hull, the Perception High Life 11 steers really well.
You won't have any problems taking this kayak on narrow rivers and avoiding obstacles.
I was surprised to see it turn so well, even when standing up.
However, if you need to make sharp turns I'd suggest removing the skeg.
Also, the skeg is a hindrance if you're alternating between deep and shallow water. In this case, I'd also recommend removing it.
Comfort
The Perception Hi Life 11.0 has a great seat height which makes for a perfect paddling position.
The seatback can be reclined while on the water by using the straps on each side. However, you can't adjust it forward or back, and the height isn't adjustable either.
I also feel like the seat is pretty uncomfortable if you want to paddle for more than 2 hours. After a long day on the water, my butt starts to hurt and the seatback isn't tall enough.
Of course, if you're using it as a SUP then seat comfort won't be as much of an issue, but still… they could have done better.
Finally, there are two little hand mounts at the stern so that you can go for a swim and get back on the paddleboard very easily.
Stability and Tracking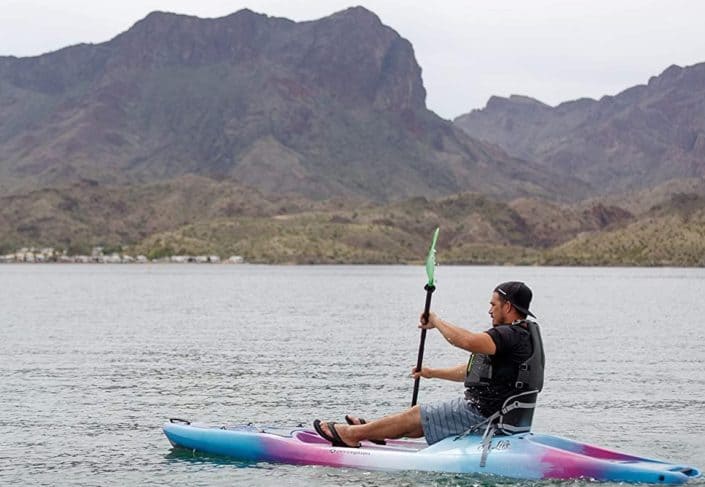 First of all, the Perception Hi Life 11 is a very stable kayak, thanks to the Hybrid SUP design.
People up to 180 lb will feel very comfortable when standing, and it doesn't feel tippy at all thanks to the flat bottom.
In the open ocean, the High Life 11 handles big swells like a champ. I've even surfed with it, that's how stable it is.
There's some deck padding so that you don't slip when standing up or sitting down. Overall, for an 11-footer I'm amazed by how stable it is.
By the way, for people with limited mobility, there's a stand-assist strap. And the seat height really helps standing up and sitting down comfortably.
There's also a paddle holder behind the seat so you can switch between a SUP paddle or a kayak paddle.
Finally, the Perception Hi Life 11 tracks really well even in the wind and in the ocean. This is due to the removable skeg, although remember to take it out in shallow water.
Durability
As mentioned before, the Perception High Life 11 is a very durable kayak/SUP.
I'd be amazed if you managed to punch a hole through the hull.
And even if you did, the boat is covered by Perception's 5-year warranty.
While this isn't as good as higher-end kayak warranties (Old Town comes to mind), it's pretty standard at this price point (Pelican has the same warranty).
Overall, I haven't heard any complaints about parts breaking down, so I'd say it's a pretty durable kayak.
Portability
At only 55 lb and being so short, the Hi-Life 11 is an incredibly portable boat.
Unlike the Jackson Bite (which is another cheap, stable kayak), it's much easier to carry on your own if you're a small girl or guy.
Loading it on top of your SUV should be fairly easy on your own, as the Hybrid design helps make it a lot less bulky than a traditional kayak.
Carrying it to and from the water is easy enough, you won't need a kayak cart. Please avoid dragging it, as it has no skid plate.
For transportation, it has a screwed-in carry handle at the bow and a molded-in carrying handle at the back. They do the job well enough.
Perception Hi Life Accessories and Storage Space

Despite its short length, the Perception Hi Life 11 has a big storage space at the front with bungee cords. There, you could easily put a cooler or a pet.
Then you get a medium tankwell storage area at the back, with the "swimming platform" from which you can easily get back on the board.
I really like the huge storage space under the seat which will fit a cooler with sandwiches or tackle trays for you anglers out there. Remember to put a scupper plug on the hole if you want your gear to stay dry, though.
Finally, there's a cup holder in front of the kayak and a gear track right at the center. This is useful for anglers because they can mount rod holders, a GPS fish finder, a GoPro, etc.
For recreational kayakers, the gear track isn't very useful except to mount a camera or phone holder.
Perception Hi Life Kayak Fishing Ease
First of all, I want to emphasize the fact that this is not a fishing kayak.
The Hi Life 11 is made for recreational paddling, which means it lacks a ton of fishing features.
That said, if you're more of a recreational angler, then you might not mind the "bare-bones" aspect of this boat.
For a low price, you still get a gear track where you can mount your rod holders, as well as decent storage space for your fishing gear.
You won't be able to fit a milk crate in the back as is, you'll have to do some mods or else it can easily slip into the water.
It has no rod holders, but the included paddle holder does help when you're fishing.
Who is the Perception Hi Life 11 suited for?

I think it's obvious by now − the Perception High Life 11 is suited for recreational paddlers or kayak anglers.
It has amazing stability to stand and use as a SUP, or even to stand and cast.
It's very lightweight, which makes it perfect for small guys and girls so they can carry it on their own.
There's decent storage space to bring a pet, but the small weight capacity makes it unusable for big guys.
Overall, at this price point, it's one of the best kayak/SUP hybrids for recreational trips.
Perception Hi life 11 Alternatives
Perception Outlaw 11.5

For kayak anglers reading this review, the Outlaw 11.5 is a great alternative with more fishing features.
It's not a hybrid kayak/SUP, but it still has tons of open space.
You can comfortably stand and cast, and the huge deck is perfect to move around and put big fish.
It has a medium tankwell storage area at the front with a paddle holder, as well as a universal transducer mount.
It has two gear tracks on the sides, which IMHO is more practical than the center gear track on the Hi Life 11.
Finally, you get the same comfortable sitting height with lots of space underneath to put a small cooler.
There are lots of pockets on the sides to put tackle trays and soft plastics.
Combined with the large rear tankwell that can fit a milk crate, you get four flush-mounted rod holders.
Overall, the Outlaw 11.5 costs about the same as the Hi Life, and you sacrifice the hybrid SUP design to get tons of fishing features.
Pelican Getaway 110 HDII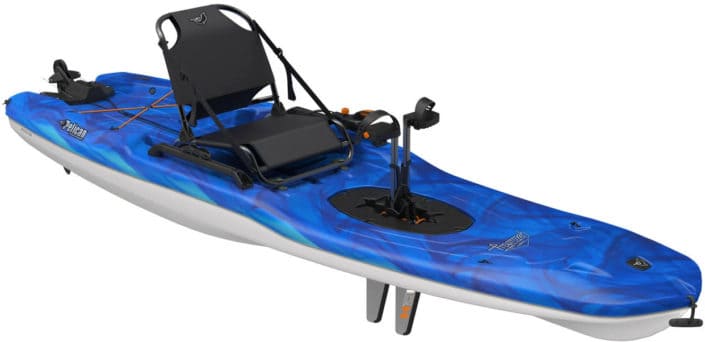 While the Getaway 110 HD2 is definitely more expensive than the Hi Life, it's still incredibly cheap for its own category − pedal kayaks.
It's also a hybrid SUP/kayak, but being able to pedal means you'll go much faster and you will never get tired.
Regarding storage, it's fairly similar with the front and rear tankwell areas.
Small guys and girls will have no problem standing up, but the Getaway isn't made for big guys either.
Overall, if you want to upgrade to a pedal kayak, the Getaway HD2 is the cheapest and best for recreational trips.
Read my detailed Pelican Getaway 110 HDII review.
Vibe Maverick 120

Like the Perception Hi Life 11, the Maverick 120 is a hybrid kayak-SUP.
It's slightly longer at 12 foot long, but it has a much higher 475 lb weight capacity.
For big guys, the Maverick 120 is the perfect alternative to the Hi Life 11.
Also, if you want to paddle with your kid, spouse, or pet, the Maverick will give great stability and you'll have tons of fun on the water.
It's an incredibly stable kayak thanks to the wide design and the foam-injected hull. For fishing, if anything drops it won't make noise and you will not scare the fish.
The Vibe "Hero seat" is one of the most comfortable seats on the market, which makes the Maverick so much better if you plan to paddle for a full day.
The downside is it's quite heavier at 72 lb, which immediately makes it much harder to load and carry for small guys and women. You'll probably need help, as well as a kayak cart to get it to and from the water.
Apart from that, you also get gear tracks on each side as well as another one in the front, and two in the back for amazing customization options.
There's a dry hatch in the middle which isn't completely waterproof, I generally get water in there right when I open it.
They include a free paddle, but at around $900 it's slightly more expensive than the Hi Life 11.0.
Finally, it has great fishability and stability for skinny water as there's no skeg sticking out. It does have very short molded-in skegs to help with tracking.
Piece of advice: if you decide to get the Maverick, I'd suggest sealing the little areas where they've injected the foam inside the kayak. Otherwise, water can get inside the hull and damage the foam over time.
Perception Hi Life Review – Wrapping It Up
I think it's pretty obvious by now what I think about the Perception Hi Life 11.0.
In short, for recreational trips, the High Life 11 is great if you're a small person.
You'll find it's extremely stable for standing, but still fast enough to get to where you want to go.
The seat isn't as comfortable as I would have liked, so you might need to buy some extra padding or cushion.
But at this price point, it's impossible to find a perfect kayak.
The only downside is the Hi Life 11 is often out of stock.
So you will probably have to wait until next year to get one.