Pedal kayaks have long been completely out of reach for most people because of their expensive price tag.
But in recent years, I've seen more and more cheap pedal kayaks come to light − and I must say they're definitely getting better.
In this Perception Crank 10 review, I'll tell you what I like about this inexpensive boat, and what could be improved.
[Spoiler Alert: If you like customizing your boat, then the Perception Crank 10.0 is a great cheap pedal kayak. It lacks a few fishing features, but it has good comfort, speed, and maneuverability − and you can actually stand in it. At this price point, I think it's hard to beat]
Things to Consider Before Buying a Pedal Kayak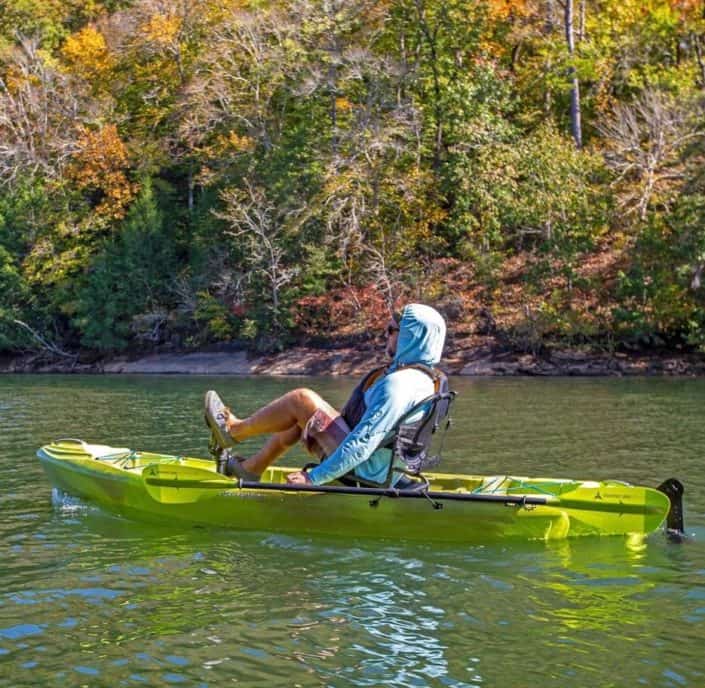 I know getting your first pedal kayak is very exciting, but there are a few things you should know first.
First of all, pedal kayaks can be quite expensive. The Perception Crank 10 is on the low end of the spectrum, but prices can go all the way up to $5000 for an ultra-premium Hobie kayak.
Obviously, this means that you'll get much fewer features on the Perception Crank than you would on a similarly-priced paddle kayak.
You also have to consider where you'll be fishing. For narrow rivers and calm lakes, the Crank fits the bill. But if you need a pedal kayak for the open ocean or class 3 rivers, then you'll have to look elsewhere.
Finally, please always keep your kayak out of the sun. UV rays can warp the hull over time, and this isn't covered by the warranty.
Perception Crank 10 Specifications

Length: 10 ft
Width: 35 in
Weight: 87 lb (78 lb without pedal drive)
Load Capacity: 350 lb
Perception Crank 10 Design
Material
Like most pedal kayaks, the Perception Crank 10.0 is made of polyethylene.
This makes it almost indestructible. Even if you hit rocks, submerged tree branches, or another boat, the hull won't have a dent.
Speed
Because it's so short at 10 ft long, the Perception Crank 10 won't break any speed records.
That said, I find I can still go at a decent 2.5 mph on calm days, which isn't too shabby.
It's definitely not as fast as my Sportsman 106, but it's cheaper so that's to be expected.
In shallow water, I've found the Crank 10 to be very easy to paddle.
By the way, during your first time on the water, the pedal drive may be quite noisy. Just give it a few hours and it'll be silent − it just needs time to break in.
Maneuverability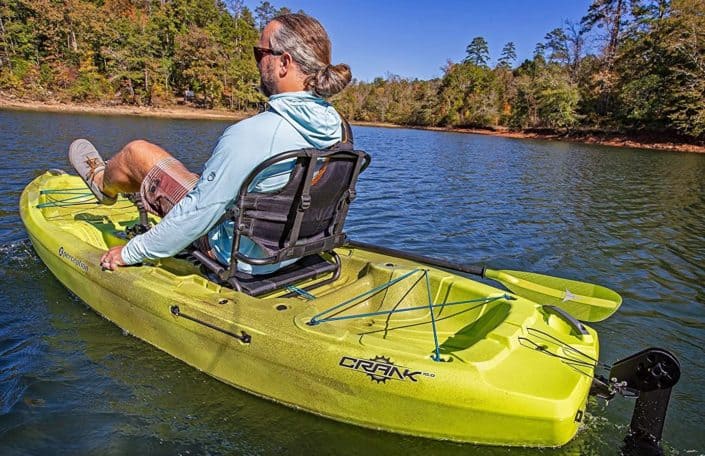 Now that's where the Perception Crank 10.0 really shines.
Being so short means you can turn on a dime, with or without the rudder.
For narrow rivers or to avoid obstacles, the Crank 10 is great.
However, I'm not a fan of the rudder control. I don't find it very easy to steer because of how they made it − a little wheel instead of a handle.
Also, make sure to check the rudder cables every month or so because they tend to loosen up on their own.
Comfort
For a cheap kayak, I've found the seat on the Perception Crank 10 to be surprisingly comfortable.
You can easily adjust the seatback while on the water thanks to the straps on each side.
Of course, the seat can be adjusted back and forth by unscrewing and screwing a little knob so that you can be in a good pedaling position.
I can sit comfortably in my Perception Crank 10 for a long day without any issues.
However, I will say that the seat isn't as high-end as on the Sportsman 106. It's quite thin and you can definitely see the quality difference.
Finally, for big and tall guys I wouldn't recommend this boat. If you're over 220 lb and 6" tall, you might consider the Sportsman 120 PDL instead (but it will cost you more).
Stability and Tracking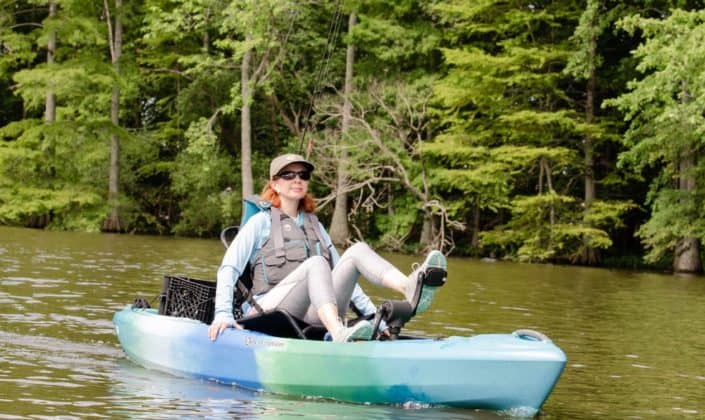 I've found the Perception Crank 10 to be very stable for a cheap pedal kayak.
Experienced paddlers will be able to stand and cast without feeling unstable.
However, for beginners or big guys, it will definitely feel tippy while standing. I'd recommend you go at your own pace and try to find your balance before actually standing and catching.
Regarding tracking, the included rudder helps a lot. You won't have any problem going straight as long as you're not on the open ocean.
You can deploy and fold the rudder from two little straps on the right side, which I find very easy to use (easier than the traditional bungee cords of cheap kayaks).
Durability
As mentioned before, the Perception Crank 10.0 is a very sturdy boat.
The hull is covered by a 5-year warranty, while the pedal drive is only covered for 1 year.
Compared to Old Town's lifetime hull warranty and 5-year pedal drive warranty, that's definitely not amazing.
Overall, I haven't heard any complaints about this new boat, but I know Pelican pedal kayaks used to have problems in the past.
Portability
Regarding transportability, I'm both very pleased and quite disappointed with the Crank 10.
First of all, the fact it's so short means it can easily fit in the bed of a pickup truck. You won't need to buy a trailer.
Second, it's very easy for one person to carry it to and from the water − even for small women. The bow and stern handles are sturdy enough.
However, I think it's a pity the pedal drive can't be removed easily like on Old Town's pedal kayaks. This would have helped take 10 pounds off the boat and made it even easier to carry.
To give you an idea of what I mean, the Sportsman 106 PDL which is a high-end pedal kayak weighs 106 lb with the pedal drive, but just 87 lb − same as the Crank 10 − without.
This means that although the Perception Crank 10 is technically the lightest pedal kayak, in practice it won't make a difference when carrying it.
Perception Crank 10 Features and Pedal Drive

The Perception Crank 10 is a pretty bare-bones kayak. As such, it doesn't offer much in the way of extra features or accessories.
It does have a paddle holder on the left side of the boat, secured with a bungee cord.
As mentioned before, it has a built-in rudder. There's hull access in the back to do some maintenance on your rudder system if need be.
Apart from that, the storage space on this pedal kayak isn't amazing as expected.
There's a very small tankwell storage area in the front and a bigger one in the back where you can fit a standard milk crate.
Unfortunately, there's no dry hatch anywhere on the boat.
The pedal drive can lift up and sit in the hull when in shallow water. However, the prop is hard to reach in case you need to clean weeds. So I much prefer Old Town's removable pedal drives for skinny water and vegetation.
Finally, because of how it's made I think you'd break the pedal drive in case of a collision. Again, that wouldn't happen on an Old Town boat.
Perception Crank 10.0 Fishing Ease
Unfortunately, because of its very low price the Perception Crank 10 doesn't have very good fishability.
Since Perception views this boat as a recreational kayak, it has almost no fishing features. There are no gear tracks and no flush-mounted rod holders.
What's worse, there isn't even an indentation to easily install gear tracks or rod holders.
However, it does have a universal transducer mount at the front − so that's something at least.
This is a very bare-bones fishing platform, so I would only consider it if you like customizing the boat to your needs.
That said, considering it has pretty good stability and maneuverability, then this is a pretty good fishing kayak once you've customized it.
Also, it's worth noting that despite being inexpensive, the Crank 10 does have instant reverse. This is a great feature that most cheap pedal kayaks don't have, and is really important when fishing.
Who is the Perception Crank 10 for?
Overall, I'd say the Perception Crank 10 is a great introductory pedal kayak.
If you're looking for an inexpensive pedal kayak that's easy to transport, easy to throw in the water, and very nimble, then the Crank fits the bill.
If you're the kind of guy that always customizes their boat anyway, then you don't need a more expensive kayak.
Perception Crank 10 Alternatives
Perception Pescador Pilot 12

The Pescador Pilot 12 and the Crank 10 actually share the same pedal pod.
The Pilot 12 is better for vegetation as the prop is easier to clean than on the Crank 10.
Being 2 feet longer also means the Pilot 12 is much faster, but less maneuverable than the Crank.
Obviously, it also has more storage space and a higher weight capacity of 475 lb.
For big guys, the Pescador Pilot 12 is a pretty good pedal kayak at this price point.
The Pilot 12 comes with four molded-in rod holders. I prefer flush-mounted rod holders, but that's still better than the absolute nothing you get on the Crank 10.
Apart from that, it also costs a little more and overall at this price point I'd prefer the Old Town Sportsman 120.
Read my detailed Pescador Pilot 12 review.
Old Town Sportsman 106 PDL

I've mentioned the Sportsman 106 PDL several times throughout this article, and that's because I think it's the best value pedal kayak out there.
Without the pedal drive, it weighs just as much as the Crank 10, but you still get an extra 6 inches that make for more storage space.
The seat is more comfortable, and much better for tall guys because of how easy it is to adjust.
Regarding speed, the Sportsman PDL 106 is ridiculously fast and it's become my wife's preferred pedal kayak.
Overall, the Sportsman 106 PDL is a great lightweight pedal kayak for just under $2000.
Read my full Sportsman 106 PDL review
Pelican Catch 110 Hydryve II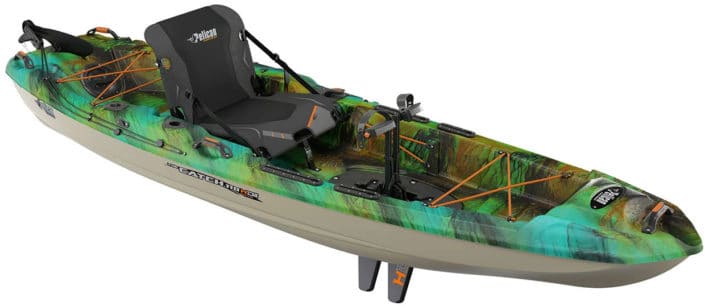 The Pelican Catch 110 HD 2 is probably the cheapest pedal kayak you can find.
It's faster than the Crank 10, and I have a comfortable cruising speed of 3-3.5 mph with it.
It's also much lighter at 67 lb, which makes it ridiculously easy to carry.
It's not as maneuverable as the Perception Crank, so I'd avoid taking it on class 2 rivers.
However, the big drawback of this boat is you cannot stand and cast – but that's expected from such a cheap fishing kayak.
Read my full review of the Pelican Catch 110 HDII.
Perception Crank 10 Review – Wrapping It Up
I think you've understood by now, but the Perception Crank 10 is a bare-bones, cheap pedal kayak.
If you like customizing your boat to your own needs, then this will be a perfect first pedal kayak.
It's fast, stable enough to stand and cast, very maneuverable…
And very easy to carry.
At this price point, I think it's a really good pedal kayak.