After taking this small recreational kayak on the water a couple of times, I feel ready to give you my honest opinion.
In this Perception Access 9.5 review, I'll tell you who this kayak is for, and what it lacks.
[Spoiler Alert: The Perception Access 9.5 is very fast for such a short and portable kayak. If you're looking for speed, tracking and ease of transportation, then the Access is great value. However, you won't be ablo to stand and maneuverability isn't great for fast-moving rivers]
Things to Consider Before Buying Your First Fishing Kayak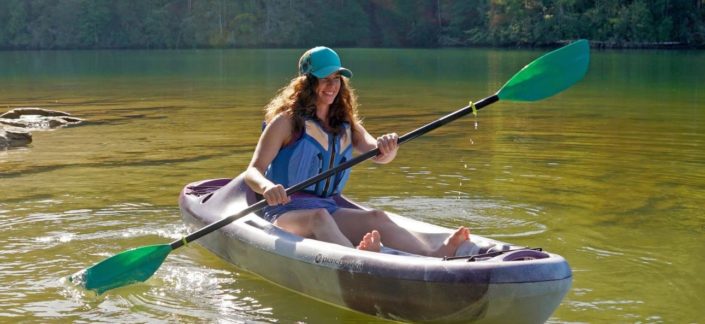 You might not know it, but kayaks are generally made for a specific purpose.
If you want to paddle on calm lakes, you'll need a different boat than for fast-moving rivers or the open ocean.
As such, the Access 9.5 falls in the "recreational" category, which means it's suited for calm ponds, lakes, and rivers.
Also, keep in mind that entry-level kayaks don't have as many features as their high-end counterparts.
And this is perfectly fine at first when you're trying to dip your toes in the water and see if you like kayak fishing.
Luckily, kayaks can be sold easily on the second-hand market if you want to upgrade to a better kayak later down the road.
Finally, please keep your kayak out of the sun when not in use. If you don't, UV rays may warp the hull over time and your kayak will be dead.
Specifications

Length: 9 ft
Width: 31 in
Weight: 42 lb
Load Capacity: 250 lb
Design
Material
Like most recreational and fishing kayaks, the Perception Access 9.5 is made of polyethylene.
While slower than their fiberglass counterparts, polyethylene kayaks are virtually indestructible. The hull will withstand collisions, submerged tree branches, and rocks.
I wouldn't recommend taking it on shallow rivers too often, but once in a while shouldn't be a problem.
Speed
First of all, the Perception Access 9.5 is a recreational kayak, so don't expect to break any speed records.
However, I must say I was surprised to see how fast it could go for a sit-on-top.
Because it's so narrow and you sit so low on the water, you can actually be as fast as sit-in kayaks of the same specs.
I found I could get a decent cruising speed of 3 mph, which should be more than enough for recreational trips.
Maneuverability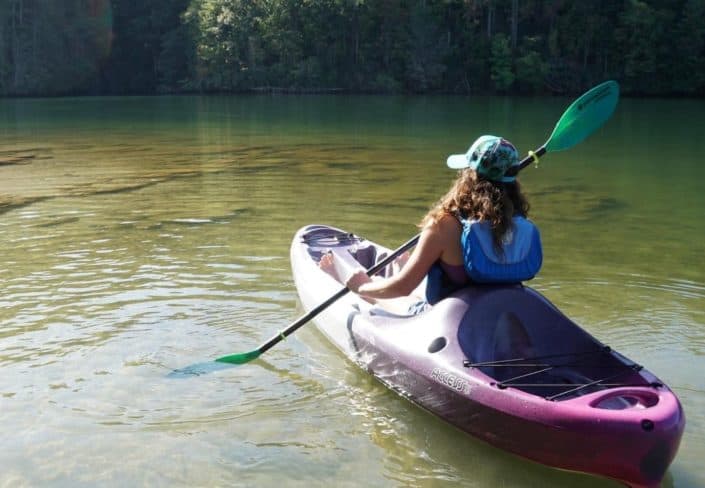 Being narrow and short means the Access 9.5 should have excellent maneuverability.
However, that's unfortunately not the case.
The maneuverability on this kayak is very disappointing, and that's because of the hull shape and the integrated skeg (more about this later).
Therefore, I really wouldn't recommend the Access 9.5 for narrow rivers or any kind of fast-moving water.
Comfort
Depending on your expectations, you might think the Access 9.5 offers good, or terrible comfort.
Indeed, it has a molded-in seat (which is like very thin padding) that most recreational kayaks in this price range don't have.
However, the said seat is still way too uncomfortable to fish all day long. If you plan on fishing for more than 3 hours, I'd recommend buying a proper seat.
For beginners who are used to having absolutely no seat at all, then it's definitely a nice upgrade.
Then, you also don't get proper adjustable footrests, but several indentations so you can have a comfortable leg position. Again, it's the cheap way of doing it but it does the job.
Stability and Tracking
Let me start by saying the Perception Access 9.5 is not made for standing.
Now that's out of the way, I found it to be very stable even in mild waves.
You could take this kayak on big lakes without flipping, although I always recommend staying close to the shore just in case.
Now, if you remember we just said that this kayak had pretty bad maneuverability. And that's actually due to the fact it has great tracking.
The Access 9.5 will go straight very easily thanks to the molded-in skeg and the multi-chine hull. So even if you have bad technique, you won't go round in circles.
Durability
As mentioned above, the Access 9.5 is virtually indestructible.
And if you ever had any problems with it, you'd be covered by Perception's 5-year warranty.
While not as amazing as Old Town's lifetime warranty, it's quite standard for kayaks at this price range.
Finally, there aren't any loose parts on this kayak, so literally nothing could break over time.
Portability
Being so light at 42 lb, the Perception Access 9.5 is incredibly easy to carry.
Anyone can load it on top of their car without help, even skinny guys and women.
Carrying to and from the water is very easy, and the replaceable skid plate even allows you to drag it (in case you're really feeling lazy that day).
You have molded-in handles at the bow and stern, and two molded-in handles on the sides for loading/unloading.
Overall, I really like the transportability which makes it a great throw-and-go kayak.
Fishing Ease
First of all, I must warn you that the Perception Access 9.5 is a recreational fishing kayak.
As such, it's pretty bare-bones and it doesn't have many fishing features.
You still get a cup holder right in front of the seat, as well as two flush-mounted rod holders.
However, I don't understand why there's no paddle holder. This is really inconvenient when fishing.
Of course, at this price point you get no gear tracks so you'll have to do some drilling to mount your fishfinder, camera, etc.
Regarding storage, there's a very small storage space at the front to store a dry bag, and a decent rear tankwell storage area that can fit a milk crate.
Pro tip: I'd recommend buying some tubes for the rod holders as they're quite bad. I've lost a rod on my first trip in this kayak, so don't let it happen to you.
Who is the Perception Access 9.5 Suited For?

I think you've understood by now, but the Access 9.5 is made for recreational anglers.
If you're looking for a first fishing kayak that won't break the bank, the Access gives pretty good speed and tracking.
For calm lakes, rivers, and ponds, you'll be able to get quickly to your fishing spots and you still have some (albeit very limited) fishing features.
Also, keep in mind kayaks are easy to sell on the second-hand market, so you can still upgrade later down the road if you want a higher-end kayak.
Alternatives
Perception Tribe 9.5

The Perception Tribe 9.5 is very similar to the Access, but since many people have asked me which one to choose I feel I need to talk about it.
First of all, I'll say that both kayaks are very similar. They both track well and have good speed for sit-on-tops.
The main differences are the seat and the dry hatch.
Basically, the Tribe is slightly more expensive, and as such it has a proper seat as well as a dry hatch.
But apart from that, they're pretty much the same kayak.
So, if you're trying to decide between the two, I'd say if you're going to go for long fishing days, get the Tribe as the seat will be much more comfortable.
Read my full Perception Tribe 9.5 review.
Pelican Catch 100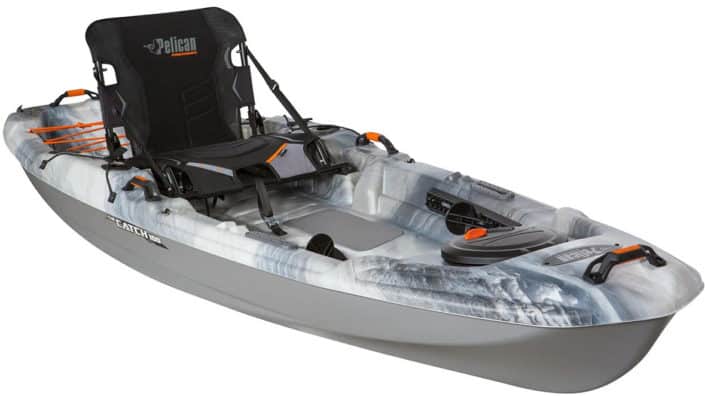 The Pelican Catch 100 is slightly more expensive than the Access 9.5, but it's generally not more than a $100 difference.
I'll start by saying that the Catch 100 isn't nearly as fast as the Access. If you want speed, the Catch will be a nightmare.
However, its real upside is its extreme stability. You can stand and cast without feeling tippy in the Pelican Catch.
For me, stability is very important when fishing, which is why the Catch is one of my favorite beginner fishing kayaks.
Also, the seat is much more comfortable for long fishing days.
Read my full Catch 100 review.
Pelican Sentinel 100XR Angler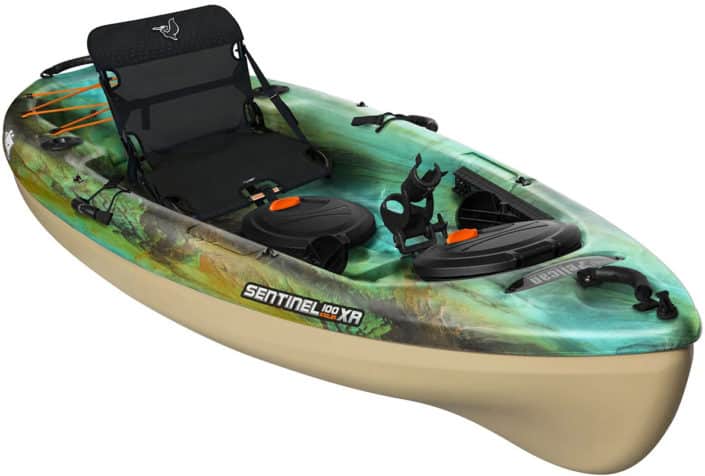 At about the same price tag, the Sentinel 100XR is a good alternative to the Perception Access.
First of all, the Sentinel 100XR is much more maneuverable than the Perception Access. For rivers, you can turn on the spot which is paramount.
However, you do lose some tracking and speed, but not as much as you'd think.
Unlike the Access, the Sentinel actually has 2 dry hatches, and the flush-mounted rod holders are more secure.
Finally, the seat is more comfortable, although it's still far from ideal for long fishing days.
Read my full review of the Pelican Sentinel Angler XR.
Perception Access 9.5 Review – Wrapping It Up
To sum it up, the Perception Access 9.5 is a great fishing kayak for beginners on a budget.
For under $500, you get a fast kayak with great tracking to get to your favorite fishing spots.
Super light and easy to carry, the Access is a good throw-and-go kayak for creeks and small ponds.
And remember − if you outgrow the Access you can still sell it on the second-hand market and get an upgrade.