After taking this kayak on the water a few times, I'm here to give you my honest opinion.
In this Pelican Sentinel 100XR Angler review, I'll tell you who this kayak is for, and who shouldn't buy it.
[Spoiler Alert: The Sentinel 100XR Angler is a fast, comfortable fishing kayak at a very low price. If you don't want to stand and you don't need all the fishing features of high-end boats, then the Sentinel is a really good value]
Things to Consider Before Buying a Pelican Fishing Kayak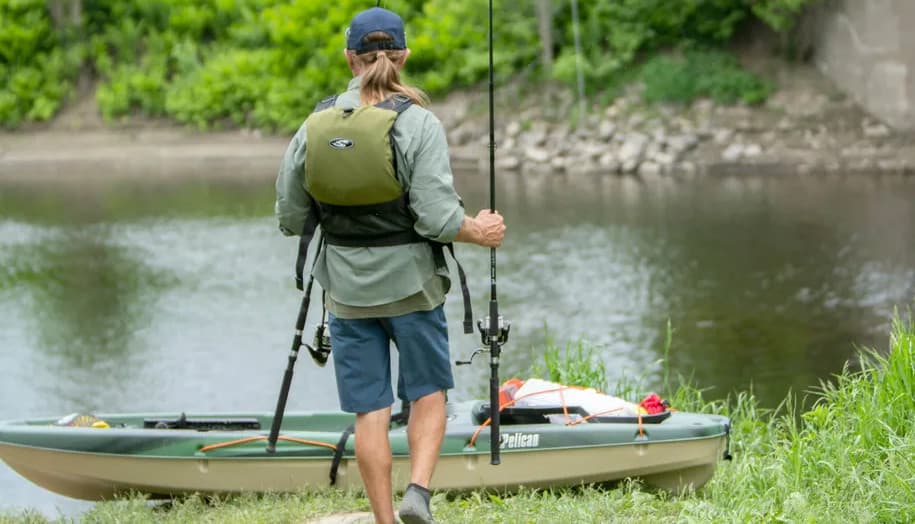 If this is your first fishing kayak, you should think about where you plan to go fishing.
Indeed, the Sentinel 100XR will be great for small ponds and lakes, but it won't be suitable for open water.
Then, if you have a low budget you should know that you won't get as many fishing features.
Gear tracks, super-comfortable seats, and all that will be hard to find unless you spend around $1000.
Also, some fishing kayaks can be very heavy and hard to load on top of your car or carry alone. Fortunately, this isn't the case with the Sentinel 100XR.
Finally, please remember to keep your kayak out of the sun when not in use. Over time, UV rays can warp the hull of any kayak if you're not careful.
Pelican 100XR Angler Specifications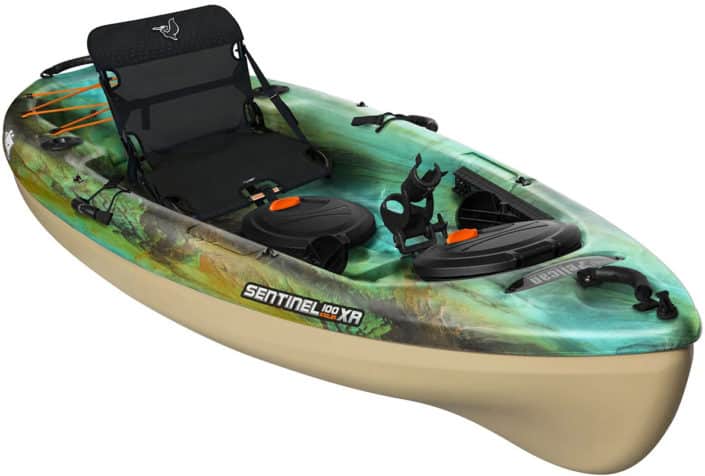 Length: 10 ft
Width: 30.5 in
Weight: 62 lb
Load Capacity: 325 lb
pelican sentinel 100XR angler kayak Design
Material
Like most fishing kayaks, the Pelican Sentinel 100XR Angler is made of high-density polyethylene.
This material isn't as fast and light as fiberglass, but it's virtually indestructible. The hull will withstand collisions, submerged tree branches, rocks, and anything you throw at it.
Pelican kayaks are known for being thermoformed instead of rotomolded, which makes them very durable and they don't flex at all.
Speed
At 10 feet long, I was surprised by how fast I could take the Sentinel 100XR Angler.
I can get a good cruising speed of 3 mph (a lot more than on the Catch 100) and a top speed of 4 mph that I could sustain for around 20 minutes.
Compared to similarly-priced fishing kayaks, the Sentinel 100XR is definitely the fastest, and I think much is due to the fact you sit so close to the waterline.
Maneuverability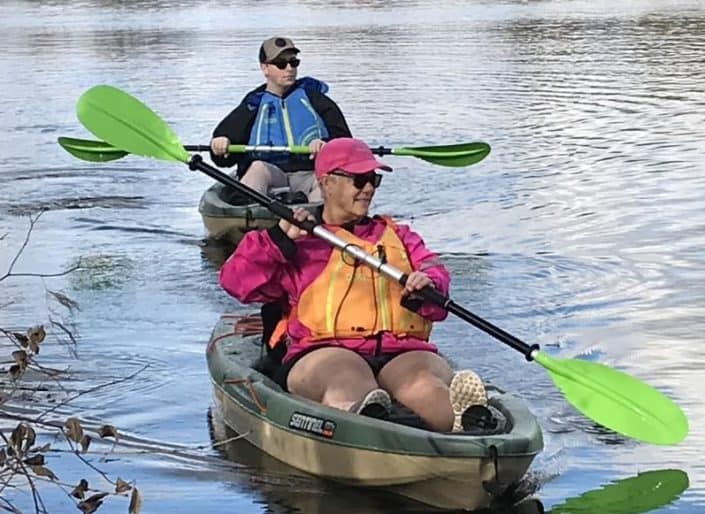 No surprises here, the Pelican Sentinel 100XR being so short and narrow, it turns very well.
For narrow rivers where you have to turn on the spot, it's perfect.
You'll also be able to avoid obstacles on small lakes and ponds, so overall the good maneuverability makes it quite versatile.
Comfort
The seat on the Sentinel 100XR is the same as on the Sentinel 100X.
As such, it's quite comfortable and breathable, but too thin to be called high-end. After 4 hours on the water, I definitely start feeling uncomfortable.
Also, because you sit so low it will be hard to avoid getting wet.
To be honest, I much prefer the seat on my Pelican Catch 100 which sits high enough that you don't get wet and is also more comfortable.
Apart from that, the adjustable foot pedals are quite comfortable and easy to adjust.
Stability and Tracking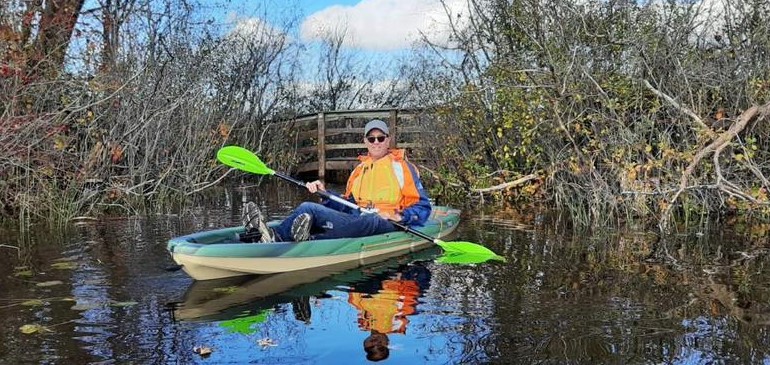 The Pelican Sentinel 100XR Angler is quite stable thanks to the flat hull, but unfortunately, you can't stand and cast.
I tried standing to see how I would feel, and I can tell you it feels really unstable. Nothing like the Catch 100 at all.
If you stay seated, you should feel pretty stable even in the wind and moderate waves.
Regarding tracking, as expected it's not amazing. Since there's no rudder and it's a short boat, beginners will struggle until they improve their paddling technique.
If you're a somewhat experienced paddler, you won't have any problems going straight as long as there's no wind or currents.
Durability
As mentioned above, the Sentinel 100XR's hull  is virtually indestructible.
However, in case you have any problems, you're covered by Pelican's 5-year warranty.
That's not as impressive as Old Town's lifetime warranty, but on par with most kayaks at this price range.
Finally, I haven't heard any complaints about parts breaking down, so I assume you shouldn't have any problems in the long run.
Portability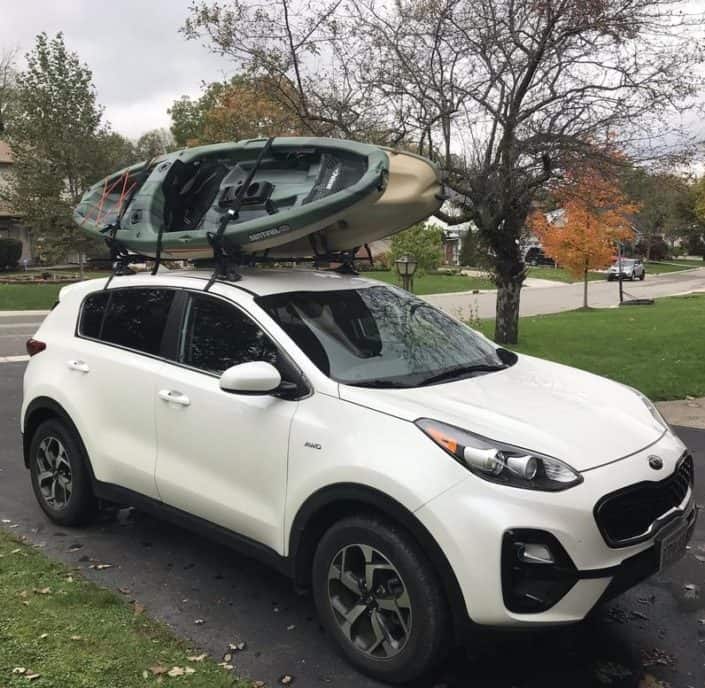 The upside to having such a narrow and short boat is that it weighs absolutely nothing.
Carrying it to and from the water is a piece of cake, even without a kayak cart.
Loading it on top of your car should be very easy to do on your own even if you're a skinny guy or woman.
The handles at the bow and stern are quite comfortable, and I really like the side handles which make for easier loading/unloading.
Pelican 100XR Angler Features and Storage Space
Regarding extra features, the Sentinel 100XR has a bungee paddle holder on each side. While I prefer paddle clips, these paddle holders still do the job.
Then, you get two dry hatches which is an improvement over the Sentinel 100X.
One of them is at the front to store some gear that you won't use on the water. And the other dry hatch is at the center of the cockpit, so you can easily access it on the water.
Finally, the rear tankwell storage isn't huge but it's enough to fit a milk crate.
pelican sentinel 100XR angler kayak Fishing Ease
Honestly, I found the Pelican Sentinel 100XR Angler to be a bit lacking in terms of fishing features.
Overall, this is a bare-bones fishing platform and you'll definitely have to do some drilling to customize it to your needs.
There are no gear tracks whatsoever and no horizontal rod storage.
You do get two rear-facing flush-mounted rod holders as well as another rod holder in the front which I find very convenient.
Apart from that, there's a 15' fish ruler on the right side, and… that's about it.
So, again, it's a bare-bones kayak that you'll have to customize.
Who is the Pelican Sentinel 100XR Angler Kayak for?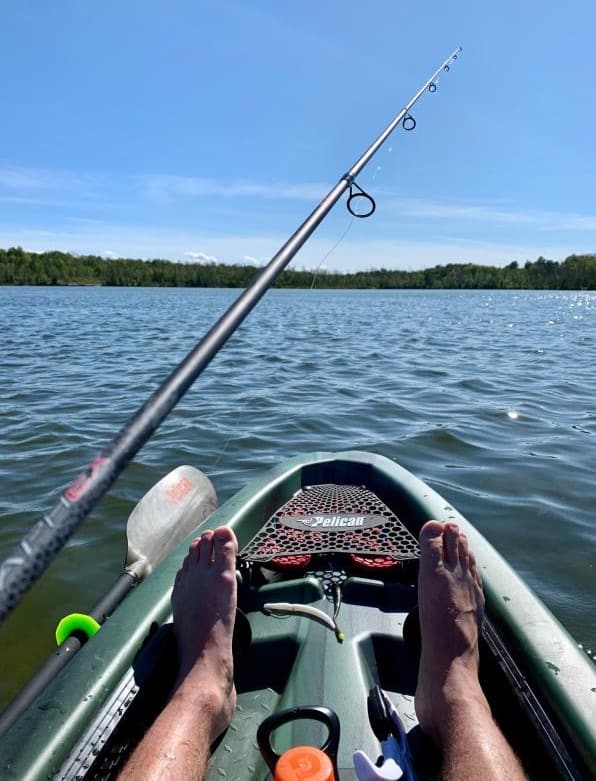 I think it's obvious by now − the Sentinel 100XR is made for recreational anglers.
For short trips to calm lakes, ponds, and rivers, the Sentinel 100XR is a great way to get on the water on the cheap.
It's also very easy to carry, which means you won't need help and you won't have to buy a kayak cart.
Even though it lacks fishing features, it's still better suited than a typical recreational kayak, and overall faster and more comfortable.
If you have a tight budget, then the Sentinel 100XR is a good bet for speed, comfort, and ease of use.
pelican sentinel 100XR angler kayak Alternatives
Pelican Sentinel 100X Angler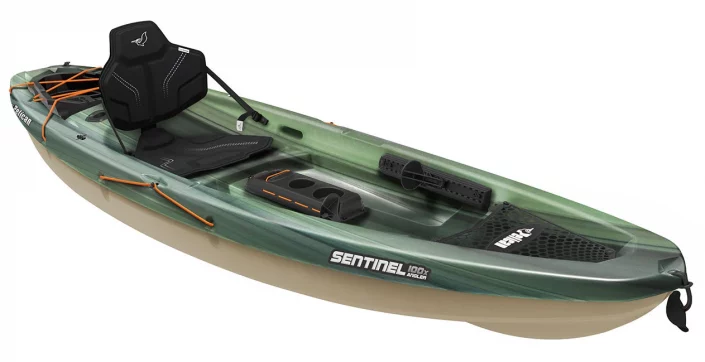 The Sentinel 100X is the cheaper brother of the Sentinel 100XR.
As such, it has even fewer features.
There are no dry hatches at all, although there is a center console with 2 cup holders and a phone holder.
Regarding speed, tracking, and stability, both kayaks are virtually identical.
The seat on the Sentinel 100X is not as comfortable as on the 100XR, so this makes it even less suitable for long fishing days.
Finally, there's a removable gear tray in the rear storage that's a good idea to get access to your fishing gear while on the water. However, in practice, it didn't seem useful as the bungees make it hard to remove and slip back all the time.
Pelican Catch 100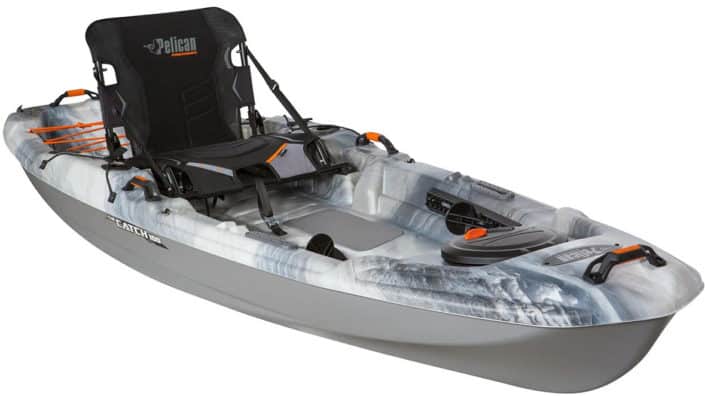 I'm not going to lie… if I'm not in a hurry, I'd pick the Catch 100 over the Sentinel every single day.
It's a very slow kayak, but apart from that, it's just superior in every aspect.
The seat is super comfortable and doesn't get wet like the one on the Sentinel.
There's just one dry hatch at the front, and the rear storage space is almost identical.
But what really sets it apart is it's extremely stable. You can easily stand and cast without feeling tippy, even if you weigh 200 lb.
And for me, that's really important when fishing.
But again, if you want to cover any serious distance then the Catch is just way too slow.
Read my detailed review of the Pelican Catch 100.
Vibe Sea Ghost 110

If you've been reading my reviews, you know I love the Sea Ghost 110 as a cheap fishing kayak.
First of all, the Vibe "hero" seat is one of the most comfortable seats in the market after Old Town's.
Second, the 425 weight capacity makes it much more suitable for big guys, and being 10 inches longer also helps for tall guys over 6ft tall.
For long distances, the Sea Ghost 110 will be faster and track better than the Sentinel. The built-in rudder also makes it great in currents or in the wind.
Also, the Sea Ghost 110 has four gear tracks to mount all your fishing gear − fish finder, extra rod holders, camera…
That said, all these extra features do come at a higher price, as the Sea Ghost costs around $300 more than the Sentinel.
Overall, if you have the budget for it, then the Sea Ghost 110 is a great fishing kayak for beginners.
Read my detailed Vibe Sea Ghost 110 review.
pelican sentinel 100XR – Wrapping It Up
To sum it up, the Sentinel 100XR Angler is a great kayak if you have a tight budget and you want to go at a reasonably fast pace.
While it doesn't have as many fishing features as high-end kayaks, I really like how light and portable it is.
For recreational fishing in small lakes, ponds, and rivers, I think you will love the Sentinel.