There's no shortage of fishing kayaks on the market. Many of these are tailored to specific conditions or locations and it can be tough to distinguish between them.
If stability is your primary concern, you can't beat the Pelican Catch 120.
Pelican has been in business for more than 50 years and today produces a range of products from kayaks to paddleboards. After my Pelican Catch 120 review, I came away happy with most aspects of the boat.
It has some new customization options compared to previous designs, and the longer hull makes it a more versatile angler kayak.
Add in the larger load capacity and you have a boat capable of multi-day trips without sacrificing the stability that Pelican is known for.
Pros:
Fantastic stability
Enough storage space and load capacity for overnight journeys
Accessory eyelets enable extra accessories or fishfinder to be installed
Cons:
No rudder included
Wide hull decreases top speed
Maneuverability and tracking suffers, particularly in rough water
Things to Consider Before Buying a Pelican Catch 120

As a mid-sized kayak at 11 feet and 8 inches, the Catch 120 will require an ample amount of storage space.
Preferably this will be in a climate-controlled environment without direct exposure to precipitation or sunlight. If stored outside, keep it under a shelter and covered with a tarp to extend the boat's lifetime.
It's quite heavy for its size thanks to the 34-inch width and the design of the hull. You may be able to secure it in the bed of some pickup trucks, but other vehicles will likely need some sort of roof rack or kayak trailer to transport it to and from the water.
The 69-pound weight can make these lifts challenging and necessitate tandem carries. If you're looking for a boat you can handle and move yourself, you may be better off with a lighter fishing model like the Sun Dolphin Journey 10.
Because of its open cockpit, it's best to limit usage to warm excursions where water splashing into the cockpit won't be a problem.
Those that fish in cold-weather regions can look to other options like the Wilderness Systems Tsunami 125.
Pelican Catch 120 Specifications
Length: 11 feet, 8 inches
Width: 34 inches
Weight: 69 pounds
Load Capacity: 400 pounds
Pelican Catch 120 Kayak Design
Material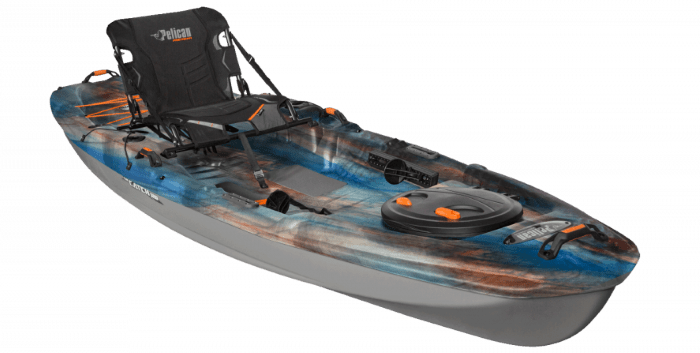 Like most angling kayaks, the Catch 120 is made of a durable plastic called polyethylene.
Pelican has patented their own type of this plastic known as Ram-X. The plastic is coated with a resin finish that gives it a glossy appearance and improves the hull's rigidity and integrity.
It can absorb most drops and collisions and is almost impossible to puncture.
Speed
Most times a kayak's speed is proportional to the length of the keel. But the efficiency of the design matters too and the Catch 120 isn't designed for speed.
The wide hull is great for stability but creates more water resistance as you paddle.
This along with the pontoon-style hull makes it a plodder that demands patience.
Maneuverability
The same issue with the wide design hinders the boat's maneuverability.
It makes the kayak susceptible to wind and currents and can require wide-sweeping paddle strokes to turn.
If you're new to the sport, I'd recommend practicing on a calm, mellow lake before taking it into any swift-moving water.
Comfort
Pelican has figured out kayak seats. Like their other models, the Catch 120 has a comfy and adjustable seat with a setting for everyone. Foot braces give you good traction and added comfort as you paddle.
The seat has two height settings. The lower setting keeps your center of gravity close to the water and improves stability as you paddle. If you don't want to stand while you fish, the higher seat setting gives you a better view of the water and helps you cast more efficiently.
Stability & Tracking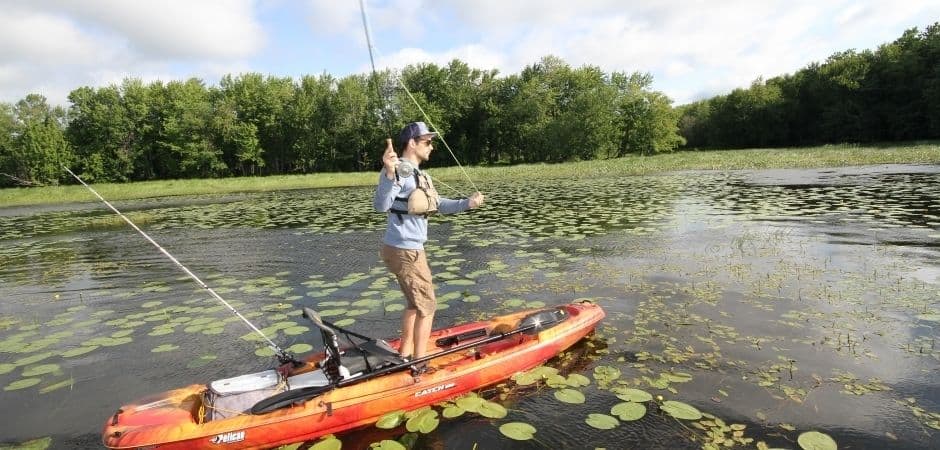 Pelican's fishing kayaks have a pontoon-style hull that makes it one of the most stable fishing kayaks on the market.
The wide hull and open deck give you plenty of room to operate.
Not all fishing kayaks are stable enough to allow you to stand and cast. But the Catch 120 is more than solid enough. Even in mild chop, you can stand and cast with confidence, allowing you to get greater distance and cast with greater accuracy.
Durability
Plastic kayaks are far and away the most durable. This along with the resin finish makes this a tough boat to damage.
That said, the gentler you treat your kayak the longer it will stay in good working condition. Even small scratches in the hull will eventually hinder how hydrodynamic it is and harm the boat's performance.
There's no skid plate installed on the hull so when possible, carry your kayak to and from the water. You may be able to get away with dragging it over some beaches made of fine sand or small rocks, but it's not a good habit to get into.
Portability
Longer and heavier than many fishing kayaks, the Catch 120 can be a challenge to transport. The wide keel is hard to fit in some truck beds, and with a weight of 69 pounds, it can be challenging to load onto the top of a vehicle by yourself.
There are carry handles on the bow and stern that are well placed and make tandem carries easier. Always carry your kayak empty to minimize weight and prevent your boat from "bowing" toward the middle over time.
Pelican Catch 120 Features & Accessories
While the model doesn't come with a rudder or skeg, it is possible to install one yourself with a little technical know-how. This may be an unnecessary step depending on how much serious paddling you plan on doing, but it's nice to have the option.
Unfortunately, there's no paddle holder built into the design, so I'd recommend bringing along some extra line to secure it when you're fishing.
Pelican 120 Kayak Fishing Ease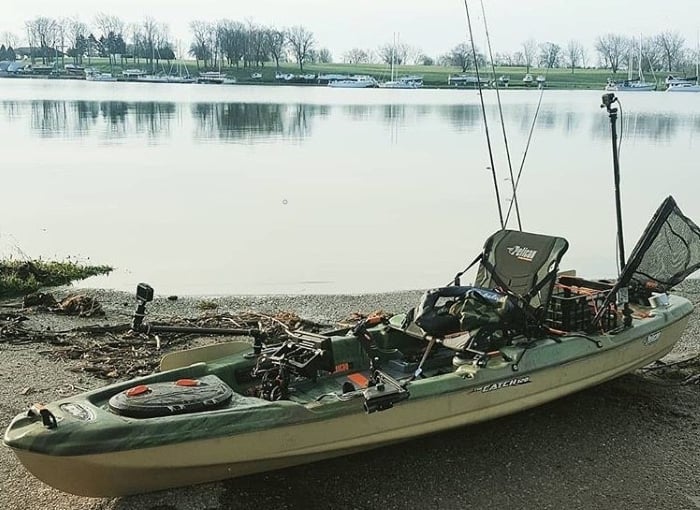 Two rod holders complete with tie-downs keep your poles secure as you travel to and from your fishing spot.
You'll also find two "accessory eyelets" where you can install ancillary fishing gear and can even accommodate most fish finders!
The one time you may find yourself really wanting a rudder is if you're trying to fish one specific hole. Waves, wind, and current can quickly turn a boat and a hands-free rudder allows you some control over your direction without a paddle.
Like many angler kayaks, the Pelican 120 has two primary storage compartments. The first is an expansive watertight bow hatch to keep water-sensitive items safe. In the stern, the deck is set lower than the sides and bungee cords have been stretched across to let you store a cooler or tackle box.
The two seat heights allow anglers of all shapes and sizes to find the position that suits them and the fantastic stability will let most stand and cast.
With a load capacity of 400 pounds, the Catch 120 can carry more gear than most beginner-friendly kayaks. It should be enough capacity for you to try an overnight trip. Beyond one or two night adventures, you'll have to pack your gear carefully.
Pelican The Catch 120 Value
Though there are no extra goodies like a paddle or bike trailer included, the Catch 120 still maintains excellent value thanks to the top-of-the-line stability.
Unlike previous models, you can attach fishing accessories to the eyelets, and being able to bring along the fishfinder is a great bonus.
Pelican Kayak Catch 120 Testimonials
I spent some time online looking at the reviews left by other Catch 120 paddlers and most reviews were positive.
Most praises went to the superior stability and an appreciation for the gear mounts that had been omitted from previous versions.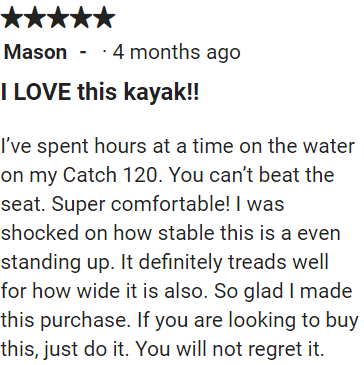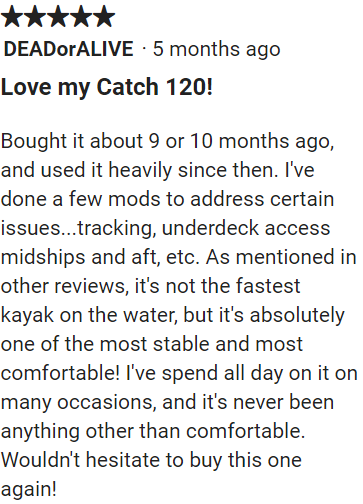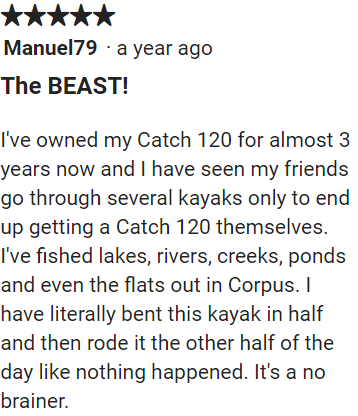 Pelican Catch 120 Alternatives
Vibe Sea Ghost 130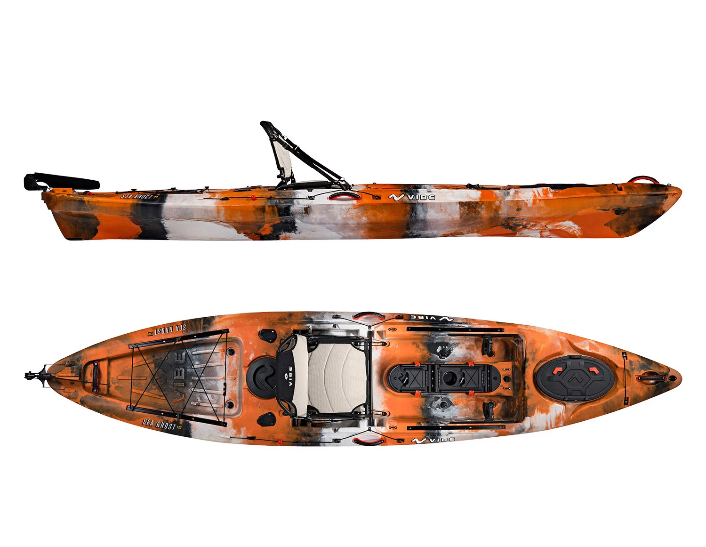 Vibe has only been around since 2013, but they've already made a name for themselves with high-quality fishing kayaks. This continues with the Sea Ghost 130, a tank of a kayak able to carry up to 550 pounds.
It maintains excellent stability and the more efficient 13-foot hull gives it a faster top speed than the Catch 120.
The pre-installed rudder enhances tracking in rough water and lets you squeeze into areas a boat of this size usually can't go.
Several "gear tracks" let you customize to your heart's content and tailor the boat specifically to your needs.
All this versatility gives it a final weight of 75 pounds. While the rudder helps in rough water, it doesn't do much for tracking in calm conditions.
Great blend of speed and stability
Rudder improves tracking and speed in rough conditions
Heavier design makes it a little slower in calm water than boats of similar length and makes transporting challenging
Tons of ways to customize including the ability to install a fishfinder.
Read our full Vibe Sea Ghost 130 review.
Ascend FS12T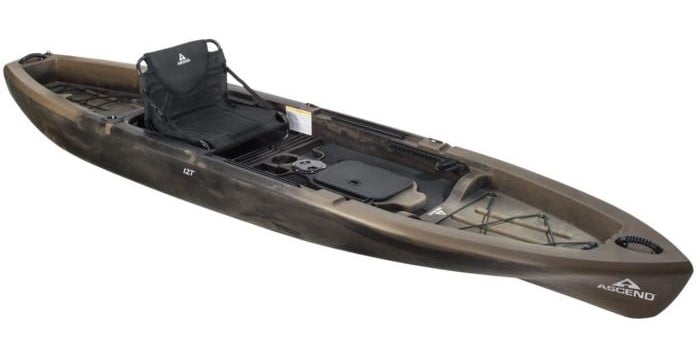 Coming in eight pounds heavier than the Catch 120, The Ascend FS12T fishing kayak brings a mixed bag of positives and negatives.
Stability seems to be a bit contentious, with some anglers feeling confident enough to stand and cast while others complain that they feel in danger of tipping while paddling. Because of this, it's hard to recommend the FS12T to beginners.
It does have some of the features that Pelican strides for such as a large open deck to operate from and a seat with two adjustable heights for paddling and fishing.
On the water, the performance feels subpar. It's a boat that could do with an included rudder or skeg to improve the tracking and maneuverability. The heavier weight also slows it down and reduces the top speed.
There are some nice additions like scupper holes and the included plugs (a rarity for kayaks). You also get a paddle holder designed into the hull to keep it out of the way while you fish.
Controversial stability
A few nice features like paddle holders, scuppers, and their plugs
Heavier weight makes it hard to transport without help and slows it down
No rudder causes issues with tracking in steering in rougher situations
Read the full Ascend FS12T review.
Pelican Catch 100

Almost two-feet shorter and eleven pounds lighter, the Pelican Catch 100 is a lighter and portable model.
Despite the smaller frame, the boat has the same width and pontoon-style hull that the Catch 120 has. This makes it just as stable, if not more so.
You get plenty of deck space, adjustable seat levels, and a great platform to stand and cast from.
While it still has decent top speed when compared to other ten-foot kayaks, that's not saying a whole lot. The shorter keel works against it and makes it slower than the Catch 120.
Some retailers were offering Catch 100s with a pre-installed rudder to aid in tracking and turning. But with a shorter keel, it already performs well, especially in calm water.
Storage space is an odd quirk. The bow storage area isn't watertight. The hatch opening feels too small, and the side closest to the seat is open. This can lead to gear sliding and moving toward your seat as you paddle.
Short keel makes it one of the easiest angler kayaks to store and transport
Bow hatch storage quirk is frustrating and confusing
Lack of gear tracks to customize your boat
The top-notch stability that Pelican is known for
Read the full Pelican Catch 100 Review.
Pelican Catch 120 – Conclusion
While it's a little heavier than some models, it's hard to argue with the Catch 120's blend of stability and versatility. I love that Pelican has added the accessory eyelets so you can outfit your boat to your liking.
The 400-pound capacity should be enough to let you take it on a multi-day excursion. As long as you're willing to be patient and put up with the lower top speed and subpar tracking in windy conditions, the Catch 120 should satisfy many anglers' needs.