To write this Pelican Catch 100 review, I've spent the last couple of weeks testing it on the water. Overall, I came away mostly happy with the boat's performance.
It has a few of the staple features I look for like a paddle holder and a roomy cockpit.
It's also one of the most stable kayaks on the market, allowing you to stand and cast.
This makes up for a few shortcomings like the oddly designed storage and a lack of customization options.
Reasonably priced and easy to transport, the Catch 100 makes for a fine angler kayak for both beginners and more experienced paddlers.
Pros:
Exceptional stability and attached rope helps you keep your balance when you stand
Fully adjustable and comfortable seat
Free paddle included
Pre-installed rudder for better tracking
Cons:
Bow storage area isn't watertight and the hatch opening seems too small
No customization options like gear tracks or way to install a fishfinder
Two of the rod holders are oddly placed
Things to Consider Before Buying a Pelican Catch 100

The Catch 100 is one of the shortest hard-sided kayaks available, measuring just ten feet in length.
That said, you still need to have ample storage space that will keep it out of the wind and rain. Prolonged exposure to the elements will weaken the plastic hull over time.
If you're not lucky enough to live on the water, you also need to consider how you'll transport it. Weighing over fifty pounds, it can be a difficult kayak to handle yourself.
Make sure you have a vehicle that can safely move your kayak. If you don't have a truck with a large enough bed, this will likely entail installing some sort of roof rack.
Because of its open cockpit, it's best to limit usage to warm excursions where water splashing into the cockpit won't be a problem.
Those that fish in cold-weather regions can look to other options like the Wilderness Systems Tsunami 125.
Pelican Catch 100 Specifications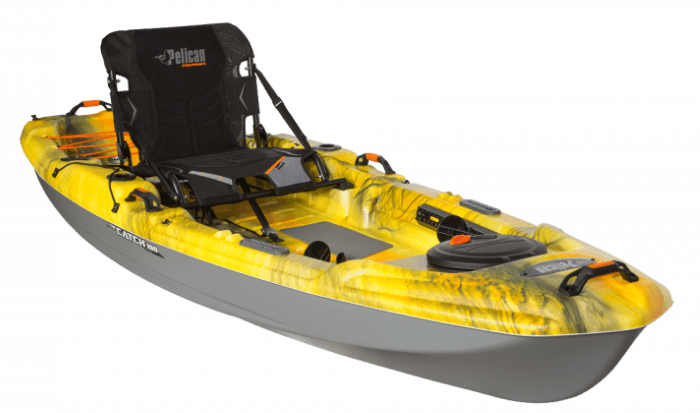 Length: 10 feet
Width: 34 inches
Weight: 58 pounds
Load Capacity: 350 pounds
Pelican Catch 100 Kayak Design
Material
The Pelican Catch 100 is made of a tough scratch-resistant plastic called polyethylene.
A resin topcoat gives the boat a flashy, glossy finish that adds rigidity and makes it even more durable.
It all adds up to a boat that's hard to damage and almost impossible to put a hole in.
Speed
Despite having a shorter keel and wide base, Pelican has managed to still create a kayak that can hold its own in the speed department.
It's at a severe disadvantage if you're paddling with longer keeled boats, but compared to those of similar size, it holds up well.
Even in rough and windy conditions it can still maintain a respectable speed.
Maneuverability
The overall turn radius of the boat is disappointing. You need to be careful how you distribute weight or it will have a deleterious effect on your maneuverability.
Overloading the open stern portion will quickly lead to an uneven ride that can make even simple maneuvers frustrating.
Comfort
The seat is really comfortable with several adjustable settings. The installed foot braces make life easy when you're paddling to and from your fishing hole.
Once you arrive, the seat can be raised and lowered:
The lower setting keeps your center of gravity near the water and enhances stability.
The higher setting provides a better angle for casting if you don't want to stand.
Stability & Tracking
For a ten-foot kayak, the 34-inch wide base is disproportionately big. This does wonders for its stability and makes for a solid and secure ride. Even in inclement weather, the Catch 100 plows ahead and gives you confidence.
Once you arrive, it's possible to stand and cast, even if the water isn't calm. A special rope has been installed on the hull to pull yourself into a standing position and is invaluable for helping you keep your balance.
The included rudder gives the Catch 100 solid tracking capability. I like having my feet on the rudder when I fish to help me maintain my course without having to take my hands off my fishing rod.
Durability
With a tough plastic hull and resin finish, the Catch 100 is well protected from any accidental drops or collisions.
That said, you should always treat your kayak as carefully as possible. Enough bumps and drops, and the hull will begin to weaken, flake, and affect how fast the boat moves.
Whenever possible, carry your kayak instead of trying to drag it long distances. On short beaches composed of sand or small rocks, you may get away without too many scratches.
Portability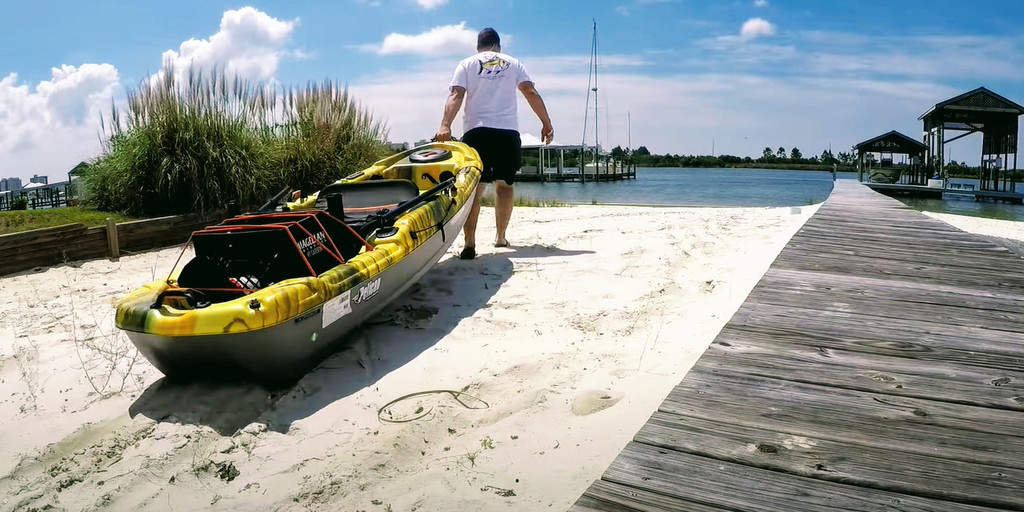 At 58 pounds, the Pelican Catch 100 can be a challenge for many paddlers to carry solo. The newer version has redesigned handles installed on the bow and stern which makes tandem carries easier.
The short keel makes transportation via a vehicle simpler than some of its longer counterparts.
You can move it in the bed of some pickup trucks and via a roof rack on most other vehicles.
Specific bike trailers allow you to transport your kayak without a car and give you a well rounded full-body workout.
Pelican Catch 100 Features & Accessories
The Catch 100 is equipped with a paddle holder, one of my favorite kayak accessories.
You won't have to worry about your paddle floating away when getting in or out of your kayak, and it's even more important when fishing.
There's nothing worse than seeing your paddle get away from you while you're reeling in a fish, and yet many fishing kayaks don't come with a paddle holder.
Speaking of paddles, one is included with your purchase. It's not the best paddle in the world but it's perfectly functional and will do the job for most people.
Pelican The Catch 100 Fishing Ease
The stability in this kayak is top-notch. While I can cast from a sitting position, it's much easier if I can stand.
The Catch 100 feels fantastic when getting up with precious little rocking even in mild chop. If you're not comfortable standing, being able to adjust the seat to a higher position is a nice middle ground.
But the Catch 100 lacks some of the customization options that other fishing kayaks pride themselves with. There are no "gear tracks" which allow you to install various components to enhance your fishing experience.
The boat does come with four rod holders, but two of them are placed right at the waterline on either side of the seat. When in use, the poles get in the way of your paddle stroke.
For storage the Catch 100 has a cavernous bow hatch, but the opening is tiny and it isn't watertight. Despite the size, it isn't very efficient.
The stern deck has bungee cords stretched across it to provide more open-air storage space.
Pelican The Catch 100 Value
The excellent stability makes the Catch 100 a user-friendly model that beginners will appreciate. With a more competitive top speed than others in its category, fishermen that want to cover a larger area will be pleased.
More technical-minded anglers may be frustrated by the lack of customization options, and the insufficient storage space and smallish load capacity of 350 pounds may limit the trip length depending on how much you want to pack.
Pelican Catch 100 Kayak Testimonials
I spent some time online looking to see if other consumers were happy with their Catch 100.
The reviews were mostly positive praising the stability and easy portability.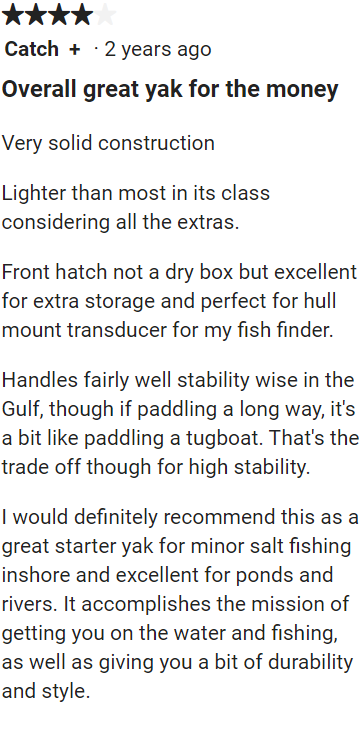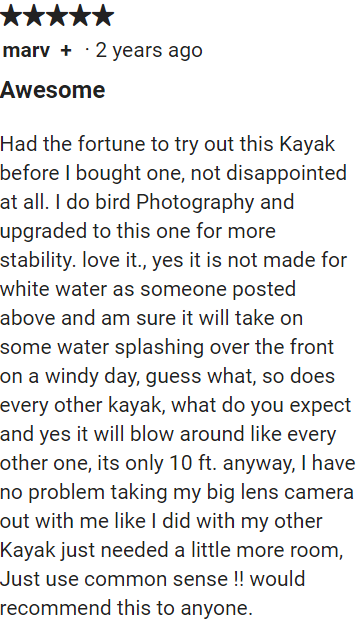 Pelican Catch 100 Alternatives
Vibe Sea Ghost 110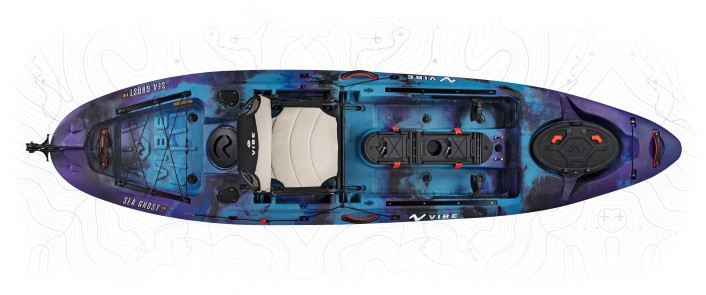 A beast of a fishing kayak that provides a massive load capacity.
If you're looking for a boat that can handle multi-day trips, this is the kayak for you.
It's faster than the Catch 100 thanks to a more streamlined hull and longer keel.
Along with the big load capacity, the Vibe Sea Ghost 110 has excellent stability and one of the comfiest kayak seats on the market.
Plenty of customization options allow you to outfit your kayak however you want. The most notable is the watertight central console in front of your seat that can have a fishfinder installed on top of it.
Large load capacity makes it great for multi-day adventures
Excellent stability (though not safe to stand on)
A host of ways to customize to your liking
Weight and longer keel length make it harder to transport
Installed rudder enhances tracking and maneuverability
Read our full Vibe Sea Ghost 110 review.
Ascend FS128T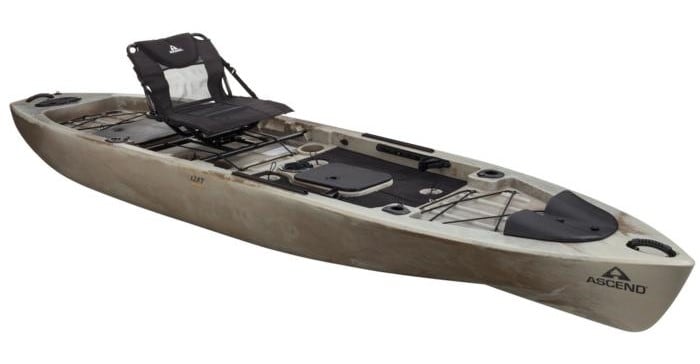 Another angling kayak with top-notch stability that allows you to stand and cast is the Ascend FS128T.
Several watertight storage options give you plenty of places to carry gear.
Despite having the same load capacity as the Catch 120, it's nearly three feet longer but weighs a whopping 84 pounds.
There's no rudder included in the design and it's a slower kayak due to the extra weight.
The maneuverability is fine when the weather's good, but the performance drops considerably when the water turns rough. The lack of a rudder comes into play here, though it still turns fine as long as the weather behaves itself.
Like the Catch 100, you won't find much in the way of customization options here. Outside of a couple of rod holders there's no gear tracks or way to install a fishfinder.
The stable platform allows you to stand and cast with confidence
More storage options let you keep gear dry
Mid-range load capacity may not be enough for some paddlers
Lack of rudder hinders tracking in poor weather
No customization options outside of a couple of rod holders
Read our full Ascend FS128T review.
Pelican Catch 120

Like other Pelican boats, the Catch 120 prides itself on its top-of-the-line stability.
This is another model in which standing and casting feels safe and easy. The wide deck provides you with plenty of room to move around and operate.
To get such a stable platform, the boat is quite wide and this makes it more of a plodding tortoise compared to Vibe's Sea Ghost line.
This stable kayak does have a larger weight capacity than the Catch 100, able to carry 400 pounds which may be enough for multi-day trips depending on the size and build of the paddler.
Like the Catch 100, it's a pretty basic boat when it comes to other accessories and there's no handy or intuitive custom options available. Although the comfy, multi-level seat is definitely a huge plus.
Great stability allows you to stand and cast
Comfortable, adjustable seat
Slow top speed makes paddling in a group or covering distances challenging
Maneuverability is subpar without the rudder installed
Read our full Pelican Catch 120 review.
Pelican Catch 100 Review – Conclusion
As a mid-range kayak, the Pelican Catch 100 manages to get superb stability without sacrificing too much speed.
Being able to stand while you cast is invaluable, and the clever rope-assist does wonders for keeping your balance.
Really serious paddlers may be disappointed by the dearth of customization options and the puzzling storage design is frustrating.
But the reasonable price and included paddle make up for it in my opinion and make the Pelican Catch 100 a competitive, well-performing fishing kayak.