If you've been reading my reviews, you know I love the Old Town Sportsman series.
After taking this boat on the water more than 20 times over the past six months, I'm here to share my honest opinion with you.
In this Old Town Sportsman Salty PDL 120 review, I'll tell you who this boat is for, and who shouldn't buy it.
[Spoiler Alert: The Sportsman Salty PDL 120 is a great boat for minimalist anglers. If you want incredible speed, stability, comfort, and maneuverability for under $2000, then it really is the best value. However, it's usually out of stock… so you may have to wait until next year to get one]
Things to Consider before Buying a Pedal Kayak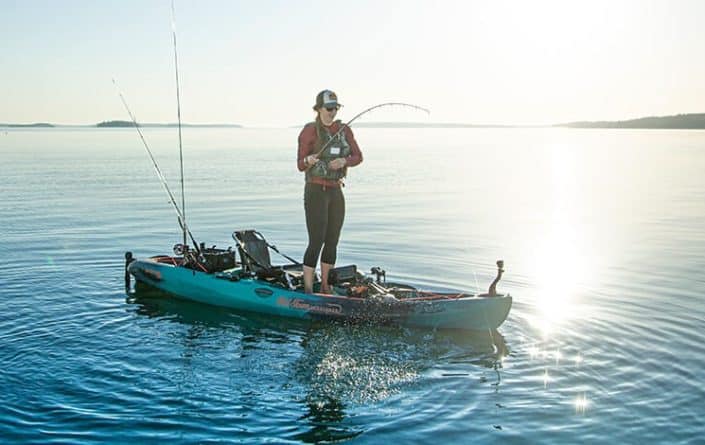 Pedal kayaks are the cream of the crop of fishing kayaks.
And without a doubt, Old Town offers the best value in this category.
For under $2000, you can get a high-end kayak that rivals Hobie's $4K+ boats.
However, before buying your first pedal kayak you should think about your priorities.
Where do you plan to go fishing? Will it be skinny water, narrow rivers, or an open ocean?
Pedal kayaks are very easy to sell in case your priorities change over time, but it's still important to think about this beforehand.
Also, please keep your kayak out of the sun. UV rays can warp the hull over time, and this kind of negligence isn't covered by the warranty.
Finally, pedal kayaks are very successful and the best ones tend to be out of stock. So if you can't get your hands on one, you'll have to wait until next year.
old town sportsman salty PDL 120 Specifications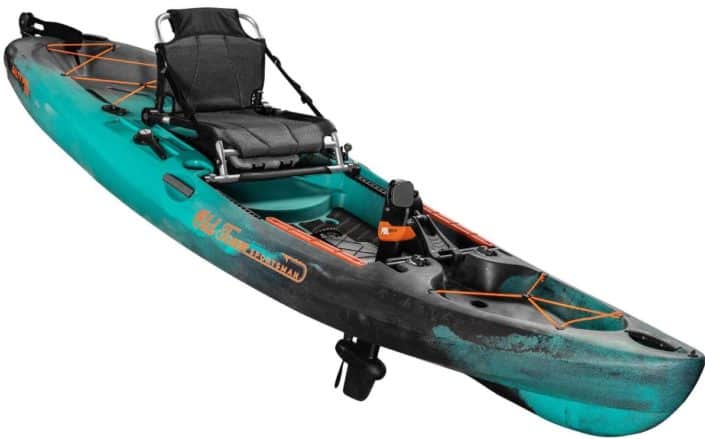 Length: 12 ft
Width: 34.5 in
Weight:79 lb / 104 lb with seat and drive
Load Capacity: 450 lb
old town sportsman salty PDL 120 Design
Material
Like most high-end fishing kayaks, the Old Town Salty PDL 120 is a rotomolded kayak made of polyethylene.
As such, the hull is virtually indestructible. It will withstand collisions, rocks, submerged tree branches, and almost anything you can throw at it.
Speed
Speed is where the Sportsman Salty 120 PDL really shines.
With its slim profile and low weight, I'm able to coax 6 mph out of it. Of course, I couldn't sustain that speed for more than 20 minutes, but that's still impressive.
In good conditions, I have a cruising speed of 4-4.5 mph which is ridiculously fast for a pedal kayak.
I'd say the Salty is one of the fastest pedal kayaks out there. In fact, it may be the actual fastest pedal kayak now that Hobie isn't making the Revolution 16 anymore.
Maneuverability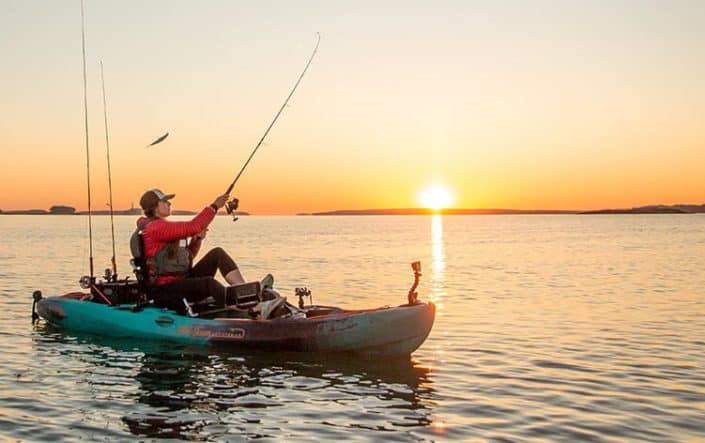 The Sportsman Salty PDL 120 also has great maneuverability thanks to its extreme rocker.
This boat can really turn on a dime, better than the Sportsman 120 which is already quite maneuverable.
This makes it ideal for combat fisheries when there are 100+ boats and you're fishing close to one another.
It also makes this the most versatile pedal kayak I've owned.
It's a true throw-and-go kayak to fish in narrow rivers, open ocean, creeks… you name it.
I also like the little knob on the rudder to fix it in place. This is particularly useful in strong currents so that the rudder doesn't flutter. I miss this feature on my Autopilot.
Comfort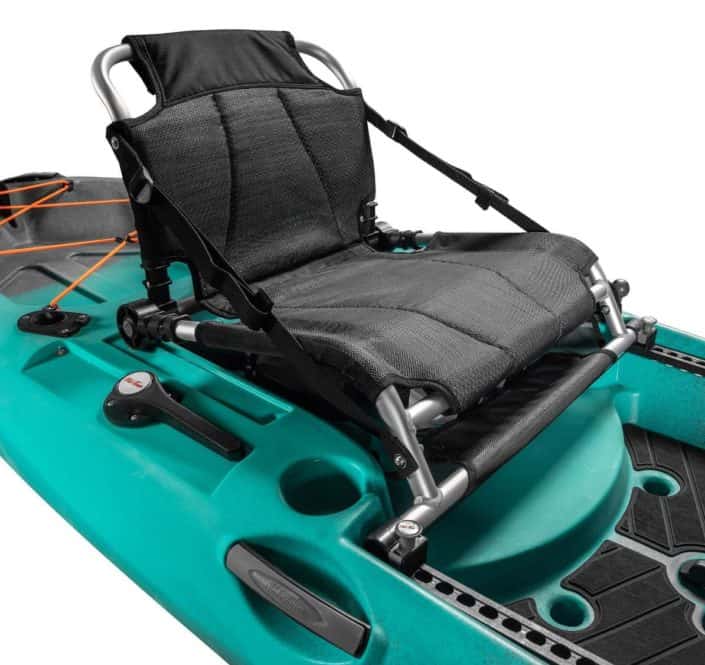 The Salty PDL has the same seat as the whole Sportsman series.
I've already talked about it in detail in my other Sportsman articles, but basically, this seat is extremely comfortable.
Even my wife who has back issues says the Sportsman seat is much more comfortable than her Hobie's.
It drys quickly, is wide enough for big guys, breathable… in short, everything you could hope for in a good seat.
The seat has some storage space underneath where you can put some tackle trays.
It also doubles as a camping chair, so that gives you an idea of how comfortable it is.
Regarding legroom, the Salty 120 has the same cockpit length as the Sportsman 120.
So, it's good enough for tall guys, although being a pedal kayak means it doesn't have as much room as the Autopilot, for instance.
For standing, even though the Salty is much slimmer than other pedal kayaks, it still has enough room to feel comfortable, even for big guys.
Stability and Tracking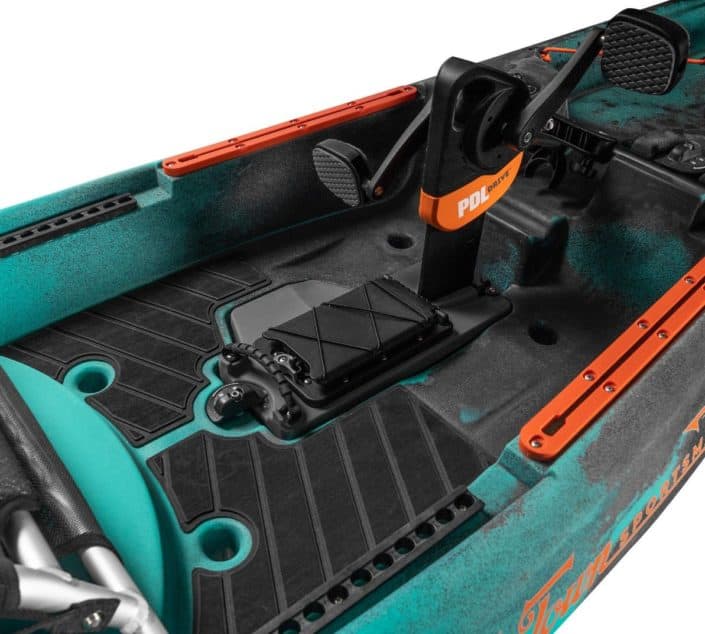 I am truly impressed by how stable the Salty is, considering how fast it is.
Because it's so light and narrow compared to other pedal kayaks, I was expecting it to be very unstable.
But it turns out the Salty PDL is very hard to flip. It's almost as hard to flip as the Sportsman 120, which is a ridiculously stable kayak.
Even big guys won't have any problems standing and casting. If you lean too much to one side, you'll feel the boat rocking a bit but definitely not enough to make you fall overboard.
Where the Salty really shines is in the ocean. It can handle big wakes much better than any other pedal kayak.
The hull design is very similar to the Predator/Bigwater, but because you sit much lower on the water it's actually very easy to reach down at the fish, especially big game fish.
Regarding tracking, it's pretty good with the rudder. But without the rudder, it doesn't track as well as the Predator or Sportsman.
As long as you use the rudder, you won't have any problems. Of course, this means it's not ideal for super skinny water where you have to pull up the rudder.
Durability
I've said it before, but the Salty PDL is virtually indestructible.
By the way, Old Town has the best customer service in the industry, and the hull has a lifetime warranty.
Regarding the pedal drive, it is covered by a 5-year warranty.
I've never heard any complaints about pieces breaking off.
Little-known detail: Even if you hit a rock at full speed, you won't break the prop. The pedal drive will actually kick off, and you'll just break the little safety pin. That pin costs a few bucks, so it's not really a problem.
Portability
Because it's so light compared to its competitors, the Salty PDL 120 is a very portable kayak.
Of course, loading it on top of an SUV will always be a challenge on your own, but not nearly as difficult as loading the Sportsman 120 or the Autopilot.
There's a skid plate at the stern and another at the bow so that you can easily drag your kayak to and from the water.
Although at only 79 lb, you can easily carry it on your shoulder if you take off the pedal drive.
You have a comfortable handle at the front, and another at the back. I find the stern handle to not be very convenient for loading/unloading the boat, though. It has a weird positioning because of the rudder.
Unlike the Autopilot, I personally don't need a cart to carry this boat. Although if you're skinny, you may find it more difficult to carry.
Old Town Salty PDL Features and Storage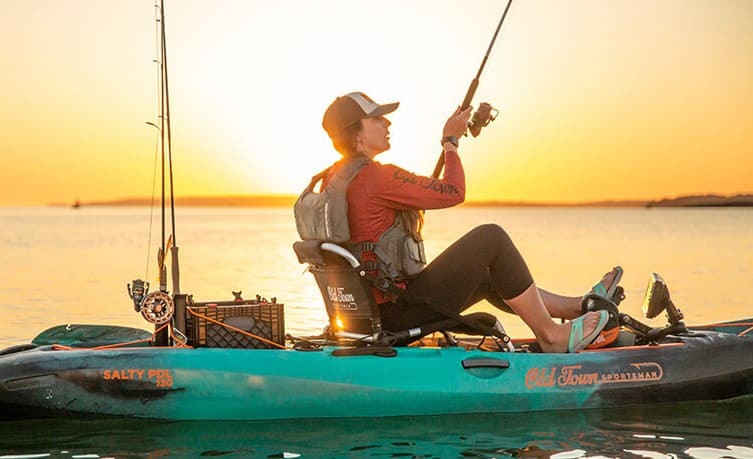 As expected from a high-end fishing kayak, the Salty PDL 120 has a convenient paddle clip on the left side.
It also has a cup holder on the right side.
However, you should know it doesn't have any dry hatches.
There is almost no in-hull access. There's just a bow well with some bungee cords, and a hull access beneath the seat to put a battery.
Of course, this was done on purpose so that no water can enter the hull. In big waves or on rainy days, your Salty will perform better than boats that do have dry hatches, because the water won't get in the hull.
There is also very little storage in the cockpit. I would have liked to have some pockets like in the Sportsman 120. Apart from the storage underneath the seat, the cockpit is empty.
I do like the small dry hatch on top of the pedal drive, where I can put my phone and car keys.
The rear tankwell storage is pretty big to fit a black pack and a cooler. However, it's not as wide as on the Sportsman 120, so there's a little less space.
Old Town Salty PDL 120 Fishing Ease
The Sportsman Salty PDL 120 has great fishability, but it's made for minimalist anglers.
This is hands-down the most versatile kayak because it's so fast and nimble. You can take it anywhere you could think of.
It has three flush-mounted rod holders − one front-facing and two rear-facing rod holders.
As usual, you get two 18-inch gear tracks to mount all your fishing gear − GoPro, rod holders, camera, fish finder…
It has a universal transducer mount, but no power pole mount.
It's easy to pedal all day and maintain troll speeds − to troll for trouts, salmon, or kokanee. In fact, sometimes I have to slow down because I'm going way too fast without realizing it.
The rudder is very responsive, and you have the instant reverse. This is great to stay in place even in currents or in wakes.
Even big guys will be able to stand and cast. The stability is really impressive considering how fast this kayak is.
The only downside of this boat is that it does get wet. If you're going fast against the waves, you'll have water splashing inside.
And if you're a big guy, even on calm days you'll have water coming out of the scuppers. This isn't a deal-breaker, but if you like to stay dry, then this boat isn't for you.
Who is the Old Town Sportsman Salty PDL 120 for?

The Sportsman Salty 120 PDL is made for the minimalist angler.
If you're the kind of guy who likes to take a ton of gear they won't even need, then this boat isn't for you. I'd recommend the Sportsman 120 instead.
But if you want a minimalist, versatile boat that can take you anywhere…
That's also great for recreational trips (my wife loves it, for instance)…
Then the Salty PDL is amazing.
It's also my favorite kayak for ocean fishing, because of how fast and maneuverable it is without sacrificing stability.
IMHO, I'd say it's the best fishing kayak under $2000 on the market.
Old Town Salty PDL 120 Alternatives
Old Town Sportsman 120 PDL

The name is a bit confusing, but that's because the Sportsman 120 PDL isn't all too different from the Salty PDL.
The main difference is the Sportsman is wider, has more storage space, and is even more stable.
As such, it's also slower and slightly less maneuverable.
It's still good enough for offshore fishing, but not as efficient.
Another difference is the Sportsman 120 (or the older Topwater 120) is much better for skinny water. Because of the hull shape, you can go in very shallow water, where you couldn't go with the Salty.
So for inshore fishing with shallow oyster and mud, the Sportsman 120 would be much better.
Learn more about the Sportsman 120 PDL in my detailed review.
Old Town Sportsman 106 PDL

Like the Salty PDL, the Sportsman 106 PDL is a very versatile boat.
It's my wife's favorite recreational kayak and my favorite throw-and-go boat.
It has less storage space than the Salty, and it can also go in skinny water like the Sportsman 120 PDL.
It's very light and has impressive stability.
However, for ocean fishing you'll definitely prefer the Salty PDL.
For big and tall guys, the Sportsman 106 PDL will be too uncomfortable.
Hobie Mirage Outback

It's impossible to write a pedal kayak review without mentioning Hobie.
So, compared to the Sportsman Salty PDL 120, the Mirage Outback is slower and less stable.
What the Mirage Outback excels at are fishing features. The cockpit organization is just out of this world.
Lots of storage, great mounting options, perfect nooks and pockets for gear.
If you're not a minimalist angler, then you'll love Hobie's fishing features.
At almost $4000, it's also much more expensive without being that much better at anything except storage. Hobie does charge a premium for their products, whereas Old Town offers better value.
If you're a minimalist angler, I'd pick the Salty PDL any single day and save the extra 2000 bucks.
Learn more about the Hobie Mirage Outback.
Old Town Salty PDL 120 Review – Wrapping It Up
For minimalist anglers, the Sportsman Salty PDL 120 is hard to beat.
For less than $2000, you get incredible value and a boat that's faster than any other competitor.
Super stable to stand and cast, but still light enough to carry on your own.
It's also perfect to go on recreational trips with the missus.
The only downside is it tends to get out of stock very quickly.
So by the time you read this review, it might already be unavailable… Sorry. You'll have to wait until next year.