After getting my Sportsman 106 MK last year, my wife and I have taken it more than 50 times on the water.
In this Old Town Sportsman 106 powered by Minn Kota review, I'll tell you what we love about this boat, and what could be improved.
[Spoiler Alert: The Sportsman 106 powered by Minn Kota is a fantastic kayak. For the price, you simply can't beat the speed, stability, and comfort. The only downside is it's often out of stock. So chances are you'll have to wait until next year to get yours… Sorry.]
Things to Consider Before Buying an Old Town Motorized Kayak
Motorized kayaks are the cream of the crop of fishing kayaks.
You just can't compete with the ability to get to your fishing spot super quickly and start fishing hands-free without worrying about anything.
That said, motorized kayaks are also expensive and heavy.
This means if you don't have a pickup truck, you'll probably need help to load it onto your car or SUV.
Also, you may want to invest in a kayak cart to take your kayak to and from the water.
Apart from that, most high-end kayaks (including the Sportsman 106 MK) will last a lifetime as long as you take care of it.
If you can, rinse out the motor drive after taking it on saltwater.
Also, keep your boat out of the sun when not in use. Over time, UV rays may warp the hull, and there's no warranty for that kind of negligence.
Finally, you'll need to buy a dedicated battery for your boat. I'd suggest investing in a 12V, 100AH lithium battery instead of a lead-acid one.
It will be lighter and gives much better performance. You don't want to be stranded in the middle of the water with a dead battery and have to paddle all the way back.
Old Town 106 Minn Kota Specifications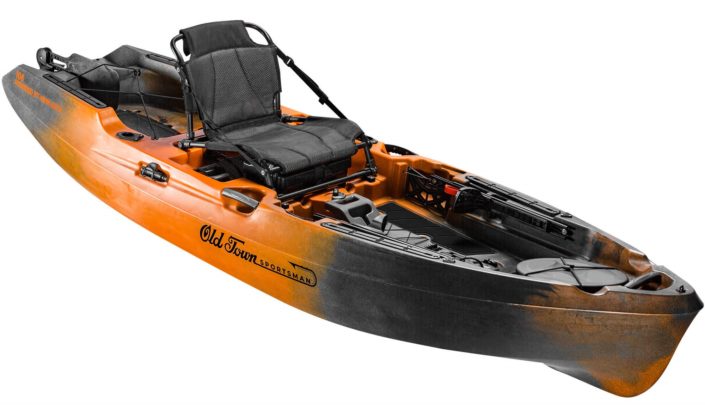 Length: 10 ft 6 in
Width: 37 in
Weight: 98 lb / 121 lb with motor and seat
Load Capacity: 525 lb
Old Town 106 Minn Kota Design
Material
Like most fishing kayaks, the Old Town Sportsman 106 is made of single-layer polyethylene.
This material is virtually indestructible. It will handle collisions, rocks, submerged tree branches… and anything you throw at it.
Speed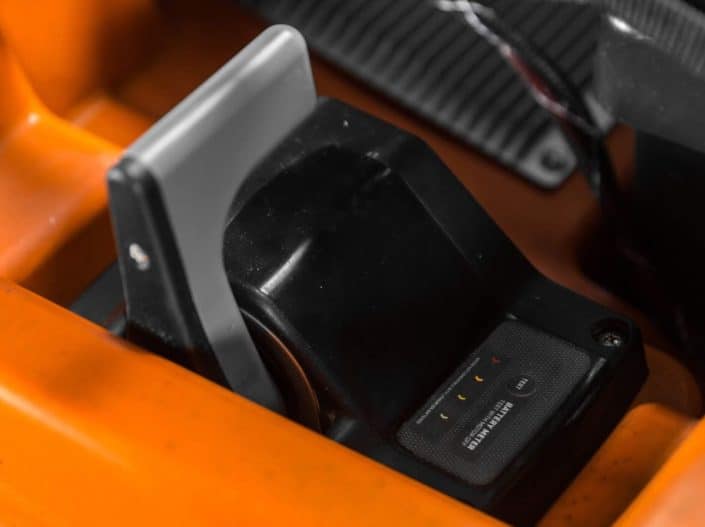 Because it's lighter than the Autopilot, the Sportsman 106 Minn Kota is a really fast boat.
At full throttle, you can get between 3.8 mph and 4.5 mph depending on the wind and current.
That's much faster than most pedal kayaks, which tend to have a cruising speed of 3 mph.
You control the speed with a throttle control on your right hand.
By the way, the Sportsman 106 MK can also go reverse (by simply pulling the control) at the speed you choose.
Remember that with the proper battery, you can only get about 2 hours and a half at full speed. So even though it's a fast boat, don't expect to cover 15+ miles. (Unless you go at a lower speed of 2 mph, which will allow you to cover 20 miles before running out of battery).
I love the battery meter to see how much battery you have left. It's very handy to make sure you don't have to paddle all the way back. I wish that feature was on the Autopilot as well − I had to paddle back for 3 miles once, and I can tell you it was hard because of the huge weight.
Maneuverability
Because of its short size, the Sportsman 106 MK can turn really quickly.
You can do a 180 turn within 15 feet, which is good enough to avoid most obstacles.
By the way, you steer the boat with a foot-controlled rudder. Simply push on the right and left footpegs to turn the rudder.
I love being able to steer with my feet because I can just keep fishing and I don't have to put my rod down. It's so much better than the hand-controlled rudder on pedal kayaks IMHO.
Comfort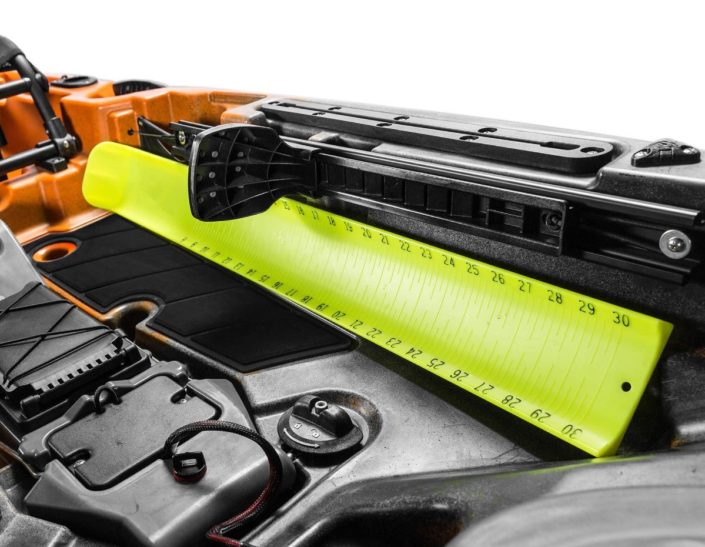 Like most high-end Old Town kayaks, the Sportsman 106 MK has an incredibly comfortable seat.
You can choose between the low and high positions, and the seatback can be reclined easily.
Of course, the foot braces are adjustable, and like on the Sportsman 120, you can easily adjust them with one hand.
Regarding legroom, I was amazed by how much space there is on this boat.
Considering it's very short at 10 ft long, I didn't expect the cockpit to be this huge.
I've let a 6ft3 tall friend use it the other day and he told me he felt so comfortable, like being on a camping chair.
Of course, it will be a lot more comfortable than a paddle or pedal kayak since you don't have to use your legs at all, you can just relax and sit back.
So even for big and tall guys, the Sportsman 106 powered by Minn Kota is a super comfortable boat.
Stability and Tracking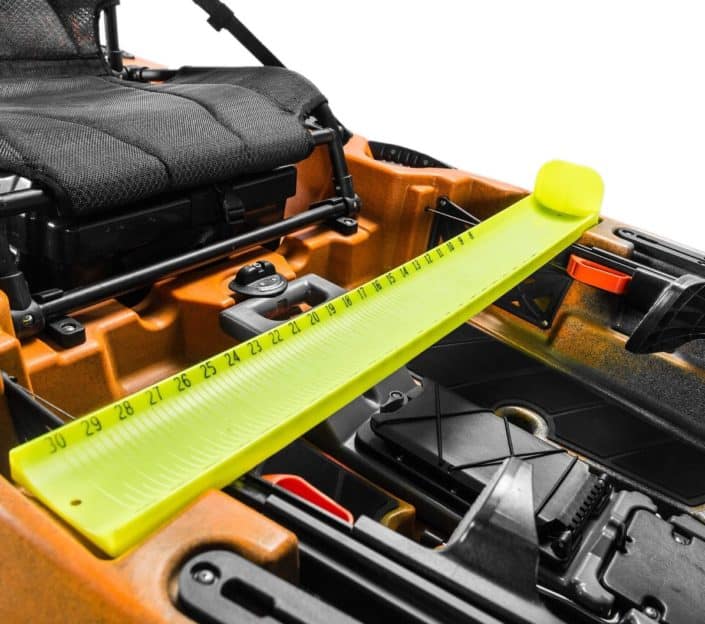 Like the Autopilot, the Sportsman 106 powered by Minn Kota has amazing stability.
This boat is literally impossible to flip, and you could stand on the nose of the boat without feeling too unstable.
Even for big guys, you can lean to the side without rocking the boat.
The stability and the Sportsman series is just crazy.
I've never felt unstable while standing and casting, which is impressive for a boat this short.
Regarding tracking, the rudder does a pretty good job of keeping you on track.
Even in 15 mph wind with current, I've never had any problems with tracking.
By the way, this boat is also made for saltwater, so this might explain why the tracking is so good.
Durability
As mentioned previously, the Sportsman 106 Minn Kota has a virtually indestructible hull.
And even if you did manage to damage the hull, you'd be covered by Old Town's lifetime hull warranty.
Unfortunately, the warranty only covers the motor for 2 years. I've never had any problems with it, but this means you'll have to be careful.
Particularly in shallow water, I'd suggest not locking down the motor so that it can pop up in case you hit something.
Little-known fact: If you do hit something, say a submerged tree branch or you didn't see a rock… then the prop won't break. The motor will just kick off and you'll simply break the pin. Since a pin costs a few bucks, that's a very well-thought-out design from Old Town.
Also, you have a spare prop pin in the little kill switch key, which is nice.
Transportability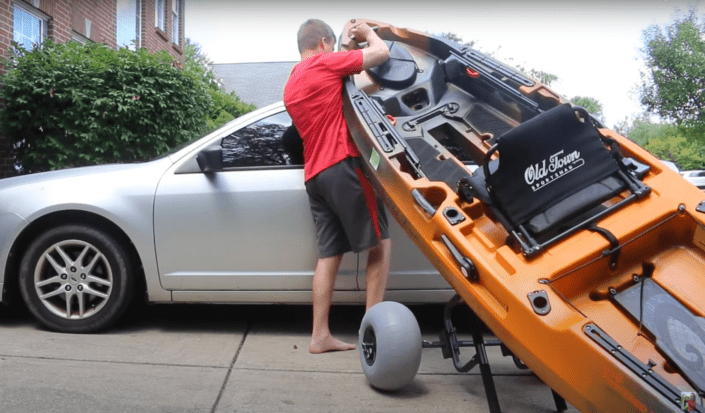 At 98 pounds unloaded, the Sportsman 106 MK is not a light boat by any means.
That said, it's still much lighter than my Autopilot.
Generally, when I go out with my wife she can just take it out of the truck bed herself and carry it to the water.
I like the fact they've added a skid plate so you can drag the boat and you don't necessarily need a kayak cart.
However, if you don't own a truck… then loading it on top of your car or SUV might be a challenge. Chances are you'll need help.
And if you'll be parking far from the landing area, then yes, you should invest in a kayak cart.
Old Town 106 Minn Kota Fishing Ease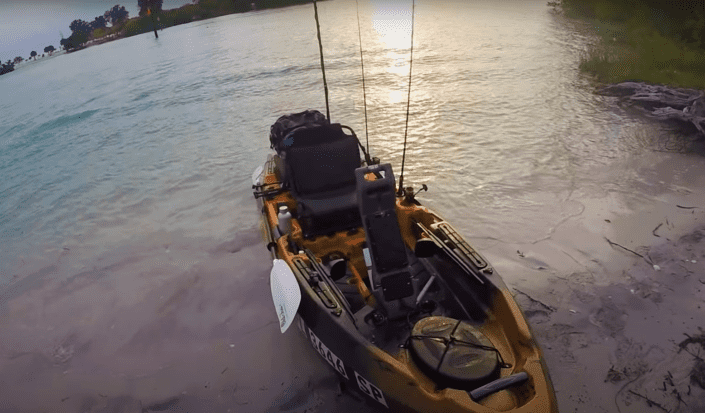 What really makes the Sportsman 106 MK stand out is the amazing motor drive.
Being able to get to your fishing spot at 4 mph is just amazing, and you don't even have to use your arms and legs.
Also, the incredible stability means you can stand and cast without ever feeling tippy.
Regarding fishing features, it has the usual two gear tracks to mount a fish finder, a GoPro, a camera mount, etc.
It also has two extra gear tracks at the back (which aren't on the paddle-version of the Sportsman 106).
There are two rear-facing flush-mounted rod holders and one forward-facing rod holder.
You get net storage on the sides to throw plastics on one side, pliers on the other side, or whatever you might need. You also have pockets to fit your tackle boxes.
Of course, the deck is padded all around with EVA foam so that you don't slip, and there's a universal transducer mount.
You've got a huge rear tankwell storage where you can fit a black pack and a cooler.
The cockpit area is just massive. It's as big as the cockpit on my Autopilot 120 which is 2 feet longer…
That's due to the fact the motor is actually flush-mounted, so once you set it down there's nothing sticking up. It's completely flat so you can get your dog, kid, or simply walk around on the deck.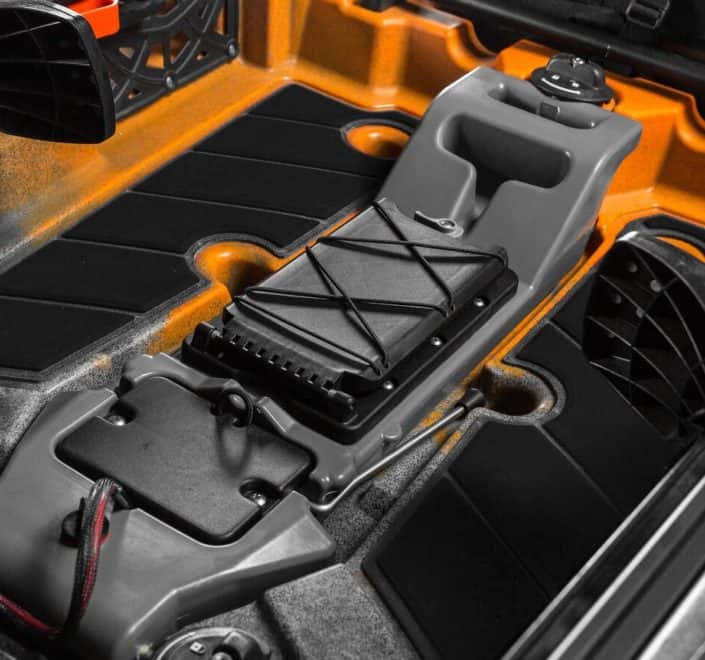 This simple difference makes the cockpit feel so much bigger than a usual 10-foot kayak.
Finally, the motor has a double kill switch. One that makes it stop if you hit something and another that you tie to your life jacket. This way if you take a swim the motor will stop and you won't have to try and catch up with your boat going at 4 mph in the opposite direction.
Who is the Old Town Sportsman 106 Powered by Minn Kota for?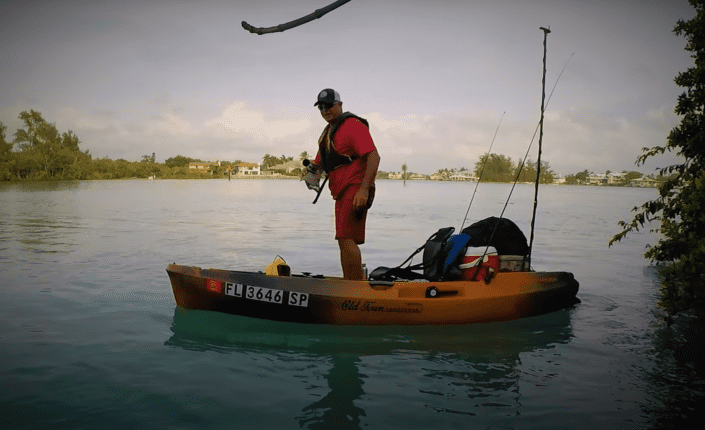 I think it's clear by now − the Sportsman 106 MK is made for serious anglers.
This boat will take you to your fishing spot so fast. You can use it in rivers, lakes, in a creek… it's so light and quick.
For tournament anglers, the Sportsman 106 Minn Kota will definitely be better than even an expensive pedal kayak. But it won't be as good as the Autopilot which is made especially for tournament fishing.
Overall, if you just want a kayak that will take you to your fishing spot effortlessly so you can just focus on fishing…
And you're tired of paddling and you'd love hands-free fishing…
Then for almost the same price as a comparable pedal kayak, you get an amazing motorized boat.
For under $3000, the Sportsman 106 MK is the best motorized kayak.
Old Town 106 Minn Kota Alternatives
Sportsman Autopilot 120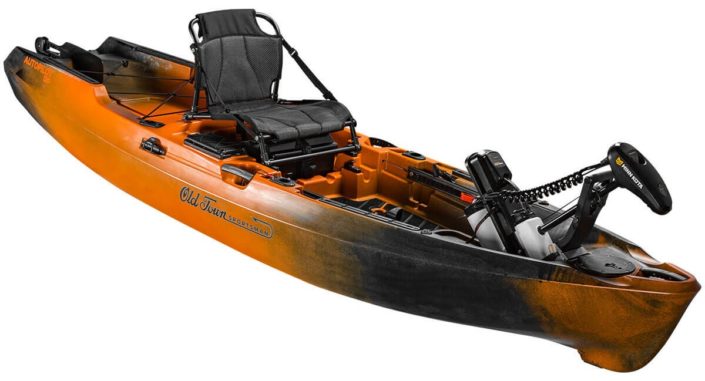 I'm sure many of you are hesitating between the Sportsman 106 MK and the Autopilot.
But the truth is these boats have very different purposes.
In my opinion, the Autopilot 120 is specifically made for tournament fishing.
It has more storage capacity and the amazing spot-lock feature.
But it's also huge and heavy, you can't just throw it out anywhere.
I'd say the Autopilot is more like a bass boat, for serious kayak anglers in big lakes or open ocean.
The Sportsman MK is slightly faster than the Autopilot. But it doesn't have a remote control, so you can't steer the boat and adjust speed while standing, you have to sit back down.
Also, the Sportsman 106 MK is around $1200 cheaper than the Autopilot.
So… if you're a serious angler and you have the budget for it, then sure − the Autopilot is a fantastic kayak.
But if you can't afford it, the Sportsman MK is just as great for different reasons.
Related article: Best Saltwater Spinning Reels.
Hobie Mirage Passport 12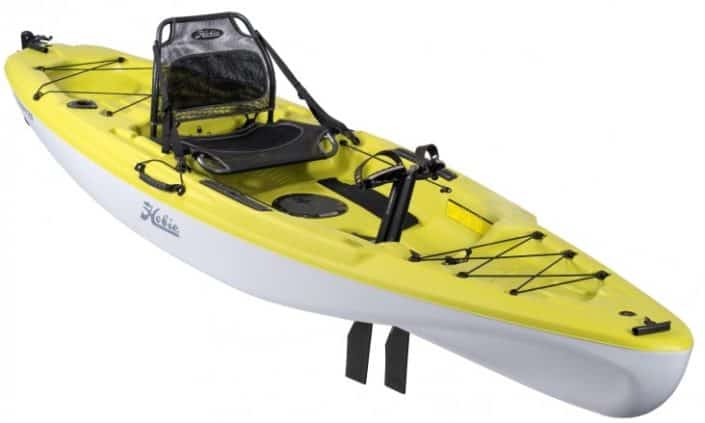 Since the Sportsman 106 MK is by far the best motor kayak at its price range, I prefer comparing it to a similarly-priced pedal kayak.
The Hobie Mirage Passport 12 is the cheapest Hobie boat − costing around $2100.
Since this is a pedal kayak, you'll have to use your legs to get to your fishing spot.
But at the same time, you won't ever worry about running out of battery.
The Mirage Passport isn't as fast as the Sportsman MK. I have a cruising speed of only 3 mph.
Apart from that, it's still an OK boat, but it doesn't have any reverse capability.
Even though some people prefer the Hobie over the Sportsman…
Personally, I think the Sportsman is so much better.
But I'll leave the choice to you.
Read our full Mirage Passport 12 review.
Old Town Predator PDL

The Old Town Predator PDL or BigWater PDL 132 (they changed the name in 2020) is the fastest pedal kayak ever.
As such, you can get a cruising speed of 4 mph, right on par with the Sportsman 106 MK.
However, you can coax out 6 mph out of it if you really pedal like crazy.
It's a fantastic boat with a big cockpit, huge storage space at the stern and bow… and all the fishing features you get on the Sportsman 106 MK.
Overall, you can't go wrong with the BigWater PDL.
If you think you need a pedal drive instead of a motor drive − mainly if you plan on doing 15+ mile trips, then go for it.
Or if you want to lose some weight and work out while you go fishing on the water.
But if you're OK covering less than 15 miles in a day, then it's hard to go back from a motor to pedals.
I know, I'm lazy… but so will you once you've tried it.
Read my full review of the Predator PDL.
Old Town 106 Minn Kota – Wrapping it Up
In case you didn't read any of the above…
The Sportsman 106 powered by Minn Kota is a fantastic kayak with motor.
At just under $3000, it simply blows the competition out of the water.
If you value speed, stability, maneuverability, and even if you're a big and tall guy…
The Sportsman 106 MK is the best value motorized kayak on the market.
The only downside is it tends to get out of stock…
So by the time you're reading this article, it might already be unavailable.
In which case, I'm sorry. You'll have to wait until next year…