For those looking for a reliable fishing kayak, the market is currently filled with reasonably priced options. But how do you even start to wade through all the technical and performance differences?
No to worry, we've got you covered with an in-depth look at one of the longest kayaks in its class, the Predator MX from the Maine-based kayak and canoe mainstay Old Town.
In our Old Town Predator MX review, we'll go point by point breaking down our likes and dislikes.
While it's more expensive than some similar kayaks, Old Town has spent decades crafting high-performance boats that are incredibly stable and usually worth the extra cost.
So if you're in the market for a fast kayak with solid tracking and don't mind a little less dry storage space, you may have just found the right fishing kayak for you.
Pros:
Solid maneuverability despite the longer keel
Tri-hull design for great stability
Can stand and cast
Cons:
Lack of dry storage space
No rudder
One of the heavier kayaks in its class
Things to Consider Before Buying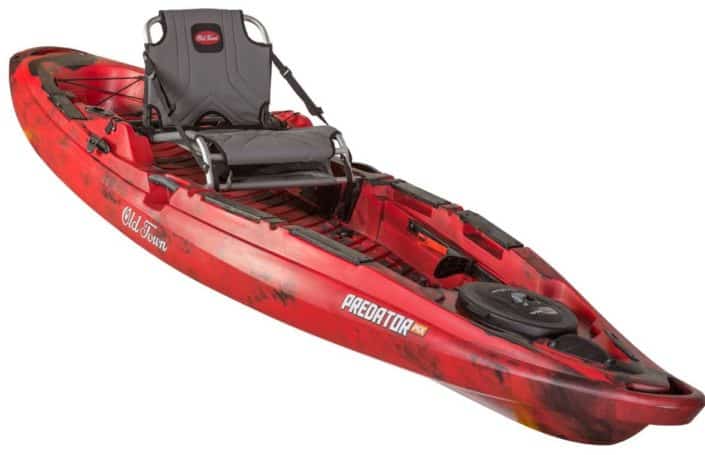 The Predator MX is a "sit-on-top" kayak, the most common design for hard-sided recreational and fishing kayaks. These boats are known for their stability and open cockpit designs which makes it easy for paddlers of all ages to get in and out with little trouble. Some fishing kayaks are so stable you can even stand and cast without fear of capsizing.
But the wider hull and open cockpit does have a few drawbacks. The biggest one is that there's little to no protection from the elements. If you live in a wet climate or will be on rough water, be sure that you're properly dressed and be prepared to get wet.
If this doesn't sound appealing or unsafe, consider going with a sit-in kayak design like the Prodigy XS. It doesn't have the same fishing features but will keep you drier, especially if you wear a spray skirt.
The Predator MX is one of the longer fishing kayaks measuring 12-feet in length. Make sure you have adequate storage space before purchasing, preferably somewhere that's climate controlled or at the very least protected from the elements.
Unless you have a big truck, plan on transporting your Predator MX via a roof rack. Make sure you have the proper straps and a strong enough rack to move it safely.
Specifications
Length: 12-feet
Width: 34-inches
Weight: 82 pounds
Load Capacity: 400 pounds
Design
Material
The Predator MX is made of a tough plastic called Polyethylene.
Rigid and inflexible, you don't have to worry about this material bending or twisting in the waves. Highly resistant to punctures, it can handle any bumps or on-water collisions and keep on going.
Speed
The 12-foot keel length and efficient design gives the Predator MX an impressive top speed for a fishing kayak.
It won't keep pace with longer touring kayaks, but if it's a decent distance to your favorite fishing hole, this model will cut down on your paddle time.
Maneuverability
Usually longer keeled kayaks have a tough time with tight turns. Even without a rudder, the Predator MX can handle tight riverbanks and small corners better than most boats this size.
If you're heading out on the open ocean or on fast-moving rivers it may start to feel a little sluggish. But for protected waters, I was pleasantly surprised by its turn radius.
Comfort
If you're going to be on the water all day, you'll want a comfortable seat. Designed to fit anglers of all shapes and sizes, the Predator MX has a wide backed seat with a tough metal frame that can be adjusted back and forth. I do wish the seatback was a little bit taller, but the super comfortable seat that includes padding on the bottom and back more than makes up for it.
For your feet, there's an adjustable track system that's easy to adjust even on the water. I prefer this track system to the "foot well" design of some competitors. My feet always seem to find those dead spaces between the wells and it's nice to not worry about it.
Stability & Tracking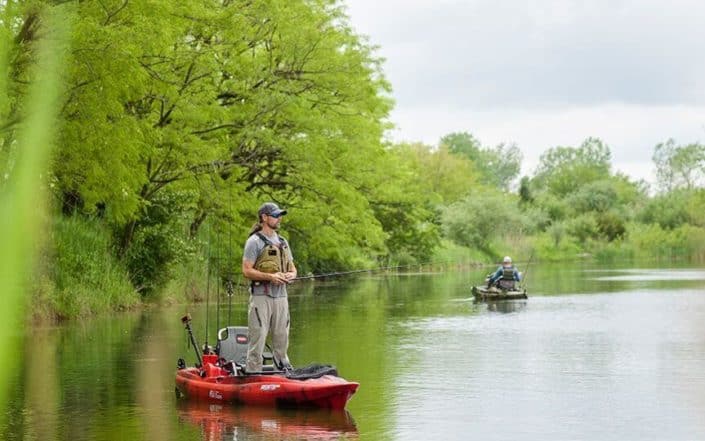 While not as wide as some angling kayaks, the Predator MX still manages to maintain excellent stability thanks to the tri-hull design. It's approved for standing and casting which is a huge advantage over fishing from a sitting position and the stand assist strap makes it even easier.
Standing gives you better distance and accuracy on your casts and can make it easier to spot passing schools of fish. If you haven't done much standing and casting from a kayak before, I'd recommend starting out in calm water near shore until you get your sea legs under you and would avoid trying to stand in noticeable chop or tidally influenced areas.
The hull design also helps when it comes to tracking. Combined with the longer keel length and narrower width, the Predator MX can maintain its course much better than most similar rudderless kayaks. I'd still recommend the same level of caution about going out into choppy or windy areas, but you should be able to paddle a straight line to most of your fishing destinations.
Durability
With proper care and maintenance, you can expect your Predator MX to last a long time. Outside of a catastrophic drop while transporting, it's almost impossible to puncture the hull.
But the better you treat your kayak, the longer it will last. It doesn't have a skid plate on the hull so I'd recommend carrying your kayak to and from the water whenever possible. Dragging will produce scratches and over time, the plastic will begin to peel. This can create additional drag and decrease your paddling efficiency.
If possible, store your kayak out of direct sunlight when not in use. UV rays can weaken the plastic over time causing it to warp and be susceptible to damage.
Portability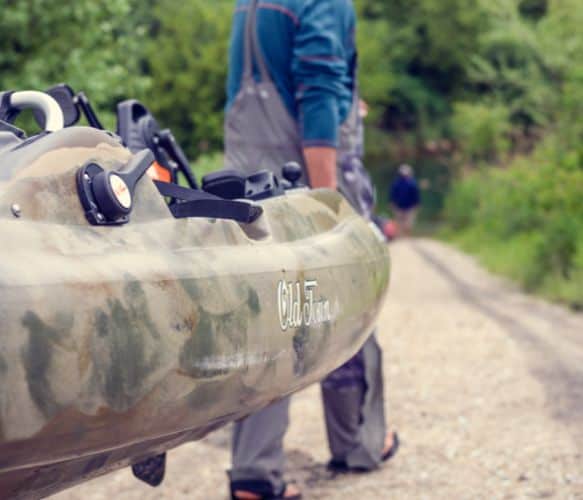 At 82-pounds, the Predator MX is a little heavier than most kayaks in this class. That coupled with the longer keel can make it a challenge to transport on your own or get on top of a vehicle. If you're going to be moving the kayak solo, I'd suggest investing in a little kayak cart to get it safely to the water.
Tandem carries are made easier with built-in handholds on the bow and stern. These hard plastic molds aren't as comfortable on your fingers as the gel "T-handles" that other kayaks have, but for short portages, it's not too big of a deal.
Features & Accessories
The Predator MX comes with a paddle rest and side mount so that your paddle is out of the way and secure while fishing.
But it doesn't come with a paddle or scupper plugs, though that's pretty common for kayaks in this category.
Fishing Ease
No fishing kayak would be complete if it didn't come filled with custom features and options. The Predator MX comes with multiple rod holders and bungees including protective silicone tips for extra protection for these valuable pieces of equipment.
For customization, the boat comes with six mounting plates where you can install whatever you want. To install, simply remove the plate and drill the necessary fasteners into the mounting plates instead of having to worry about drilling into your brand new kayak.
A large tank-well storage hatch in the stern is a great spot for a tackle box or large cooler and is easily accessible from the cockpit. A dry hatch is located in the bow, and while it's a decent size, I wish it was a little bigger for overnight trips.
We've already mentioned the excellent stability, but it's worth repeating that the ability to stand and cast alone makes the Predator MX worth the investment. Slip-resistant mats have been placed directly in front of the seat to give you more traction while standing.
If you're new to kayaking, the easy paddling and reassuring stability may be just what you need to get comfortable on the water.
While the tracking and maneuvering is fine in calm conditions, I wish they'd made it easier to install a rudder or skeg. Chances are you won't have any issue if you're spending the majority of your time on lakes and rivers.
But if you're looking to go out on the open ocean or traversing water that may be more dynamic and unpredictable, you may prefer to go with a boat that has a rudder so you have another method of steering besides your paddle stroke.
Value
With all the custom features and excellent stability, the Predator MX comes in at the higher end of the price range for a mid-range kayak. You can probably find a cheaper boat that can get the job done, but don't expect to find this combination of stability and customization for much cheaper.
Customer Feedback
I spent some time online and found most people had positive reviews for the Predator MX. Most of the enthusiasm was saved for the boat's excellent stability and wide deck.
One of the main nitpicks centered around the boat's heavy weight and the need for solo paddlers to drag the kayak to and from the water.
One question posted on Old Town's website mentioned the keel of one Predator MX wearing out after six years of dragging it over riffles. But Old Town replaced it for a reasonable cost.
Alternatives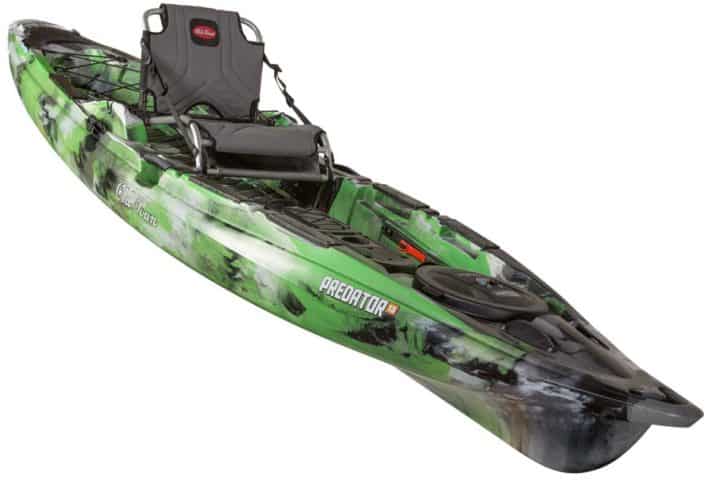 A foot longer than the Predator MX, the Predator 13 has a similar width giving it an efficient design that glides over the water.
You'll find many of the mainstay Old Town features here such as six mounting plates where you can install your own fishing gadgets without having to drill into your kayak. I love the dual tackle holders which are easily accessible from the cockpit, and the central console allows for further customization.
The same excellent stability you expect from Old Town is here so standing and casting from this battleship of a kayak feels plenty safe.
More expensive than the Predator MX
Longer and faster but doesn't compromise stability
425-pound load capacity
Read our honest Predator 13 review.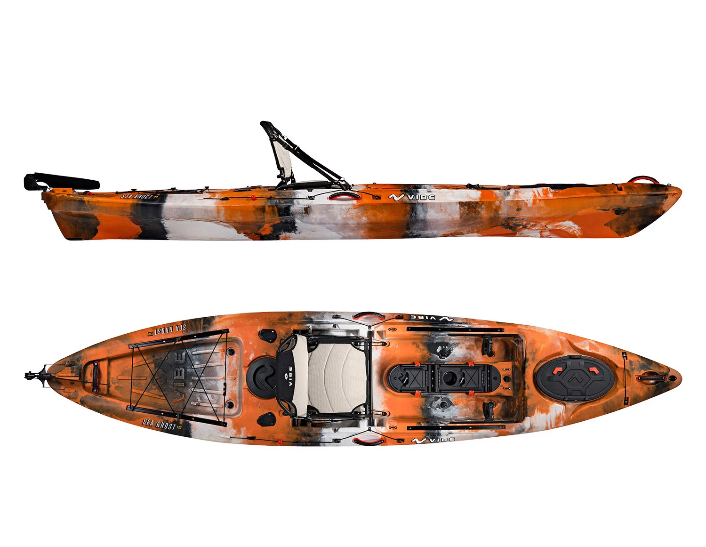 The Sea Ghost 130 comes with all the custom gear tracks and central console that Vibe is known for. Not to worry, the comfy "hero" seat has made the journey too.
Longer and heavier, this thing is a tank, able to hold an impressive 550 pounds. The 2019 version comes with a more watertight bow hatch and the boat's whole performance level has been upgraded. The biggest improvement comes in calm water where the Sea Ghost 130 is faster and more maneuverable than its predecessor.
Customization that Vibe is known for with four gear tracks and central console.
One of the heavier single angling kayaks
Lacks the speed of other company's angling kayaks
Read our full review of the Vibe Sea Ghost 130.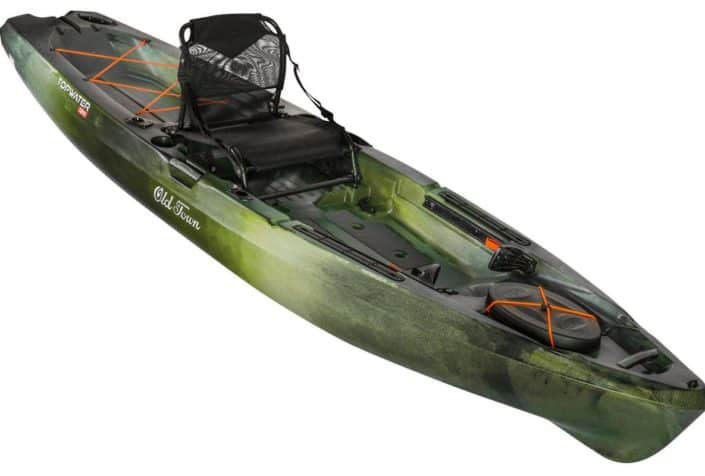 With a similar design to the Predator MX, the Topwater 120 from Old Town is another high-end angling kayak.
There's no rudder included in this design, but it comes with plenty of customization options as well as a similar seat design that's comfortable and adjustable. A transducer mounting system allows you to install a fish finder in the cockpit without any drilling.
Its biggest advantage to the Predator MX comes with its larger load capacity. Able to carry up to 500 pounds, this big boat can handle weeklong trips as long as you pack properly.
Plenty of storage and the large load capacity allows for multi-day trips
No rudder included
Maneuverability and tracking is compromised in rough water
Conclusion
With its long keel and excellent stability, the Predator MX shines on lakes and rivers.
I'd still suggest a boat with a rudder for bigger bodies of water, but when deployed in the right conditions, it's one of the better boats in its class.
You can learn more about Old Town and their other products by visiting their website.