If you're looking for a high-end recreational kayak, chances are you've set your eyes on this little baby.
In this Old Town Loon 106 review, I'll tell you what I like about this high-end recreational kayak, and what I think could be improved.
[Spoiler Alert: The Loon 106 is one of the best recreational kayaks. It has great speed, comfort, and tracking. If you're looking for a recreational boat, and maybe you want to go fishing from time to time, then the Loon is everything you could hope for. Unfortunately, it tends to sell out very quickly]
Things to Consider Before Buying a High-End Recreational Kayak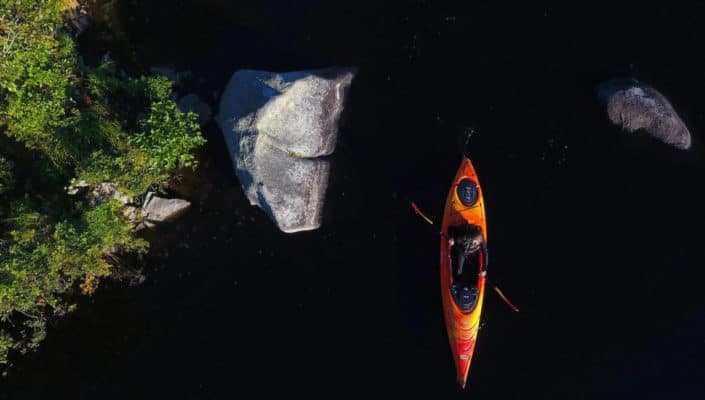 The Old Town Loon 106 is a premium recreational kayak, and it's not as cheap as other models.
As such, it's good to think about your priorities.
You'll have to consider whether you need a fast boat with great tracking or rather a maneuverable kayak for whitewater.
Also, if you want to stand and cast, then you'll need a more stable kayak than the Loon 106.
Overall, the Loon 106 has excellent tracking, comfort, and speed. But you can't stand in it.
The sit-in design makes it great for bad weather because you can use a spray skirt. However, during the summer some people might prefer an open sit-on-top instead.
Unlike its longer brother, the Loon 126, the small weight capacity doesn't make it suitable for big guys. It's still good enough for camping trips though.
Finally, remember to keep it out of the sun when not in use. Over time, the sun rays can warp the plastic hull, and there's no warranty against that kind of negligence.
Specifications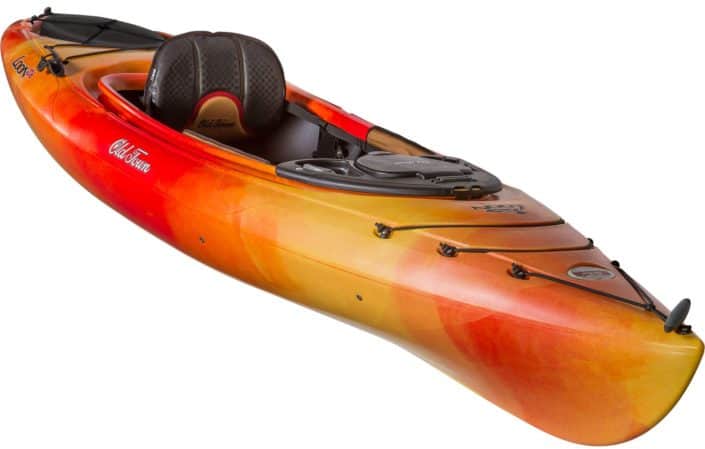 Length: 10 ft 6 in
Width: 31 in
Cockpit dimensions: 56 in x 23 in
Weight: 53 lb
Load Capacity: 325 lb
Design
Material
This boat is made of three-layer polyethylene, which makes it very floatable.
The material is virtually indestructible. It will withstand collisions, rocks, submerged tree branches, and almost anything.
However, it doesn't have a skid plate, so you should not drag it. Dragging it will damage the hull over time and reduce performance.
This is a very light boat, so carry it over your shoulder instead.
Speed
The Old Town Loon 106 is the second–fastest recreational kayak. The only recreational kayak that's faster than the Loon 106 is its longer brother, the Loon 126
Since this isn't a touring kayak, I honestly didn't expect it to perform that well.
I've told you in my Loon 126 article how I often go fishing in my Hobie Outback, with my wife in her Loon 126.
While I have a relaxed cruising speed of 3.5 mph in my Hobie, I can reach up to 5 mph if I pedal like crazy. Meanwhile, my wife just stays ahead of me the whole time.
I find this very impressive for a paddle kayak − being able to keep up with a fast pedal kayak such as the Hobie Outback.
Now, when we've tried it on the water, the Loon 106 wasn't as fast as its longer brother. But it was still able to keep up.
Maneuverability
The Loon 106 is a short recreational kayak.
As such, it's very easy to turn and super maneuverable.
I would feel confident taking it on narrow rivers up to class 3 whitewater.
On big lakes and slow-moving rivers, you won't have any problems avoiding obstacles.
Comfort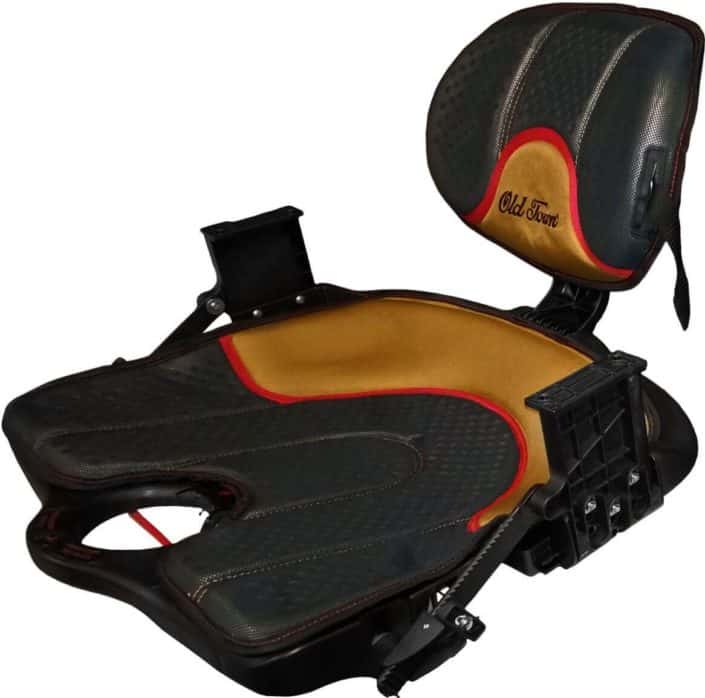 The Loon seat is pretty comfortable, wide, and breathable.
Having sat in many boats, I'd say it is hands-down the best seat of any recreational kayak.
It is fully adjustable. You can raise or lower it to stay comfortable at the knees.
You can also adjust the back support by using the little wheel at the back.
And you can put it forward or backward while seated thanks to the handle on the left side.
As expected, it has adjustable foot braces. They're easy to adjust by pushing or pulling the orange straps on the sides.
Stability and Tracking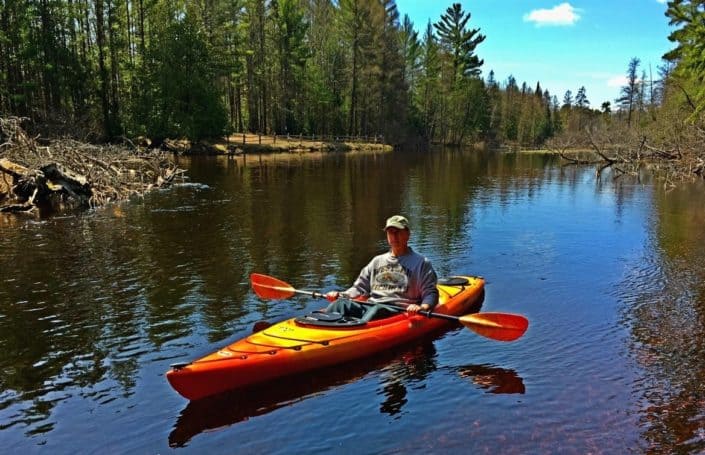 For such a short boat, the Loon 106 really shines.
From all the recreational kayaks I've had the pleasure of testing, the Loon definitely has the best tracking. You'll find it easy to maintain your course, even though its longer brother does track a bit better.
Even in wind, the Loon doesn't get blown away.
That said, remember that it has no rudder, and this is not a touring kayak.
As such, it won't track as well as long boats with a rudder.
This will be especially true if you're a beginner, as you'll have to learn to paddle efficiently to avoid turning from poor technique.
Regarding stability, I've never felt unstable with the Loon. However, you can't stand and cast.
If you want a kayak to stand in, you can read my review of the most stable fishing kayaks.
Durability
As mentioned above, the Old Town Loon 106 is an extremely durable kayak.
I'd be shocked if you managed to punch a hole through the hull.
And even if you did, the hull is covered by Old Town's lifetime warranty.
Regarding other components of the boat such as the hatches, I've never heard any complaints − which means they don't break easily.
Portability

At only 53 pounds, the Loon 106 is easy to carry on your own.
Most people won't have any problems loading it on top of an SUV.
Carrying it to and from the water is a piece of cake, and you won't need a kayak cart.
It has comfortable, sturdy handles at the bow and stern to help with tandem carrying as well as loading and unloading it.
Remember to avoid dragging it as this will damage the hull over time.
By the way, even the Loon 106 Angler weighs 53 pounds, which is ridiculously light for a fishing kayak. So if you have a hard time carrying other, bigger kayaks, the Loon Angler might be worth looking into.
Fishing Ease (Old Town Loon 106 Angler Review)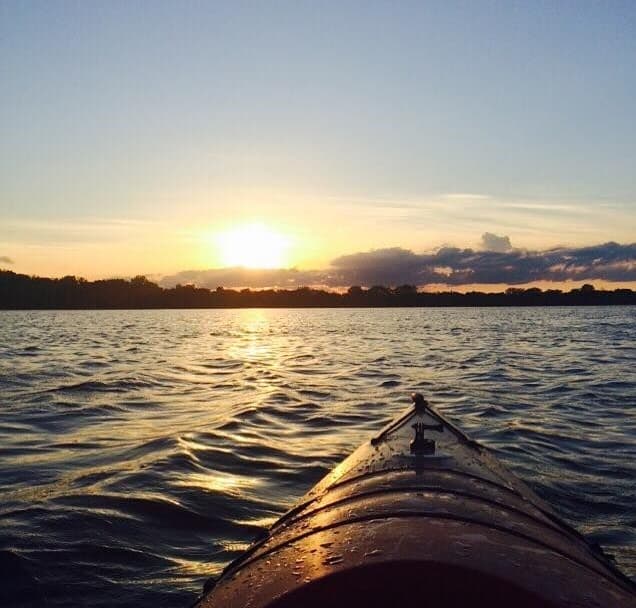 This section will talk about the differences between the Loon 106 and the Loon 106 Angler.
The hull, seat, speed, stability, comfort, tracking, and storage spaces are the same.
The main change is that the Old Town Angler has a paddle clip on the right side to keep your paddle when you're fishing.
Also, it has two flush-mounted rod holders behind the seat.
Finally, it has an anchor trolley on the left side that runs halfway through the boat (and not all the way to the bow like on other kayaks) This will be particularly useful on windy days or on swift-moving rivers.
Apart from that, some features that both the regular and Angler version have, but that are very important for fishing:
Big rear dry hatch to store a lot of gear, and even to go camping
Some storage right behind the seat for a tackle box or baits
Another dry hatch on the center console where you can place a battery to charge a camera or your phone with the included USB plug.
Overall, the Old Town Loon 106 Angler is a great fishing kayak if you need to cover more ground than with a more stable, slower sit-on-top boat.
Features and Accessories
As discussed in the Fishing Ease section, the Loon 106 comes with a handy center console.
This center console has a cup holder, as well as dry storage where you can put a battery to charge your phone or camera via USB.
Besides, this center console is easily removable if you want to bring a child or pet with you.
The seat folds down nicely for access to the storage space behind. I like to put a bottle of water and a sponge back there.
The Loon does come with a free anchor for kayak fishing, a drain plug, and a paddle clip.
Unfortunately, it doesn't come with a free paddle, unlike many recreational boats. Of course, if you're willing to pay $900+ for a kayak then you probably have no use for a cheap plastic paddle anyway.
The storage capacity on the Loon 106 is good, with a watertight hatch at the back, small dry storage at the front, as well as bungee cords on the bow. You won't have any problems taking this boat camping.
However, unlike the Loon 126 it's not ideal for big guys because of the very small weight capacity (325 lb).
Finally, as said before, it doesn't have a rudder. This means that you shouldn't take it out when it's really windy as you'll have a hard time going straight.
Who is the Old Town Loon 106 for?

The Old Town Loon 106 is simply the best recreational kayak for women or smaller people. (For tall guys, I prefer the Loon 126)
If you need speed, stability, and tracking, then the Loon is perfect.
However, if you're thinking to stand in the Loon Angler… I'm afraid this won't happen, so you should consider other boats.
Also, despite the high price tag it still is a recreational kayak. If you plan on doing multi-day trips most of the time, consider a touring kayak instead.
All in all, I've never found a recreational kayak I like more than the Loon. It just strikes the perfect balance between speed, tracking, maneuverability, and light weight.
Alternatives
Old Town Loon 106 Angler

We've talked about the Loon Angler above, but I think it's important to understand that these are not the same kayaks.
The Loon 106 is available in a "regular" model as well as an Angler version.
So if you want the fishing-specific features, then be sure to get the right one.
Or else, you won't get the two rod holders.
Apart from that, it's pretty much the same boat. With tons of storage, good speed, and tracking, I'd say it's a good boat for day fishing trips.
If you plan on fishing close to your launching point and you want to stand and cast − then consider a more stable kayak.
Wilderness Systems Pungo 105

The WS Pungo 105 is also up there with the best recreational kayaks.
However, it's not nearly as fast as the Loon 106.
It gets blown away by the wind quite easily with its subpar tracking.
Regarding comfort and all the extra features, it's no match for the Loon. The Loon has hands-down the best seat in the market.
However, the Pungo is also cheaper than the Loon, which explains why people might prefer to go with this more "bare-bones" recreational kayak.
Subpar tracking
Slower, less comfortable
Cheaper
Read my detailed WS Pungo 105 review.
Old Town Loon 126

The Loon 126 is very similar to its shorter brother.
While 2 feet longer, the cockpit size is mostly the same.
The size difference comes mostly from the bow and stern of the boat. This means you'll have more storage space in front and in the rear hatch.
It has great tracking, even better than the shorter Loon 106.
Of course, this means it doesn't turn as well and this means it's not suited for narrow rivers.
It has the same center console, bungee cords on the bow, comfortable seat… basically everything but in a longer format.
The total weight capacity is significantly higher at 450 lb, while the actual weight of the boat is slightly more at 59 lb.
For big and tall guys, this makes the Loon 126 definitely better than the 106.
Overall, if you want a longer kayak with a huge load capacity and better tracking, the Loon 126 is worth considering
Very similar, longer boat
Tracks better
Turns well enough
Huge load capacity (125 lb more!)
Read my full review of the Old Town Loon 126.
Final Thoughts
I've said it before, but I'll say it again − the Loon 106 is the best recreational kayak for anyone but big and tall guys.
It's fast, tracks great even in the wind, and has tons of handy features.
For the price, I think you can't beat the Loon 106.
That said, it tends to go out of stock pretty quickly.
So by the time you read this review, it might not be available until next year.