After taking my Heron9XT on the water a few times over the last year, I want to give you my honest opinion on this cheap recreational kayak.
In this Old Town Heron 9XT review, I'll tell you who this kayak is for − and what you can't do with it.
[Spoiler Alert: The Heron 9XT is a stable, comfortable kayak for beginners. If you want to use your kayak for a quick 2-hour paddle around a small lake or river, then the Heron is a great value. For fishing in backwaters, it's also hard to find better at this price]
Things to Consider Before Buying Your First Kayak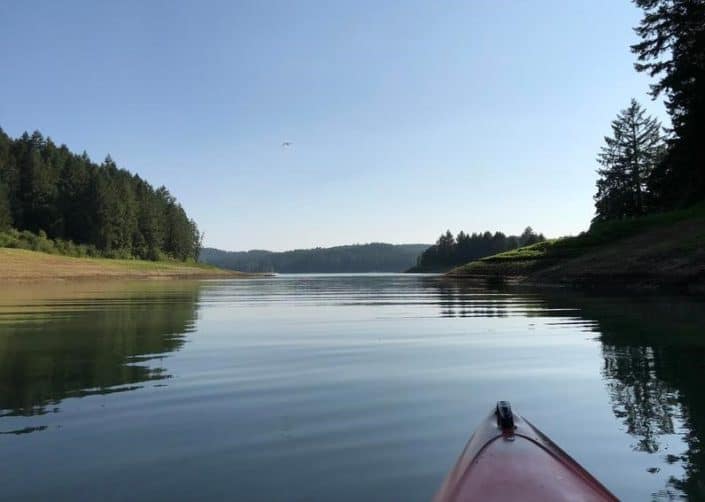 Before buying your first kayak, you should take a few minutes to think about where you plan to paddle.
For instance, the Heron 9XT is made for small rivers and lakes, but you can't take it on whitewater or open water.
Also, if you see yourself using your kayak for multi-day camping trips, then a touring kayak might be a much better option.
That said, don't worry too much about getting it absolutely right the first time. Kayaks can be sold quite easily on the second-hand market if your needs change over time.
Finally, please remember to keep your kayak out of the sun when not in use. Otherwise, UV rays may warp the hull over time.
Old Town Heron 9XT Specifications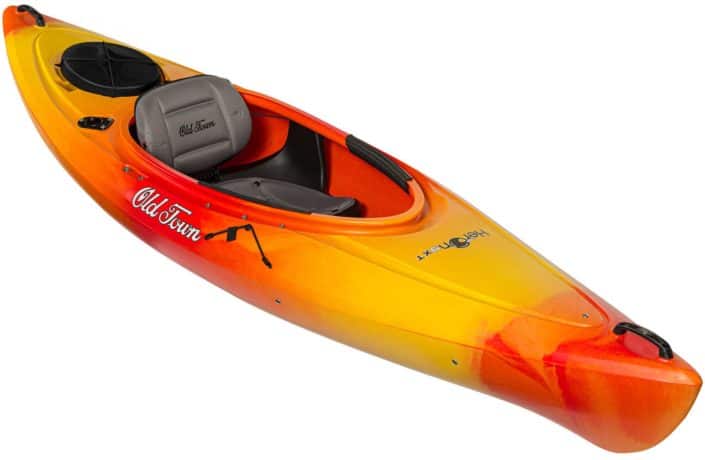 Length: 9 ft 5 in
Width: 28.5 in
Weight: 40 lb
Load Capacity: 300 lb
Heron 9 XT Design
Material
The Old Town Heron 9XT is made of single-layer polyethylene.
This makes it virtually indestructible and able to handle collisions, rocks, and tree branches.
Unlike fiberglass kayaks, polyethylene boats require very little maintenance, which is why they're so popular for beginners and recreational purposes.
Speed
At only 9 feet long, the Heron 9XT is a slow kayak by any standard.
It's not as slow as the Potomac 10 or most sit-on-top 10-footers, but it's definitely not made for touring.
I can get a comfortable cruising speed of 2 mph, which is reasonable for short trips on the water if you're just looking to have fun.
For long distances with kayaking buddies who own touring kayaks… just forget about it. You'll never keep up with the pace.
But again, for recreational trips, it will still be faster than your typical Malibu 9.5 or other short sit-on-top boats.
Maneuverability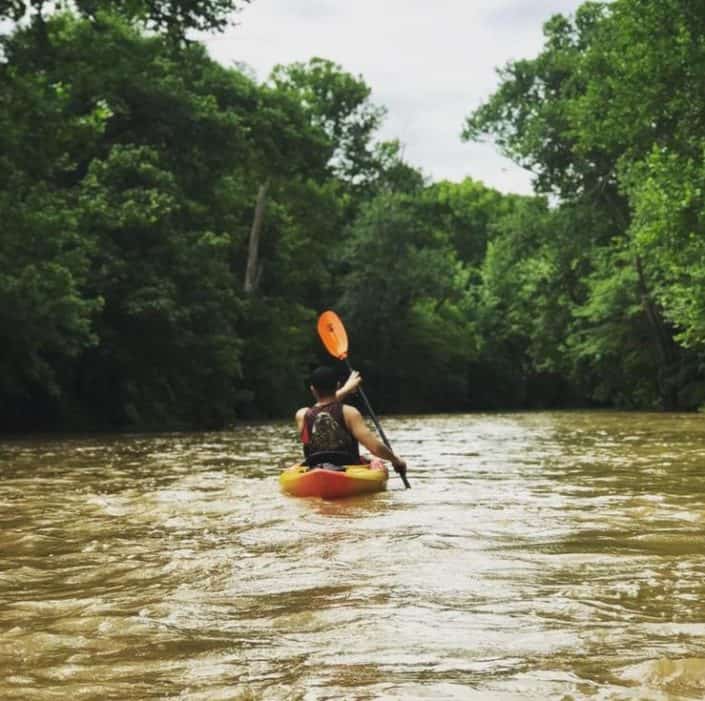 That's where being so short is a definite advantage for the Heron 9XT.
You'll be able to turn on a dime, which makes it great for narrow rivers and whenever you need to avoid obstacles.
Even in shallow water, you'll be able to handle it comfortably.
Please do not use this kayak for class 3 rivers as that's not what it's made for. You should use it for calm lakes, creeks, and small rivers.
Comfort
Being a recreational kayak, the Heron has a much larger cockpit than most higher-end sit-in kayaks.
They wanted to give room to beginners so they could breathe and feel stable, and it works.
Apart from that, you get an adjustable backrest and adjustable footpegs.
The seat is very comfortable thanks to the extra padding, even for people over 50 years old.
I like the knee pads which are a really nice touch for beginners who aren't used to having their knees against the hull for hours.
Stability and Tracking
The last time I gave the Heron 9XT to a beginner friend, he told me it "tracks like a bathtub".
And for beginners, that statement is mostly true.
Until you learn to perfect your paddling technique, chances are you'll have a hard time going straight.
Because there is no skeg or rudder, this means you will get pushed around by mild currents and wind.
For experienced paddlers, they'll be able to track reasonably well but again, over long distances anyone will suffer.
To be fair, that's a problem with most short recreational kayaks that don't have a rudder, not only the Heron 9.
On the other hand, the Heron 9XT is very stable, which will make beginners feel comfortable. It has good primary stability (when sitting in) and great secondary stability so you won't capsize.
Durability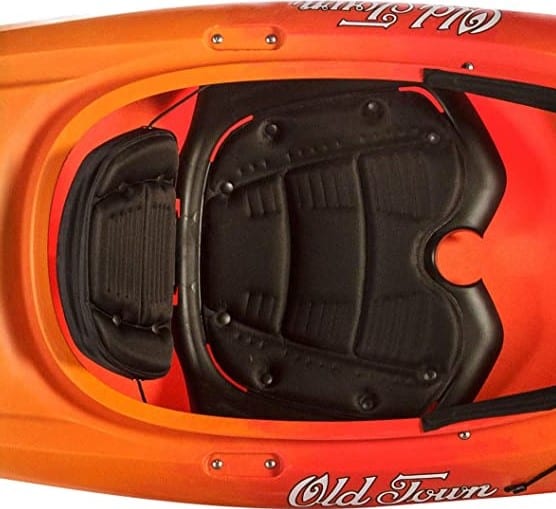 As mentioned before, the Old Town Heron 9XT is almost indestructible.
And if you managed to damage it somehow, you'd be covered by Old Town's lifetime warranty.
A lifetime warranty is pretty unheard of for recreational kayaks, and as far as I know, Old Town is the only company to provide it.
Pelican and Perception only have a 5-year warranty.
Overall, I haven't heard complaints about any pieces breaking down on the Heron, except the paddle holder. Mine broke after a year of light use, so that wasn't nice… Maybe they've fixed it on newer models though.
Transportability
Portability is the name of the game with the Heron 9XT.
It's so light and small that you can easily load it on top of an SUV.
Even small women can load and carry it. My wife is 5'3", 125 lb and she has no problem handling it on her own.
The bow and stern carrying handles are good enough, better than on most recreational boats in fact.
For anglers out there, the Heron 9XT is also a great kayak to keep on your powerboat when you reach shallow water. I regularly use it to fish and explore backwaters.
Features and Accessories

Unfortunately, the Old Town Heron 9XT doesn't come with a free paddle.
Paddles that are given for free generally cost only $20, so that's not a huge loss. But you have to keep it in mind so you can buy a paddle beforehand.
Apart from that, the Old Town Heron 9XT has a small dry hatch in the back, where you can put a small cooler with beverages and sandwiches.
Please keep in mind the dry hatch is not waterproof, so you should use an extra dry bag if you want to keep electronics in there.
As mentioned before, the cockpit is quite roomy so you could put some extra stuff in there if you needed to. Still, this kayak isn't made for overnight trips.
Finally, I would have liked some bungee in the front to store some extra gear. It wouldn't have cost much so that's a bit disappointing.
Old Town Heron 9XT Fishing Ease
First of all, the Old Town Heron 9XT is a recreational kayak.
As such, it doesn't have as many features as high-end fishing kayaks.
That said, it's still better than most in this price range, as you get two flush-mounted rod holders.
There's also a cup holder, and a paddle holder (absolutely necessary for fishing).
There's not much storage space as opposed to a sit-on-top kayak, but on the upside, you can use a spray skirt if you're fishing in bad weather.
For fishing in creeks and occasionally running class 2 whitewater to get to good fishing holes, the Heron 9 is quite good.
Who is the Old Town Heron 9XT for?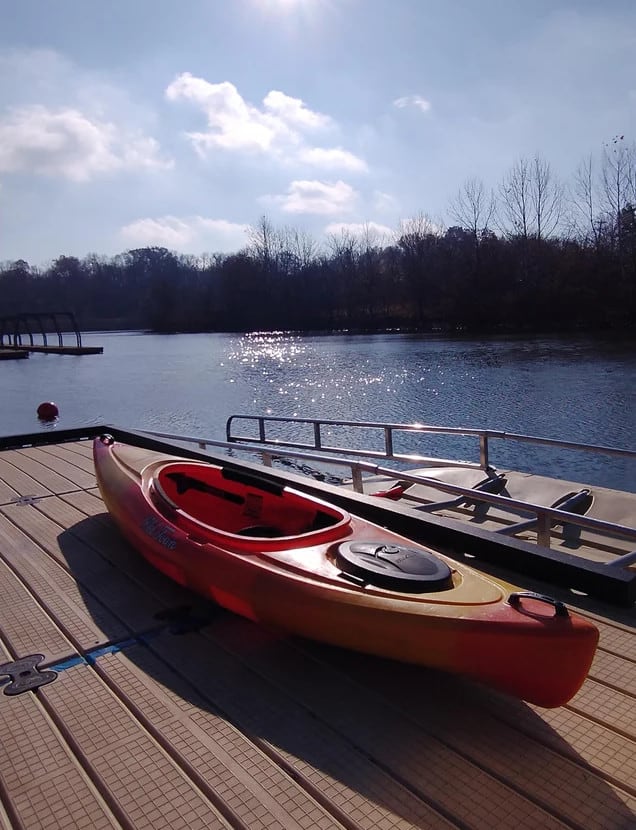 As you may have understood by now, the Heron 9XT is made for recreational paddlers.
If you want a throw-and-go kayak to paddle for a few hours and have fun, then the Heron is a great choice.
For light fishing in backwaters as well as easy carrying for small men and women… the Heron 9 is really hard to beat.
It lacks the features of high-end kayaks, but for the price, I don't think you can find a better boat.
Old Town Heron 9 XT Alternatives
While the Heron 9XT is one of the best kayaks for lakes, there are still some alternatives that may be worth looking into.
Necky Rip 10

The Necky is also a popular kayak for recreational paddlers.
The main difference is it has a skeg, which helps it track much better.
The downside is you won't be able to go in skinny water, or at least not as shallow as with the Heron 9.
Also, unless you live in Canada, Necky boats are pretty hard to come by.
I like the bungees on the bow, and comfort-wise it's pretty similar to the Heron 9.
It doesn't have any fishing features, so I wouldn't recommend it for anglers.
Old Town Heron 9

Many people wonder what's the difference between the Heron 9 and the Heron 9XT.
Well, they're actually almost identical kayaks.
The only difference is the Heron 9 doesn't come with a dry hatch.
As such, it's slightly cheaper, but it has extremely limited storage.
If you plan to take absolutely nothing with you on the water, then the Heron 9 might be a good option.
Old Town Dirigo 106

1 foot longer than the Heron 9XT, the Dirigo 106 is still a very short and maneuverable boat.
If you're looking for a throw-and-go kayak that's slightly longer, with more room for your legs and gear, then the Dirigo 106 is a good option.
Like the Heron, it has a comfortable open cockpit with an adjustable seat, although it is slightly more expensive.
I like the bungees at the bow and stern to get more storage space, as well as the handy dashboard.
All in all, for tall guys the Dirigo 106 is a good Heron 9 alternative.
Old Town Heron 9XT – Wrapping It Up
To sum it up, the Old Town Heron 9XT is a great recreational kayak to feel comfortable and stable.
Beginners will be able to paddle a few hours without getting back pain, and anglers can go into shallow water much better than with a bigger boat.
If you don't need to cover long distances and you plan on going on small lakes and rivers, then the Heron 9XT is perfectly fine.