Writing this article has been quite harder than others, as the Ocean Kayak Tetra 10 is available in two versions: the normal and angler one.
Therefore I had to buy and take both on the water to give you my honest opinion.
In this Ocean Kayak Tetra 10 review (and Tetra 10 Angler review), I'll tell you what I liked and what I think could be improved. We'll also talk about the differences between the original and fishing designs.
Overall, this is a lightweight and maneuverable boat that's at its best in calm conditions along lakes and rivers.
Pros:
Lightweight and easy to maneuver
Comfortable seat with easy to adjust foot pedals
Good speed for its keel length
Cons:
No custom options in the fishing model
Subpar load capacity
No way to install a rudder
Note: unless specified, features are incorporated in both the Tetra 10 and Tetra 10 Angler models
Things to Consider Before Buying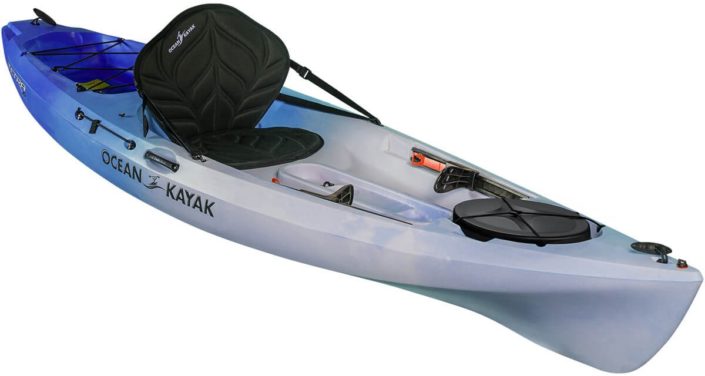 The Tetra 10 is a "sit-on-top" kayak. While narrower than many similar designs, it still boasts a wide and open deck and cockpit with plenty of room to move around. It's easy to get in and out of and still has the stability to make paddlers of all experience levels feel comfortable.
But it doesn't have the protection that the sleeker sit-in kayaks have which sacrifices extra deck space for a more covered hull that protects your legs and lower torso from the elements.
If you live in a cold-weather environment, you may be better off with a sit-in kayak like the Sound 10.5 from Perception. It may be harder to get into, but with a spray skirt, you'll stay warmer and drier if the rain clouds show up.
Specifications
Length: 10-feet, 8-inches
Width: 29.5-inches
Weight: 47 pounds
Load Capacity: 275 pounds
Design
Material

Like most recreational and fishing kayaks, the Tetra 10 is made of a rigid and hard to damage plastic called polyethylene.
While this type of plastic is noticeably heavier than other materials used in kayak construction like fiberglass or marine-grade plywood, it is far and away the most durable.
With minimal care and a little bit of maintenance, you can expect your Tetra 10 to last many years without a huge decrease in on-water performance.
Speed
The biggest factor that correlates to a kayak's speed is keel length. The longer the boat, the faster and more efficient it will go.
While the Tetra 10 isn't all that long at 10-feet, 8-inches, Ocean Kayak's design manages to coax a decent top speed out of this model. A V-shaped hull cuts through the water better than some of the pontoon-style hulls that are popular in this category.
It's also not as wide compared to similar boats. While many fishing kayaks are 32-inches wide or more, the Tetra 10 checks in at less than 30-inches across. This does have some pros and cons which we'll discuss below, but it does minimize water resistance, allowing you to outpace your friends with boats of similar length.
Maneuverability
The shorter keel length and smaller width work to the Tetra 10's advantage when it comes to maneuverability too.
Light and responsive, the Tetra 10 can handle tight corners and sharp turns with ease. If you'll be squeezing into tight spots to fish or navigating crowded waterways the Tetra 10 won't disappoint. There's no spot to install a rudder, but as long as you're not heading out into rough or challenging water you probably won't miss it.
This maneuverability also makes it a good choice if you're just starting your kayaking career. The responsiveness and easy turn radius will be a welcome addition and minimize any frustration the first couple of times you leave the shore.
Comfort
Few things ruin a day on the water faster than a hard plastic seat digging into your spine.
There's no need to worry about the Tetra 10. The branded "Comfort Hybrid" seat is padded on the back and bottom and is ergonomically designed to accommodate paddlers of all shapes and sizes. The seat can even fold flat making it easier to transport or stack.
For your feet, the Tetra 10 comes with adjustable foot pegs. While some more flexible paddlers may be able to adjust them on the water, it's best to get them in the right spot before you push off from the beach.
The pegs are padded with rubber, making them comfortable for a variety of footwear types and even barefoot paddlers.
Stability & Tracking
The narrower hull works against the Tetra 10 when it comes to stability. While it's not a threat to capsize and can handle calm conditions, it's more susceptible to rocking or waves hitting it broadside.
While this may not bother more experienced padders, newcomers should be aware of shifting their weight too much and stay close to shore until they feel more comfortable. This is especially true if you're fishing and less likely to be paying attention to how much the boat's rocking. It's not stable enough to stand and cast from.
The V-shaped hull does help with the boat's tracking, although the shorter keel keeps it from maintaining a straight line if the wind or tide is strong. The lack of a rudder comes into play here. I'd feel ok taking the Tetra 10 out in protected bays, but would involve open water crossings or taking it out on unpredictable weather days if you're venturing more than a mile from shore.
Durability
Thanks to the plastic hull, the Tetra 10 should be able to stand up to most on-water collisions. I'd still advise being careful when coming into shore, especially if the beach is rocky or there's some surf.
But for frequent use, you can expect your kayak to handle any accidental drops without serious damage. I'd suggest you avoid dragging it to the water's edge whenever possible though as prolonged drags and scratch and peel the hull and decrease the boat's speed and paddling efficiency.
For storage, it's best to keep your Tetra 10 out of direct sunlight. Prolonged UV exposure can cause the hull to weaken and warp over time.
Portability
At just 47 pounds (the angling model checks in at 50), the Tetra 10 is one of the easier kayaks to store and transport. Some paddlers may be able to carry it on their own and the side carry handles are perfect for keeping the weight blanched and centered. For tandem carries there are two "t-handles" on the bow and stern that make longer portages much easier.
For transport, the Tetra 10 should fit on most basic kayak roof racks and may even fit in the back of some pick-up trucks.
Features & Accessories
You won't find much in the way of extra goodies or accessories with your purchase. But don't be discouraged, that's pretty commonplace for kayaks in this mid-range price category. Free accessories like a paddle are more often featured in entry-level inflatable designs.
While there's plenty of deck space to store a paddle, I wish that Ocean Kayak had implemented a dedicated paddle holder. This is especially nice when you're fishing and want both hands free for your fishing pole.
Fishing Ease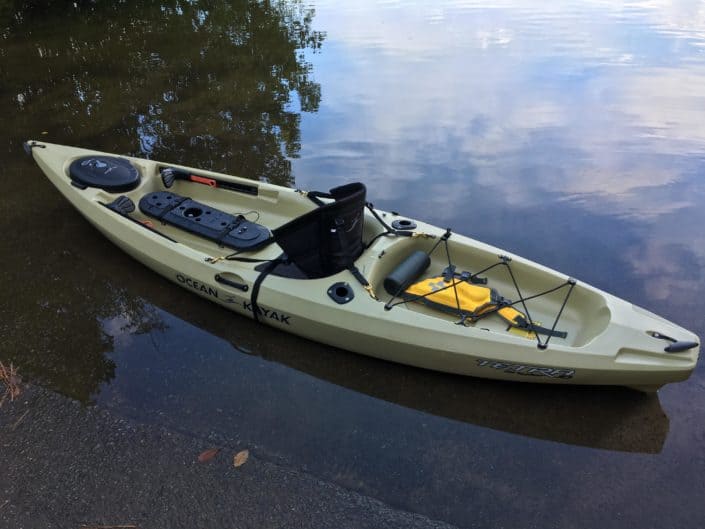 The angler model of the Tetra 10 has several features included that make fishing much easier. Two flush-mounted rod holders are built into the hull and located just behind the seat where they can be easily accessed on the water without fear of capsizing.
While it doesn't have any of the custom gear or accessory tracks that some fishing kayaks have, it does have a "Mod Pod" central console that gives you access to the interior of the boat's hull and gives you another spot to store fishing gear and tackle that you can reach from the cockpit.
For storage, the Tetra 10 has a large watertight bow hatch big enough to keep some larger items you want to keep dry.
In the stern is a tank-well-style storage area. Exposed to the element, it's recessed below the sides of the hull and is large enough to keep over large items like a cooler or tackle box. Bungee cords are stretched across the opening to keep gear in place and the cords can double as a paddle holder if necessary.
Both designs have a load capacity of just 275 pounds. Since this includes the weight of the paddler this feels a bit on the low side to me. If you want to try an overnight trip you'll have to pack very carefully not to overload your boat which will decrease the stability and make you more prone to capsizing. In general, it's best to view the Tetra 10 as a day boat.
Value
For a lightweight model capable of doing a little bit of fishing and faster than a lot of its competitors, the Tetra 10 seems reasonably priced.
But that said, if you're looking at your Tetra 10 primarily as a fishing boat, I think there are better places to go with your money. The lack of a paddle holder of custom features is enough of a deal-breaker to me, to say nothing of the smaller load capacity that limits it to day trips.
While it may be a little cheaper than some fishing boats of this size, I think it's worth spending a little extra if you can afford it so you can customize the boat to your specifications and try the occasional overnight adventure.
Alternatives

A full two feet longer than the Tetra 10, the Tetra 12 gives you improved tracking and speed compared to its little brother. It does make it less maneuverable which may frustrate some newcomers and there's still no easy way to install a rudder.
Outside of the extra length, it's very similar to the Tetra 10. You'll find the same storage layout with a watertight bow hatch and open stern tank and similar fishing modifications for the angling model.
It's also a little more expensive but only weighs 6 more pounds than the Tetra 10 and can carry up to 350 pounds.
Longer with better tracking and speed
Same layout in both the original and fishing model
Large load capacity

Featuring similar specifications to the Tetra 10 but with a plethora of customization options, the Vibe Sea Ghost 110 is a high-quality fishing kayak.
You'll find plenty of storage options in this boat from the watertight bow hatch, bungee cords on the stern, and clever central console.
Several gear tracks let you outfit the boat to your liking and the central console can even accommodate most fishfinders to take your fishing to the next level.
The huge load capacity and better performance in bad weather allow you to travel into places you wouldn't dare in a smaller boat.
It all comes in a more expensive and heavier package. The Sea Ghost checks in at 62 pounds when empty and the rudder, while helpful in rough conditions, doesn't do much to improve the tracking in calm water.
Huge load capacity makes it great for multi-day trips
Tons of customization options to outfit your boat however you want
Ample storage space
Included rudder
Read our detailed Sea Ghost 110 review.

A great option for beginners thanks to the smaller price tag, the Frenzy from Ocean Kayak lacks the features that are mainstays of other fishing kayaks.
There aren't rod holders or other customization options that will pull in more experienced paddlers.
It has the stability to stand up to ocean swells however and at just 43 pounds it's easy for a solo paddler to move on their own.
There's no dry storage area but the bow and stern decks have large tank wells with bungee cords stretched over them to secure gear.
Simple design with few features
325-pound load capacity
Comfortable, padded, adjustable seat
Conclusion
Outside of a better top speed, the Tetra 10 won't wow you or set itself apart from the competition. It's lightweight and easy to transport, making it nice for those afternoons on the lake or river.
But if you're looking to do some serious fishing or a boat for the occasional overnight trip, the lack of custom options and small load capacity hold it back.