In this Jackson Kayak Big Rig FD review, we'll take a look at one of the finest pedal kayaks out there.
In short, the Big Rig FDHD is an amazingly stable boat. It's fast and maneuverable and has tons of fishing features.
Pros:
Amazing Stability & Speed
Great Tracking & Maneuverability
Huge load capacity (great for big guys)
Tons of useful fishing features
Cons:
Doesn't come cheap
Hard to carry solo
Often sold out
If you want bang for your buck the Big Rig FD is really a good option.
UPDATE: The Big Rig FD has been unavailable for a few months now… You can get the HD version here instead. (Read the section below to know the difference)
Jackson Kayak Big Rig FD vs HD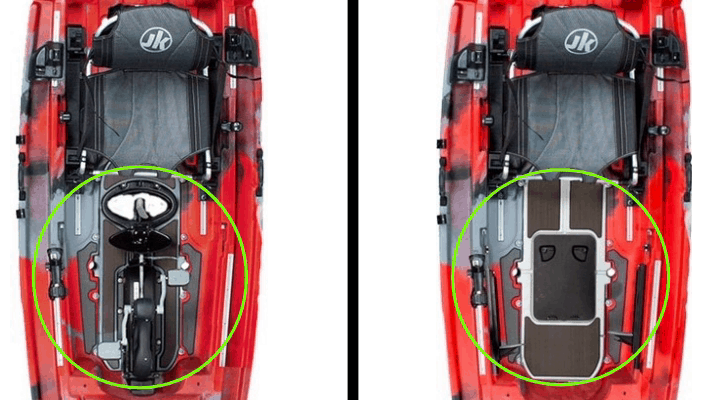 Before we start this Jackson Kayak Big Rig FD review, I'd like to talk about the Big Rig HD.
The Big Rig HD is the same boat as the FD, but without the pedal system. You can easily switch between the HD and FD setup by simply removing eight bolts and changing the pods.
For this reason, the review below applies to both the HD and FD setup, and the only difference in real life is that the Big Rig FD is faster, easier, and allows you to cover more distance.
The only place I'd prefer a Big Rig HD is in shallow water with lots of weeds. In this case, I'd paddle my boat to avoid getting the prop caught up in weeds.
Things to Consider Before Buying a Big Rig HD/FD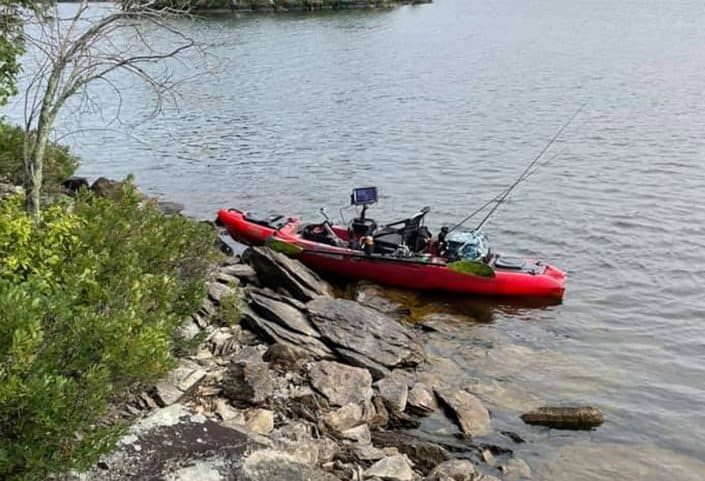 Like most pedal kayaks, you might want to sit down before you see the Big Rig's price tag. But you really get value for your money, as the Big Rig has amazing stability and tons of fishing features.
Before getting a Big Rig, you should know it's a really heavy boat suited for big and tall guys. If you paddle on your own, getting your boat to the water might be a challenge.
Also, please make sure to always store your boat away from the sun. As it's made with polyethylene, excessive sun exposure might warp the hull.
Jackson Kayak Big Rig Specifications
Length: 13.3 inches
Width: 40 inches
Weight: 145 pounds
Load Capacity: 550 pounds
Jackson Big Rig Kayak Design
Material
The Jackson Kayak Big Rig FD is a rotomolded kayak made of a durable plastic called polyethylene.
This material is used in most fishing kayaks as it will withstand any bumps and collisions. It's virtually impossible to put a hole in the hull, even if you're the kind of person that always breaks things.
Speed
Jackson Kayak's new Flex Drive pedal system is incredibly smooth and fast. Pedaling with this boat is much easier than with a traditional paddle kayak. When there's some wind or currents, the Big Rig FD is truly a life-saver.
Because of its 13-foot length, the Big Rig FD is one of the fastest pedal fishing kayaks out there. This makes it great if your favorite fishing spots are far away, and you'll never fall behind if you go fishing with friends.
If you decide to go with the Big Rig HD instead (no Flex Drive), be prepared to go much slower as paddling such a heavy boat will take you twice the time it would take to pedal it.
Maneuverability
With its 360 pedal system − which is a fancy way of saying you can pedal forward and backward − and its built-in rudder, the Big Rig FD is responsive and easy to maneuver.
Because it's on the longer side, it won't be as good to make tight turns on narrow rivers as smaller fishing kayaks. That said, for any other situation, the Big Rig is really a pleasure to handle, even for complete beginners.
Comfort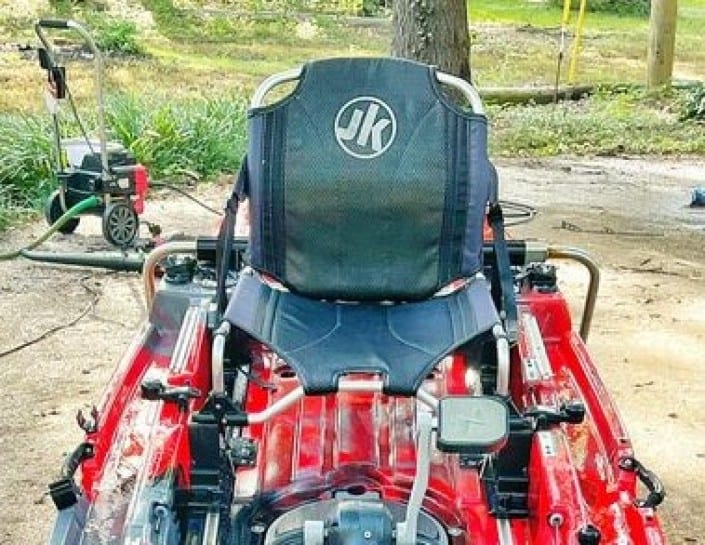 Forget about hard, plastic seats that you can find on cheap recreational kayaks.
The Big Rig HD is equipped with a spectacularly comfortable seat made with breathable fabric. I love that it can slide forward and backward, and you can also adjust the height to pedal effortlessly.
Stability & Tracking
The Big Rig is an incredibly stable boat that will allow you to stand and cast without ever worrying about tipping over.
It also boasts non-slip deck pads to make sure you don't fall when reeling in a big catch, even if the deck or your feet are wet.
When it comes to tracking, the Big Rig is one of the best fishing kayaks out there. The built-in rudder allows you to go straight with ease, and the 13-foot length only works to your advantage.
In windy conditions or currents, the Big Rig will keep going straight and fast like no other boat. This makes it great for places with changing weather.
Durability
The Big Rig HD/FD is as tough as they come. Expect to keep your boat for many years without any issue.
My only qualm is I wish they'd installed a skid plate on the hull. This is quite a heavy boat, so you'll probably want to drag it instead of carrying it. This dragging will unfortunately scratch the hull over time and reduce your shiny boat's performance.
Portability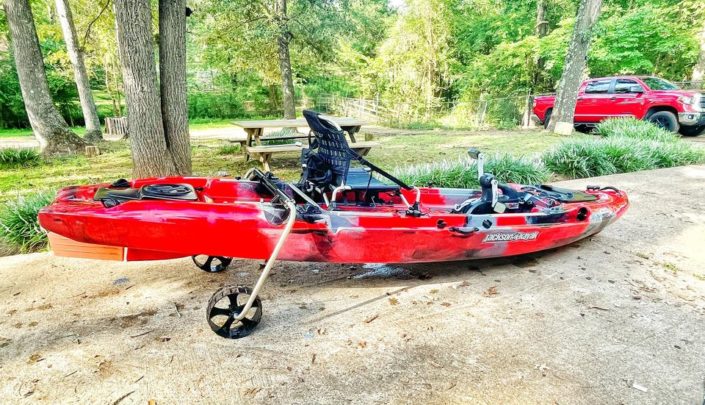 Because of its premier stability and performance, the Big Rig is unfortunately a very heavy boat.
If you're going to be on your own, I'd recommend getting a kayak cart to easily transport your kayak.
And if you have a partner, this kayak does have sturdy & comfortable carry handles on the bow and stern, but I wish they'd have put handles on the sides as well to make three or four person carries easier.
Jackson Kayak Big Rig Features & Accessories
Apart from the numerous fishing features we'll talk about in the next section, the Big Rig HD/FD doesn't come with free goodies.
It's usual for beginner kayaks to include a free paddle and such, but for high-end boats like this one, free accessories are rare as anglers tend to have their own, high-quality gear.
That said, I'd recommend you bring a paddle even if you don't plan on using it. It's a good safety measure in case something goes wrong with the pedal system, or in case you end up in very shallow water.
Jackson Big Rig Kayak Fishing Ease
Now, that's where the Big Rig FD really shines.
The new Big Rig HD/FD has four rod tip protectors (two on each side) and a wider rod trough staging area so you can set extra rods in there.
It also has two flush-mounted rod holders as well as fly reel pockets with fly rod holders.
The oversized front hatch tankwell can be opened very easily with a single hand. It contains a hatch bin which is really useful to make sure your gear doesn't glide and end up in the stern of the boat.
As usual, it's got a large rear tankwell with adjustable bungee cords just behind the seat. It's also got a rear hatch which gives you access to the rudder system.
On the deck, it has a stand assist strap to help you get up, as well as some geometry built in if you want to set down your rod real quick to grab something else
The Big Rig HD/FD has gear tracks all over it. It's got gear tracks in front of the seat, at the seat, and behind the seat. The front gear track is equipped with a YakAttack Omega rod holder and a tumbler holder (with an included Orion tumbler).
Unlike many hobie boats, the Big Rig HD has a nice paddle holder on the side of your boat so that it stays out of your way but very accessible.
The Big Rig HD's got a giant storage pod on the deck, but the FD doesn't as that's where the pedal system is.
For all of you who like to use a large Totalscan transducer (or any other large transducer), this new Big Rig is perfect as it's got a larger transducer scupper hole.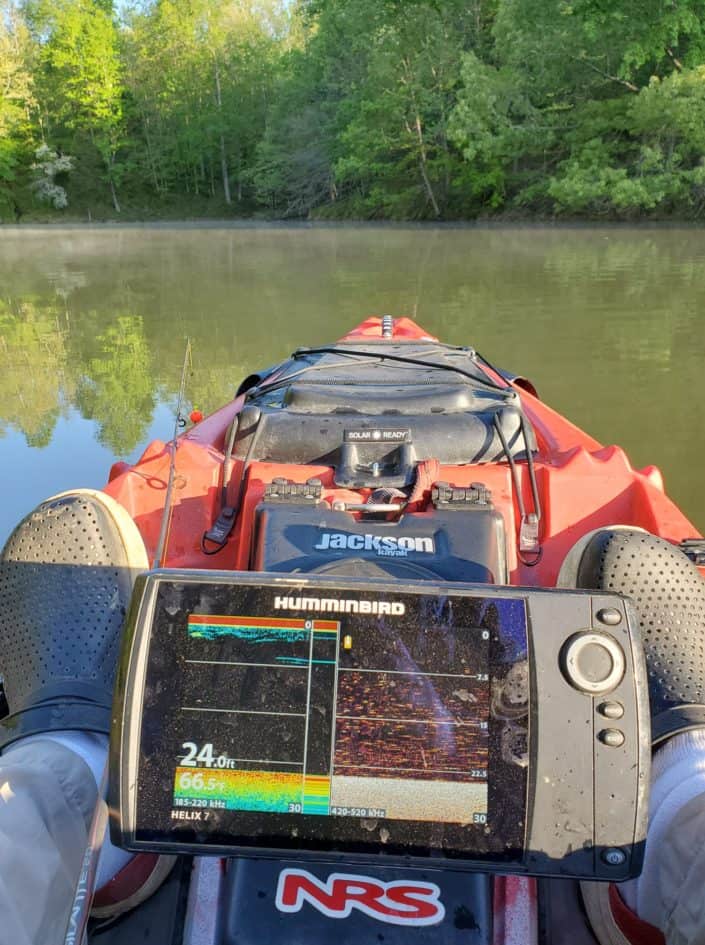 Finally, and if you haven't already understood by now, you can easily stand and cast with the Big Rig without ever feeling unstable (even if you're big and tall).
Jackson Kayak Big Rig Value
So, who's the Big Rig FD for?
While not as expensive as Hobie's PA 14, the Big Rig is still a high-end fishing kayak with the corresponding price tag.
If you want a pedal fishing kayak with a huge storage capacity, lots of customization options and fishing features, stand and cast ability, great tracking, speed and maneuverability… In short, if you want a fantastic fishing pedal kayak, the Big Rig is what you're looking for.
However, if you just want to dip your toes and try kayak fishing for the first time, I'd suggest looking at cheaper paddle kayaks such as the Vibe Sea Ghost 130.
Jackson Kayak Big Rig Alternatives
Hobie Pro Angler 14

The Pro Angler 14 is an absolute beast of a kayak.
It is bigger, faster, more stable, has more storage space and has gunnels to separate you from the water (and sharks ;-)) more.
Of course, this means it is also much more expensive than the Jackson Kayak Big Rig.
The only advantage the Big Rig has over the Pro Angler 14 (besides the price) is that it has shallow water (less than 2.5') ability.
Bigger and better than the Big Rig
Very expensive
Not good for shallow water (less than 2.5')
Read our review of the Hobie PA 14
Jackson Kayak Coosa FD

Almost 40 pounds lighter than the Big Rig, the Coosa FD isn't made for big guys.
It also has a lower 450 pound load capacity, so you won't be able to take as much gear..
When it comes to speed, the Coosa FD is slightly faster than the Big Rig FD. This is because it's narrower and shorter than the Big Rig, but it still retains amazing stability.
It comes equipped with the same great fishing features as the Big Rig (rod tip protectors, gear track, adjustable seat, etc.).
Overall, the Coosa FD will give you slightly less stability, and it won't suit you as well if you're big and tall.
But you guessed it − it's also cheaper than the Big Rig FD.
Lighter, narrower, shorter, faster
Not as good for big guys
Slightly cheaper than the Big Rig
Jackson Kayak Bite FD

The Bite FD is even lighter, narrower and shorter than the Coosa FD. With a weight of only 82 lbs without seat and drive, it can easily be handled solo.
Again, it has an even lower load capacity of 400 pounds, but it isn't much faster than the Coosa FD. It still has great stability, unless you're a big guy.
Unfortunately, the Bite FD has fewer gear tracks than the Coosa and Big Rig, even though it's still enough to mount a fishfinder, action cam and rod holder. It doesn't have rod tip protectors and overall when you're used to the Big Rig, the Bite FD is really lacking in the "fishing ease" area.
Lighter, narrower, shorter
Not suited for big guys
Can't see any benefits over the Coosa FD
Jackson Kayak Big Rig – Conclusion
Overall, the Jackson Kayak Big Rig FD is a fantastic fishing kayak.
It's packed with great features, amazingly stable, fast, and maneuverable.
Its only downsides are price (if you're used to cheap recreational boats) and the fact that it's harder to handle if you're alone.
If you're an avid angler and you don't want to spend almost twice as much for a PA 14, the Big Rig is your best bet.
Update: If the Big Rig FD is still unavailable when you read this page… then feel free to check out the HD version here.