I've had a Jackson Coosa from 2014, and I like the way Jackson has improved the line over time.
In this Jackson Coosa HD review, I'll tell you what this boat is for, and what it's not made for.
All in all, this is a boat I really like, for reasons you'll see below.
[Spoiler Alert: The Coosa HD is the best kayak for river fishing. It has great stability, superb maneuverability, tons of storage space, and fishing features. It's also perfect for big guys and camping trips]
Things to Consider before Buying a Coosa HD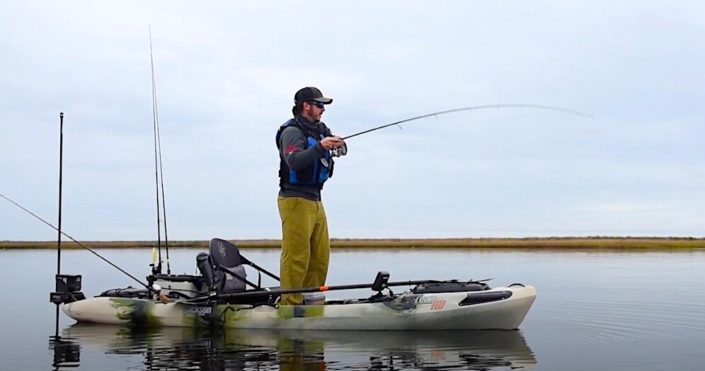 First of all, if you want a Coosa HD for lakes or ocean fishing, forget it.
This boat was made for rivers, and that's where it truly shines.
Second, the Coosa HD is not a cheap fishing kayak. For this budget, you'll get an amazing boat that will last you a lifetime. But if you can't afford it, then you might want to look at cheaper options.
Third, you need somewhere to keep it out of direct sunlight. Indeed, sun rays can warp the plastic hull over time, and the warranty won't cover that negligence on your end.
Finally, while many people will be able to load it onto their cars… this is still a heavy kayak at 83 lb. If you're a skinny guy, you might want to get a lighter boat or find someone to help you load and unload it.
Jackson Coosa HD Specifications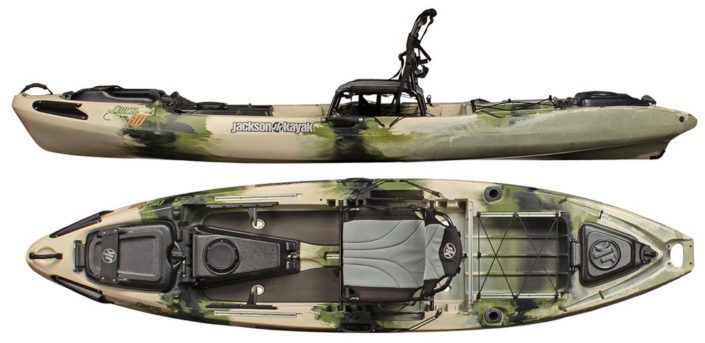 Length: 12 ft 6 in
Width: 34 in
Weight: 83 lb
Load Capacity: 425 lb
Jackson Coosa HD Design
Material
No surprise there, The Jackson Coosa HD is made of high-density polyethylene.
This material is very durable and resistant, so it will last a long time even on shallow rivers.
It will withstand collisions, tree branches, and rocks.
I know somebody who managed to punch a hole through the hull in a year and a half, but honestly, he was just trying to break the boat, taking it on rivers and waterfalls I wouldn't go.
In case you do break the hull, Jackson Kayak has a great warranty and they'll send you a new boat in no time.
Speed
At only 83 lb and almost 13 ft long, the Coosa HD is a pretty fast boat.
You shouldn't have any problems paddling upstream, although you should know this boat isn't made for saltwater.
Sure you can take it on open water, but it won't track as well or be as fast as the Cuda 12, for instance.
That said, if you need to take it on saltwater, then the seat's adjustability definitely helps. You can set it forward so that the boat will track better.
Maneuverability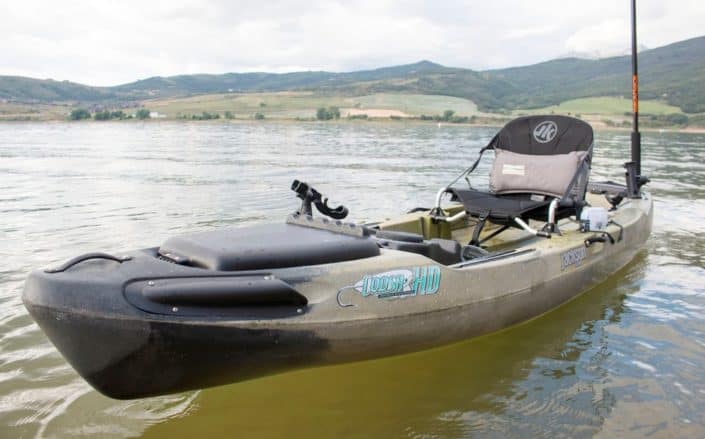 Now that's where the Coosa HD really shines.
It has superb maneuverability.
This boat has been made for rivers, and it's able to make quick and sharp turns. I paddle in small creeks and rivers with fast-moving water and never once had a maneuverability issue.
Pro tip: The maneuverability depends on where you put the seat on the boat. If you put it at the back, it will lift the nose and give superb maneuverability. So good in fact that I've even seen a big guy surf with it recently. I was shocked, lol.
Comfort
While the 2019 version of the Jackson Coosa HD had a terrible seat, I'm pleased to say I haven't had this issue on 2020+ versions.
My 2022 Jackson Coosa HD comes with a very comfortable seat, breathable and wide enough for big guys.
It used to come with a Thermarest that made it better for people with back pain, and it could also be used as a cushion. But my 2022 version doesn't have it, so I'm not sure if it's me or maybe they don't include it anymore.
That said, the chair is still very comfortable, and it can double as a camping chair as well since it's easily removable (so no need to carry another chair when you go camping).
The seat is easy to adjust, back and forth with low and high seating positions. As mentioned above, this helps adjust to different conditions (open water vs rivers).
You get two little boxes to put your tackle under the seat as well.
Jackson Kayak will give you a waterproof bag that goes right behind the chair, but honestly, this bag is so bad I don't use it. Sorry Jackson but that's the truth.
Stability and Tracking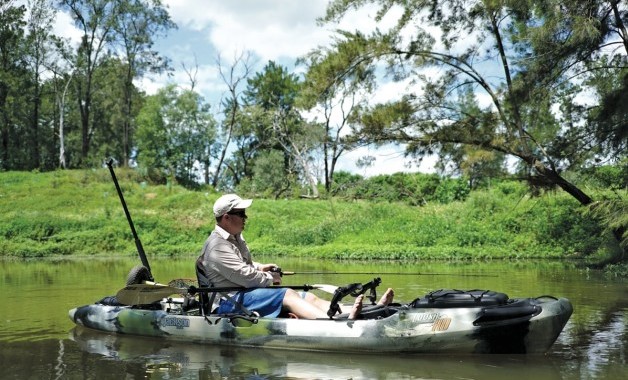 The Coosa HD is a very stable boat, particularly for rivers where you'll find it very hard to flip. If you have a Cuda HD for instance, you'll notice the difference right away.
It's stable enough to stand and cast, and Jackson includes a stand-assist strap, although I don't use it.
I haven't flipped my Coosa yet, but of course when paddling rivers I'd always suggest being cautious as you can easily flip even with such a stable boat.
Regarding tracking, as I said earlier it's quite good for rivers, but definitely not great for open water − even more so considering it doesn't have a rudder.
Durability
The Jackson Coosa HD is a very durable boat. The one I bought in 2014 is still in OK shape, and overall I'd say it's one of the most durable river kayaks.
As mentioned before, I like Jackson's 3-year warranty which covers your boat against any damage, which is very important when you go in shallow rivers as boats always take a beating.
I'd still recommend being careful and treating it well − but you should know that already.
Transportability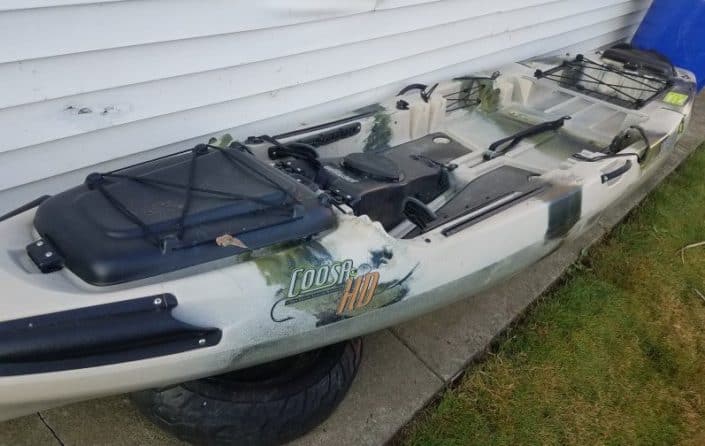 The Coosa HD isn't light at 84 pounds, but it's still light enough that most folks should be able to load it on top of their SUV or car.
Of course, if you have a pickup truck then it will fit nicely at the back.
Loading and unloading the boat is super easy thanks to the sturdy, flexible handles with rudder grips − one at the stern and another at the bow.
You also have two handles on the sides to help with portability.
Overall, you shouldn't have any problem taking this boat to and from the water.
I'd recommend against dragging it too much, as this will damage the hull and make the boat slower over time.
Features and Accessories
The Jackson Kayak Coosa HD does come with a few extras, such as a YakAttack Omega Rod Holder, a long load flag, a stand-assist strap, and a 5" JK Sticker.
It doesn't come with a free paddle, and the free waterproof bag they give you is worthless.
Overall, those are nice accessories, especially considering most fishing kayaks don't come with any accessories at all (I'm looking at you, Vibe).
I'm also not sure why they don't give you a free cup holder anymore − that was a really cool extra. Now you'll just have to buy one yourself.
That said, I love the paddle holder at the front of the boat. It's very well-designed and makes it easy to slip your paddle in and out when you're fishing.
Fishing Ease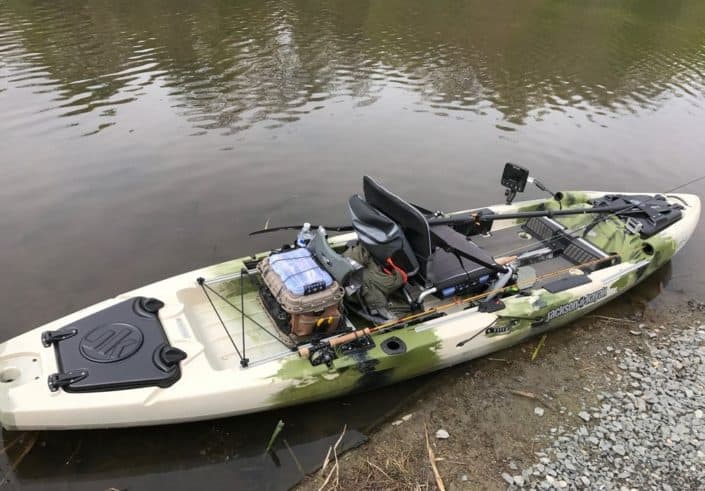 Now, for the part you've all been waiting for…
The Jackson Coosa HD is hands-down the best kayak for river fishing.
I love the fact it can steer very well while stile being able to stand and cast.
I love the rod tip protectors at the front which can hold up to 2 rods on each side (so a total of 4 rods).
There are two rear-facing flush-mounted rod holders, which again, are great for rivers. The fact they're rear-facing helps make everything flat and low, it keeps your rods so far back.
The rear tankwell storage is big enough for a black pack or cooler.
The front watertight hatch is huge, as is the rear watertight hatch. The truth is I don't use the back hatch that much, but it could be really handy when you go out camping for several days.
There are gear tracks on each side to mount all your fishing accessories. I like the new ones which are made of metal instead of the old plastic ones. You can easily mount a fish finder, a Tactacam, etc. With these gear tracks you won't ever need to do any drilling.
By the way, these gear tracks only come with the HD version, not the regular Coosa.
You also have a convenient gear track behind the seat where I personally like to put my cup holder, or you can put yours in front as well as there's another gear track at your feet.
Also, the Coosa HD is power pole ready and chain ready. You can use an anchor without any drilling.
The weight capacity of 425 lb should be more than enough for multi-day camping trips as well.
Finally, if you want to go up a notch and get a pedal kayak… the Coosa HD is already built for this. You'll just have to buy the flex drive (Coosa FD) and you're all set. Of course this won't come cheap, but that's good to know just in case you want that in the future.
Related Article: best saltwater spinning reels.
Who Is the Jackson Coosa HD suited for?

I think you've understood by now, but the Coosa HD is made for river fishing.
If you're a kayak angler who loves fishing in swift-moving waters, I've never had a better boat than the Coosa HD.
Perfect for multi-day camping trips as well, as it has tons of storage space.
If you hate tipping your boat, then I really like the stability the Coosa HD provides even while being super maneuverable. I never thought a boat that swift could feel so stable when standing.
Jackson Coosa HD Alternatives
Bonafide SS127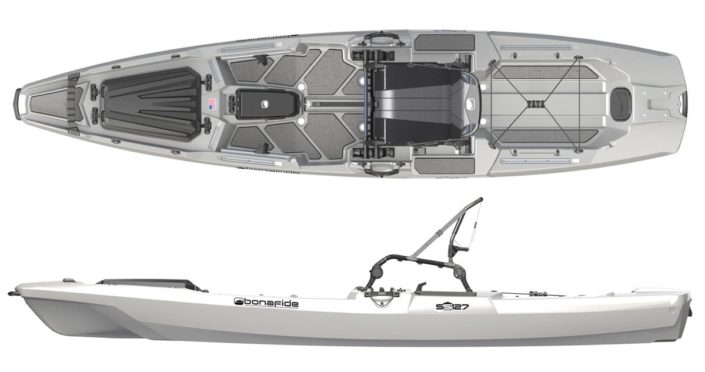 First of all, the Bonafide SS127 is much lighter than the Coosa HD at only 69 pounds. This allows for sharper turns.
For big guys, the SS127 is also one of the most stable kayaks out there.
The drawback to that huge stability is speed. With a Bonafide SS127, you'll have a hard time keeping up with other fishing kayaks such as the Coosa HD.
Seats on Jackson kayaks are generally more comfortable than on Bonafide as well. So if you have lower back pain, that might be a deal-breaker for you.
Massive stability, great for big guys
Lighter, better portability and maneuverability
Slower than the Coosa HD
Read my full review of the Bonafide SS127.
Old Town Predator MX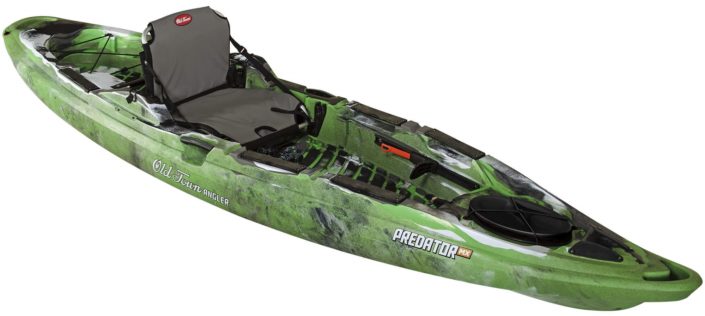 The Predator MX Angler weighs about the same as the Coosa HD.
It's a little less stable, and it has fewer storage options for camping trips.
Apart from that, it also has fewer fishing features and is more "bare-bones"
I'd take the Coosa HD any single day, but if you don't care for all the fishing features then the Predator MX is generally cheaper.
Cheaper
As stable, as heavy
Lacks features
Read my full Old Town Predator MX review.
Jackson Big Rig

The Jackson Big Rig is up there with the best Jackson kayaks as well.
It's fairly similar to the Coosa HD, but there are some notable differences.
First of all − stability. Don't get me wrong, the Coosa is plenty stable. But the Big Rig is just a beast of a kayak. Even big guys won't be able to flip that thing, ever.
Second, the Big Rig is much wider at 37". Despite that increased width, it's not really slower than the Coosa, to my surprise.
But being this wide makes it amazing for shallow waters and super skinny grass flats. It just floats much higher on the water which helps you go through those shallow waters super easily.
Also, it's much easier to avoid getting dragged by currents because most of the time you'll just go right through them thanks to the shallow draft.
The Big Rig has a built-in console whereas the Coosa has a removable console. I prefer the Coosa's console for that reason since you can easily put it out of the way. I like to put a big tackle box instead of the console.
Both the Big Rig and the Coosa HD have huge hatches, enough to go camping for several days.
Unlike the Coosa, the Big Rig is already rigged out to have a rudder. This makes it so much better for saltwater and lakes.
Amazing stability
Fantastic for super skinny grass flats
Fast and maneuverable
Read my full Jackson Big Rig review.
Jackson Coosa HD – Wrapping it Up
The Jackson Coosa HD is one of the best kayaks for river fishing.
With great stability, superb maneuverability, and tons of storage space for camping…
Paired with its incredible durability…
It's just no match for other fishing kayaks in this category.
If your budget allows you to get a Coosa HD, I wouldn't hesitate. It will make your fishing trip so much more enjoyable.