The Jackson Bite kayak is substantially cheaper than most Jackson kayaks… but it still has the same Jackson quality we love.
In this Jackson Bite Angler review, I'll tell you what I like and what could be improved on this boat.
[Spoiler Alert: The Jackson Bite Angler is one of the best value fishing kayaks out there. For under $1000, you get tons of features, massive stability, and huge storage space. For a first fishing kayak, this is definitely my top pick]
Things to Consider before Buying your first Fishing Kayak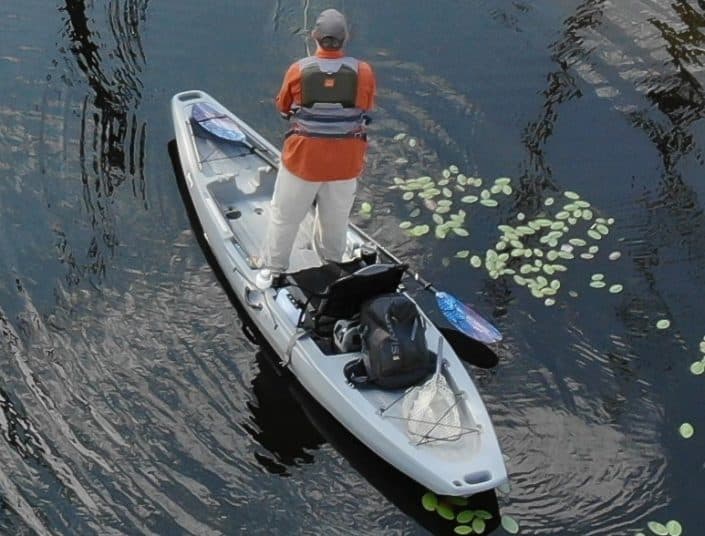 Before buying your first kayak, you should think about where you'll be fishing most.
You won't need the same boat to fish in open water as you would in swift-moving rivers.
Fortunately, the Jackson Bite is one of the cheapest quality fishing kayaks, which means you won't lose much money if your needs change over time.
Also, it's very versatile and beginner-friendly.
It's pretty durable which means it won't be hard to sell down the road when you want to upgrade to a high-end fishing kayak.
That said, remember to keep it out of the sun when not in use. If you don't, UV rays may warp the hull over time and your kayak will be dead.
Jackson Bite Kayak Specifications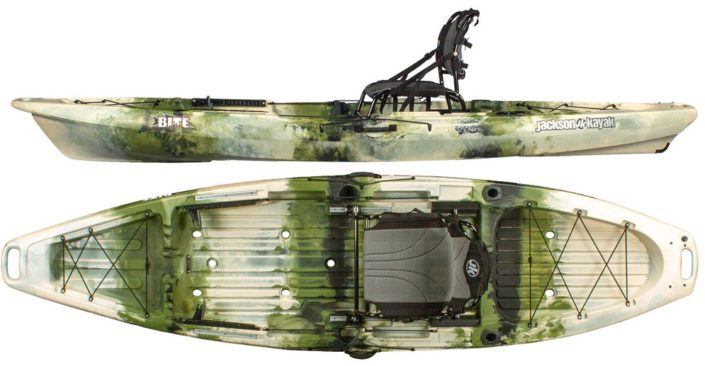 Length: 11 ft 6 in
Width: 36 in
Weight: 74 lb
Load Capacity: 400 lb
Jackson Bite Kayak Design
Material
Like most fishing kayaks, the Jackson Bite Angler is made of high-density polyethylene.
This will make the hull virtually indestructible. You can take this kayak on rocky rivers without problems. It will take any beating, on-water collisions, submerged tree branches…
The good news is it also has a replaceable skid plate. This means you can safely drag it to and from the water without damaging the hull.
The Jackson Bite has 10 scuppers across the hull, so it will never fill with water. It also has two transducer holes so you don't have to do any drilling.
Speed
As the Jackson Bite is a relatively short boat at 11 ft 6 in, it's definitely not the fastest kayak out there.
Add to that the extreme stability, and this boat is more like a fishing platform than a performance-oriented kayak.
Therefore, it isn't ideal to cover long distances.
For most kayak anglers, it will still be fast enough, and much faster than the Perception Outlaw, for instance.
At max speed, I can manage to coax out 4 mph out of it. But on average, my cruising speed is 2.5 mph.
Maneuverability
Despite its short size, I've found the Bite to not be incredibly maneuverable either.
It definitely turns much better than my Hobie Outback, but not nearly as well as narrower kayaks.
At 35 inches wide, that's kind of expected though.
Overall, this kayak is still maneuverable enough to go on narrow rivers, but I wouldn't take it in class 3+ whitewater.
Comfort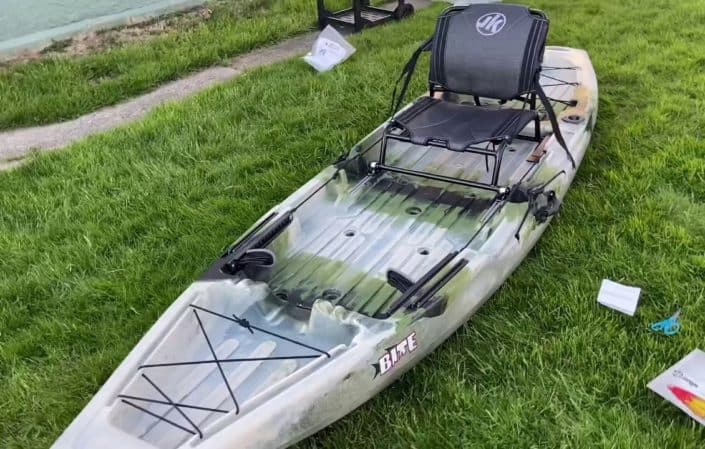 Jackson kayaks are known for their superior comfort, and the Bite Angler is no exception.
The seat on older models (2019 and prior) used to have a very uncomfortable top bar. But fortunately, since 2020 the seat is super comfortable and wide.
It doesn't have the typical "High Lo" design of Jackson kayaks, so it can't be raised or lowered. Instead, it's kind of set at a middle height.
It's so comfortable it's actually designed to double as a camping chair. This is handy to leave your actual camping chair at home when you go on camping trips.
Also, the seat is mounted on a track system that allows it to be adjusted back and forward. This is not only for tall paddlers, but it will also change tracking and maneuverability.
Basically, if you want better tracking on flat water, you should put the seat forward. Whereas for narrow rivers and fast water, putting the seat all the way back will give better maneuverability.
Obviously, the Jackson Bite has adjustable foot braces. I like how comfortable they are, and very easy to adjust with one hand.
The seat can be folded down easily if you need more room for standing and casting.
Finally, Jackson includes a stand-assist strap for big guys who may have a harder time getting up and standing.
Stability and Tracking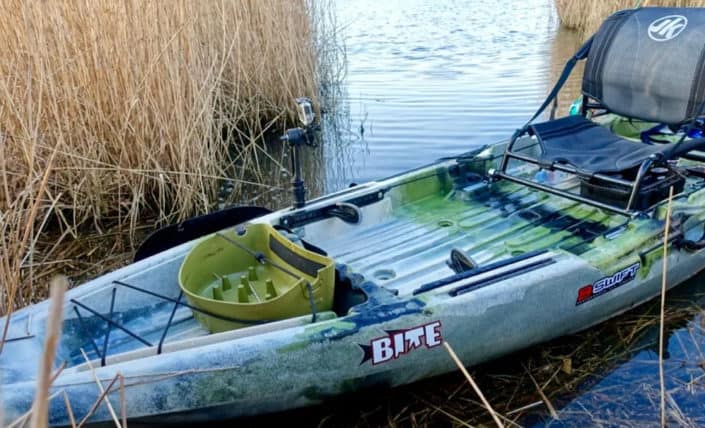 As mentioned before, the Jackson Bite Angler is one of the most stable fishing kayaks.
Even big guys will be able to stand, move around the deck, lean on one side or the other… without ever flipping the boat.
If you weigh 275 lb or 300 pounds, you'll find the Jackson Bite plenty stable and it won't ever feel tippy.
Even in 15-20 mph winds, I don't feel unstable when standing up.
Of course, this stability does make it slower than other boats.
Regarding tracking, I'd say it tracks fine considering its short size.
Even in the wind, I don't get blown away too easily.
Durability
As mentioned above, the hull of the Jackson Bite is virtually indestructible.
And even if you managed to damage it somehow, Jackson is known for its great customer service and warranty.
I've never heard any complaints about other components breaking down, so I'd say this boat will last you a lifetime.
So far I've taken it down rocky rivers and it took some serious beating, but it still looks almost brand new.
Portability
At only 74 lb, the Jackson Bite Angler is definitely a light fishing kayak.
Most guys won't have any problem loading it on top of their SUV.
Also, carrying it to and from the water is made even easier thanks to the little skid plate.
The molded-in handle at the back and front is very comfortable and makes loading and unloading your boat pretty easy.
Overall, the Bite Angler is much easier to carry than a pedal kayak, for instance.
Jackson Bite Angler Features and Accessories
Like most Jackson kayaks, the Bite Angler comes with a free stand-assist strap.
However, unlike higher-end Jackson models, it doesn't include a YakAttack rod holder.
It also doesn't come with a rudder, nor free paddle (but that's expected).
Finally, it does have two cup holders, which is pretty nice since many boats don't have any cup holders.
Jackson Bite Kayak Fishing Ease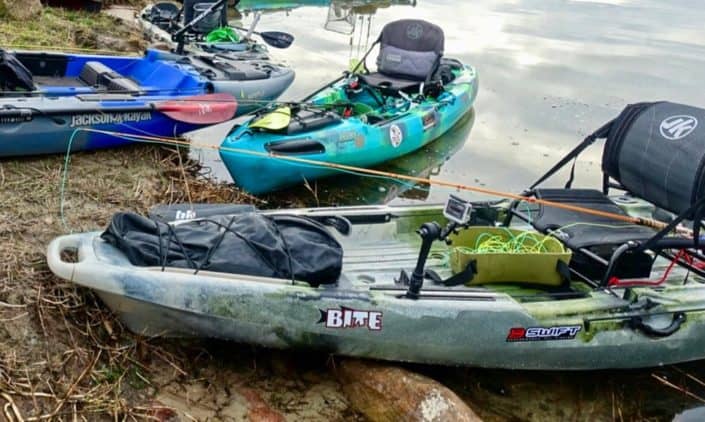 First of all, you should know the Jackson Bite Angler has a full open-space concept. This means it has no dry hatches whatsoever.
I personally like this as it allows you to have access to all your gear on the water. But depending on your need, you might prefer having at least one dry hatch.
The cockpit is huge. There's tons of space to land your fish, to stand and cast, move around the boat… and even bring your child with you.
Talking about storage, you have a gigantic rear tankwell storage. You can fit a black pack or milk crate plus a big cooler, and you'll still have lots of space left… I'd say it's just as big as a pickup truck bed.
If you want to go camping, you'll really love the storage capacity on the Jackson Bite.
You also have a big tankwell storage at the front, where you can put some extra gear. I like to put my camera gear down there.
There are four molded-in tackle box placements on the sides, as well as some padding to put your hooks behind the seat.
There are four rod stagers at the front to keep your rods horizontally and out of the way. Plus two flush-mounted rod holders behind the seat.
Of course, this being a Jackson kayak you've got the typical gear tracks on each side of the boat to mount all your fishing gear − GoPro, fish finder, camera, extra rod holders…. A nice detail: these new gear tracks are actually made of metal, instead of the old plastic ones.
Finally, you have a bungee-style paddle holder on each side of the boat. I actually prefer paddle clips, but these do the job.
The new models (2020 onward) are also power pole ready, so you won't have to drill.
Who is the Jackson Bite Angler for?

I'd say the Jackson Bite Angler is for people looking for great stability at an unbeatable price.
The Bite Angler has tons of features, but not as many bells and whistles as higher-end fishing kayaks.
The open-space design also isn't for everybody.
Overall, I'd say this is a pretty versatile, cheap fishing kayak for slow-moving rivers and lakes.
Jackson bite kayak Alternatives
Perception Outlaw 11.5

Like the Jackson Bite, the Perception Outlaw is a stable fishing platform.
Actually, the Outlaw is even more stable with its pontoon-style hull.
This makes it able to accommodate paddlers up to 325 lb without feeling unstable.
Of course, this means the Outlaw is also much slower and less maneuverable than the Jackson Bite.
It's much harder to carry, not only because of the higher weight but also because of how that weight is distributed. It definitely isn't fun carrying it on your own and will be more akin to transporting a pedal kayak.
All that said, the Outlaw tends to be cheaper than the Jackson Bite Angler
Even more stable
Slower, subpar tracking
Cheaper
Crescent Lite Tackle

Both the Lite Tackle and Jackson Bite tend to cost less than $1000 while being made in the USA.
The Lite Tackle also has a big open deck design, but it does have a front hatch, unlike the Bite Angler.
The Tackle has a lower seat compared to the Bite, which makes it harder to get up to a standing position. For big guys, older guys, or people with knee problems, this might be an issue.
What I'll say is the Tackle definitely feels more like a performance-oriented kayak. It's faster, more maneuverable, and has better tracking.
It still feels stable, but not as stable as the Jackson Bite.
I'd say the Jackson Bite is more beginner-friendly, whereas the Tackle will get some getting used to. On the flip side, the Tackle will be more versatile and capable of tackling class 2 rivers once you're more experienced.
The different keel shape gives it amazing maneuverability. You can basically turn 360 in place.
Finally, if you need to cover long distances, then the Tackle might be worth considering.
Faster, tracks better
More maneuverable, less stable
Better for long trips
Old Town Sportsman 106

The Sportsman 106 is up there with the best fishing kayaks under $1000.
It will perform better on open water as it has better tracking and top speed.
It also has a traditional deck with a dry hatch at the front, instead of a full-open deck.
It's 1 foot shorter than the Jackson Bite, but it still weighs about the same (3 pounds more, actually).
The seat is very comfortable, and it's a pretty stable kayak for big guys as well, with a higher weight capacity of 440 lb.
Overall, to cover long distances the Sportsman 106 will be the best Jackson Bite alternative.
Better for long distances
Speed, tracking, maneuverability
Comfortable seat
Full review of the Old Town Sportsman 106.
jackson bite kayak – Wrapping it Up
Overall, the Jackson Bite Angler is a great fishing kayak if you're on a budget.
At this price range, it's hard to find a more stable, more comfortable boat.
You get a ton of storage space, and plenty of fishing features to have a great time on the water.
The only downside is that it tends to sell out very quickly.
In fact, by the time you read this review, it'll probably be out of stock. Unfortunately, you'll have to wait until next year to get your hands on it.