In recent years, the market has been filled with angling kayaks that cover a range of price ranges and features.
At the top of the list are the pedal kayaks that are propelled with your feet instead of a traditional paddle. One of the companies that specializes in these high-end designs is the California based company Hobie.
In our Hobie Revolution 13 review, we'll break down the strengths and weaknesses of this 13-foot long kayak that comes with a well-made propeller system and enough features to keep you busy on the water and the freezer full of fish.
Pros:
Comes with a paddle from most retailers
Good top speed with a durable pedal system
Lots of dry storage space
Cons:
Not outfitted for fishing as some models
Sizable financial investment
Steering stick takes some getting used to
Things to Consider Before Buying

Pedal kayaks are considered some of the higher end fishing and recreational kayaks on the market. They come with a lot of features and the pedal design gives you excellent speed, handling, and stability that can handle a variety of water conditions.
This doesn't come cheaply though, and pedal kayaks like the Revolution 13 are some of the most expensive boats out there. If this is your first kayak, or you don't have a lot of financial flexibility, you may be better off with a less expensive model. There are plenty of mid-range, paddle kayaks like the Vibe Sea Ghost 130 that still have plenty of features, great stability, and are easier to transport.
At over thirteen feet in length, the Revolution 13 will require a decent storage area. Ideally, this will be in a climate-controlled environment like a garage, though a covered shed or something similar will do fine.
For transportation, you can expect to purchase a roof rack with all the necessary straps unless you have a large truck with a good-sized bed.
Like most fishing kayaks, the Revolution 13 is a "sit-on-top" kayak. These boats are wide with large cockpits that make it easier for paddlers to get in and out regardless of their ages. They provide excellent stability but the Revolution 13 doesn't come with as many of the features as similar models.
But they don't provide much protection from the elements. If you live in a rainy environment or plan on being in rougher conditions where waves or rapids may slosh over the side, it might be worth purchasing a sit-in kayak instead.
These boats are narrower, giving you a better top speed though they lack the custom features of many of their sit-on-top brethren. But they protect the majority of your lower body from the elements, especially if you wear a spray skirt.
Specifications
Length: 13-feet, 5-inches
Width: 28.5-inches
Weight: 70.5 pounds
Load Capacity: 350 pounds
Design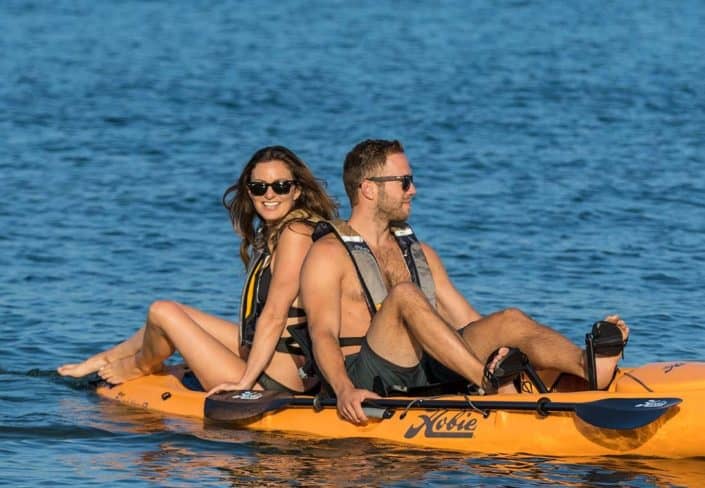 Material
Like most high-class pedal fishing kayaks, the Hobie Revolution 13 is made of a tough plastic material called polyethylene. This should be able to handle any scrapes, drags, or collisions with minimum impact on the hull's integrity. With proper maintenance and minimal upkeep, you can expect your Revolution 13 to last a long time.
Speed
Armed with Hobie's famed Mirage Drive propeller system, the Revolution 13 is a well designed and a fleet of foot pedal kayak. Designed a little differently from a bicycle pedal design, the Mirage Drive utilizes more of a back and forth motion while still being able to transition forward and backward with ease.
It's pretty long for a fishing kayak too, and the long keel is able to leverage a top speed that should outstrip any traditional paddle kayaks with ease.
Maneuverability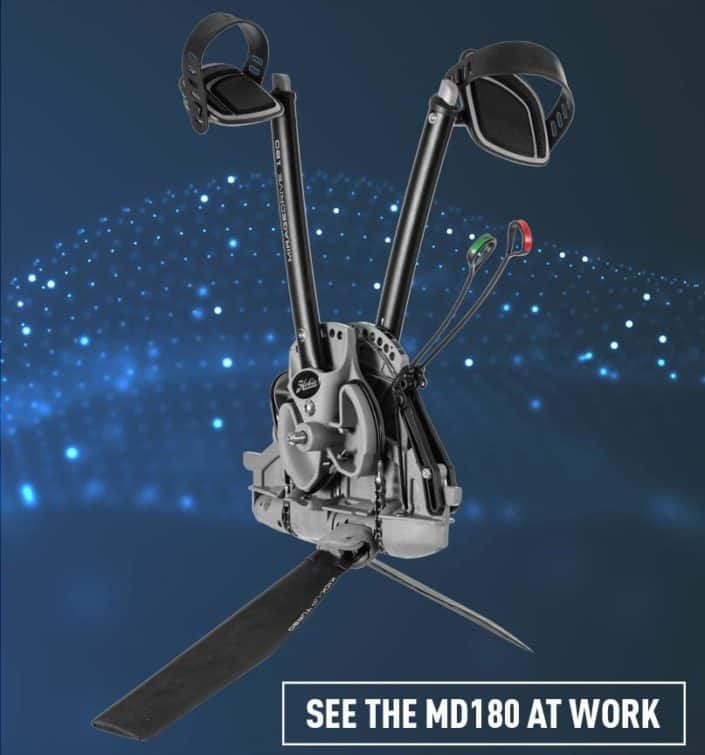 Steering is done with a one-handed lever located on the left-hand side near the cockpit. It provides the boat with a pretty good turn radius, though the sensitivity may take some getting used to for newcomers.
The rudder can be raised and lowered with a rope on the other side of the cockpit for shallow crossings and on approach to the beach. This functions pretty smoothly which I can't say for all kayak designs.
Comfort
An uncomfortable seat can ruin even the best day on the water. Hobie has taken great pride in their seat design to ensure that you'll be comfortable no matter how long you're on the water.
The seat can be adjusted four different ways: back and forth or up and down giving you great flexibility and premium comfort for both traveling and better vantage points for fishing.
The well-padded and adjustable settings help ensure that paddlers of all ages, shapes, and sizes will be comfortable.
Stability & Tracking
The Revolution 13 sports comforting stability that should be able to handle any water conditions you'd want to be out fishing in.
With fish on the line, the boat can handle any of the sudden shifts and weight and lunges that tend to accompany bringing in the biggest fish.
For tracking, the rudder and long keel help keep it on course in a variety of conditions.
Durability
The tough plastic will stand up to most everyday collisions or bumps. The pedal drive system retracts automatically when it comes in contact with underwater hazards, so you don't have to worry about busting the Mirage Drive unless you're moving fast through shallow areas.
While the plastic hull can handle being dragged, the lack of a skid plate means that the hull will be scratched, scraped, and peeled after extended drags. It probably won't punch a hole in your boat, but it can damage your efficiency and speed.
If possible, store your kayak in a place out of direct sunlight. Extended exposure to UV rays can cause the plastic to weaken or warp over time.
Portability
The design comes with a pair of molded carry handles, one each on the bow and stern to make tandem carries more manageable. There's another handle near the cockpit so a third person can help out, which can be useful with a boat that's 70 pounds empty and 88 pounds fully rigged.
If you're on your own, you may want to consider investing in a kayak cart to get to the water's edge easier. As we mentioned, there's no skid plate so you'll want to avoid long drags when possible.
Features and Accessories
Unlike most kayaks in this price range, the Revolution 13 comes with a paddle and the hull comes with a paddle holder where it can be stored horizontally when not in use. This may seem unnecessary with a pedal kayak, but it's good to have the redundancy of another method of propulsion, especially if you don't have to pay for it.
Fishing Ease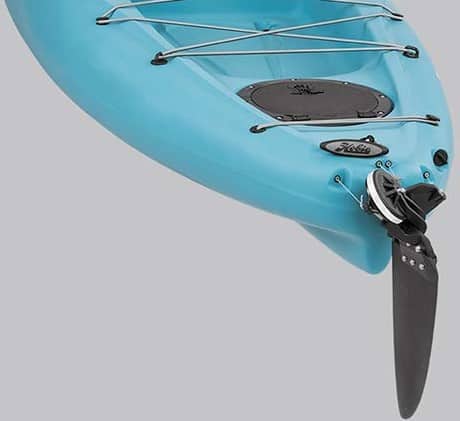 For a boat of this size, you can expect to have plenty of storage space to work with. The Revolution 13 comes with three dedicated watertight storage areas. The main one is the largest and located in the bow. Though the load capacity of 350 pounds seems a little low, it should still be more than enough for overnight trips.
The other two have smaller hatch openings of eight inches, but with some clever packing, you can still fit plenty, though you may have to store your gear in smaller containers. Bungee cords are stretched across the stern for additional open-air storage space and are a good place for coolers, dry bags, or other oversized pieces of gear.
A pair of rod holders will keep your poles in place while traveling from place to place. You also get a couple of mesh pockets on both sides of the seat, the perfect spot for spare fishing tackle or other personal effects.
My main quibble is it doesn't come with as many of the custom options as other fishing kayaks in this class, making it harder to bring along some of your gear like a GoPro or fish finder.
Value
All the extra equipment required for the Mirage Drive means that you can't expect a pedal drive kayak to come cheaply. But if you're interested in a pedal kayak, the Revolution 13 is one of the cheapest designs.
It lacks some of the custom features of some of the more expensive boats which may make it a deal-breaker for the more serious anglers. But if you're a more casual fisherman and also want a boat that can move quickly and is fun to pedal or paddle and you have the extra money, it's hard to quibble with a boat this big and fun.
Alternatives

The Outback provides many of the same qualities that Hobie is known for.
Maneuvering is made easier by two steering handles for added flexibility and the boat comes filled with customization options like a transducer mount, four rod holders, and a big open-air stern hatch secured with bungee cords.
Despite almost being almost a full foot longer, the Outback is lighter than a lot of Hobie's other pedal models making it good for solo paddlers.
The load capacity feels a little light for a boat of this magnitude at 425 pounds, but that's a minor nitpick. 425 pounds should satisfy most anglers and opens up the possibility of more ambitious multi-day excursions.
You can expect to spend a little more for all these custom options and larger load capacity than you would for the Revolution 13.
Easy to maneuver through shallow water
Almost 13-feet long
Fairly light for a pedal kayak at 85 pounds
Read our honest Hobie Mirage Outback review.

Another big and stable kayak, the Compass feels like a battleship beneath you, allowing you to stand and cast without fear of capsizing. This allows you to cast with better distance and accuracy on your casts and spot passing fish easier.
The seat is comfortable and can be adjusted up and down or back and forth. As an added bonus, it can also be removed so you even have a handy camp chair at the end of the day.
You also get the same Mirage Drive pedal system so you can maintain speed and move through rougher water with minimal effort. The load capacity is a little lower and you don't have quite as many storage or custom options when compared to some of Hobie's other high-end fishing kayaks.
Lighter and easier to transport than the Outback
Plenty of custom features to work with
Same pedal system for impressive top speed and maneuverability
Read our honest review of the Hobie Mirage Compass.
One of the larger Hobie kayaks out there, the Revolution 16 is over 16-feet long. This can cause some storage and transportation challenges, but on the water, it can move faster than just about any boat in its class.
It's not too heavy for a boat this long, weighing only 75 pounds when empty and 92 pounds when fully rigged. The Mirage Drive system has made the journey over from its shorter cousin the Revolution 13, and all the same reliable durability features are here.
The extra length means it is more expensive, and it doesn't have all the custom features that hardcore anglers may crave. But if you're looking for a fast boat that can also do a little bit of fishing, it's hard to argue with the Revolution 16.
One of the longer fishing kayaks
Not as many custom features as some of Hobie's other models
Comes with a paddle and a paddle holder
Conclusion
Stable and fast, the Revolution 13 walks the line between a recreational and fishing kayak. It doesn't have quite enough custom features outside of a pair of rod holders, so if your primary goal is to catch fish, you may prefer to spend a little more for a boat featuring more accessories.
But with the great Mirage Drive propellers and the durable design, the Revolution 13 is a kayak that can handle a wide range of conditions for either fishing or fun if you're willing to spend the money.