Today the market is filled with durable and reliable hard-sided kayaks for recreational or fishing purposes. But what if you want to do a little bit of both and don't feel like paddling the whole time?
The California based kayak company Hobie has been fine-tuning their designs since the 50s and have recently set their sights on the world of pedal kayaks.
In our Hobie Revolution 11 review, we'll break down one of these pedal kayak designs that serves as both a reliable recreational kayak with just enough features to satisfy that angling itch.
If you want a portable and cheap pedaling kayak with a bit more versatility than some more expensive options, you may have found what you're looking for.
Things to Consider Before Buying

Like most kayaks in this category, the Revolution 11 is a "sit-on-top" kayak. These boats generally have good stability to go along with a big, open deck that gives you plenty of room to move around and are easy to get in and out of.
But that big open deck does mean that you're more exposed to the elements. If you live in a cold or rainy environment, you should be prepared to get a little cold and wet. Wear proper gear when on the water, or consider going with a "sit-in" kayak. These boats are slimmer but provide more protection, especially for your legs and lower torso.
As a pedal kayak, the Revolution 11 will require a bit more maintenance than a typical paddle kayak. All that extra hardware also means that you'll be spending a bit more for a boat like this than you'd probably expect.
While these boats are faster than their paddling counterparts, there's no shortage of fishing and recreational kayaks out there that can be had for cheaper. Consider a boat like the Sea Ghost 130 from Vibe which has tons of custom features for fishing at a lower price. The only drawback is you'll have to paddle yourself around all day. 
Specifications
Length: 11-feet, 6-inches
Width: 29-inches
Weight: 81 pounds
Load Capacity: 275 pounds
Design
Material

Like virtually every other fishing and recreational kayak, the Revolution 11 is made of a sturdy and durable plastic called polyethylene. This material gives it great durability that is resistant to punctures or other damage. With little maintenance and a little precaution, you can expect your Revolution 11 to last a long time.
Speed
With Mirage's patented MirageDrive pedal system, the Revolution 11 has an efficient and easy-use propulsion system that should outclass more traditional paddle kayaks.
It's a little shorter than most pedal kayaks, and while this makes it easy to transport, it does mean that it's a bit slower too. The narrower width does help to an extent, but I'd still wager that longer kayaks in this category will be able to outrun it in most conditions.
Maneuverability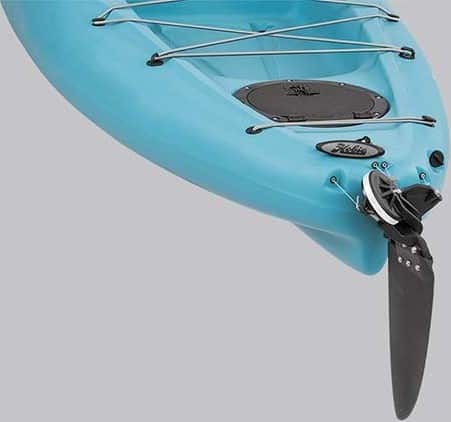 The Revolution 11 comes with a rudder that is controlled by a joystick installed on the left side of the seat. Once you get the hang of it, the Revolution 11 is capable of tight turns and navigating areas that larger pedal kayaks won't be able to.
While the rudder system works well, I'd still recommend you bring a paddle along too for tighter turns or more technical maneuvers as pedal kayaks can sometimes feel too bulky in these scenarios.
Comfort
Mirage knows that you won't appreciate a high performing kayak if you're uncomfortable the whole time. That's why they've developed their Vantage CT Seating design which provides you with a comfortable and adjustable chair. The mesh covering is both flexible and breathable so it's easy to keep cool on those hot summer days.
The seat can be adjusted in four different directions (up and down, forward and back) so you're sure to find a comfortable position no longer how long your legs are.
Stability & Tracking
The Revolution 11 should be a sturdy enough paddling and fishing platform for most people. It is a little narrower than a lot of similar kayaks on the market but is still more than capable of handling any of the sudden shifts in your weight that may occur while fishing.
It's not stable enough to stand and cast from though. The ability to raise your seat a little higher does allow you to still get decent distance and accuracy on your casts and helps you spot passing schools of fish.
The shorter keel also means that the Revolution 11 won't track as well as bigger designs. But when you learn to incorporate the rudder properly, you shouldn't have too much trouble keeping this boat on track in anything but the most difficult of conditions.
Durability
This isn't a challenge, but I'll be amazed if you manage to punch a hole in this boat. The plastic hull will absorb any accidental drops as well as any on-water bumps or collisions that will inevitably happen.
One drawback is the boat doesn't have a skid plate built onto the keel, so you'll need to be a little more careful when coming into rocky beaches. I'd also avoid dragging it long distances or over rough surfaces. While this shouldn't put a hole in the boat, it will cause the plastic to scratch and peel which can diminish the boat's speed and efficiency.
Portability
For a pedal kayak, the Revolution 11 is one of the most portable kayaks out there. Even fully rigged with the pedal drive system, it comes in well under 100 pounds.
The eleven-foot, six-inch keel can squeeze into the bed of some larger trucks. For those with smaller vehicles, a kayak rack with the appropriate straps should be able to get it to the water with little trouble.
For carrying the boat has two ergonomic handles on the bow and stern for tandem portages. While two people should be able to carry it, there's an additional carry handle in the middle of the boat. With a third person helping, it almost feels like it's floating.
If you're going to be on your own a lot, it may be worth investing in a little hand cart to help you move the boat solo so you don't always have to enlist the help of another person or risk dragging it across the parking lot.
Features & Accessories
The Revolution 11 doesn't come with any free goodies like a pedal. But this is pretty normal when you're shopping in this price range as throw-ins like a paddle are usually reserved for cheaper, entry-level boats.
A paddle holder has been built into the design however which I think every kayak should have. For a pedal kayak, it makes it much easier to bring a paddle along. I recommend always having a paddle along even if you don't plan on using it as it gives you a backup in case something happens with the pedal drive system.
Fishing Ease
While marketed as a fishing kayak, the Revolution 11 doesn't have the built-in custom features that some more expensive fishing kayaks have. Instead, this boat toes the line between recreational and angling, making it a "jack of all trades" and a "master of none."
It does come with a pair of rod holders so transporting your fishing poles won't be a problem. But you won't find any sort of accessory track system where you can easily install a GPS or other gadgets. If you really want this, either consider buying a more specialized boat, or risk taking a drill to your boat.
There are a few mesh pockets in the cockpit where you could theoretically hold spare fishing tackle or other small items you want access to while on the water.
There's no transducer mount for a fish finder.
There's a lot of dry storage space for a boat this size. A large bow storage hatch should be large enough to fit camping gear without too much trouble. A smaller stern hatch with an 8" twist and seal hatch is better for smaller items and some more flexible padders may be able to reach this compartment while paddling.
Bungee cords have been stretched across a large portion of the deck giving you space for oversize items. The load capacity of the Revolution is a little small compared to other pedal kayaks. It's capable of carrying 275 pounds and don't forget this includes the paddler's weight too. Overloading a boat can make it unstable and more prone to capsizing.
Value
With a few fishing features but lacking the stability or custom features of bigger boats, the Revolution 11 sits in a gray area between a fishing kayak and a recreational one. This will make it more appealing to casual kayakers who may wish to dabble with fishing but don't plan on taking it too seriously.
Those that lean more towards longer kayaking trips will probably prefer a faster pedal kayak with a larger load capacity. Anglers will favor more expensive boats that include custom accessory tracks and a mount for a fishfinder.
But if you find yourself in that gray area and want to try a pedal kayak, the Revolution 11 is one of the cheapest options.
Alternatives

As the name suggests, the Revolution 13 has a lot of the same features and functions as its little brother. It's two full feet longer than the Revolution 11 and will track a little better with a faster top speed.
It still lacks any custom features for fishing, although the load capacity is a little bigger at 325 pounds. If you'd prefer a slightly larger boat that can still handle both recreational and fishing outings, the Revolution 13 is a reasonable alternative, albeit at a higher price than the Revolution 11.
Has a lot of the same features as the Revolution 11
Faster and with better tracking
Still no custom features for fishing
Read our detailed Hobie Revolution 13 review.

The Outback provides many of the same qualities that Hobie is known for. It provides a more stable platform than the Revolution series, allowing you to stand and cast with confidence.
Maneuvering is made easier by two steering handles for added flexibility and the boat comes filled with customization options like a transducer mount, four rod holders, and a big open-air stern hatch secured with bungee cords.
The load capacity feels a little light for a boat of this magnitude at 425 pounds, but that's a minor nitpick. 425 pounds should satisfy most anglers and opens up the possibility of more ambitious multi-day excursions.
Easy to maneuver through shallow water
One of the more expensive fishing kayaks
Fairly light for a pedal kayak at 85 pounds
Read our full review of the Hobie Mirage Outback.

A big, tandem pedal kayak from Hobie, the Compass Duo is of similar size to the Revolution 13. At 13.5-feet long, there's plenty of deck space for you and your pedal partner, making it still easy to coax a competitive top speed out of this model.
This is a boat built more specifically for fishing. In addition to multiple rod holders, it also has an H-track rail accessory system running along both sides of the boat, allowing you to easily outfit your boat with all the custom fishing gear like a GPS or a Go-Pro.
Built more for fishing 
Not as much dry storage space
Relatively easy to transport compared to other tandem pedal kayaks
Read our detailed Hobie Mirage Compass review.
Conclusion
Representing a middle ground for kayakers and anglers, the Revolution 11 is a well-built paddle kayak that provides versatility and durability.
More passionate anglers or expedition kayakers will likely want to look elsewhere, but for more casual users with the money for a pedal kayak, the Revolution 11 is a worthy option.