In our Hobie Mirage Pro Angler 17t review, we'll be breaking down the biggest and heaviest kayak I've reviewed yet.
This battleship of a kayak comes with incredible stability, tracking, and speed that will allow you to tackle dynamic and challenging conditions you wouldn't dream of taking on in a smaller vessel.
If that sort of adrenaline-pounding fishing sounds appealing, you may have found the right boat for you.
Pros:
Long keel and two pedal drive systems for a great top speed
Skeg and rudder help with tracking in all sorts of conditions
H-track rail accessory system and transducer mount for all your fishing gadgets
Cons:
Incredibly heavy
The most expensive kayak I've ever reviewed
Will require ample storage space and routine maintenance on the pedal drive system
Things to Consider Before Buying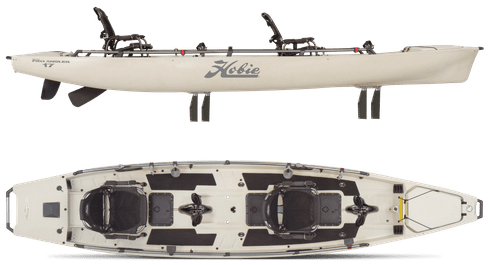 As a big and heavy kayak, the Pro Angler 17t will require a large storage area and a big vehicle to transport. In a lot of cases, your best bet is probably to purchase a kayak trailer and hitch instead of trying to lug this 250-pound kayak onto a rack on top of your car.
For storage, it's best to keep your kayak in a covered area out of direct sunlight, preferably in a climate-controlled location like a garage though a shed will do the trick too.
The 17t is a sit-on-top kayak. These boats are favored for their wide beams that provide excellent stability as well as their open cockpit plan that gives you plenty of room to move around.
They don't provide much in the way of protection from the elements however as your entire body is exposed. If you live in a cold, wet, or rainy region, be prepared to get wet and make sure you're probably outfitted with raingear or maybe even a dry suit before setting out.
If you'd prefer, you can go with a sit-in kayak that provides more protection, although you'll be sacrificing a lot of the 17t's custom features.
Specifications
Length: 17-feet
Width: 43.5-inches
Weight: 250 pounds
Load Capacity: 900 pounds
Design
Material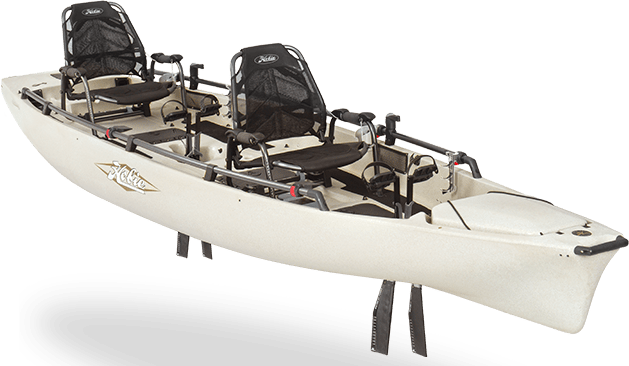 Like the majority of fishing kayaks, the Pro Angler 17t is made of rotomolded polyethylene. This type of plastic is tough, durable, and built to last a long time. With minimal maintenance, you can expect your kayak to last for years as long as you don't drop it from a great height.
Speed
Longer than some expedition kayaks, the Pro Angler 17t can fly across the water when both pedal systems are engaged. Even with a massive 43-inch beam, the boat can maintain its speed when going against the wind or fighting the tide.
Altogether, this makes the Pro Angler 17t a great choice for those looking to do elongated trips where knocking down the travel time is important.
Maneuverability
That long keel and wide beam work against it when it comes to maneuverability, however. The 17t has a wide turn radius and even incorporating a paddle will only help you so much. The built-in rudder does help and it is responsive, but there's only so much that can be done with a boat this long and wide.
It's not the best boat for narrow waterways like small, fast-moving rivers or if your fishing spot is a tight squeeze.
Comfort
There's no reason to settle for a fishing kayak that doesn't have a comfortable seat. Both seats can be adjusted back and forth and up and down, allowing you to have proper lumbar support as well as improve your view of the water when casting from a sitting position.
The seats are well-padded and supported, featuring a mesh backing that promotes airflow for those hot summer days.
You can easily remove and modify the seats, providing you and your paddle partner with extra flexibility. The seats can be moved to face each other or give yourself a single paddle set-up with just one seat in the middle of the boat.
Stability & Tracking
That wide beam comes in handy when it comes to stability. Combined with the long keel and the Pro Angler 17t feels like a battleship underneath you. Even in chop, waves, and tide, the 17t feels solid and reliable and should give anglers of all experience levels confidence.
Both paddlers should be able to stand and cast without fear of capsizing. Although if you're a newcomer I'd recommend your first couple of tries take place close to shore in case something goes amiss.
The design comes with a skeg that enhances the tracking which is already impressive thanks to the 17-foot keel. It's a great boat for traversing turbulent water like strong tidal flows or heavy surf.
Durability
This isn't a challenge, but I'll be amazed if you manage to put a hole in this boat. Tough and rigid, the plastic hull should be able to handle any accidental drops or on-water collisions with submerged hazards.
For a boat this size and weight, I wish Hobie had included a skid plate in the event the boat needs to be dragged. If at all possible, I suggest you carry your boat to and from the water. Even if the hull doesn't look the worse for wear, extended drags can cause the plastic to scratch and peel which can harm your pedaling efficiency.
Portability
One of the heaviest kayaks in any category, the Pro Angler 17t presents several logistical challenges when it comes to transporting. The boat does come with carrying handles on the bow and stern. But it's so heavy, I wish they'd included additional handle spots along the sides so it's easier for 3 or 4 people to help.
A large truck or mammoth kayak rack will be necessary to transport your 17t. I'd also recommended buying a kayak trailer so you can wheel it from the parking lot to the water easier, though even this will probably require a second person.
Features & Accessories
Like most high-end boats like this, the 17t doesn't come with a paddle or any included goodies like a lot of entry-level kayaks do.
There is a skeg built into the design which is really great for ocean paddlers. There's no scupper holes and no need for plugs.
Two tackle boxes are included in your purchase from some retailers.
Fishing Ease
The 17t comes loaded with all the fishing features necessary to get you on the water. In addition to the tackle boxes, the boat comes with an incredible 12 rod holders, ten horizontal and two vertical.
Every fishing kayak seems to call their customization system something different. Hobie calls theirs the "H-track accessory system." They run along the sides of the hull and allow you to easily install a GPS, camera, or anything else without having to take a drill to your brand new boat.
The boat comes with a transducer mount, so those that want to install an underwater fish finder can do so with little difficulty.
You'll want a lot of storage space to take advantage of the mammoth 900-pound load capacity. The biggest storage area is in the bow. With a watertight hatch cover, it comes with a removable liner so you can easily use it to hold live bait, the day's catch, or ice.
Three more watertight hatches are scattered throughout the 17-foot deck. There's one in front of each seat, making them easily accessible while on the water and the third is directly behind the bow seat. The twist and seal hatches are designed to fit the contours of most plastic boxes.
While there isn't a dedicated spot for open-air storage, there's plenty of space on the open deck for coolers and other items that you don't mind getting wet. The best spot is on top of the battery storage platform located behind the stern seat.
Value
Between its size, width, weight, load capacity, and custom features, it shouldn't come as a surprise that the Pro Angler 17t is one of the most expensive kayaks on the market. More pricey than a lot of expedition kayaks, you get what you pay for. The boat comes with everything you need for you and your paddle partner to bring home a winter's worth of fish.
But if you don't consider yourself a passionate angler, it's hard to see a world where you get your money's worth. There's no shortage of high quality and cheaper fishing kayaks out there that will get the job done at a fraction of the price.
Even if you want to try a pedal kayak, there are several that can be had for a much lower price. I don't want to dissuade you from the 17t, it's a great kayak that can handle almost any water condition. If you have the money and time to get it out on the water a lot, it's hard to imagine you being disappointed with the on-water performance.
Alternatives

At almost 14-feet long and weighing 120 pounds, the Angler 14 is another kayak that's not the easiest to transport., but when it comes to fishing there's not much it can't do. It's another pedal boat so the pros and cons of the PDX above also apply here.

Featuring six rod holders, the Pro Angler 14 also has a specific "live tank" storage area to keep either live bait or your catch.
Incredibly stable, you can stand and cast with confidence in a variety of conditions from the standing deck while a lean bar ensures you keep your balance.
Faster than a traditional kayak, it's also quieter when you're pedaling allowing you to sneak up on fish.
Be prepared for more upkeep and maintenance to keep your Mirage Pro Angler 14 in prime working condition.
Requires more maintenance than traditional kayaks
One of the more expensive kayaks
Can handle mild chop and wind
Read our full review of the Hobie Mirage Pro Angler 14.

The Outback provides many of the same qualities that Hobie is known for.
Maneuvering is made easier by two steering handles for added flexibility and the boat comes filled with customization options like a transducer mount, four rod holders, and a big open-air stern hatch secured with bungee cords.
Despite almost being almost a full foot longer, the Outback is lighter than a lot of Hobie's other pedal models making it good for solo paddlers.
The load capacity feels a little light for a boat of this magnitude at 425 pounds, but that's a minor nitpick. 425 pounds should satisfy most anglers and opens up the possibility of more ambitious multi-day excursions.
Easy to maneuver through shallow water
Almost 13-feet long
Fairly light for a pedal kayak at 85 pounds
Read our full review of the Hobie Mirage Outback.

Another big, tandem pedal kayak from Hobie, the Compass Duo is a smaller alternative to the massive Pro Angler 17t. At 13.5-feet long, there's still plenty of deck space for you and your pedal power and it's still easy to coax a competitive top speed out of this model.
All of the custom features like rod holders and the H-track rail accessory system have been ported over, the removable chairs are a nice touch for the end of the day when you're sitting around the campfire.
Smaller and easier to transport than the Pro Angler 17t
Similar custom features
Lower price
Conclusion
There are few kayaks that can compete with the Pro Angler 17t's combination of size, speed, and fishing accessories.
While many casual anglers will balk at the high price tag, those that spend their days off on the water and think of little else when they're off it will love the boat's performance and incredible load capacity.