Some of the flashiest and fastest kayaks on the market today are the pedal kayaks. While more expensive than their paddle counterparts, these pedal designs provide a nice combination of speed and stability with many outfitted with custom features for fishing as well.
One of the biggest companies with a wide range of pedal models available is the California-based Hobie brand. They offer several different designs in a variety of price ranges.
In our Hobie Passport 10.5 review, we'll look at one of the cheapest options that still provides enough stability and versatility so that paddlers and anglers of all experience levels can get out and try their hand at pedaling without breaking the bank.
Pros:
Paddle included with purchase
Comfortable and removable seat
Easy to learn rudder system
Cons:
Could benefit from some more attachment spots
Load capacity a little low at 325 pounds
Not stable enough to stand and cast from
Things to Consider Before Buying the Hobie Mirage Passport

As a pedal fishing kayak, you can expect the Hobie Mirage Passport to be more expensive than many similar paddle kayaks. While it is one of the cheaper pedal models, if you're new to the sport or you're not sure how much kayaking you'll be able to do, it may be better to try a cheaper paddle model first.
There are plenty of cheaper kayaks like the Sea Ghost 130 from Vibe that can fill the role with similar stability, a few custom options, and fishing rod holders.
As a hard-sided boat, your Hobie Mirage Passport will need a decent-sized storage space. Preferably this will be in a climate-controlled area like a garage, though a covered area outside like a shed will do fine. If you live in a small house or an apartment, it may be better to go with an inflatable fishing kayak that can be stored in a hallway closet if necessary.
Like most recreational kayaks, the Hobie Mirage Passport has a "sit-on-top" design. These boats are favored by casual and beginner kayakers thanks to their focus on stability. They have wide cockpits so people of all shapes and sizes can get in and out with ease.
But that wide and open design does come with some consequences. If you live in a cold-weather or rainy environment, sit-on-top kayaks have little protection for the paddler. Unless you're willing to wear heavy-duty rain gear or a wetsuit, be prepared to get a little wet.
Another option is to go with a sit-in fishing kayak that protects your legs and lower torso from the elements, especially if you wear a spray skirt.
Specifications
Length: 10-feet, 6-inches
Width: 34-inches
Weight: 75 pounds fully rigged. 65 pounds empty
Load Capacity: 325 pounds
Design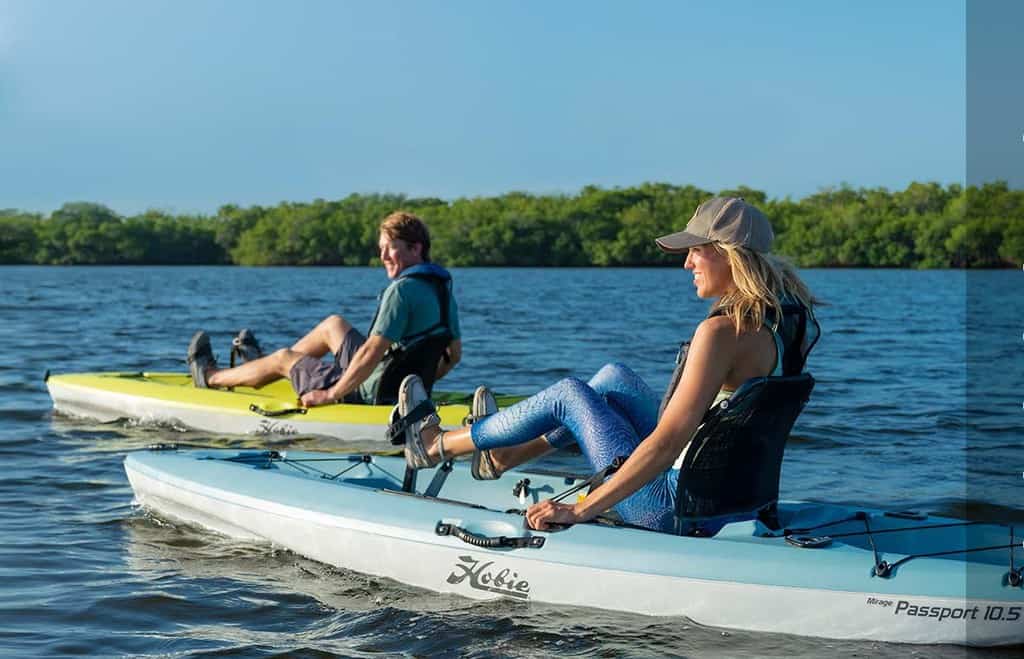 Material
The polyethylene plastic material is both tough and durable. While heavier than some other hard-sided kayak materials like fiberglass, the plastic is almost impossible to punch a hole in. It can handle any on-water bumps or collisions and even drops when carrying it aren't the end of the world.
I would recommend carrying your kayak whenever possible instead of dragging it. While dragging may not put a hole in your boat, it can peel the plastic over time which can harm the boat's performance.
Speed
The Mirage Passport comes with Hobie's famed "MirageDrive" pedal system. The pedal system is a little different from a bicycle, utilizing more of a back and forth motion than a circular pattern. It works well and you can pedal with little resistance. This is one of the simpler MirageDrive designs though, so you're not able to switch to reverse.
The Hobie Mirage Passport is a little shorter than most pedal models, measuring ten-and-a-half feet long and a kayak's speed is correlated with its keel length. While you can probably move faster than most traditional kayaks, don't be surprised if longer, more expensive pedal models can outrun you.
You're also free to use a paddle if you want, and I'd recommend bringing one along just in case something happens with the MirageDrive.
Maneuverability
Since your feet are busy with the pedals, the Hobie Mirage Passport has a joystick-style rudder that you control with your hands. While pedaling and steering may feel a little unnatural at first, the rudder is responsive and maneuverable. Even kids should be able to get the hang of it quickly.
For really tight corners, using a paddle gives you a little more control, especially in shallow areas or passing over sand bars.
Comfort
It won't matter how well your fishing kayak performs if your seat is rigid and uncomfortable. Luckily Hobie has you covered. The Hobie Mirage Passport's seat is lightweight and low-profile. The mesh outside is breathable and keeps you cool on hot days.
You can adjust it easily both on and off the water so that paddlers of all shapes and sizes can find the perfect position.
As an added bonus, the seat is removable so at the end of the day you even have a handy camp chair.
Stability & Tracking
The Hobie Mirage Passport specializes in stability which should make newcomers feel comfortable. The seat is low to the deck to keep your center of gravity low and improve your pedaling power. The boat also has a 34-inch beam, so you'll feel safe, even in choppy wind or waves.
The shorter keel does mean that wind and waves will make you more susceptible to being blown off course. There's no skeg, but the rudder does a decent job of compensating for the shorter keel. Beginners should start in calm water until they feel more comfortable, but experienced kayakers should be able to handle moderate water conditions with confidence.
Durability
Thanks to the tough plastic material, you can expect your Hobie Mirage Passport to last a long time. There's no skid plate on the keel, so while you can drag it, try to minimize the impact as this can hamper the boat's performance.
One of the few things that can warp and weaken the plastic is prolonged exposure to direct sunlight as the UV rays will limit the lifetime of your boat.
Portability
Fully rigged the Hobie Mirage Passport checks in at a reasonable 75 pounds. You won't find many pedal boats this light. The shorter length means that you may be able to fit it in the back of some trucks.
For tandem carries there's a couple of "T-handles" on the bow and stern. There's another handle along the side which can be nice for a third person if you're looking at an extended portage.
Features & Accessories
Like a lot of Hobie's lower-priced pedal kayaks, the Hobie Mirage Passport comes with an aluminum paddle. I always carry a paddle on my pedal fishing kayak, even if I don't use it. It's a good safety measure in case something goes wrong with the pedals. The paddle can also be nice for maneuvering in tight quarters.
When it's not in use, you can store your paddle in the boat's paddle holder that's placed right next to the seat. This stores your paddle horizontally so it's out of the way and secure.
Fishing Ease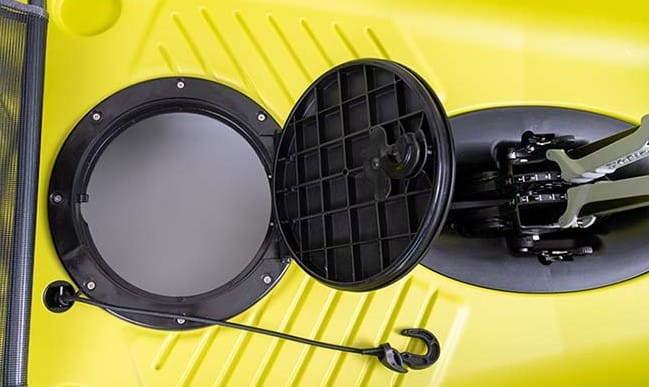 While not as decked out as some more expensive models, the Hobie Mirage Passport does come with enough fishing accessories to get you started.
A pair of rod holders can be found behind the seat where the poles can be stored vertically. There are two accessory mounting tracks in front of the seat along the side of the hull. From there you can easily install any number of custom features so you can outfit your Passport however you want.
There's not a good place to install a fish finder, but it's easy to add a spot for a GoPro, GPS, or spots to keep spare tackle close at hand.
If you want to get really creative, the boat comes with a "vertical accessory tube" near the bow. From here you can install one of Hobie's sails and try your hand at sailing.
For storage, the Hobie Mirage Passport has two watertight storage compartments. The largest is in the bow and big enough to keep the camping gear you want to keep dry. A smaller one with an 8" circular hatch is in the center of the boat near the seat and is a good spot for personal items.
A larger, open storage hatch is in the stern where larger items can be lashed to the boat with the deck bungees stretched across the top.
Value
If you're interested in a pedal kayak and don't want to break the bank, the Hobie Mirage Passport is probably where you want to go. You can expect to spend a little less than other pedal boats and I like that it comes with enough custom features to scratch that fishing itch.
It can't handle the rougher water that bigger pedal fishing kayaks can plow through. And while it's plenty stable for paddlers of all experience levels, it doesn't have a deck that can accommodate standing and casting which may inhibit some fishermen.
Alternatives

A bigger fishing kayak than the Hobie Mirage Passport, the Compass feels like a battleship beneath you, allowing you to stand and cast without fear of capsizing. This allows you to cast with better distance and accuracy on your casts and spot passing fish easier.
The seat is comfortable and can be adjusted up and down or back and forth. As an added bonus, it can also be removed so you even have a handy camp chair at the end of the day.
You also get the same Mirage Drive pedal system so you can maintain speed and move through rougher water with minimal effort. The load capacity is a little lower and you don't have quite as many storage or custom options when compared to some of Hobie's other high-end fishing kayaks.
Stable enough to stand and cast from
The comfortable, removable seat makes a handy camp chair at the end of the day
Can handle a wide variety of waterways
Read our full review of the Hobie Mirage Compass.

The Outback provides many of the same qualities that the Hobie brand is known for.
Maneuvering is made easier by two steering handles for added flexibility and the boat comes filled with customization options like a transducer mount, four rod holders, and a big open-air stern hatch secured with bungee cords.
Like the Passport, the Outback is one of the lighter of Hobie's pedal fishing kayaks, making it another good option for those that need to transport their boat solo most of the time.
The load capacity feels a little light for a boat of this magnitude at 425 pounds, but that's a minor nitpick. 425 pounds should satisfy most anglers and opens up the possibility of more ambitious multi-day excursions.
Easy to maneuver through shallow water
Almost 13-feet long
Fairly light for a pedal kayak at 85 pounds
Read our full Hobie Outback Review.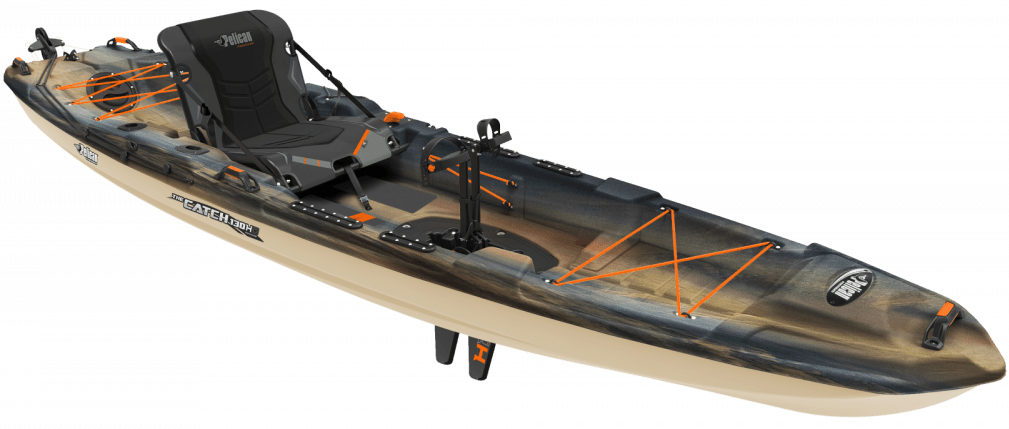 Another pedal design from the kayaking stalwart Pelican, the Catch 130 HyDryve shares many of the same qualities as Hobie's pedal models.
It's a little longer than the Hobie Mirage Passport at 12-feet, 6-inches giving it a better top speed and improved tracking in rough water. While most pedal fishing kayaks are durable, the propellers of the HyDryve come with their own independent housing to better protect them and make any necessary replacements and repairs easier.
For fishing, the boat comes stocked with multiple rod holders and rigging tracks so you can take all your fishing gear and any custom accessories you want along for the ride.
Better speed and tracking than the Compass
Propeller's independent housing makes for easier maintenance
Stable enough to stand and cast
Conclusion
If you're looking for the closest thing to an "entry-level" pedal kayak, you can't go wrong with the Hobie Mirage Passport.
It won't wow you with any of its features, but if you're ok with a decent financial investment, this is one of the cheaper ways to try the world of pedaling kayaks.