After using it extensively during the past few weeks, here's my detailed Hobie Mirage Oasis Review.
All in all, I was quite happy with its performance on the water, construction quality and seat comfort.
But for a fishing kayak, I think it lacks some important features that would have made my life easier.
Pros:
Removable chairs give you a convenient camp chair at the end of the day
Better speed than a paddle kayak
Paddle holders built into the design
Cons:
More expensive than most traditional boats
Pedal system will require some maintenance
Can be difficult to transport and store
Things to Consider Before Buying

The Mirage Oasis is a big and heavy kayak designed for those that spend a lot of time either kayaking or fishing. Like most pedal kayaks, it's a sizable investment and while the MirageDrive pedal system is well made and durable, it will still require a bit of maintenance in your free time to keep it functioning properly.
If you consider kayaking and/or fishing your passion and are on the water a lot, it's probably easier to invest in a high-end kayak like this. But if you're a more casual kayaker or are just getting into the sport, there are plenty of cheaper, albeit high-quality boats out there like the Sea Ghost 130 from Vibe.
Like most fishing kayaks, the Oasis is a "sit-on-top" kayak. While these are wider than sit-in kayaks and have more deck space, they lack protection from the elements. If you live in a rainy environment or anticipate taking waves over the sides, it's worth investing in a dry suit or something similar to keep you from getting soaking wet.
Specifications
Length: 14-feet, 6-inches
Width: 33-inches
Load Capacity: 550 pounds
Weight: 127 pounds
Design
Material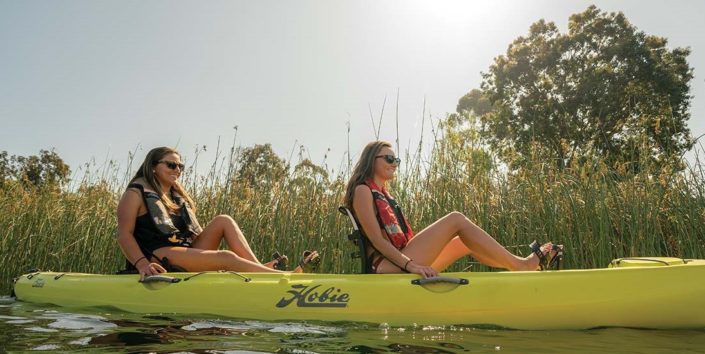 Like almost all fishing kayaks, the Mirage Oasis is built with a tough, rigid type of plastic known as polyethylene.
Rugged and heavier than other materials like fiberglass, polyethylene ensures that your Mirage Oasis will last for years with minimal upkeep and maintenance.
Speed
With a pair of MirageDrive 180 pedal systems, the Oasis should outrun any paddle kayaks and can keep up with similarly sized pedal boats.
If you'd rather use a paddle, the Oasis has a fairly long keel measuring over 14 feet so most paddlers should be able to maintain a competitive speed.
If you're looking to do a longer trip where speed is more important, the Oasis is a worthy candidate.
Maneuverability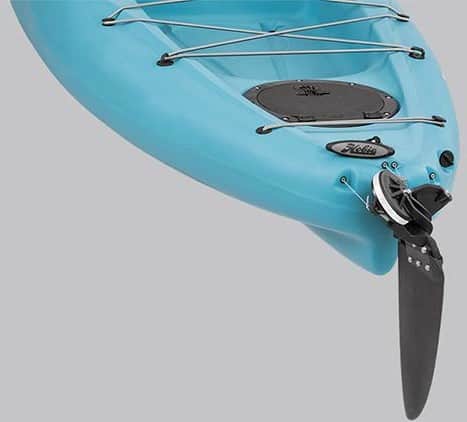 The Oasis comes with a rudder system that can be controlled from either seat. Easy to control with either hand and responsive, it allows the Oasis to squeeze into tight corners or navigate narrower rivers without trouble.
This is still a bigger and bulkier boat compared to more traditional river running boats, so I'd recommend always bringing a couple of paddles along for those more detailed and challenging turns and maneuvers. But for bigger water, I found the rudder system to work very well no matter who was in control.
Comfort
Hobie is proud of their seating system, calling their Vantage CT seats "state-of-the-art." It's hard to argue with it once you've sat in one all day. The seat can be adjusted in all four directions, allowing you to find the best position for you no matter your body type.
I appreciate any fishing kayak that has a seat that can be raised. It gives you a better vantage point for spotting passing schools of fish and allows you to get better speed and accuracy on your casts.
The seat design is breathable, keeping you cool on those hot summer days and it can also be easily removed at the end of the day, giving you a handy camp chair.
Stability & Tracking
I wouldn't call the Oasis' stability outstanding, but it should still be more than enough for you and your pedal partner to feel safe on the water. Unlike a lot of pedal kayaks, you shouldn't try to stand and cast from it as it feels a little too tippy for that. Having a seat that you can raise and lower does offset this inconvenience to a certain extent, however.
The Oasis doesn't come with a skeg, but between the longish keel and the rudder, it still does a solid job of tracking in all sorts of weather conditions. Waves or tidal influences shouldn't be enough to push you off course unless they are extreme and unsafe.
Durability
There's no reason that a tough plastic boat like this can't last you a long time. Tough enough to absorb any accidental drops while you're carrying it and solid enough that any on-water impacts should result in nothing more than a small bump.
All the same, I wish they'd taken the time to install a skid plate on the hull. The Oasis is heavy enough that you may need to drag it at times, and skid plates do a good job of keeping your hull in good condition.
When possible, carry your kayak instead of dragging it, and be careful when coming into rocky beaches. While it's almost impossible to punch a hole in it, prolonged drags or ramming can cause the plastic to scratch and peel which can decrease your paddling efficiency.
Portability
Weighing more than a hundred pounds, the Oasis is not the easiest kayak to carry. Hobie has done their best to help you though with a pair of molded, ergonomic handles that are located on the bow and stern.
For transporting, you'll likely need a fairly large truck or a strong kayak rack mounted on top of a smaller vehicle. You can also purchase a trailer which may be more secure but will probably cost more.
For longer portages to the water, it may be worth investing in a little kayak hand trailer to take the stress off your hands and shoulders.
Features & Accessories
Like most kayaks in this price range, the Oasis doesn't come with a bunch of extra goodies to entice you, this is generally reserved for cheaper, entry-level designs.
It does come with a pair of paddle holders which should be standard in issue on all kayaks in my opinion.
Even if I plan on pedalling, I always bring a paddle along with me, just in case something happens with the pedal drive system so that I'm always sure I can make it back to shore. These paddle holders make it much more convenient to bring them along and keep them out of the way.
The boat also has a mounting point for a sail if you want to try traveling by wind power. Always be careful when a sail is up as sudden gusts can make a capsize more likely.
Fishing Ease
The Oasis leans more towards the recreational and expedition side of kayaking than many of their competitors. You won't find any of the fancy custom track rails on this design which makes it harder to customize your boat for fishing. If you want a mount for a GPS or camera, plan on taking a drill to your new kayak.
It does come with a couple of rod holders which makes bringing fishing poles along much easier. There are mesh pockets located next to each seat which makes for a great place to store spare tackle or other small items. But this isn't the best platform for fishing if that's your primary goal.
For storage, the Oasis has four dry storage compartments, making it a good choice if you plan on doing overnight excursions. The largest storage spot is in the bow with a bigger opening which allows you to fit items like a tent or sleeping bag without too much trouble.
The other three compartments have smaller, 8" "twist and seal" oval hatches. I wish these were a little larger as getting items in and out of them can be cumbersome and challenging, especially if you want to root around in them while on the water.
Bungee cords have been stretched across the bow and the stern giving you additional storage space on deck. Make sure anything your store on deck is either waterproof or in a dry bag as it will probably get wet.
Value
The Oasis offers something a little different compared to most big, expensive pedal kayaks. Having a pedal kayak designed more for camping than fishing is a nice alternative. If angling is your primary goal or you consider yourself a novice or more casual kayaker, the sticker shock or lack of custom features may lead you elsewhere.
But for a weekend trip or even longer, the Oasis and its large 550-pound load capacity should be more than enough for you, your paddle partner, and all your gear.
Alternatives

Another big, tandem pedal kayak from Hobie, the Compass Duo is a smaller alternative to the Mirage Oasis. At 13.5-feet long, there's still plenty of deck space for you and your pedal partner and it's still easy to coax a competitive top speed out of this model.
This is a boat built more specifically for fishing. In addition to multiple rod holders, it also has an H-track rail accessory system running along both sides of the boat, allowing you to easily outfit your boat with all the custom fishing gear like a GPS or a Go-Pro.
Built more for fishing than the Oasis
Not as much dry storage space
A bit easier to transport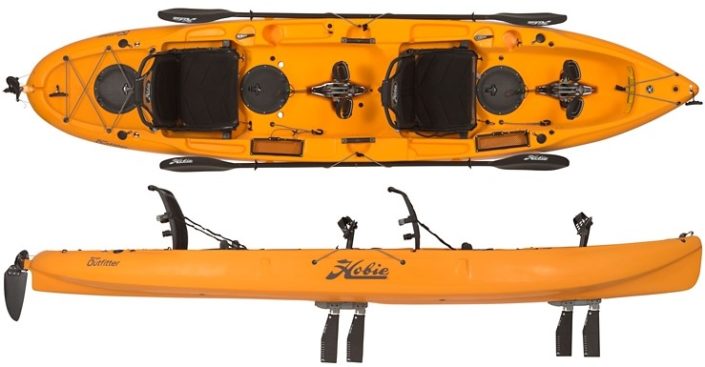 Another tandem pedal kayak from Hobie, the Outfitter is even shorter and lighter than the Compass Duo at less than 13-feet long.
It shares a lot of similarities with the Mirage Oasis with the same twist and seal hatches and bungee cords. It may not go quite as fast, but this is definitely a boat that can still navigate some rough water and maybe even do a little fishing if you'd like.
The comfortable and removable seats have been ported over from its big brother so you still have that handy camp chair at the end of the day.
Many of the same features as the Oasis
A little cheaper due to the smaller size
Not built for fishing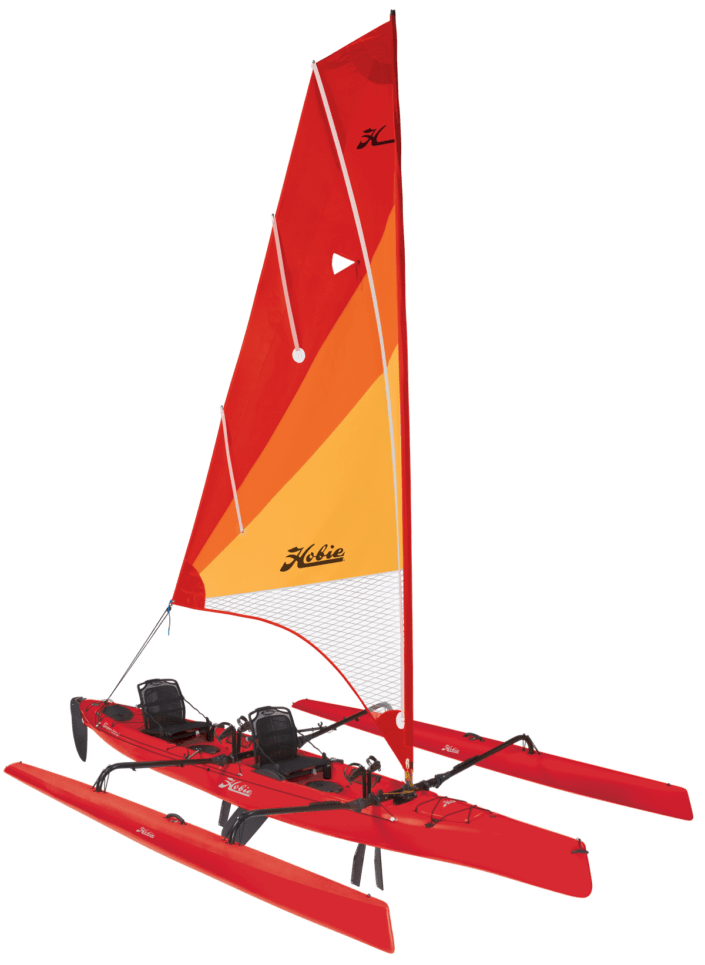 If you fancy yourself more of a sailor than a paddler, the Tandem Island opens up a whole new world of kayaking. Complete with a pair of outriggers and a massive sail, the Island has the stability and long keel to harness the power of the ocean breeze.
The MirageDrive system has been included as well. So if the wind isn't blowing, or you just want to give your boat an extra boost, you have the option to paddle too.
It can hold a massive 600 pounds and the included paddle holders give you three easy ways to propel this model. Best on open bodies of water, the Island is a unique, albeit expensive "kayak" that is sure to catch the eyes of everyone on the beach.
More of a sailboat than a kayak
Much more expensive
Over 18-feet long and can be hard to transport
Conclusion
With a long keel and two pedal systems, the Oasis glides across the water.
I love all the storage space which makes overnight trips much easier, and the removable seats are a great touch, allowing you to relax in comfort at the end of the day.
If you're looking for a more expensive, recreational kayak that can handle some fishing and multi-day journeys, give the Mirage Oasis from Hobie a look.