Ask any kayak angler and they'll tell you the most important feature is stability. It's hard to have fun on the water if you're constantly afraid of capsizing.
After using this boat for the past few weeks, I must say I am very impressed.
In this Bonafide SS127 review, we'll take a look at what I loved the most about this fishing kayak, and what could be improved.
Spoiler alert: It's incredibly stable, has very good performance for this level of stability, and an impressive list of custom features.
Pros:
Incredible stability with the ability to stand and cast
Solid tracking and maneuverability, even without a rudder
Big storage compartments
Cons:
Tips the scales at almost 100 pounds
Probably too expensive for more casual paddlers
Metal bar on seat frame may be uncomfortable for some
Things to Consider Before Buying
Like the majority of fishing kayaks, the Bonafide SS127 has a sit-on-top design. This gives the boat a big, open cockpit that has plenty of room. It's an easy boat to get in and out of. This combined with the excellent stability should make it appealing to any paddlers that are worried about capsizing.
But sit-on-top kayaks offer minimal protection from the elements since your entire body is exposed. If you live in a cold or rainy environment, make sure that you're probably outfitted with waterproof clothing and be prepared to get a little wet.
If this doesn't sound appealing to you, you may want to go with a sit-in kayak instead like the Tsunami 125. Sit-in kayaks are narrower with a more defined cockpit that protects your legs and lower torso from rain and splashing waves, especially if you're wearing a spray skirt to cover the top of the cockpit.
At almost 13-feet long and nearing 100 pounds, the SS127 is on the heavy side for a fishing kayak. Make sure you have the space to store a boat of this design, preferably in a climate-controlled area, though a covered shed will also do.
The SS127 probably won't fit in the bed of smaller trucks. Plan on investing in a sizable kayak rack and the proper straps so that you can safely get your kayak to the water. Another option would be to buy a kayak trailer that you can pull behind your car, though this gives you another item that needs to be stored.
Specifications
Length: 12-feet, 7-inches
Width: 33.75-inches
Weight: 94 pounds (with seat)
Load Capacity: 475 pounds
Design
Material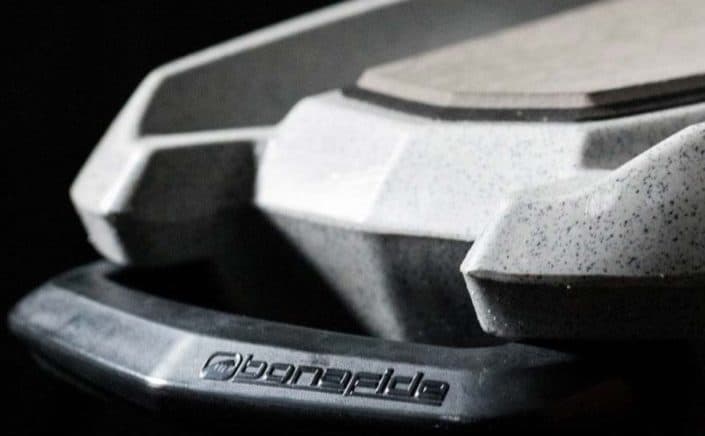 Like the majority of fishing kayaks, the SS127 is made of the tough and rigid plastic known as polyethylene. Almost impossible to damage and built to last for years with minimal maintenance, this material will keep you floating for years with little upkeep. The one drawback is the plastic is noticeably heavier than competing (albeit more expensive) materials like fiberglass.
Speed
With a longish keel, the SS127 has an average top speed. It's definitely a boat built with stability in mind, so don't expect to keep up with those paddling longer boats. But for its class I think it does fine, especially if you keep the seat in the lower position.
You may run into some trouble paddling through headwinds, but for most users that aren't trying to cover a lot of miles in a day, you should find the boat's speed acceptable.
Maneuverability
Even without a rudder, Bonafide has managed to implement a tight and efficient turning system that is impressive for a boat this length. Tight turns are easy and the boat is stable enough that you can lean it over 45 degrees to help increase your turn radius.
Comfort
Like most fishing kayaks, Bonafide offers a padded and ergonomic chair to keep you comfortable. Foot pads are also easy to adjust and allow paddlers of all heights, shapes, and sizes to find the right position for their legs.
My one quibble is that there's one metal bar on the bottom of the seat. Depending on how you sit and your height, you may find that it hits you right on your tailbone when you shift. It may be worth bringing along some sort of pad just in case.
Stability & Tracking
Here the SS127 shines above the competition. The boat is designed with stability as the primary focus and paddlers of all experience levels should be comfortable in most water conditions.
The seat can be raised up or down which can be a huge advantage when fishing. The higher position allows you to get better distance and accuracy on your casts while allowing you to spot passing schools of fish easier.
Most boats aren't stable enough to allow you to travel in the high seated position. But the Bonafide SS127 is so stable that many will find that they can without fear of capsizing. If you're a beginner I don't think I'd recommend this until you've had some practice. But it's nice not having to pivot between the two seat heights when you reach your desired fishing hole.
If you'd prefer, the SS127 has a wide and open deck plan and is rated as stable enough to stand and cast from. Even with a little bit of chop, I'm willing to bet most anglers will feel comfortable standing up. Again, just be careful and maybe stick close to shore the first couple of times you try it.
The tracking is solid for a boat of this length and does a good job of keeping you on course even without a rudder installed. I'd probably want some sort of rudder implement if I'm going to be in big, open bodies of water with the potential for dynamic conditions, but I think for most paddlers this won't be a big issue.
Durability
The polyethylene hull should be more than capable of protecting you from the majority of bumps and collisions. I'd be amazed if you managed to punch a hole in it during normal use.
A skid plate has been placed on the hull so if you have to drag it, this will help minimize any peeling or scratching of the polyethylene. It is a heavier boat, so if you're a solo paddler that doesn't have any help available, this is a useful feature.
For storage, keep your boat under cover and out of direct sunlight. Over time, it's possible for extended exposure to UV to cause the plastic to warp, weaken, or bend.
Portability
That tough plastic hull does make the SS127 a little heavy. With the seat, the boat weighs 94 pounds, and while the skid plate does help with drags, I still wouldn't want to drag it long distances. Consider investing in a small kayak trailer to get it from the parking lot to the water's edge.
For tandem carries the SS127 comes with easy to grip carry handles on the bow and stern that are designed to prevent you from banging your knuckles against the hull. An additional carry handle can be found along the side so that three-person carries are possible.
Always carry your kayak empty. Overloading your boat can cause the keel to bend or "warp" over time.
Features & Accessories
The carry handle in the middle of the boat also doubles as a paddle holder. These are indispensable for a good fishing boat. The last thing you want is to see your paddle floating away when you have a big fish on the line.
Outside of the paddle holder, the boat doesn't have much in the way of extra included "goodies." That's not uncommon for a boat in this price range though. An included paddle or something like that is more often found in entry-level inflatable boats.
Fishing Ease
Featuring the "Yak-Attack" gear track mounting system, you can install any number of gadgets to your SS127 to make it your own. A small "junk drawer" is under the seat, a great spot for keeping pliers or spare tackle along with personal items.
But the highlight of the boat's customer features is a transducer mount near the seat along with a scupper to protect your fish finder from underwater hazards. You also get multiple rod holders that are all easily accessible from either the seat or standing platform.
The boat comes with two large storage areas, one in the bow and another in the stern. The bow storage hatch is water tight and comes with a big opening making it easy to cram water sensitive gear including camping equipment in.
The stern storage area is open but a little bigger. It's sunk down below the sides of the boat and bungee cords have been stretched across the top to keep everything secure. It's a great spot for dry bags if you have more gear you want to keep dry. A cooler or larger tackle box also fits well here.
Value
While the Bonafide SS127 is not cheap, you definitely get what you pay for. While all the custom features are great, it's the boat's fantastic stability that makes it stand out. While all angling kayaks are relatively stable, this one stands above and it takes full advantage of it with the raised seating system.
If you see yourself as a more casual paddler, you may not fully appreciate all the boat's intricacies and may prefer to go with a cheaper model that will still get the job done on your weekend paddle trips.
But for the passionate angler who may want to do more multi-day trips, the SS127 comes with everything the hardcore angler needs to come home with a cooler full of fish.
Alternatives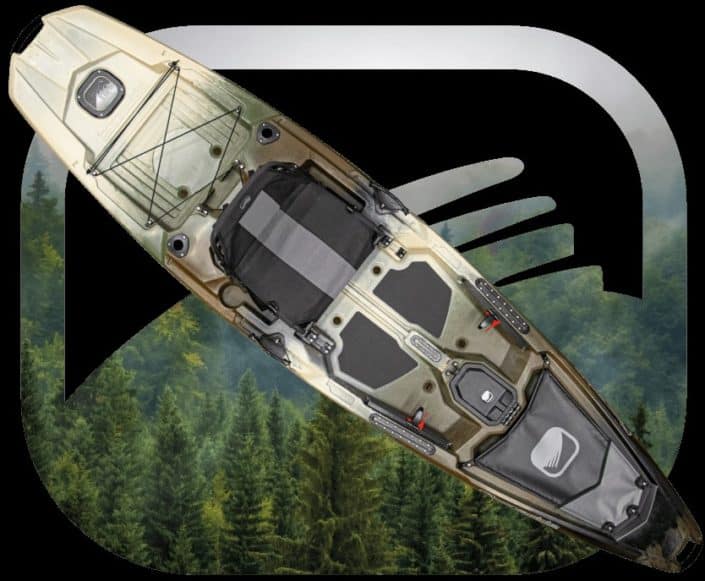 A little shorter and lighter than the bigger SS127, these two boats share a lot of the same features.
You'll find the same gear track system as well as the transducer mount for your fishfinder. The seat can be raised and lowered and it's another boat you feel comfortable standing up in.
The smaller size makes it a little more dicey for bigger water, but it also comes at a lower price tag and can be easier to transport and store.
Shares a lot of the custom features
Easier to store
Stable enough to stand up in

Vibe's another newer company, producing their first fishing kayak in 2013. They pride themselves on offering tons of customization and their "hero seat" design that is one of the most comfortable kayak seats on the market.
The Shearwater 125 has the same length and load capacity as the SS127 making it another good choice for those looking to head out for multiple days.
It can be outfitted for a trolling motor and even comes with a hand control rudder system. The basic design offers a more traditional rudder which helps with tracking and maneuverability.
Eight rod holders and an intricate gear track system allow for a ton of customization options.
Lots of custom features
Can install a trolling motor
Four carry handles

A hybrid design that combines the best of kayak, canoe, and paddleboard, the NuCanoe Frontier 12 cares little how you categorize it.
It's too busy building a platform with multiple electric engine mount locations in the bow and stern.
Stern transom mounts can be easily controlled from the seat, while bow mounts can be controlled by a handheld remote.
But in a class of huge weight capacities, the Frontier 12 stands above them all with a mammoth 650-pound weight capacity that makes it great not just for fishing but extended trips and even hunting.
Biggest weight capacity in its class
Minn Kota and Riptide trolling motors recommended
Plenty of room for an electric motor's battery pack
Conclusion
Filled with features and boasting some of the best stability on the market, the Bonafide SS127 appeals to intermediate and serious anglers.
While more casual and beginner paddlers may experience a bit of sticker shock, there is little to quibble about with this well-rounded and incredibly stable fishing platform.