Ask any kayak angler and they'll tell you the most important feature is stability. It's hard to have fun on the water if you're constantly afraid of capsizing.
After using this boat for a year, I must say I am very impressed.
In this Bonafide SS127 review, we'll take a look at what I loved most about this fishing kayak, and what could be improved.
[Spoiler alert: The Bonafide SS127 is one of the most stable kayaks for big and tall guys. If you want to stand and cast without feeling unstable, then the SS127 is hard to beat. It also has great fishing features and amazing storage space. The only downside is it's almost always out of stock.]
Things to Consider Before Buying a Bonafide SS127 Fishing Kayak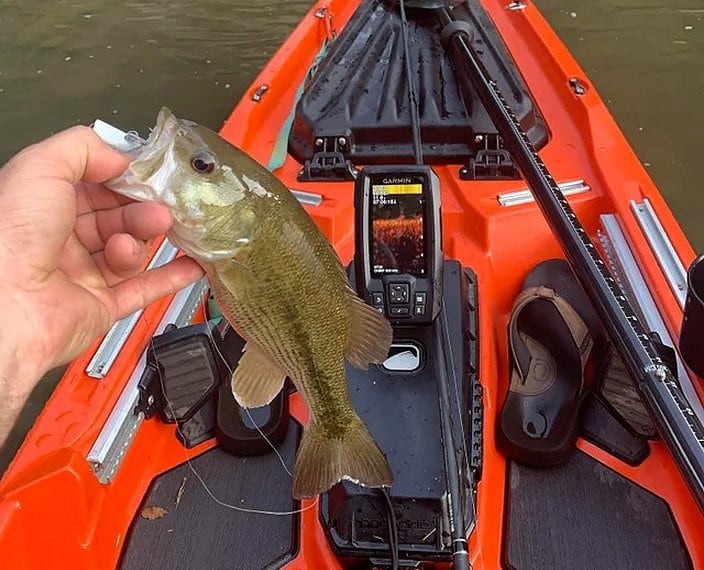 Like the majority of fishing boats, the Bonafide SS127 is a sit-on-top kayak. This gives the boat a big, open cockpit that has plenty of room. It's an easy boat to get in and out of. This combined with the rock-solid stability should make it appealing to any paddlers that are worried about capsizing.
But sit-on-top kayaks offer minimal protection from the elements since your entire body is exposed. If you live in a cold or rainy environment, make sure that you're outfitted with waterproof clothing and be prepared to get a little wet.
If this doesn't sound appealing to you, you may want to go with a sit-in kayak instead like the Tsunami 125. Sit-in kayaks are narrower with a more defined cockpit area that protects your legs and lower torso from rain and splashing waves, especially if you're wearing a spray skirt to cover the top of the cockpit.
At almost 13-feet long and nearing 100 pounds, the Bonafide SS127 is on the heavy side for a fishing kayak. Make sure you have the space to store a boat of this design, preferably in a climate-controlled area, although a covered shed will also do.
The Bonafide SS127 probably won't fit in the bed of smaller trucks. Plan on investing in a sizable kayak rack and the proper straps so that you can safely get your Bonafide kayak to the water. Another option would be to buy a kayak trailer that you can pull behind your car, though this gives you another item that needs to be stored.
Bonafide Kayak SS127 Specifications

Length: 12 ft 7 in
Width: 33.75 in
Weight: 94 lb (with seat)
Load Capacity: 475 lb
Bonafide Kayak SS127 Design
Material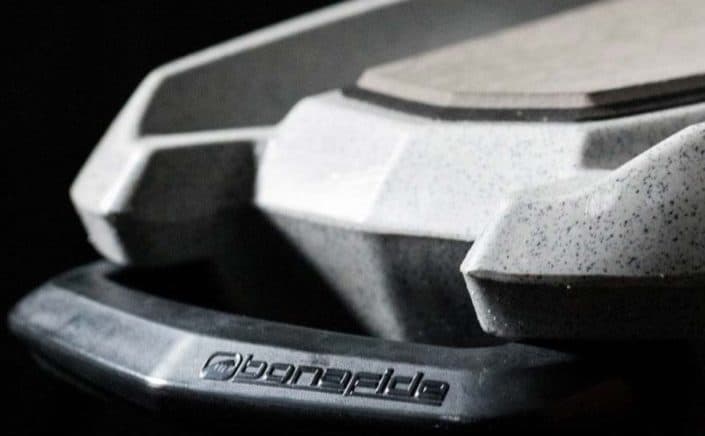 Like the majority of fishing kayaks, the Bonafide SS127 is made of tough and rigid plastic known as polyethylene.
Almost impossible to damage and built to last for years with minimal maintenance, this material will keep you floating for years with little upkeep. The one drawback is that plastic is noticeably heavier than competing (albeit more expensive) materials like fiberglass.
Speed
Because it's such a stable kayak, the Bonafide SS127 is unfortunately very slow.
If you paddle against the wind, you'll sometimes find yourself paddling at a measly 1.5 mph…
In good weather, you might go up to a 2.5 mph cruising speed, but that's still very slow if you intend to cover any distance.
If you're the kind of angler who won't cover more than a few miles per day, then the Bonafide SS127 is fast enough. But for long distances, I definitely prefer the Sea Ghost 130 or a pedal kayak like the Sportsman 120 PDL.
Maneuverability
Fortunately, the Bonafide SS127 has pretty good maneuverability for open water.
I'm able to turn quite easily, but it's not a short kayak so taking it on class 2 rivers will definitely not be a good idea.
Comfort
Like most fishing kayaks, the Bonafide SS127 offers a padded and ergonomic chair to spend hours on the water while staying comfortable.
The backrest is awesome, and the seat has low and high sitting positions so you can switch between an optimal paddling position and a fishing/standing position.
As expected from a high-end fishing kayak, the seat can also be adjusted forward and back so you can get better tracking or maneuverability depending on where you sit. This is particularly important when switching between rivers and open water.
However, for big guys the poles on the sides are very uncomfortable. After a few hours on the water you'll definitely be hurting. Therefore I'd recommend getting a $10 cushion which will make it infinitely better.
Footpegs are also easy to adjust and comfortable even for tall guys over 6″2′.
Stability & Tracking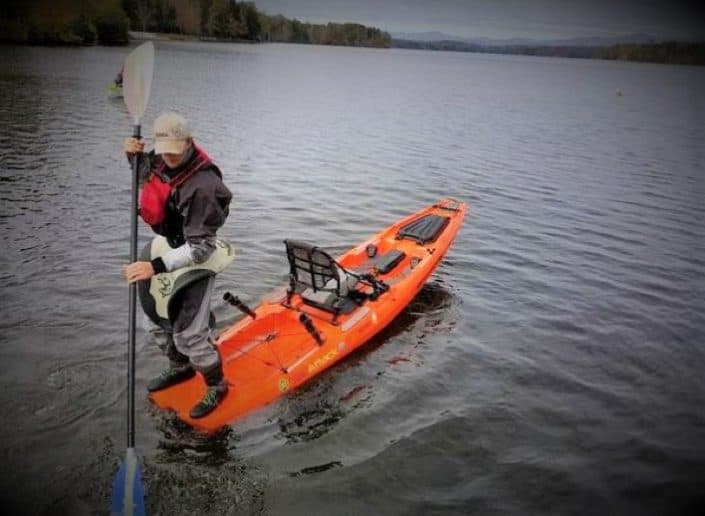 Here the Bonafide SS127 shines above the competition. It's made so that big guys can stand and cast without feeling unstable, even if you weigh 300 lb.
Even in huge waves and wind, I've never felt like I was going to tip over.
I love the open cockpit that gives you plenty of room to stand, walk around and put some stuff in there for easy access.
Regarding tracking, I must say I was unimpressed. While it performs OK in calm weather, it gets really easily pushed around by the wind.
It's often the case that when I'm fishing in a spot the wind will make me do a 360…
Bonafide talks about the "Hybrid Catamaran" design of the hull with a pronounced keel that's supposed to help with tracking, but honestly it doesn't seem to work all that much…
In fact, it's enough of a problem that Bonafide decided to make flexwings that they sell separately for the kayak. And it does make a huge difference in tracking.
Durability
The polyethylene hull design should be more than capable of protecting you from the majority of bumps and collisions. I'd be amazed if you managed to punch a hole in it during normal use.
A skid plate has been placed on the hull so if you have to drag it, this will help minimize any peeling or scratching of the polyethylene. It is a heavy boat, so if you're a solo paddler that doesn't have any help available, this is a useful feature.
For storage, keep your boat under cover and out of direct sunlight. Over time, it's possible for extended exposure to UV to cause the plastic to warp, weaken, or bend.
Portability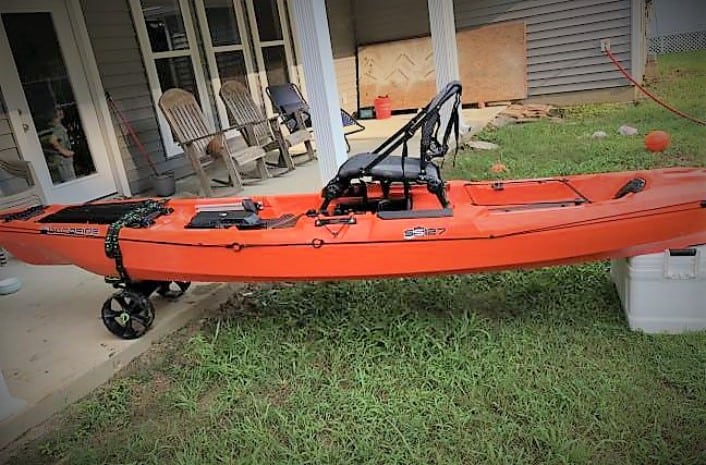 That tough hybrid catamaran hull design does make the Bonafide SS127 a little heavy. With the seat, the boat weighs 94 pounds, and while the skid plate does help with drags, I still wouldn't want to drag it long distances. Consider investing in a small kayak trailer to get it from the parking lot to the water's edge.
For tandem carries the SS127 comes with easy to grip carry handles on the bow and stern that are designed to prevent you from banging your knuckles against the hull. An additional carry handle can be found along the side so that three-person carries are possible.
Always carry your kayak empty. Overloading your boat can cause the keel to bend or "warp" over time.
Bonafide SS127 Kayak Fishing Ease
With gear tracks on both sides at the front and back, you can easily mount all your electronics and fishing gadgets. Fishfinder, extra rod holder, camera, you name it.
I like the handy "junk drawer" under the seat that can slide in and out so you can put your pilers, line, lures and anything else in there for easy access on the water.
Regarding storage, you can a huge dry hatch at the front which gives you access to the hull. The really cool thing about the hatch is it can be opened on both sides.
This means you can put an extra paddle, extra rods, or even tons of camping gear in there − plus any gear that you want to access while on the water.
For camping trips, this hull storage is really amazing. Also, I often find myself putting my lunch in there for tournaments, a waterproof jacket and pants just in case, some extra lures, etc.
At the back, you get a huge tankwell storage area that can fit a milk crate or black pack with some rod holders, as well as a medium-sized cooler.
This is great considering the boat has no vertical rod holders, so you'll definitely need to put some at the back.
Speaking about rod holders, the Bonafide SS127 does have horizontal storage. For one, you can put four rods at your feet thanks to the indentation in the junk drawer and the dry hatch.
Then, you also have extra horizontal rod storage on the sides that's really amazing for rivers where you could easily lose your rods due to tree branches if they're in a vertical position.
I like the awesome watertight hatch in front of the seat where you can put your phone, batteries, car keys, and anything else. It never gets any water in it.
As expected from a high-end fishing kayak, the cockpit has foam decking to avoid slipping when standing, and also to dampen the noise in case something falls. This is very important to avoid spooking the fish.
You also get a convenient paddle strap in the front to secure your paddle while fishing while still having it at hand if you need to avoid an obstacle all of a sudden.
Finally, my only quibble with the Bonafide SS127 is that it has no option for a pedal drive, unlike the Jackson Kilroy HD. I would love it if they made a pedal drive that would fit where the removable dry pod is.
Bonafide Kayak SS127 Value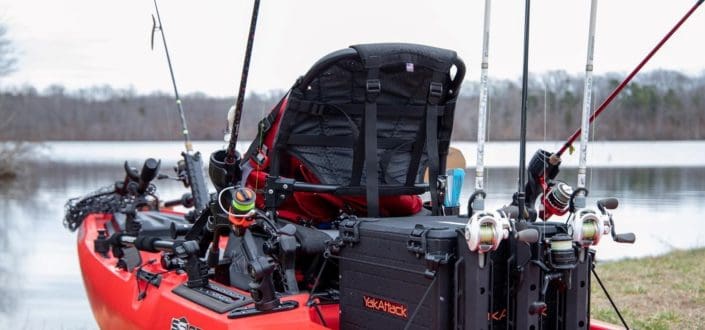 While the Bonafide SS127 is not cheap, you definitely get what you pay for. While all the custom features are great, it's the boat's fantastic stability that makes it stand out.
For big and tall guys, the Bonafide SS127 is one of the most comfortable and most stable fishing kayaks.
If you've found yourself feeling unstable when standing in other kayaks, then the SS127 is a great solution.
At this price point, you also get a ton of fishing features that simply aren't on cheaper kayaks.
The only downside is it tends to get out of stock very quickly.
Bonafide Kayak SS127 Alternatives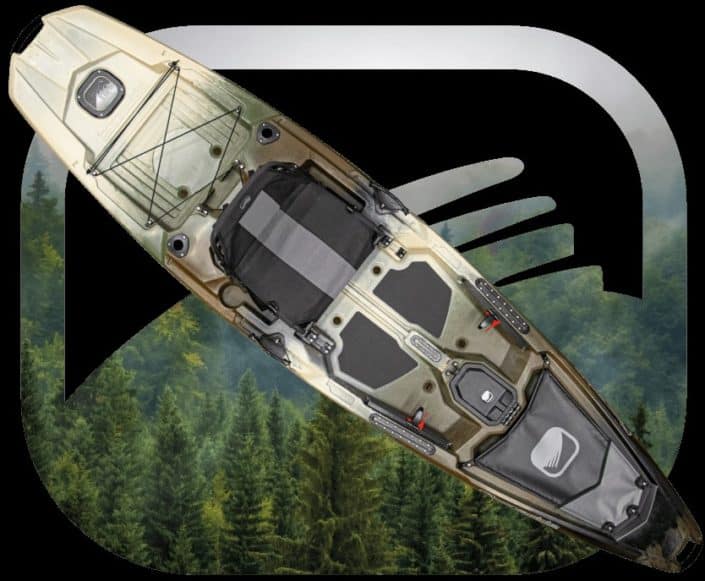 A little shorter and lighter than the bigger Bonafide SS127, these two boats share a lot of the same features.
You'll find the same gear track system as well as the transducer mount for your fishfinder. The seat can be raised and lowered and it's another boat you feel comfortable standing up in.
The smaller size makes it a little dicier for bigger water, but it also comes at a lower price tag and can be easier to transport and store.
Shares a lot of the custom features
Easier to store
Stable enough to stand up in

Vibe's another new company, producing their first fishing kayak in 2013. They pride themselves on offering tons of customization and their "hero seat" design that is one of the most comfortable kayak seats on the market.
The Shearwater 125 has the same length and load capacity as the Bonafide SS127 making it another good choice for those looking to head out for multiple days.
It can be outfitted for a trolling motor and even comes with a hand control rudder system. The basic design offers a more traditional rudder which helps with tracking and maneuverability.
Eight built-in rod holders and an intricate fishing gear track system allow for a ton of customization options.
Lots of custom features
Can install a trolling motor
Four carry handles

A hybrid design that combines the best of kayak, canoe, and paddleboard, the NuCanoe Frontier 12 cares little how you categorize it.
It's too busy building a platform with multiple electric engine mount locations in the bow and stern.
Stern transom mounts can be easily controlled from the seat, while bow mounts can be controlled by a handheld remote.
But in a class of huge weight capacities, the Frontier 12 stands above them all with a mammoth 650-pound weight capacity that makes it great not just for kayak fishing but for extended trips and even hunting.
Biggest weight capacity in its class
Minn Kota and Riptide trolling motors recommended
Plenty of room for an electric motor's battery pack
Bonafide SS127 Review – Wrapping It Up
To sum it up, the Bonafide SS127 is a great, high-end fishing kayak.
If you're a big guy and you want an extremely stable boat to stand and cast, then the Bonafide SS127 is really hard to beat.
For the price, you also get amazing storage both on the water and for overnight/camping trips.
In terms of fishing features, you get everything you could ever need, and then some.
Overall, the Bonafide SS127 is my #1 recommendation for big and tall guys who don't want a pedal kayak.
The only downside is it's often out of stock…
So by the time you read this article, it might already be unavailable.
I'm sorry, but you'll have to wait until next year to get yours.